Oh so looking forward to what everyone will make for this 5 Star Makeover. Our theme this month is Greek Meze, or appetizers. We all checked in to make sure no recipe will be made twice so watch out for the round up for amazing Greek fare inspiration. I chose a wonderful meze which can easily be transformed into a main meal as well. My meze is called Garides Saganaki, or Shrimp Saganaki.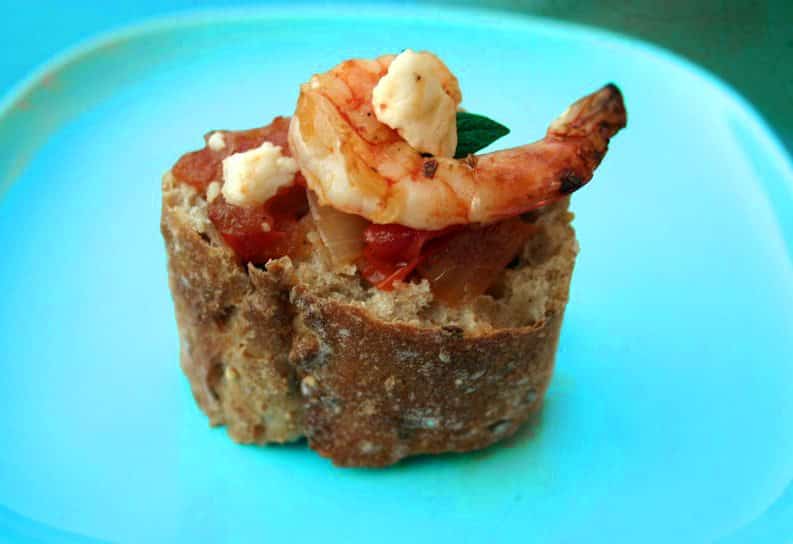 This theme came up at a most appropriate time in an odd way for me. One of the things I do at my 9 to 5 job is write an online travel guide. I just happen to finish the country Greece, having written quite a bit about Greek food. Greek food brings back childhood memories of dinners parties at my dad's old partner's house. He and his wife where first generation Greek and they had a daughter my age. I remember being terribly impressed at the site of so many flavorful dishes when they invited us over for dinner.
I also have been to Greece many years ago. We had a few days in Athens, a city with so much to see and do, and then we were off for a Greek Island cruise. We ate so well in Athens and on the Islands. Frappes, lamb stews, spanakopita, moussaka, and grilled octopus pop into my mind. OK I rambling but basically I want to say how much I enjoy really good Greek food.
I am also a fan of anything seafood so I jumped at the chance to prepare this dish. I also go gaga for feta! This is a really simple and quick dish to prepare but it is so packed with flavor. I am always amazed at the simplicity of certain recipes which make my taste buds go crazy. I got a similar delightful surprise with the Boureki I made recently, a dish for the Greek Islands. There are two tips I can give you to prepare a successful simple Greek dish: the freshness of your ingredients and enjoy the smells as you cook. The smells are uplifting.
The word Saganaki refers to a cooking term in Greek cuisine where the food is cooked in a single-serving pan. The pan is also called Saganaki.  The most popular dish is the Cheese Saganaki where a hard cheese is pan seared. If you want to get really fancy why not flambe it at the end with a shot of Ouzo!  There are a couple of versions where shrimp and mussels are used. As you may have guessed it by now Garides is the phonetically written word for shrimp in Greek, γαρίδα.
We have 3 guest start ingredients in this recipe. The first is a hot pepper I picked up in Toronto last week in a Latin market. The Cascabel chili would be classified as medium heat. It is know for sounding like a maracas when dried as the seeds get loose in the bell shaped pepper. Next up is Mastic which I ground and added to some white wine. I did not have Ouzo so I improvised! Mastic is the resin of the Mastic tree on the island of Chios. It has a distinctive flavor close to pine or cedar.  Finally to add a subtle touch of sunshine I used the O blood orange olive oil which I found on the Foodspring Marketplace. This is a cool website which was set up by a non-profit organization, the National Association for the Specialty Food Trade. You can find many natural, organic and exotic ingredients listed here but they do not sell them, instead they link you to where you can by the products.
Ξ Garides Saganaki Ξ
Ingredients
2 tablespoon blood orange olive oil
1 medium onion, chopped
1 1/2 garlic cloves, crushed
1/2 teaspoon Cascabel pepper flakes (or any hot pepper)
1 1/2 cup tomatoes, chopped
1 tbsp fresh oregano, chopped
Salt and pepper
1/3 cup ouzo (or mastic liqueur or white wine)
1/2 pound medium shrimp
1/2 cup crumbled feta cheese
chopped oregano for serving
Directions
Heat the olive oil in a large pan over medium-high heat. Add the onion and cook until softened and translucent. Add the hot pepper flakes and garlic, saute for 30 seconds. Add the tomatoes, oregano, salt, pepper and ouzo and simmer until the sauce thickens for 5 minutes.  Add the shrimp and simmer until just cooked, turning the shrimp once halfway. Transfer half the mixture to a souffle dish and top with half the feta cheese, repeat. Bake in a preheated oven at 425 F until the sauce is bubbly for approx 10 minutes. Sprinkle with fresh oregano. Makes 4 appetizer servings or 2 main meals.
Traditionally this meze is served with crusty bread. If you want to make it a meal than prepare pasta, or couscous and serve the shrimp over it.
hosted by 5 Star Foodie & Lazaro Cooks!