We had the Christmas holiday cookies bake-a-thon again! Come try one of our 223 cookies fresh out of the oven or take one of our 10 creamy fudge spread jars. Please, take some! Or settle for these 5 recipes to get you in the spirit of merry baking.
Have you ever spent an afternoon baking Christmas cookies for the holiday celebrations to come? Well I got together with my friend Catherine again this year and we spent a day baking our holiday butt's off. Once again we had a mountain of holiday cookies, plus some jars of yummy spreadable creamy fudge. I hope these Greek Koulourakia and Italian Ricotta cookies are good enough to sooth the mean spirit of Krampus, this month's Food 'n Flix pick.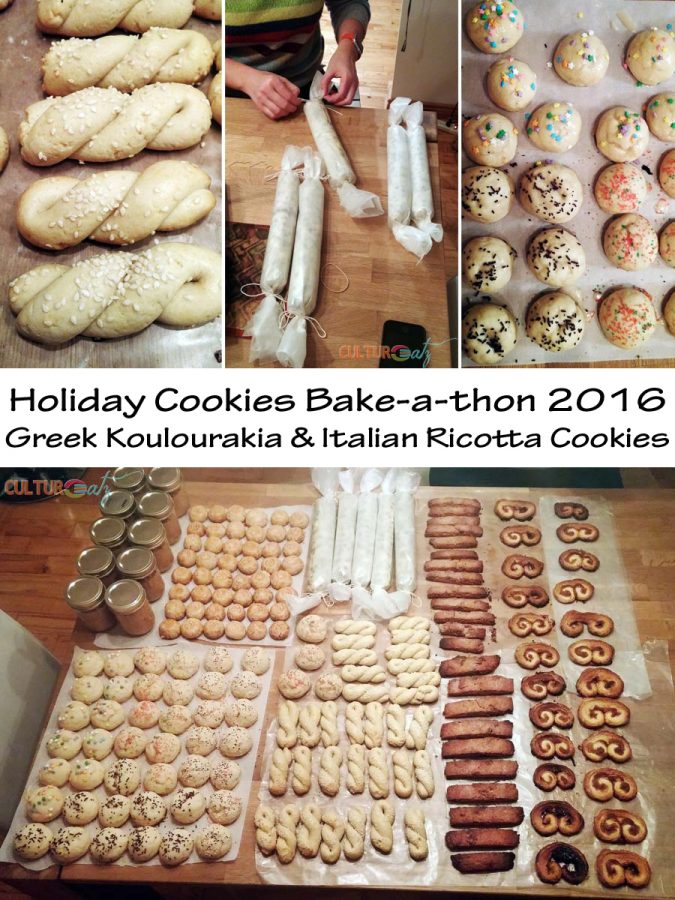 A Christmas nightmare?
Are you ready to see Krampus, a Christmas horror comedy film? Definitely my first horror holiday movie ever. Is it really scary? Well some moments get you by surprise and some scenes are scary but there is no blood and gore. Depends on your sensitivity. Do expect family favorites like a Jack-in-the-Box and the Gingerbread man cookie to turn evil and attack you! It was definitely a new way to get the holiday feel, kinda silly and fun.
It's the story of a dysfunctional family clashing over the holidays. You even have the blue collar side of the family dropping in (National Lampoon anyone?). Max, the junior of the family, is disillusioned and decides Christmas is just too much trouble and looses his holiday spirit. Unfortunately in doing so, he unleashes the wrath of a demonic force intent on punishing non-believers. His name is Krampus. How will the family survive this evil ordeal? Watch the movie to find out!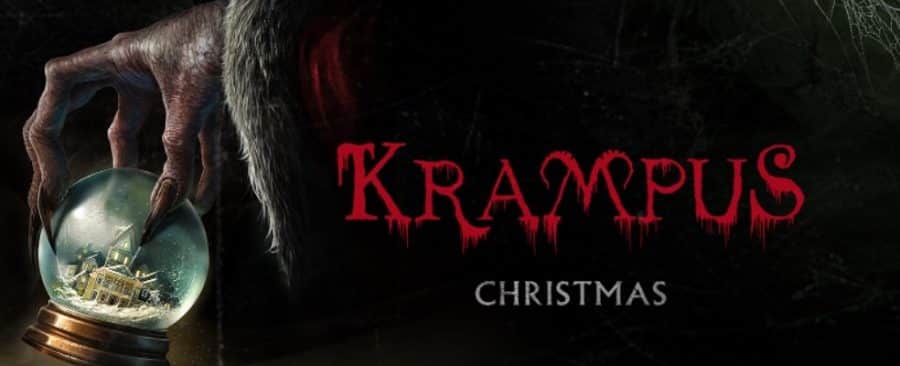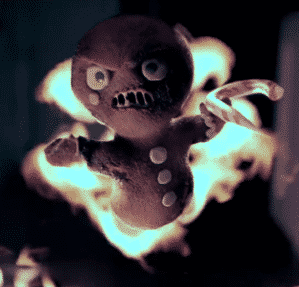 The Real Krampus
Krampus is a half man half goat horned folklorik figure who punishes naughty children during the Christmas season. Basically he is the yang to Saint Nicholas' yin. Krampus is a common figure in Austria, Bavaria, Croatia, Czech Republic, Hungary, Slovenia and Northern Italy. Men dress up as Krampus during annual events  in many Alpine towns. You can even send Krampus holiday greeting cards.
In Styria (where some of my family moved too), ruten bundles (twigs painted gold) are presented by Krampus to families with children. Parents hang these around in the house all year to remind children that if they misbehave durig the year, they will get a visit from Krampus with a lump of coal rather than Saint-Nick laden with presents.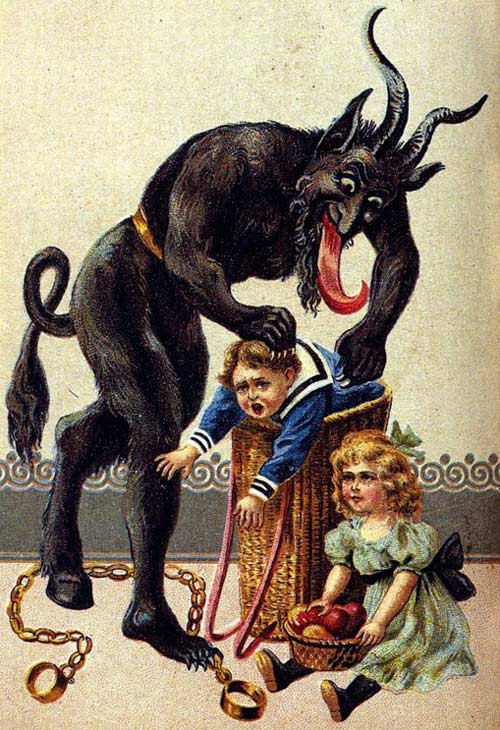 Lots of food at the beginning of the film. A whole kitchen full of recipes in the making and then a big holiday dinner. The food died of after that, well some food favorites start attacking people ha ha.
Food film spotting:  candy canes, cheap holiday chocolates, nutcracker, holiday cookies galore, meringue, gingerbread man, vanillekipferl, fruitcake bread, butter, sugars, flour, icing, fruit cake, mac and cheese with hot dogs casserole, gravlax, crême brulée, reindeer, green beans, eggnog, gingerbread house, hot chocolate from the fireplace, peppermint schnapps, bread, and milk glasses.
200+ Holiday Cookies
What are the odds the family should have Austrian roots, just like me. But I had just posted some Austrian husarenkrapferl cookies right before seeing the movie, which would have been really on topic. What to do? Oh well more holiday cookies it is then. And I have plenty to boot with my  recent cookie bake-off. Today I want to share two of the recipes. My Greek cookies were lovely with a hint of orange and anise. The Italian cookies were about as moist and delicious as a cookie can get. We also made palmiers and you find the other recipes here…
Maple and Pecan Biscotti (in French)
Italian Ricotta Cookies … see below
Koulourakia | Greek Sesame Twist Cookies … see below
Thank you to Food 'n Flix and to Heather at All Roads Lead to the Kitchen for hosting this month! In this monthly group a host picks a movie of their choice that pertains to food. Everyone watches the movie and then makes a recipe which the film inspired. It can be any recipe you want. Join us!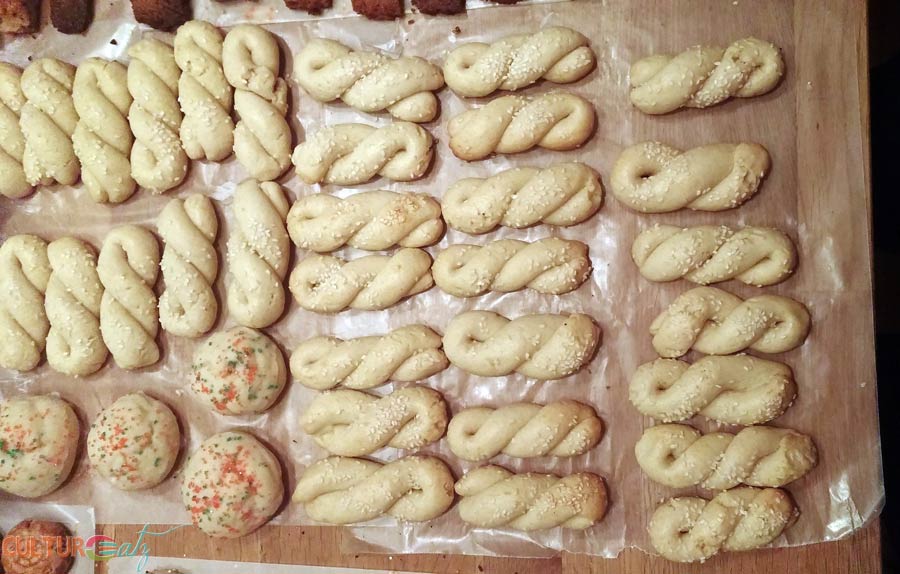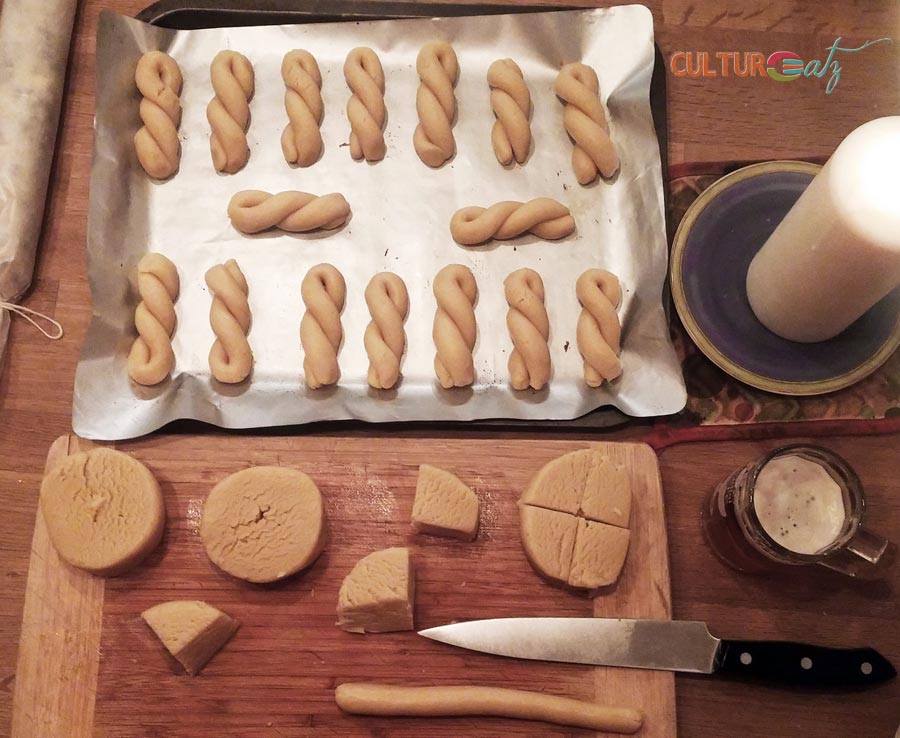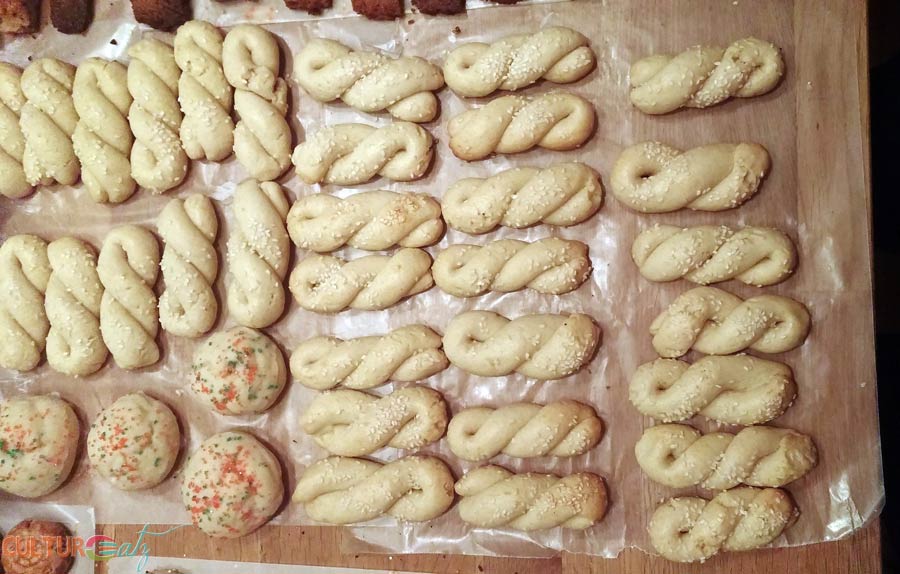 Koulourakia | Greek Sesame Twist Cookies
The Koulourakia, or Greek Sesame Twist Cookies, are are perfect match with café or tea for an afternoon break. You will love the hint of orange and Ouzo flavors.
Ingredients  
1/2

cup

+ 6 tbsps unsalted butter

softened

1/4

cup

vegetable oil

1 1/2

tbsps.

or so fresh orange zest

1

cup

sugar

1

large egg

1 1/2

tsps.

vanilla

1/4

cup

freshly squeezed orange juice

2

tbsps.

Ouzo

or Cognac

4

cups

flour

2

tsps.

baking powder

1/4

tsp.

baking soda

Sesame seeds

1

egg

1

tbsp.

Ouzo

or Cognac
Instructions 
Preheat oven to 350F and grease 2 cookie sheets.

In a large mixer bowl, combine the butter, oil and orange zest. Mix until creamy.

Add in the sugar and mix well. Beat in the egg, vanilla, orange juice and Ouzo until mixed thoroughly.

Combine the flour, baking powder and baking soda together.

Mix in the flour, a cup at a time, until you get a smooth creamy dough. It should be soft, a little sticky and holds together.

Divide dough into 24 to 28 pieces. Roll each piece into a log until it is about 1/2 inch thick. Bend gently in 2 to form a "U" shape and twist to the ends together. Lightly press ends to seal.

Place on the greased cookie about an 1 inch apart.

In a small cup, whisk the egg and Ouzo together. With a pastry brush, paint the egg wash over the top of the cookies and sprinkle with the sesame seeds.

Bake for about 11 minutes or until barely light golden brown in appearance.

Cool the cookies completely on the tray before moving or they will break and crack.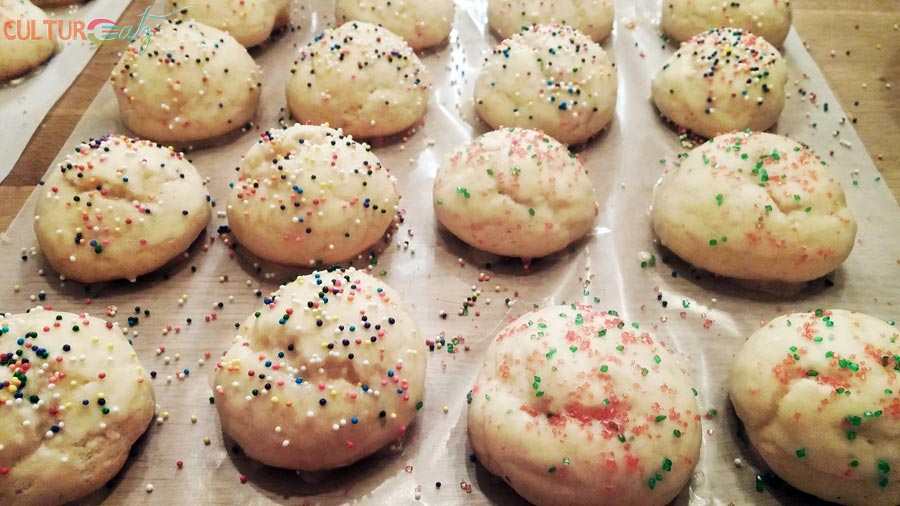 [mpprecipe-recipe:434]