Xīn Nián Kuài Lè! 新年快乐 ! Happy Chinese New Year!  Today marks the beginning of the Spring Festival as we welcome the rooster. What better way to celebrate than with these addictive Chinese Peanut Cookies.
These beauties are called Hua Sheng Bing, 花生饼 in Mandarin. It translates as peanut cake but clearly they are wonderful cookie bundles. One can find them in homes and markets in China during the Lunar New Year. If you love peanuts you will adore the texture and massive dose of peanut crumbs. In fact these Chinese Peanut Cookies take cookies to a whole new level of  peanut. They are just fabulous!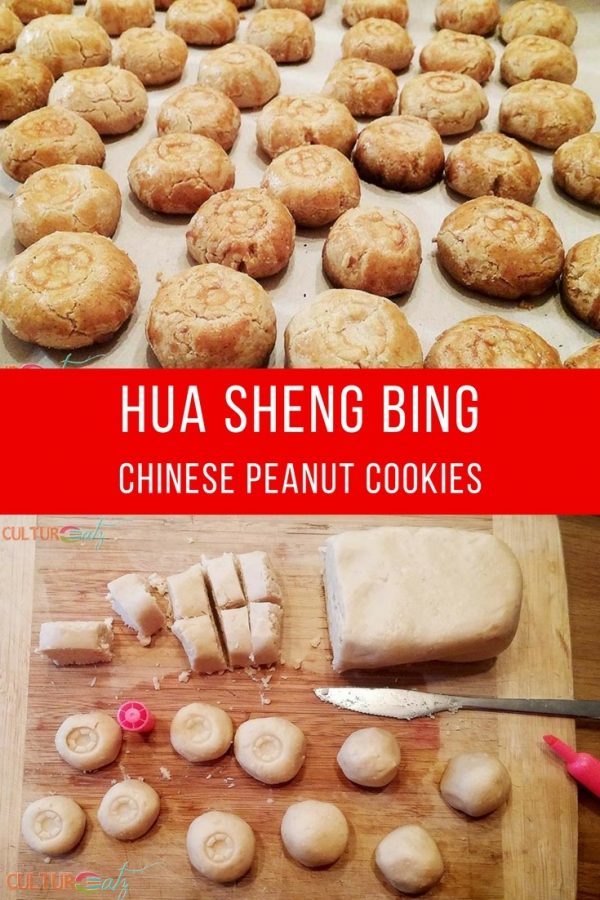 CNY and Spring Festival
Today, January 28 2017, marks the Chinese New Year and the beginning of the Spring Festival. All over China families have gathered in home towns to celebrate with delicious foods, give red envelopes to kids, spend time together, and enjoy at least a full week off from work and school.
Red decorations hang everywhere and the evenings will be filled with firecrackers. This is to commemorate the origins of the holiday. The festival started off as a way to fight against the monster "Nian" who liked to eat children and livestock. The monster is afraid of the color red and loud sound, hence the firecrackers.
This year the rooster is the featured animal from the Chinese zodiac. I assume his glorification this year will spare him an appearance at the holiday dinner table. On New Year's Eve family members gather for the Nian Ye Fan meal.
Traditionally a large and sumptuous meal of eight dishes is prepared and composed of traditional pork, chicken and fish dishes. Hotpots are very popular as well, think a Chinese fondue. It is considered good luck to keep some fish as leftover to signify always having surpluses and wealth.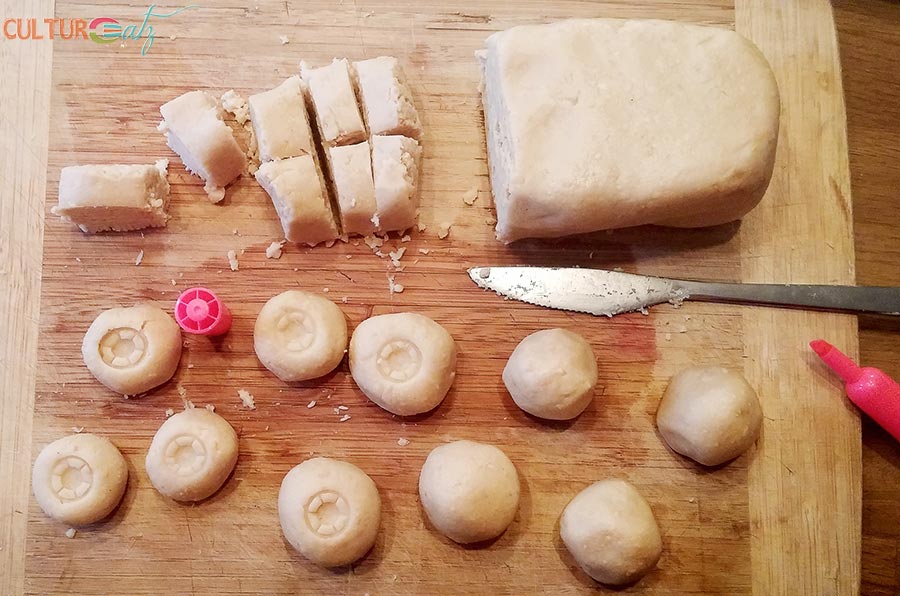 Lantern Festival and Guess Who is Leaving for China soon!
The Spring festival last for 15 days. Every day has a set of traditions and celebrations. The fifteenth day is the Yuanxiao Festival, or the Lantern Festival. People eat tangyuan, a sweet glutinous rice ball cooked in a soup. The festival ends magically with families walking the streets holding candles and paper lanterns.
This year the Lantern Festival falls on February 11th. And guess who will be there to witness it and soak in the gorgeous atmosphere? Yes, yours truly. I am leaving for China in 10 days! I will be spending the week in Beijing exploring as many sites as possible. For the last two months all I have been saying over and over again is "OMG I am going to China"! And I have a long list of foods to try. I cannot wait!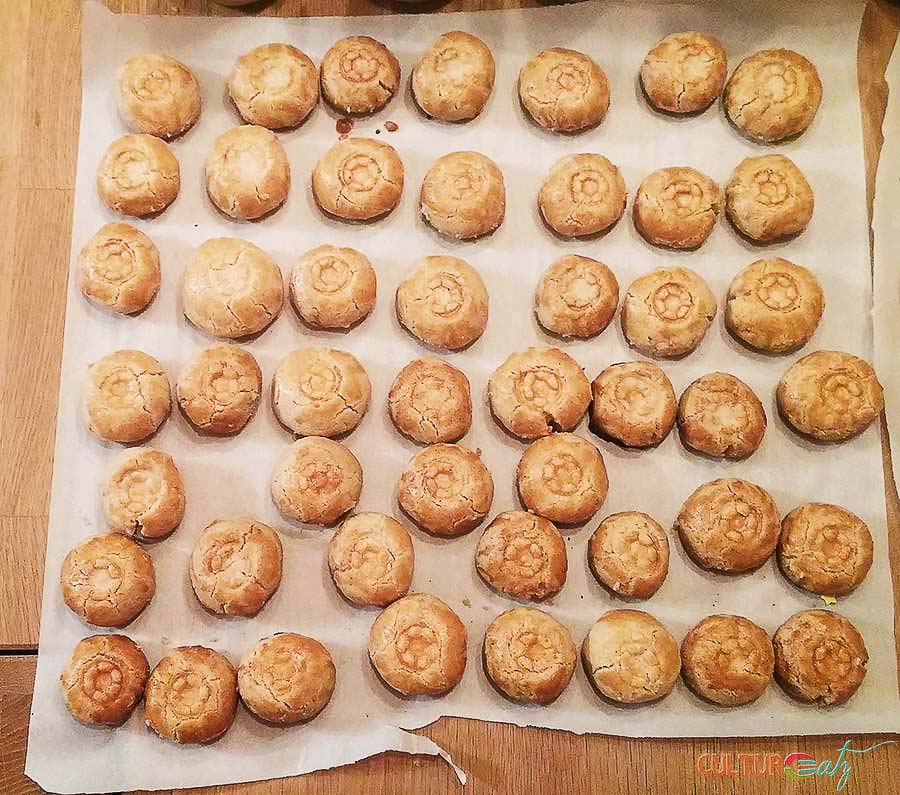 A Small Chinese Peanut Cookie World
So last weekend I attended a small 5 a 7 with four other food bloggers. Kimberlie from thefinercookie.com mentioned how she was making Chinese Peanut Cookies and I said "me too"! Turns out we made the same recipe and both planned to post for CNY! I mean seriously what are the chances of that happening. So we thought thought is was a great chance to show you first hand what two bakers with the same recipe can make separately. Here you get a side by side of Kimberlie's cookies (left) and mine (right). Check out Kimberlie's Chinese Peanut Cookies as well!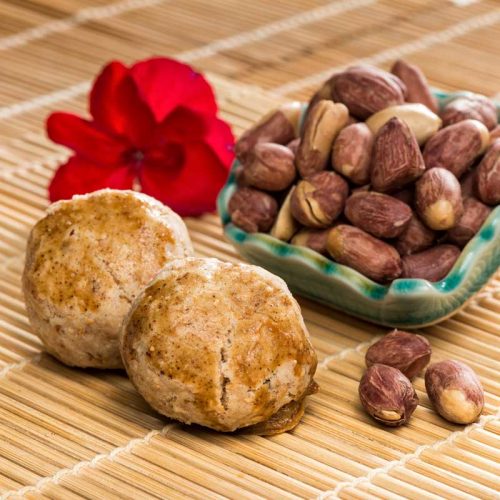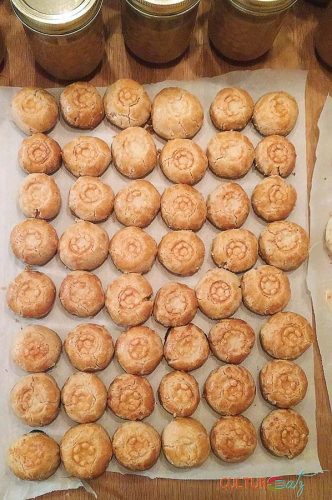 Best Peanut Cookies Ever
These cookies were actually made during the 2016 Christmas bake-a-thon but I have been saving this post for the Chinese New Year! I came across this Chinese cookie recipe on Andrea's Viet World Kitchen blog, who got the recipe from food stylist Karen Shinto.
I have to say out of all 6 cookies we made that day, these were my favorite hands down. They were everyone's favorite. If you like peanut butter cookies you will fall in love this these Chinese peanut cookies. I think they may be in my top 3 best cookies ever!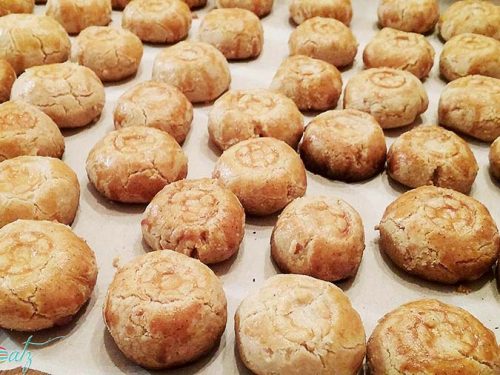 Chinese Peanut Cookies | Hua Sheng Bing
Ingredients  
2

cups

plus 2 tablespoons unsalted

roasted peanuts

1 1/4

cups

confectioner's sugar

10 3/4

ounces

all-purpose flour

1

teaspoon

salt

3/4

teaspoon

baking powder

3

tablespoons

unsalted butter

melted

2/3

cup

fragrant peanut or canola oil

1

egg

beaten
Instructions 
Preheat oven to 325 F and make sure the rack is in the middle position. Prepare 2 baking sheets with parchment paper.

Turn the peanuts into a coarse crumb texture in a food processor. To the peanuts add the powdered sugar. Process again until you get a very fine crumb. Be careful not to over process or you will get peanut butter.

In a large bowl, mix together the flour, salt, and baking powder. Add the peanuts to the flour and mix until combined.

Drizzle into the mixture the melted butter and oil. Use your hands to knead the dough until it softens. If it feels too soft or greasy, refrigerate the dough for 15 minutes.

Roll the dough into 1 inch balls and place them 1.5 inches apart on the baking sheets. Flatten them gently with your palm, or if you want a decorative stamp use the cap of a marker.

Brush the top of the cookies with the egg. Bake the cookies for 20 to 22 minutes until lightly golden. Cool the cookies completely on a wire rack before serving.
Check out more peanut recipes here:
Looking for another amazing cookie recipe to try. Check out these Argentinian Alfajores Cookies