Are you afraid or in love with Halloween? This year Halloween scared me into making a cemetery scene with Peanut Butter Fudge and Ganache coffins, and a few decorative Salt Dough Pumpkins.
It's Food 'n Flix time again, the Halloween edition! In this monthly group a host picks a movie of their choice that pertains to food. Everyone watches the movie and then makes a recipe which the film inspired. It can be any recipe you want. This month's pick is hosted by Elizabeth at The Lawyer's Cookbook, who she terrified us into watching the movie Hocus Pocus! I was scared I hid in my Peanut Butter Fudge and Ganache Coffins.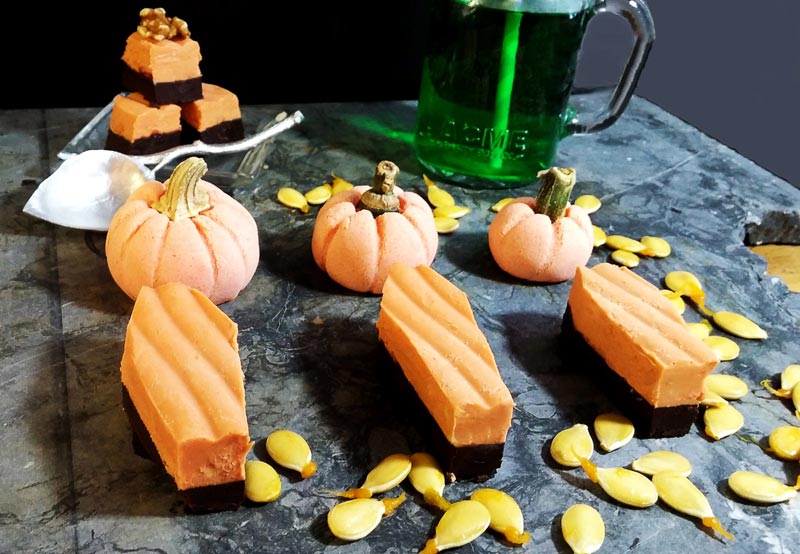 Before I get into the movie of the month, let me share with you an eerie 'ah ha' moment that happened to me just last week. I finished reading a boring book about the city preparations of the Chicago World Fair in the late 1890s. The only interesting part about the book was the side story of an actual real serial killer H. H. Holmes who owned a hotel he built on purpose during that time with hidden chambers, no window rooms, gas chambers and more, and picked his guests as his victims.
I am also a fan the horror TV shows and Halloween movies. I have been watching the new season of American Horror Story: Hotel. Well in the 2nd show we met the original owner/builder of the Hotel and I was like 'this hotel is a lot like the one in my book!!!' I googled it and I was right: that character was loosely based on H. H. Holmes. Can you believe the odds of coming across this creepy coincidence a week before Halloween? The hair stood up on the back of my neck!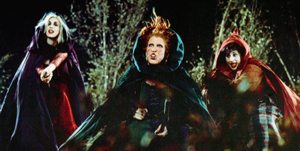 Hocus Pocus  is a 1993 comedy fantasy film that stars Bette Midler, Sarah Jessica Parker and Kathy Najimy. They play a trio of witches named the Sanderson Sisters, who are accidentally resurrected by a teen and friends in the town of Salem, Massachusetts (witch capital). The witches want to keep (or get back ) their youth by sucking out the soul of Salem's children on a regular basis, so the teens must defeat the witches before the sun rises at the end of Halloween, at which time the 3 witches will be turned to dust. It is a silly, fun for the whole family movie that has since become a cult classic.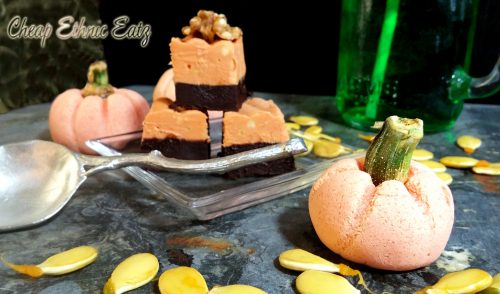 There are actually several food inspired moments in the film, like a dead man's toe, zombie fingers, candy Clark bars, lobster, 7 Up, salt and scrod (young white-fleshed fish). I was inspired by a cemetery scene and Halloween pumpkins. A 2-toned ganache and white chocolate Peanut Butter Fudge is cut into coffins shapes, the decrepit walkway is made of squash seeds, add a few Salt Dough Pumpkins, and finally if the fear has brought up a thirst feel free to refresh yourself with a sip of the Green Magic Potion.
I brought over these sweet treats at a friend's for a Gin cocktail party, on top of the Roasted Kabocha Salad. The girls got regular peanut butter fudge squares but most of my Halloween batch was cut into coffins shapes to fit in with my cemetery shoot. Whichever way you cut them, they will be a hit. I believe Rebecca, our host, said: these are like Reeses Pieces, but way better".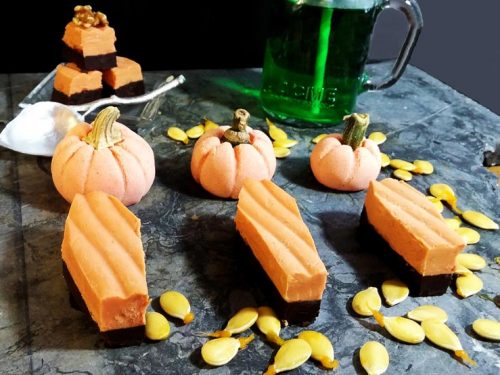 Peanut Butter Fudge and Ganache Tombstones
Ingredients  
1

pound

white chocolate chips

1

cup

peanut butter

room temperature

orange food coloring

or mix 1 red for 2 yellow

1 1/2

cups

dark chocolate chips

1/2

cup

heavy cream
Instructions 
Line an 8x8 square baking pan with parchment or waxed paper, both bottom and sides.

Melt the white chocolate chips in a microwave (for 30 seconds at a time) or in a double boiler. Stir until chocolate is all melted. Mix in the peanut butter until homogeneous. Add food coloring till desired color is achieved.

Spread peanut butter fudge into your prepared pan and refrigerate for at least 15 minutes before the next step.

Melt the dark chocolate chips with the cream in a microwave (for 30 seconds at a time) or in a double boiler. Stir until chocolate is melted and homogeneous.

Pour over peanut butter fudge and smooth over the top. Chill for at least 3 hours or until firm. Cut into small squares or tombstones for Halloween.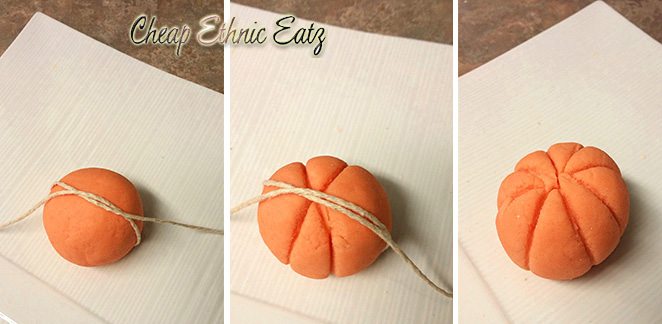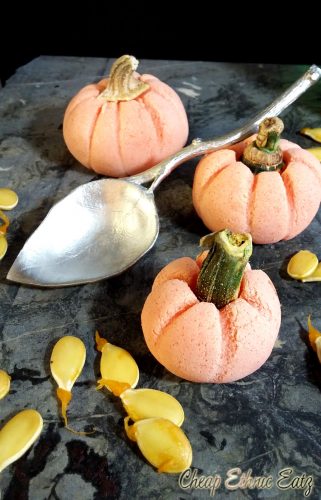 And here is a bonus recipe for the kids of all ages. Did you ever make salt dough when you were a kid? I remember I did a few times. Well retro is back right? So why not make a few quick decoration pumpkins in salt dough!
I don't like the baked look for this project so I jump-started the drying in a cooling oven and then left them to air dry. Fallen wood sticks make great pumpkin tops but I happen to have real ones from my recent visit to a squash and pumpkin farm. I find it make my pumpkins even more realistic.
[mpprecipe-recipe:306]
Visit my past Halloween themed posts here for more ideas:
Poison Toffee Apples and how to prepare your victims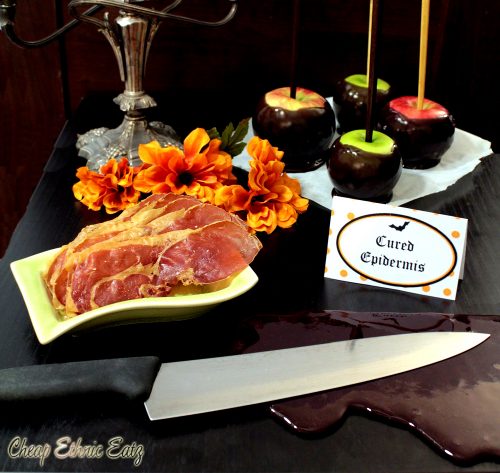 Alien Hand Autopsy with Band-Aid Cookies