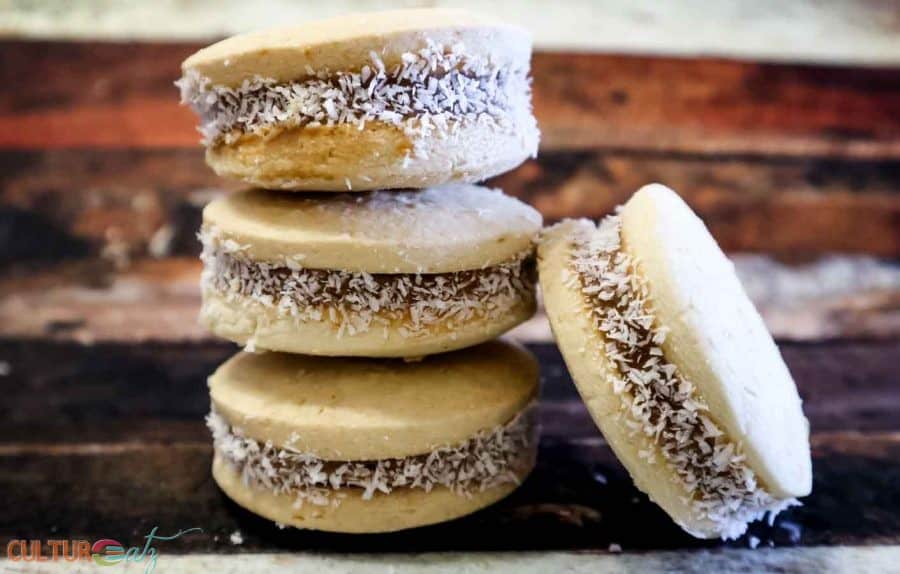 Have you ever tried Argentinian Alfajores? These Dulce de Leche Sandwich Cookies are heaven and a gift from the Gods! Check out the recipe and bonus: learn to make your own dulce de leche.
I have a vivid memory of my first Alfajores cookies, the most amazing Argentinian dulce de leche sandwich cookies you could ever savor. It was only a few months ago but I was blown away but how delicious they were. Anything made with dulce de leche is top notch, in my humble opinion. When I was researching Argentinian recipes for this month's Eat the World I discovered these were one of Argentina's traditional food delicacies. Of course, I had to make them for my blog, no question.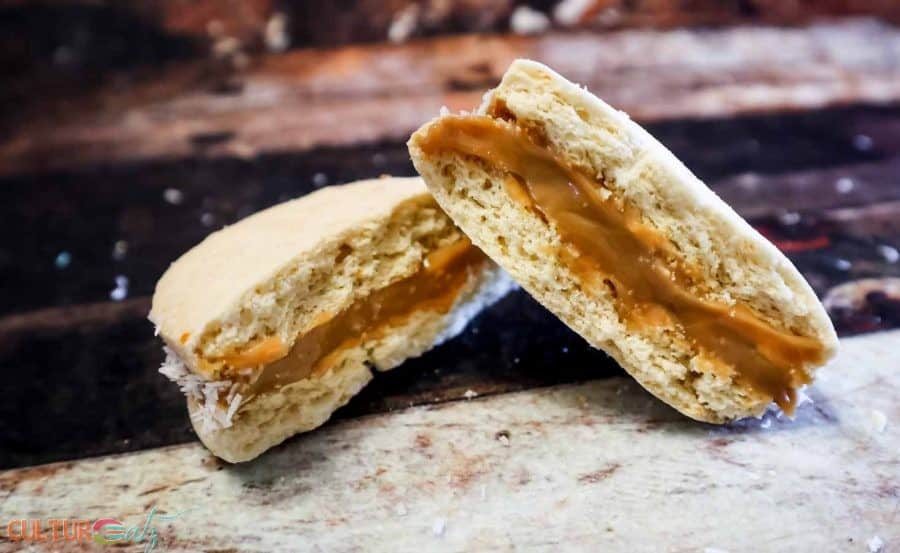 Exploring Argentina
The large and long country of Argentina is located on the South American continent and is bordered several countries but only one body of water, the Atlantic Ocean.
Buenos Aires, the capital of Argentina, is a fun and colorful urban destination with lots of cultural activities.  Besides other wonderful cities to visit, the country is famous for natural wonders, such as glaciers in the Patagonia region, the Ibera wetlands, Nahuel Huapi National Park, and Iguazu Falls.
Popular foods in Argentina
Many would be surprised to learn that Argentine cuisine is a mix of Mediterranean influences, like pasta and pizza, as well as Indigenous and Criollo dishes, such as the Argentinian empanadas recipe,  locro, humita, and mate.
The Argentina beef is world famous and Argentinians are huge red meat eaters. Argentina's national dish is called asado, an Argentinian grill plate filled with various types of meats, often including chorizo, blood sausages, sweetbread, and chitterlings. You will find many wonderful Argentinian steak recipes and it is often accompanied by an Argentinian chimichurri recipe which is a sauce made of herbs. Also making up Argentina's famous food is breaded and fried meats enjoyed in sandwiches or as a snack.
Desserts often include a milk toffee spread known as dulce de leche – dulce de leche cake, dulce de leche cheesecake, dulce de leche cookies, dulce de leche ice cream – as well as pastries and tortas fritas. And let's not forget the famous Argentinian wines made with Malbec, Torrontés, Cabernet Sauvignon, Syrah, and Chardonnay grapes.
Alfajores de dulce de leche – Dulce de Leche Sandwich Cookies
So what are alfajores exactly? The word alfajor, an Andalusian word, actually comes from the Arabic word al- fakhur, which means luxury. Around the world, Alajur is often made of a paste of almonds, nuts, breadcrumbs, and honey. In Spain, they are transformed into sandwiches with two round cookies held together by a sweet filling.
Now Argentina's dessert recipes must have their own twist. You may see them called Alfajores de maicena. Maicena means cornstarch. These cookies are made with a mix of cornstarch and flour, and lots of butter. The dulce de leche sandwich cookies are like shortbread cookies but with a soft and crumbly texture. The cornstarch in the cookies is where the crumbly texture comes from.
And in Argentina, the filling of any Alfajores recipe is usually a dulce de leche filling. Alfajores are the most famous sweets in Argentina. They are one of my favorite cookies from around the world.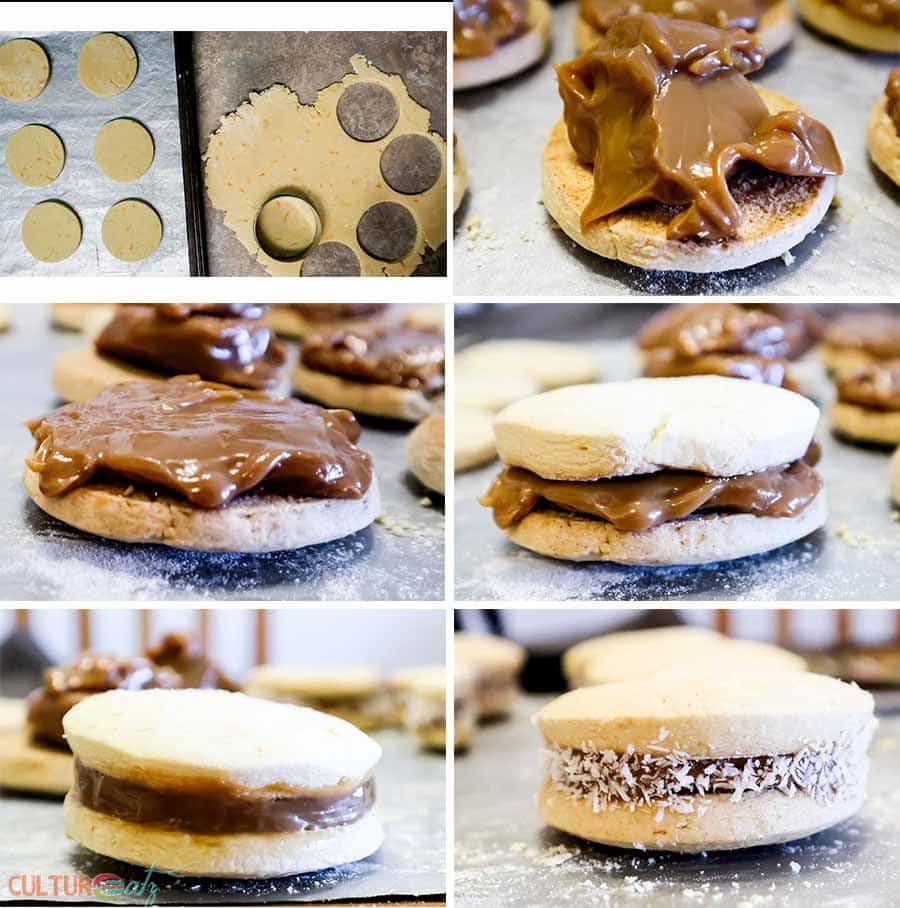 Just like shortbread, the more you work the dough, the tougher the cookie will be. So we want to mix in the flour mixture to the fat with as little manipulation as possible. The flour is added in thirds, the first two and done with a mixer. The last one is added gently by hand.
Next, if you are not working with the dough or part of it, keep it in the fridge. This will help to keep the butter cold and the dough easy to handle. Also, we are looking for a decent thickness for the cookies, around 7 to 10 mm. Make sure to not over-bake the cookies. The cookies will remain pale in color, we are not looking for a golden color here.
Next, if you are not working with the dough or part of it, keep it in the fridge. This will help to keep the butter cold and the dough easy to handle. Also, we are looking for a decent thickness for the cookies, around 7 to 10 mm. Make sure to not over-bake the cookies. The cookies will remain pale in color, we are not looking for a golden color here.
Finally, for the perfect and professional fishing touch, swipe a clean finger around the sandwiched cookies so that the dulce leche has a perfectly smooth and clean finish. Now you want to keep it hygienic so if you lick your finger after ever cookie, make sure to give it a quick clean. Its tough job being a perfectionist 😉
Did you get your FREE PRINTABLE yet?
Surprise! I have prepared a Cheat Sheet that includes 41 Cooking and Baking Ingredient Substitutions that are commonly found in a kitchen. Click here to get your FREE Ingredient Substitutions Cheat Sheet right now!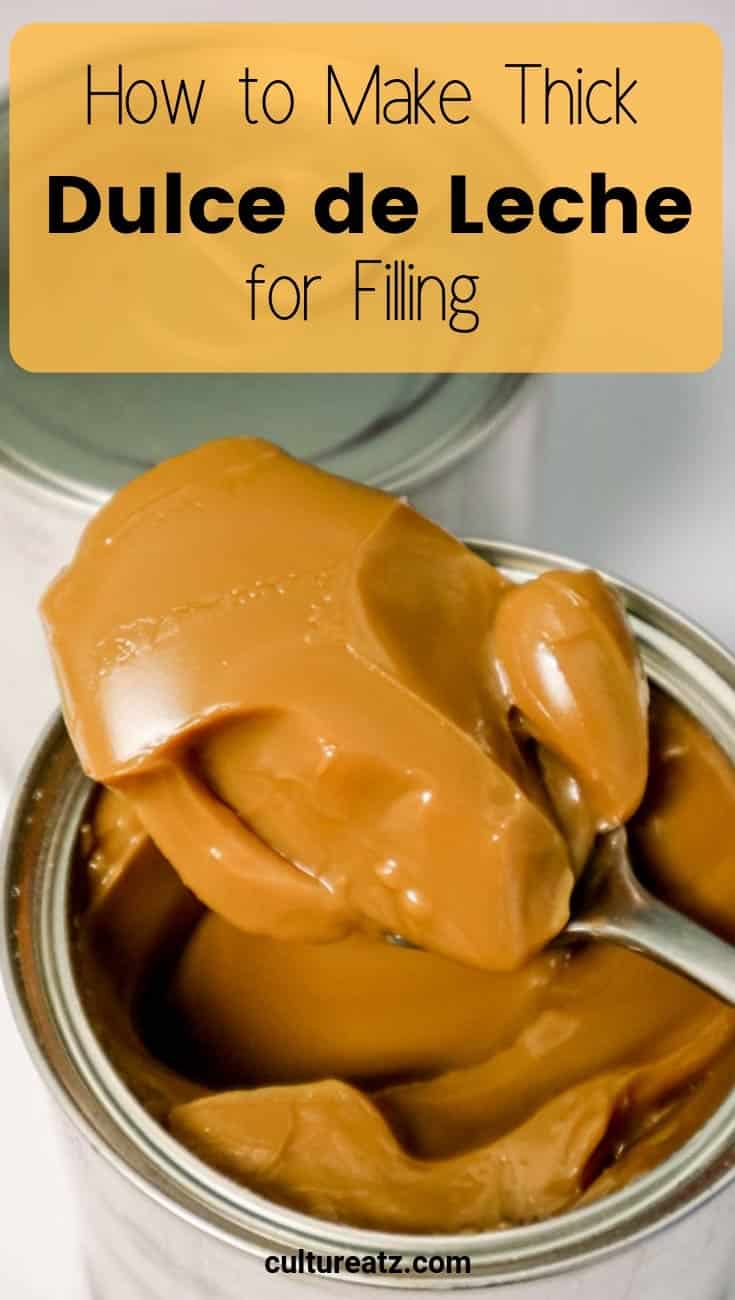 Pin it for later https://www.pinterest.ca/pin/266275396704089749
How to make dulce de leche
In case you do not know what is dulce de leche, let me give you a quick explanation. Dulce de leche is caramelized sweet milk and it is achieved by simmering it for a long time over a low heat. So is it a caramel? No! Dulce de leche vs Caramel: dulce de leche is made with (often condensed) milk and sugar. It differs from caramel which is cooked down water, heavy whipping cream, sugar, and butter.
Did you know that there is more than one type of dulce de leche? I had no clue until I read up on this recipe. The standard dulce de leche recipe will have a heavy sauce consistency. But for these cookies, we need a filling that holds up to being sandwiched. Meet the baker's dulce de leche, a thick dulce de leche that holds its shape.
Outside of Latin America, it may be hard to find a place where to buy dulce de leche, the bakery kind. But it turns out it is super easy to make at home, as long as you follow a few safety precautions.
The instructions are in the recipe below but I cannot place enough emphasis on 2 safety measures: never have part of the can of condensed milk sitting above the water level and never ever open the can until the insides are cooled down completely. Not even if just a bit warm. Both cases could result in the can exploding.
Eat the World recipe challenge
Check out all the wonderful Argentinian dishes prepared by fellow Eat the World members and share with #eattheworld. Click here to find out how to join and have fun exploring a country a month in the kitchen with us!
Margaret: Red Chimichurri Sauce
Tara: Milanesa a Caballo (Argentinian Milanesa on Horseback)
Amy: Argentinian Chimichurri Sauce
Juli: Revuelto Gramajo
Camilla: Matambre with Chimichurri
Wendy: Chipas
Claudia: Carbonada Criolla, Argentinian Beef Stew
Evelyne: Alfajores, Dulce de Leche Sandwich Cookies
PIN IT FOR LATER! https://www.pinterest.ca/pin/266275396704089710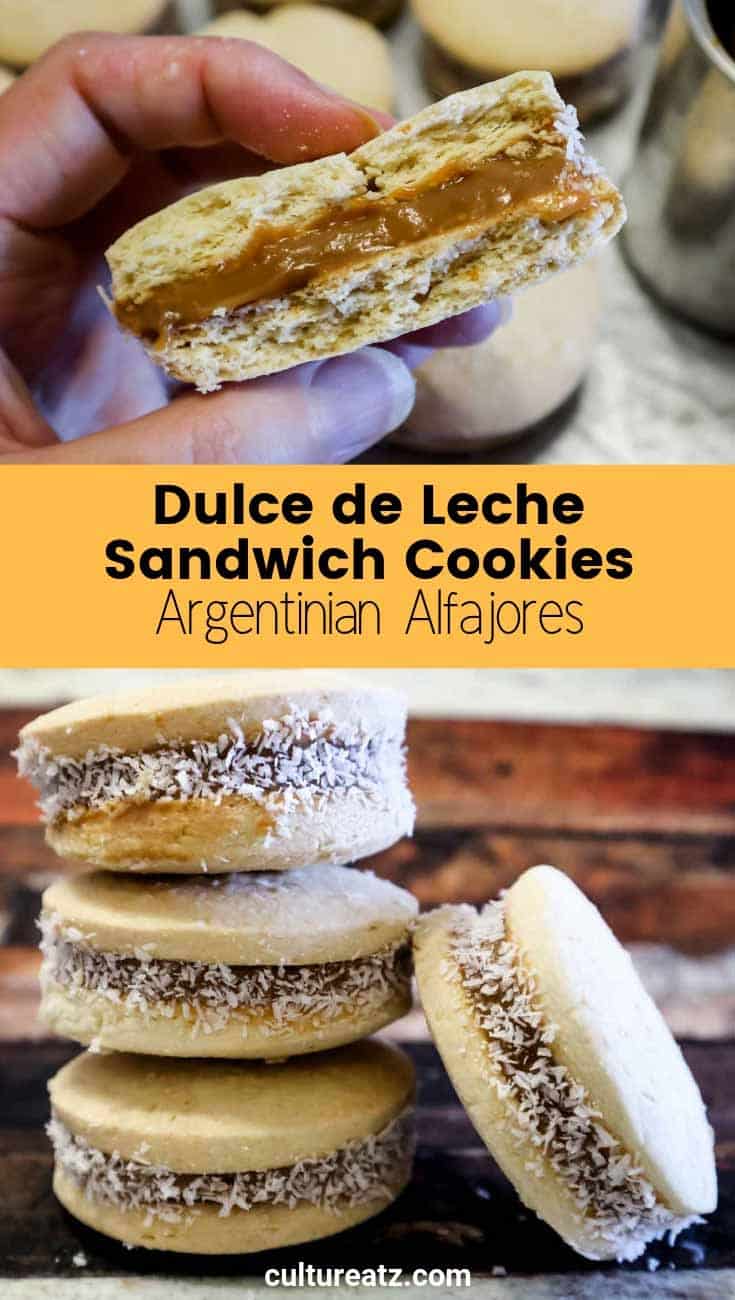 Did you make one of my recipes? I would love to see it. Take a photo and tag me on Instagram @cultureatz.
EDITOR'S NOTE: This post may contain affiliate links (disclosure policy). Please support CulturEatz by clicking on the links and purchasing through them so I can keep the kitchen well stocked. It does not alter the price you pay.