This traditional Uruguayan Peach Meringue Layer Cake is not only delicious but beautiful to look at. You will love every layer: dulce de leche, caramelized peaches, and meringue.
In this recipe, we list a few cheats to help you prepare your chaja in no time! The Peach Meringue Layer Cake dessert is one of Uruguay's classic sweets. You can certainly make it from scratch, but if you are pressed for time you can buy several of the main components pre-made. Your family and friends will clamor your efforts without spending hours baking.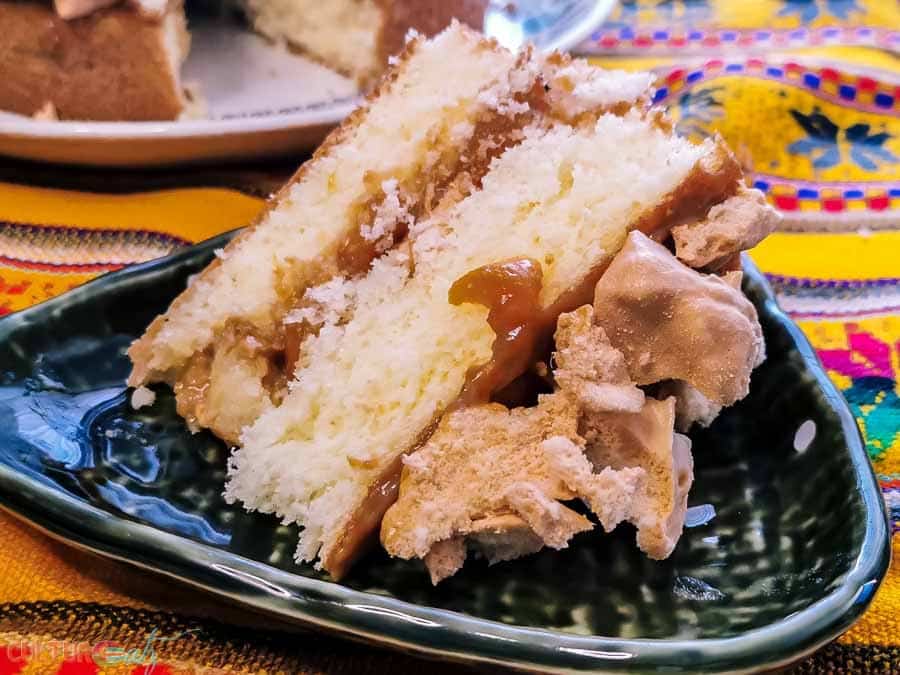 The flavors of Uruguay
Uruguayan cuisine is a mix of cuisines from various countries throughout Europe and the Mediterranean, and its base consists mainly of meat, poultry, and fish. Uruguay's exotic fruits are often baked or fried with wheat, such as in pastries.
They are big on barbecuing meats, called Asado. Many luscious zesty and flavor packed sauces are served as an accompaniment, along side delicious salads.
Popular desserts are quince paste and dulce de leche, the latter being made from caramelized milk. A sweet paste, dulce de leche, is used to fill cookies, cakes, pancakes, my favorite, alfajores shortbread cookies sandwiching with this caramel.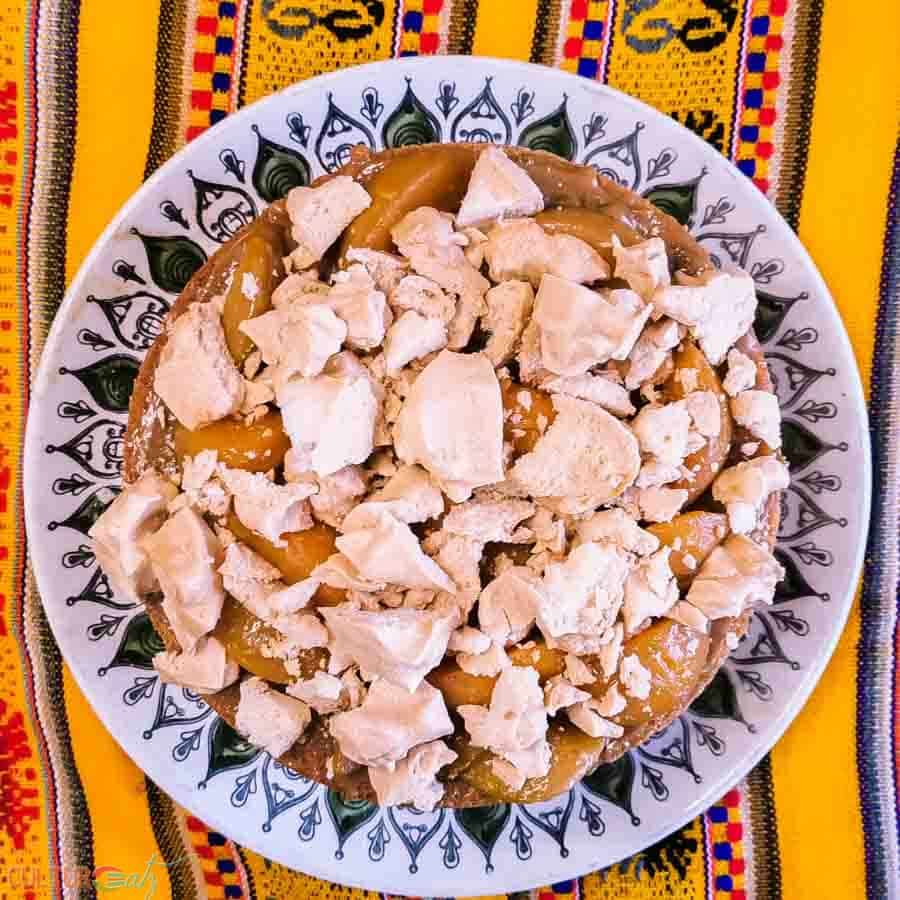 The origins of the Peach Meringue Layer Cake
The Chaja cake was created by Orlando Castellano, owner of the bakery "Las Familias" in the city of Paysandú, located in the Department of Escudo. The city earned its place on the map as the chajá cake does not have an equal that can match this delicacy, nor has anyone been able to imitate or try to copy it.
The name of this South American cake was inspired by an Aboriginal word use for a typical bird of the region, Chajá. The chaja bird is an imposing creature with a massive size and very thick plumes.
But a full-grown adult-only reaches around eight pounds as its bones are hollow. The chaja can be domesticated without difficulty. They are gentle, intelligent birds, and they have character. Chajas will not hesitate to attack if it feels threatened.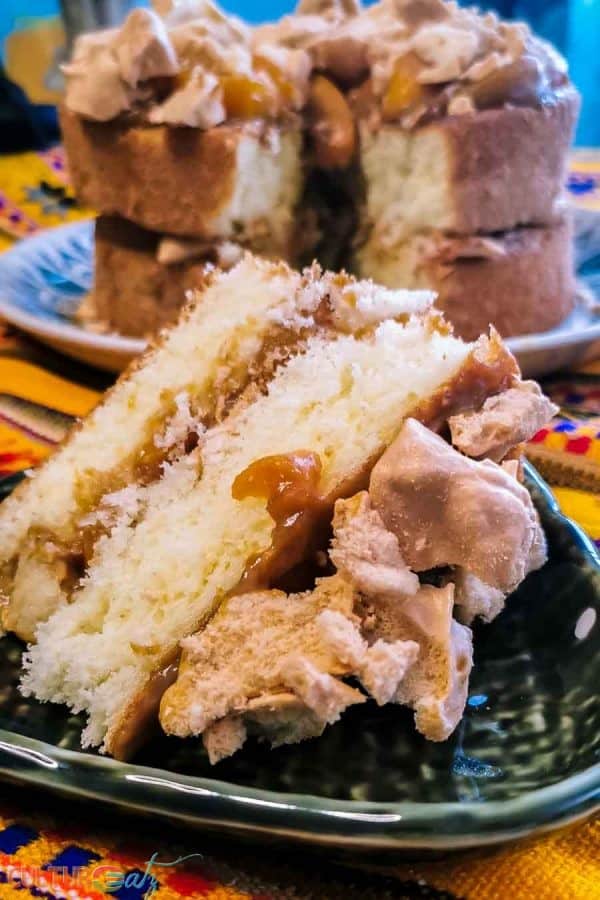 Secret recipe cheat for a quickly made Chaja
The love of baking is something that transcends cultures and borders. Bakers all over the world have their own versions of a classic cake recipe, each with its own unique twist. One such twist to a classic cake recipe is the Chaja Cake, which uses peach meringue layers instead of regular buttercream frosting.
And as promised, I will reveal the cheats you can use the prepare rapidly your Peach Meringue Layer Cake. My inspiration for this Chaja cake recipe is from the Que Rica Vida recipe site.
The cake base of preference is an angle food cake. You can easily find premade angle food cakes in most grocery stores. Next you can buy jars of dulce de leche and grab a pack of meringues as well. Finally, we will need a bag of frozen peach slices.
The peaches are cooked in a pan with butter and brown sugar. And you are ready for the assembly. Cut the cake to have two layers. Add a layer of caramel, a layer of peaches, and a layer of broken meringue pieces. Repeat a second time and voilà, you are done.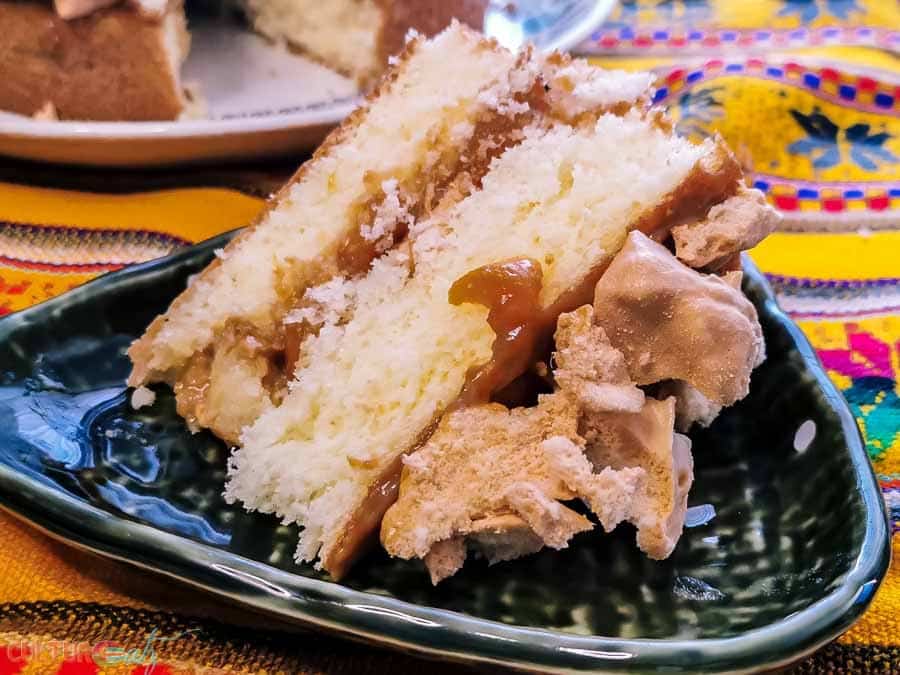 Chaja Cake, an Uruguayan Peach Meringue Layer Cake
This traditional Uruguayan Peach Meringue Layer Cake certainly looks messy but it's oh so delicious. You will love every layer: dulce de leche, caramelized peaches, and meringue.
Ingredients  
For the peaches
2

tbsp

butter

3

tbsp

brown sugar

10

oz

frozen sliced peaches

1

tsp

vanilla

1/4

tsp

cinnamon
To assemble the dessert
1

angel food cake, cut into 2 layers

1/2

cup

dulce de leche

2

cups

meringue, chopped
Instructions 
Melt the butter in a pan with the brown the sugar and cinnamon. Stir in the frozen peaches and cook for 10 minutes, stirring occasionally. Let cool and stir in the vanilla.

Place the bottom layer of the cake on a cake plate, and moisten cake with cooking peach juice. 

Spread half the caramel, add half the peaches on layer, and sprinkle on a third of the chopped meringues. Repeat the steps one more time.

Serve with a sprinkle of cinnamon powder.
PIN IT HERE for later!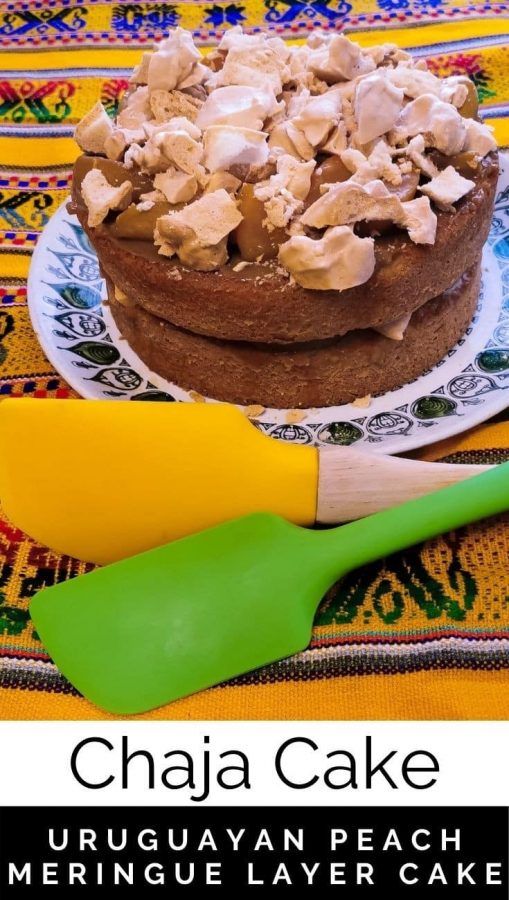 Check out all the wonderful Uruguayan dishes prepared by fellow Eat the World members and share with #eattheworld. Click here to find out how to join and have fun exploring a country a month in the kitchen with us!
Magical Ingredients: Tortas Fritas
Sneha's Recipe: Torta Frita -Uruguay
Pandemonium Noshery: Polvito Uruguayo
Palatable Pastime: Grilled Chicken Pinchitos
Sugarlovespices: Uruguayan Pancho Hot Dog with Fries on the Side
Amy's Cooking Adventures: Pasta Caruso
Culinary Adventures with Camilla: Empanadas a la Criolla
Kitchen Frau: Torta de Fiambre (Baked Ham & Cheese Sandwiches)
Cultureatz: Chaja Cake, an Uruguayan Peach Meringue Layer Cake