It's Food 'n Flix time again! In this monthly group a 'host' picks a movie of their choice that pertains to food. Everyone watches the movie and then makes a recipe which the film inspired. It can be any recipe you want.
I'm so excited to be hosting this month again. It really is a fun group to get involved with and I love to see what the other participants come up with after we all see the same movie. I chose a very entertaining comedy drama that would require a little bit of mind flexing in choosing a recipe. The movie is not all about food but it plays a role. The movie in question is The Terminal and I decided to prepare Roasted and Salted Peanuts in the Shell.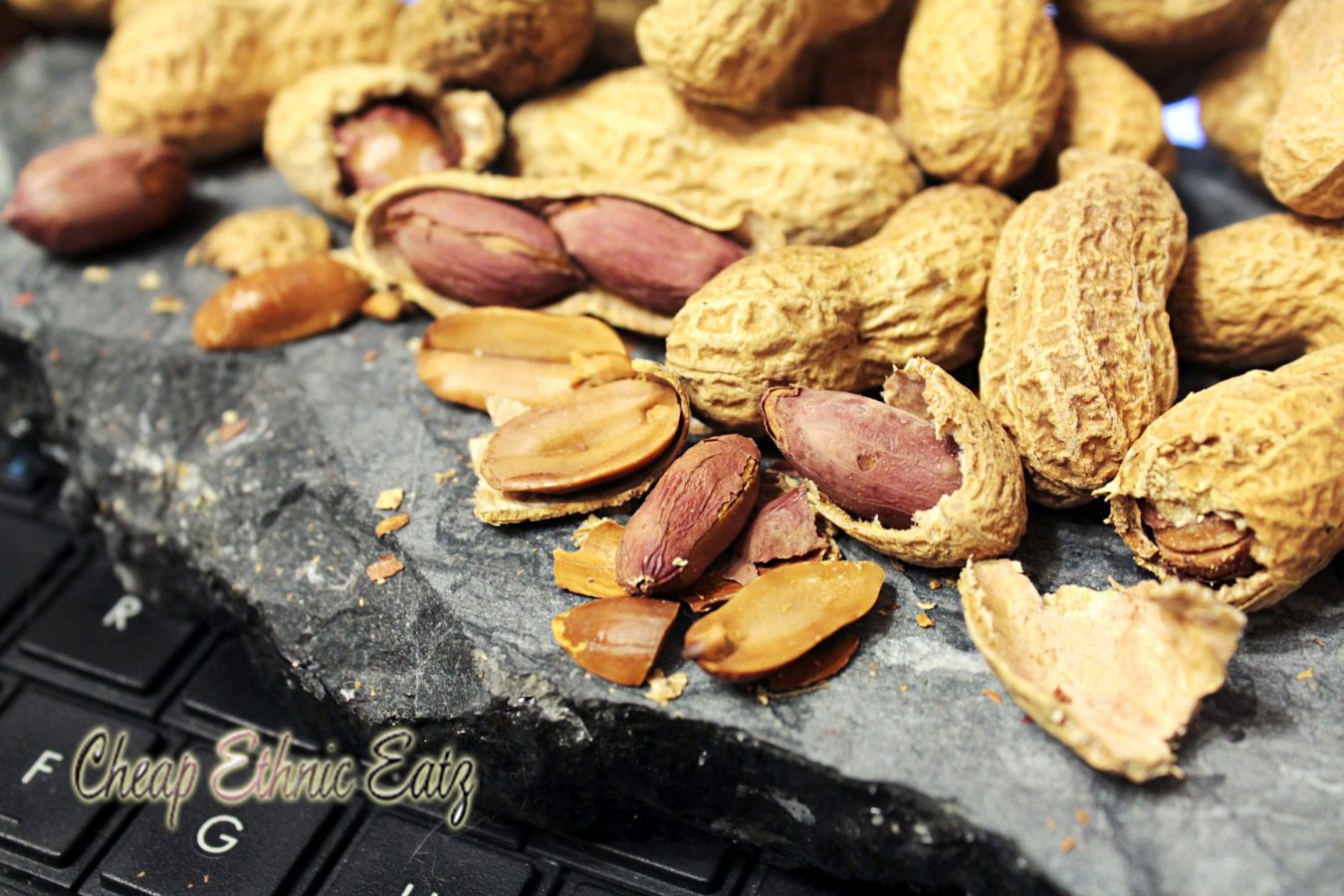 The Terminal stars Tom Hanks and Catherine Zeta-Jones. It is about a man named Viktor who becomes trapped in JFK International Airport terminal when he is denied entry into the United States as his status becomes 'unacceptable' when his native country has a revolution while he was traveling. The film is partially inspired by the 17-year stay (1988 to 2006) of Mehran Karimi Nasseri in the Charles de Gaulle International Airport Terminal I in Paris.
I think it is the 3rd time I see this movie and I love it every time. I cry every time Viktor finally understands what is happening to his country while he sees the torn country by a revolution in the lounge on CNN. He cannot leave the terminal while being (un)stamped as an unacceptable. He is denied entry as he does not technically belong to an existing country. For his troubles he is told not to leave the terminal while being handed meal vouchers and a phone card. When he asks what he is supposed to do while waiting he is told by the security escort:
"There's only one thing you can do here, Mr. Navorski. Shop"
Unfortunately the meal vouchers get lost. Viktor proves resourceful in figuring out how the feed himself with money earned by returning carts and later in construction. He makes the best of his situation and truly turns the Terminal into a home. We meet a few interesting characters who work at the airport. We witness two love stories: one that ends well and one that does not. Will Viktor finally make it into NYC or make it back home? Why did he come in the first place to the US. Get some popcorn and sit down for a great movie screening to find out.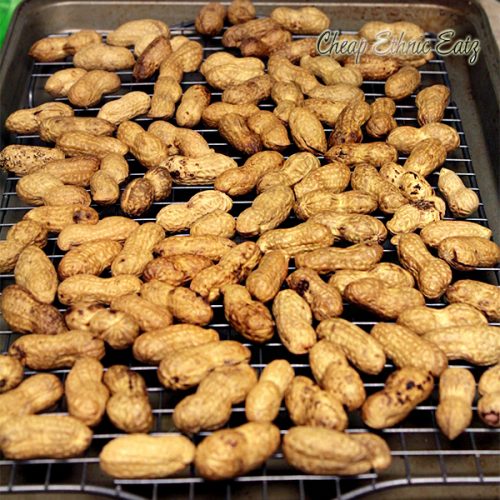 Viktor spends a lot of time trying to feed himself in the movie. So we see snippets of food a lot. Some of the items shown are a sandwich and chips in a lunch box, pastry shop display, soda crackers stacked with free condiments (ketchup, mustard, relish) to make a sandwich, burger king whoppers, Canelloni, lobster ravioli, caviar, Brazilian walnuts filled with drugs and the mention that croissants were actually made by the Romanians in 1742. My personal inspiration came from a old Planter's Peanut can Viktor carries with him.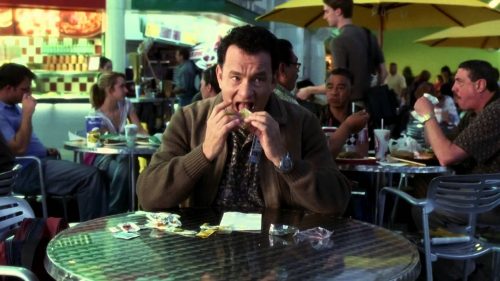 Benny Golson, a famous jazz musician, cameos in the movie. Benny was at one time part of Dizzy Gillespie's band. Dizzy composed a famous bebop song in 1943 called "Salt Peanuts" . Viktor keeps precious jazz related items in the can of salted peanuts. If that is not a perfect inspiration for a recipe to go with this movie than I do not know what is!
What is in the can of peanuts in the movie? Watch The Terminal to find out!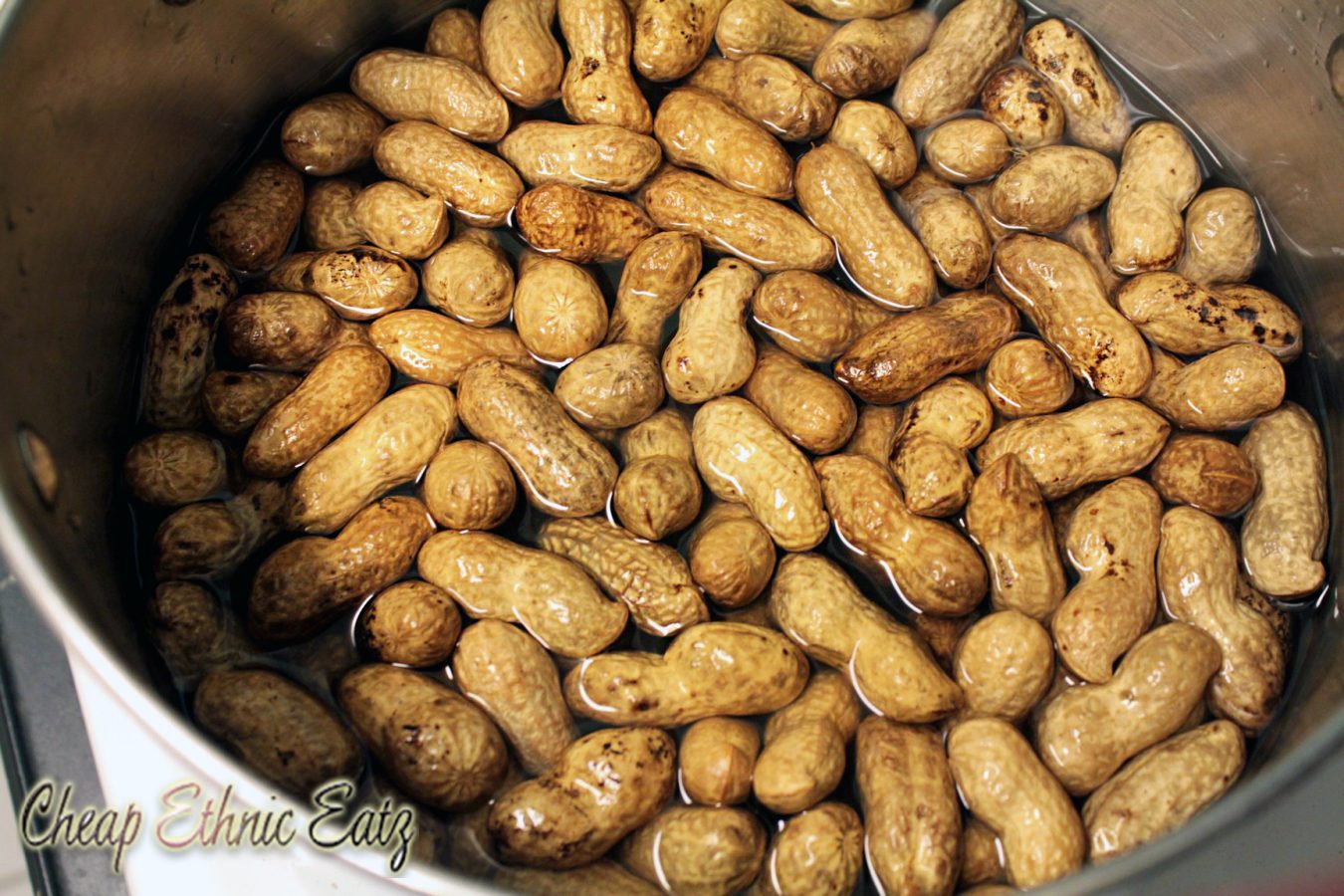 So how do they get the salt inside the shell? Soak in brine! Your biggest challenge may be finding raw peanuts in the shell. I got lucky on my second store. Well they may have been roasted already as I followed the time in the original recipe and they were a bit over roasted. So I suggest to take them out of the oven as soon as you stat smelling them. The salted taste was spot on!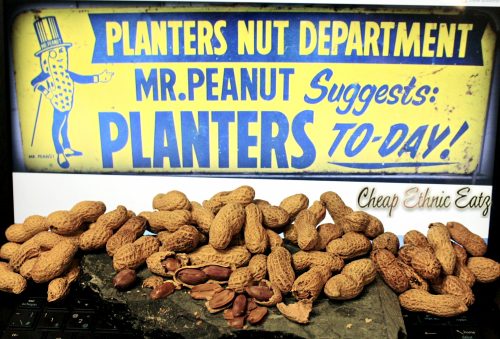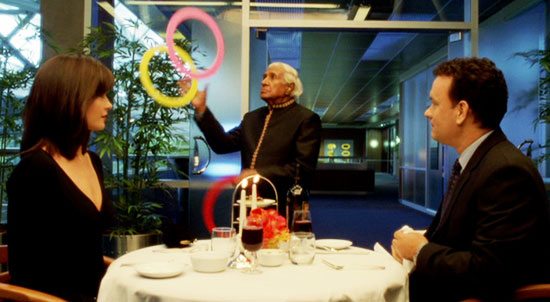 Roasted and Salted Peanuts in the Shell
Ingredients  
1

lb

peanuts

raw and in the shell

1/2

cup

salt

8

cups

water
Instructions 
Bring water to a boil in a large pasta pot. Dissolve the salt in the water and add the peanuts. Keep them submerged in the brine by taking a plate or pie pan and setting it on top of the floating peanuts. Stir them once every hour over the next 5 hours. Strain in a colander and rinse only lightly.

Place a cooling rack on a cooking sheet. Place the peanuts on the rack in a single layer and allow them to dry for 3 days. Stir occasionally.

Preheat oven to 350 F and roast on rack for 15 to 30 minutes, stirring at the 15 minute mark. The peanuts are ready when they start smelling.
Check out more peanut recipes here:
Looking for more Southern-inspired recipes? Check out my other recipes below: