This bold-flavored Savannah Red Rice recipe will blow you away. You have to try this rice brimming with lots of tomatoes, spicy heat, sausage, and shrimp.
This month the Eat the World Challenge group is not exploring a new country, but rather exploring Soul Food. The timing with the BLM movement fits perfectly with the bloggers of the group to bring delicious Soul Food to your tables and bring food for thought as well. Food brings happy people of all colors together, especially with this Savannah red rice dish on the table.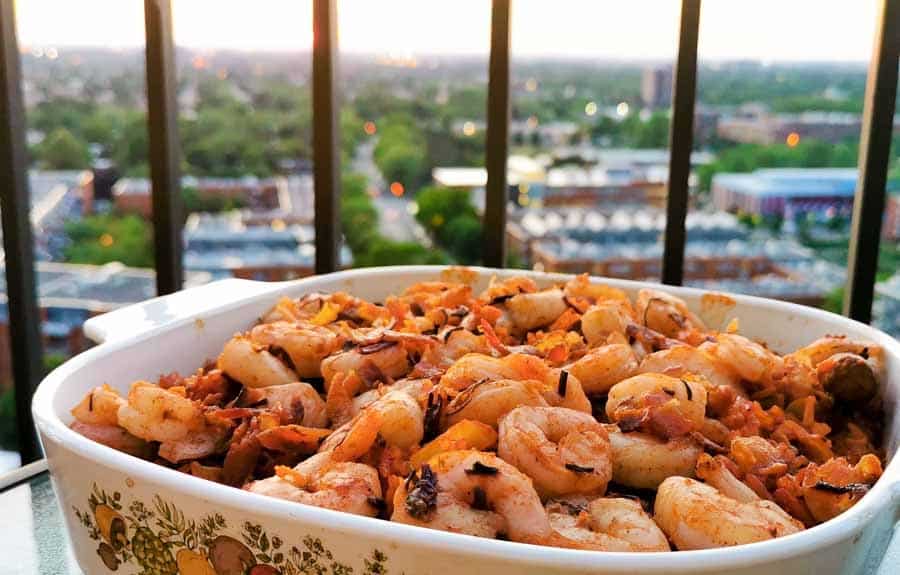 Is there a difference between Soul Food and Southern Food?
It is indeed considered two different cuisines, with a lot of overlap as far as ingredients and cooking techniques. Many consider Soul food flavors to be definitely more intense on many levels: fattier, saltier, spicier, and sweeter than Southern food.
Soul Food was way ahead of the current trend. Every part of the animal was eaten: innards, offals, tails, and necks.
The Soul Food movement began in the 1960s, very intertwined with the Black Power Movement with Martin Luther King Jr. and Malcom X.
Is Soul Food bad for your health?
You would think at first glance that is bad for you, with all fried dishes and super sweet treats.
But let's look at the other components of a soul food plate: you will often find dark, leafy greens; fish; legumes; and sweet potatoes. All things we are highly recommended to consume.
In my research on my own blog, I was surprised by how many Soul Food recipes I had already published, such as:
But Soul Food is poor people's food?
Culturally, we do associate Soul Food as African American cuisine, as cheap food the poor can afford, and even as "slave food" which is closely knit with current events."
Well you may be surprised that many monarchs adored Soul Food, for them it was prestige: imagine King Richard II and Queen Elizabeth scoffing down mac and cheese. Henry VII was crazy about sweet potato pie. The gentry who traveled to America gorged themselves on chitterlings. Fried chicken was a special treat eaten only on special occasions. Soul Food is spectacularly delicious.
And back to the 1960s, when the term 'soul food' was coined, it was a way for the African Americans to reclaim what was theirs. Empowerment.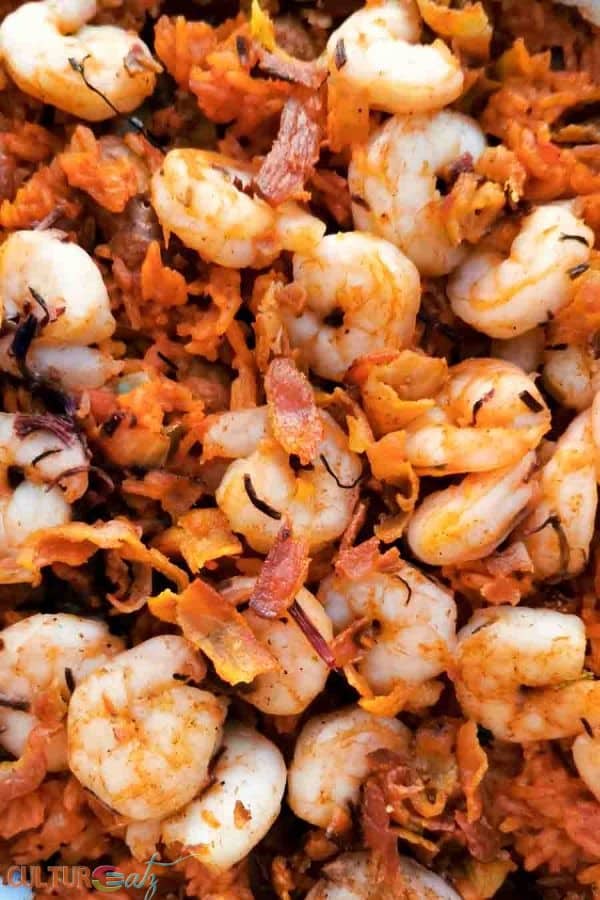 Black Lives Matter
It's a touchy subject but it is one I cannot stay quiet about. But if you know me, I am not one to cause arguments. I just want to add in my 2 cents.
I am from Canada, and although racism does happen here, it's not on the same level. The feeling is tangible in the air the moment I cross the border. I have encountered two events in my life that really hit me hard and I want to share them with you
I was in North Carolina at a private party…
deep in-country. Oh yeah, the was a 'snow storm' of 3 to 6 inches. Again, Canadian girl here. Anyways, because of the snow, about 20 people slept over, and in the morning while having breakfast, I walked into a big group conversation that was incredibly racist. Then everyone turned to me and asked my opinion. I was in shock.
I don't remember what they asked but I remember what I answered: "I live in a building and neighborhood where Caucasians French and English live happily with many Iranians, Korean, Chinese, West Africans, and Russians happily mingle together. The room went quiet and people felt uncomfortable. After a brief quiet, someone just changed the conversation.
I drove down with 2 friends from Montreal to New Orleans.
It's a 26h drive but we broke it up over 4 days in each direction to visit places. So at some point, we hit the Bible Belt. The further south we went, our encounters with black women were harsh, at first.
We learned very quickly that we were labeled as "three American white women". You could actually feel the hate emanating from them towards us. To this day, I have never felt so much hate directed towards me. So I brought the 'Canada card' into the conversations and all of a sudden the hate was gone. It worked every single time.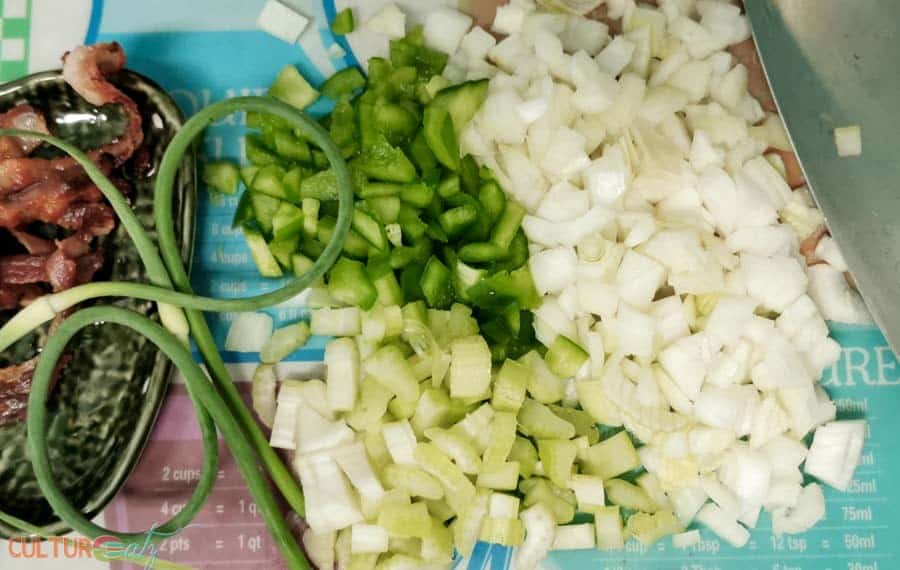 Listening with intent is key, and food.
My two incidents above were opposites. The first, being a witness to a conversation on hate of colored people. ACTION. The second was feeling the hate towards Caucasians. REACTION
Sadly humans and engrained views do not change overnight, decades, or centuries. But we are also not taking the time to have real conversations. A conversation is not a debate. A conversation involves one person talking and the other actively listening. The more we really conversa, the more we understand and begin to all accept each other.
And food, try the food of this new culture you are trying to understand. My dinner club from years back and my blog have always been about my trying recipes from around the world. I want to get people curious to try something new, and hopefully, open up their minds to other cultures.
This is why CulturEatz exists, my way of making the world a more open-minded place.
Savannah Red rice
It's kind of funny that I ended up picking a recipe from Savannah, Georgia. It was in fact the last stop of my March vacation. But I never made it as I had to rush home due to the pandemic. I was still in Florida.
I found this recipe on Jocelyn's site Grandbaby Cakes. She herself is a Souther gal who loved cooking with her grandmother as a child in Mississippi. Here we have a Lowcountry recipe which is associated with the South Carolina Lowcountry and the Georgia coast.
And like with good Southern recipes, it starts off with the holy trinity, the kitchen one that is: onions, green peppers, and celery.
It is tangy with lots of tomatoes, includes nice spicy sausage and shrimp, plenty of heat, layered flavors, and topped off with bacon. What's not to love?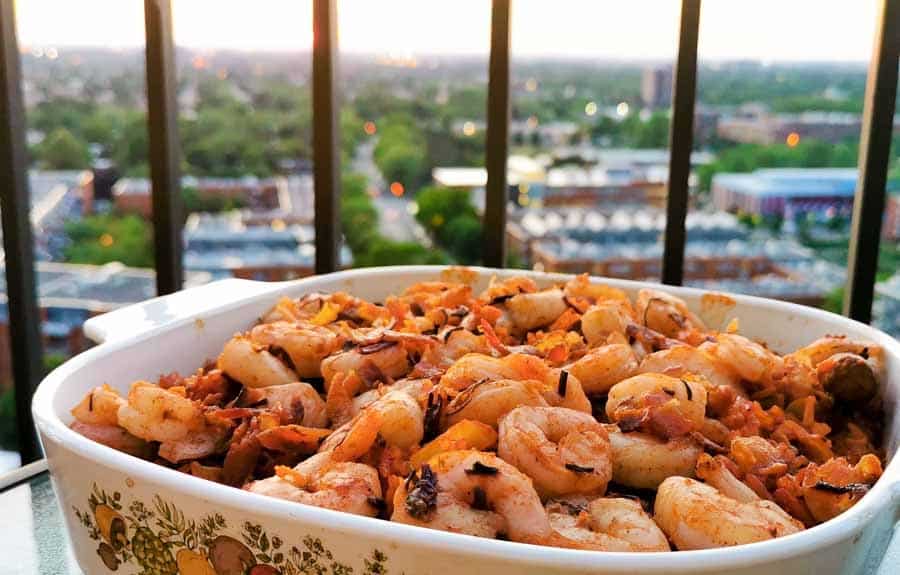 Red Rice Soul Food Recipe
This bold-flavored Savannah Red Rice recipe will blow you away. You have to try this rice brimming with lots of tomatoes, spicy heat, sausage, and shrimp.
Ingredients  
4

bacon slices

16

oz

kielbasa sausage sliced

I used mergez

1

onion finely diced

1/2

bell pepper finely chopped

1/2

tsp

minced garlic

1

celery stalk chopped

1

cup

white rice uncooked

14

oz

canned tomatoes undrained

14

oz

canned tomato sauce

3/4

cup

chicken broth

2

tbsp

tomato paste

1 1/2

tsp

creole seasoning

1/4

tsp

cayenne pepper

1/2

tsp

granulated sugar

1/2

tsp

hot sauce

1 1/2

cups

raw shrimp

shelled and deveined

1/2

tsp

creole seasoning divided

parsley for garnish for garnish
Instructions 
Fry the bacon until crisp and sausages until cooked and brown in a large skillet. Remove the bacon, let it cool and crumple it into pieces, and set aside.

To the sausage, saute the onion, bell pepper, and celery until tender. Add garlic and cook 1 min or until fragrant.

To the skillet, add the rice, tomatoes, tomatoes (sauce, broth, and paste), the creole seasoning, cayenne, sugar, and hot sauce. Cook down and stir the liquid for 15 minutes, but do not leave it to cook the rice completely.

Transfer the mixture to a 1 1/2 quart baking dish. Cover with foil and bake at 350 F for 30 minutes. Check with a fork to see if the rice is soft and fluffy. If not, place back in the oven for an additional 10 minutes.

After placing the baking dish in the oven, season shrimp with 1/2 teaspoon of creole seasoning, and saute in the same skillet until just done. Set aside. When the rice is baked, top of rice with the shrimp and sprinkle the bacon on top.
Eat the World Challenge
Check out all the wonderful Soul Food dishes prepared by fellow Eat the World members and share with #eattheworld. Click here to find out how to join and have fun exploring a country a month in the kitchen with us!
Culinary Adventures with Camilla: Food to Soothe the Soul
Making Miracles: Sylvia's Sweet and Sticky Baked Chicken Wings
Amy's Cooking Adventures: Oven-Baked Ribs with Cola BBQ Sauce
Kitchen Frau: Smothered Pork Chops
A Day in the Life on the Farm: Red Beans and Rice
Palatable Pastime: Smoked Rib Tips with Sweet Baby Molasses Sauce
Sneha's Recipe: Huevos Rancheros Breakfast Burritos
CulturEatz: Savannah Red Rice