Talk about killing 2 birds with 1 stone: 2 challenges, same publish date…SAME THEME! Awesome! And it gets better, I cooked with another daring kitchen member who has a food blog and who just so happens to be a great friend! On the menu tonight for both the Daring Cooks Challenge and the International Incident Party (which is hosted by the lovely Penny at Jeroxie) : Gumbo.
Gumbo is a stew or soup which originated in south Louisiana. It consists primarily of a strong stock, meat or shellfish, a thickener, and the vegetable "holy trinity" of celery, bell peppers, and onion. Gumbo is often categorized by the type of thickener used: the African vegetable okra, the Choctaw spice filé powder, and/or the French base made of flour and fat, roux.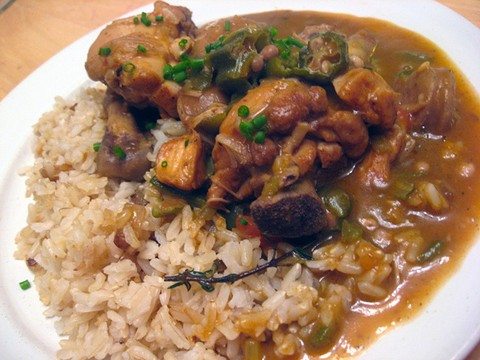 DC challenge: Our May hostess, Denise, of There's a Newf in My Soup!, challenged The Daring Cooks to make Gumbo! She provided us with all the recipes we'd need, from creole spices, homemade stock, and Louisiana white rice, to Drew's Chicken & Smoked Sausage Gumbo and Seafood Gumbo from My New Orleans: The Cookbook, by John Besh. For the entire recipe PFD click here.
My partner in crime is Amanda of The Mindful Table. We met about a year ago through a Montreal food blogger BBQ, realized we actually had a lot of common interests and acquaintances. And then she joined the Daring Kitchen so we exchanged emails and phones calls on various recipes. Finally the stars were aligned for us to cook a challenge together. Amanda's blog is devoted to local and sustainable food. If you want to learn more about these options, and learn about the organic meats we used in this recipe then check out her post of the gumbo challenge.
Our notes
Neither one of us was enthralled by the idea of so much sausage so we cut back a lot. And once all the herbs and spices were added from the original recipe we found it quite bland so we added a lot more thyme and cumin seeds, chili flakes and cayenne. We also added 3 garlic cloves to the rub. Oh and we did not read about the size of the pan…we used a 4-5 quart….so we only got in half the chicken stock (1.5 quarts) but we got a quite liquid gumbo so no idea why the recipe says 3 quarts.
There was a lot confusion and a lot of improvising…thank god we are both good at that and can laugh it off. It was  really fun night filled with cooking, banter, booze, gossip and laughter. Love you my friend! The gumbo was not what we expected, we found by the end all the veggies and meat had disintegrated. But it was very good to eat. I would not do this recipe again though.
The wine pairing was phenomenal. I researched the best red wines online to go with gumbo and the results were Pinot Noir or Gamay. Went to the SAQ store, asked for the best mid-priced, splurged a bit more for a Californian Santa Barbara Pinot Noir 2009…A-MA-ZING with the gumbo.
Here are the recipes we used…
Drew's Chicken & Smoked Sausage Gumbo
VERY adapted by Evelyne and Amanda
Serves 10-12
Ingredients
1 cup (240 ml) (230 gm) rendered chicken fat, duck fat, or canola oil
1 cup (240 ml) (140 gm) (5 oz) flour
2 large onions, diced
1 organic chicken (3 ½ to 4 lbs.), cut into 10 pieces
2 tablespoons (30 ml) (15 gm) (½ oz) Creole spice blend
3 garlic cloves, crushed
3/4 pound organic Valens smoked german style sausage, sliced ½ inch (15mm) thick
2 stalks celery, diced
2 green bell peppers (capsicum), seeded and diced
1 tomato, seeded and chopped
3 cloves garlic, minced
6 sprigs of fresh thyme
1.5 quarts (1.5 liters) Chicken Stock
2 bay leaves
2 cups (480 ml) (320 gm) (11 oz) sliced fresh okra, ½ -inch (15mm) thick slices
1 tablespoon (15 ml) Worcestershire sauce
1 tablespoon (15 ml) crushed cumin seeds
Salt, to taste
Freshly ground black pepper, to taste
cayenne and chili flakes, to taste
4-6 cups (1 – 1½ liters) (650 gm – 950 gm) cooked Basic Louisiana White Rice (recipe follows)
Directions:
1. Season the chicken pieces with the Creole Spices and 3 garlic cloves while you prepare the vegetables.
2. Make sure all of your vegetables are cut, diced, chopped, minced and ready to go before beginning the roux. You must stand at the stove and stir the roux continuously to prevent it from burning.
3. In a large cast-iron or heavy-bottomed pan, heat the chicken fat, duck fat, or canola oil over high heat. Whisk the flour into the hot oil – it will start to sizzle. Reduce the heat to moderate, and continue whisking until the roux becomes deep brown in color, about 15 minutes.
4. Add the onions. Switch to a wooden spoon and stir the onions into the roux. Reduce the heat to medium-low. Continue stirring until the roux becomes a glossy dark brown, about 10 minutes.
5. Add the chicken; raise the heat to moderate, and cook, turning the pieces until slightly browned, 10 minutes.
6. Add the sliced sausage and stir for about a minute.
7. Add the celery, bell peppers, tomato, and garlic, and continue stirring for about 3 minutes.
8. Add the thyme, chicken stock, and bay leaves. Bring the gumbo to a boil, stirring occasionally.
9. Reduce the heat to medium-low and simmer, uncovered, for 45 minutes. Stir occasionally, skimming off the fat from the surface of the gumbo every so often.
1o. Add the chopped okra, and Worcestershire. Season with cumin, salt, pepper, and cayenne and chili flakes, to taste.
11. Simmer for another 45 minutes, continuing to skim the fat from the surface of the gumbo. Remove the bay leaves and serve in bowls over rice.
Basic Louisiana White Rice
Servings: About 4 cups
Ingredients
1 tablespoon (30 ml) (30 gm) (1 oz) chicken fat, extra-virgin olive oil, or butter
1 small onion, minced
1½ cups (360 m) ((280 gm) (10 oz) Louisiana rice (we used brown rice)
3 cups (750 ml) Basic Chicken Stock
1 bay leaf
1-2 pinches salt
Directions:
1. Put the fat, oil, or butter and the onions into a medium saucepan and sweat the onions over moderate heat until they are translucent, about 5 minutes.
2. Pour the rice into the pan and stir for 2 minutes.
3. Add the chicken stock and bring to a boil.
4. Add the bay leaf and salt.
5. Cover the pan with a lid, reduce the heat to low, and cook for 18 minutes.
6. Remove the pan from the heat, fluff the rice with a fork, and serve.
Looking for more Southern-inspired recipes? Check out my other recipes below: