It's Food 'n Flix time again! In this monthly group a host picks a movie of their choice that pertains to food. Everyone watches the movie and then makes a recipe which the film inspired. It can be any recipe you want. This month's pick is hosted by Deb from Kahakai Kitchen and she picked an in theme Thanksgiving movie, Pieces of April.
I can cutting it short to the last minute on this one, it will be a short post, but I was inspired by an item on the foodie neighbor's menu … with my twist of course … Maple Hickory Ice Cream with Buttered Pecans.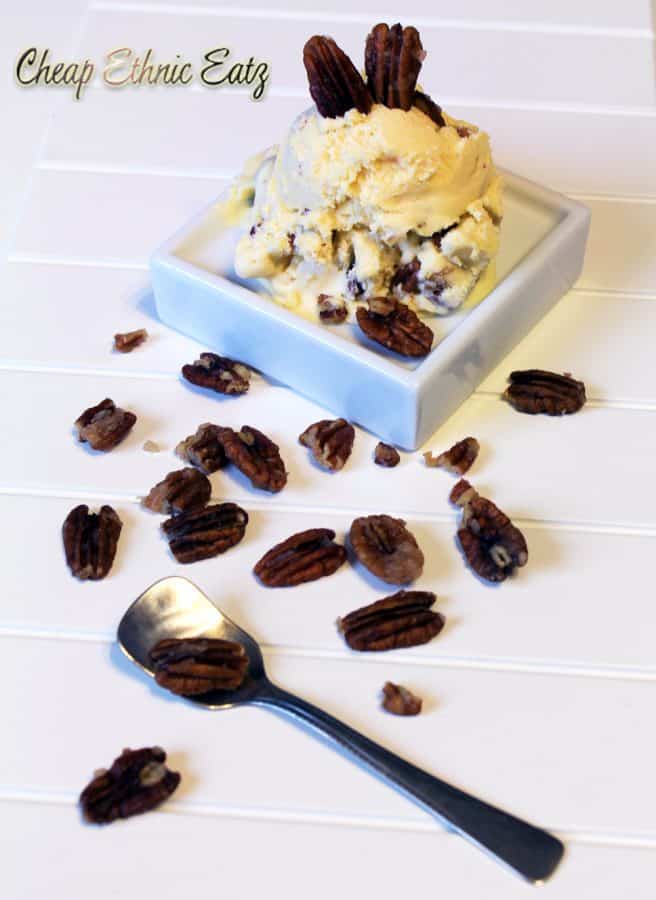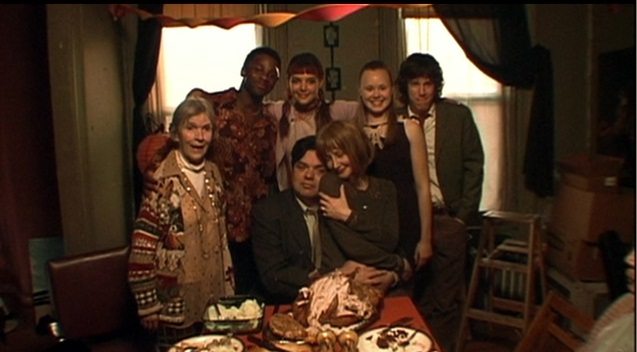 Pieces of April features April Burns, the eldest daughter in a highly dysfunctional family, who lives in a small tenement apartment on the Lower East Side of Manhattan with her boyfriend Bobby. Although estranged from her family, she opts to invite them for Thanksgiving dinner, probably the last for her mother Joy, who has breast cancer.
The film focuses on three journeys: the family's arduous trek from suburbia to New York City, punctuated by stops for Krispy Kreme doughnuts, bagels, and Joy's frequent need for a restroom or a joint to ease her pain – to name a few; Bobby's efforts to find a suit so he can make a good impression on his girlfriend's relatives; and April's preparations for the meal, a near disaster when she discovers her oven is broken. With the help of various neighbors, she manages to assemble dinner, while learning to appreciate the importance of family and making some new friends in the process. (wiki)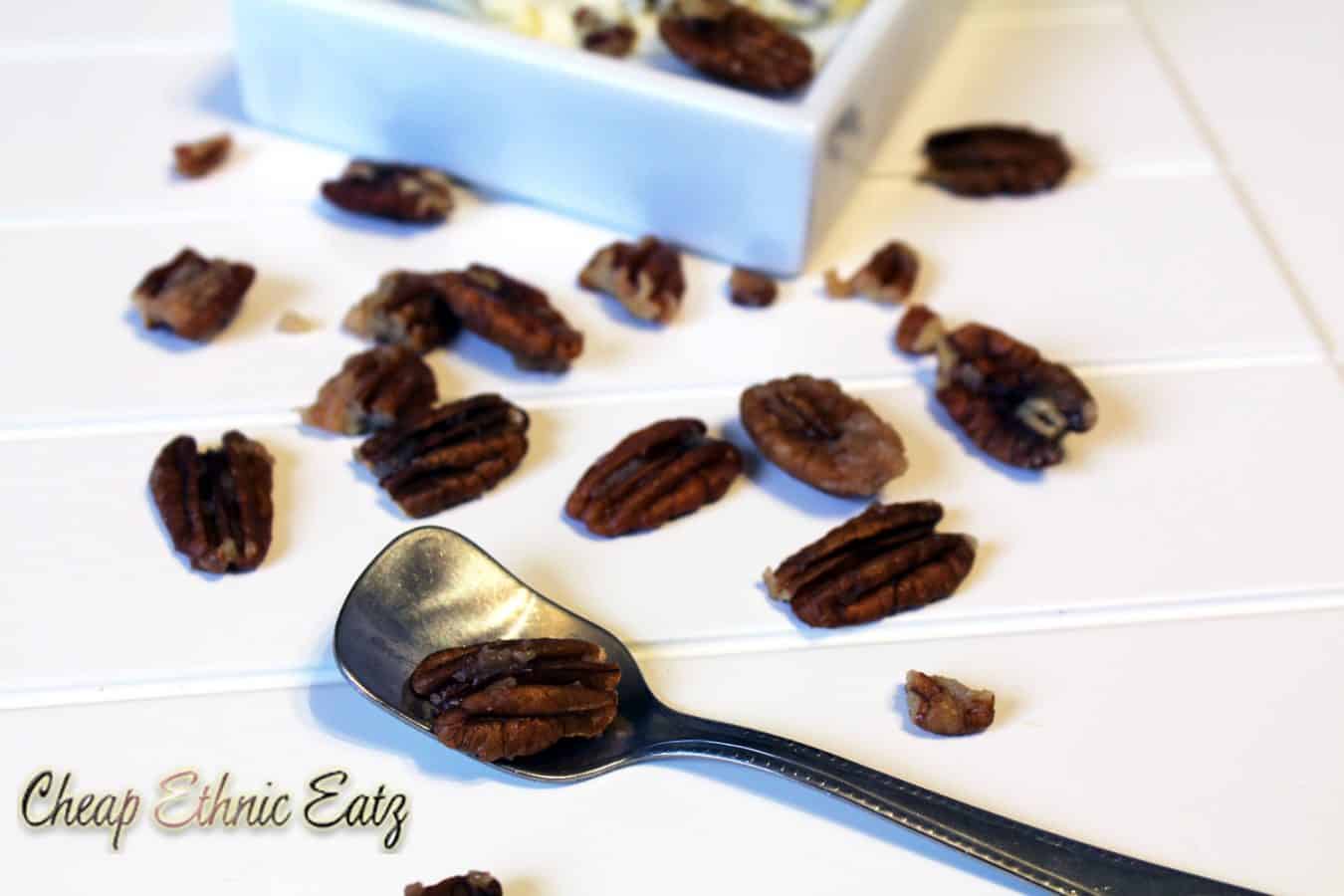 It was definitely a fun and light enough movie to watch. I never saw the movie but I knew food was involved, I just did not realize to what extent. This film will make my annual Food Film Marathon list for sure. One of my favorite moments is when April gets help to start of cooking her turkey and she asks what is on their menu:
…Nothing special this year. No. Sweet Potato Soup with Buttered Pecans…Herbed Oyster Stuffing…Giblet Gravy…Lemon Rosemary Green Beans…Hickory Nut Ice Cream…and Maple Pumpkin Pie.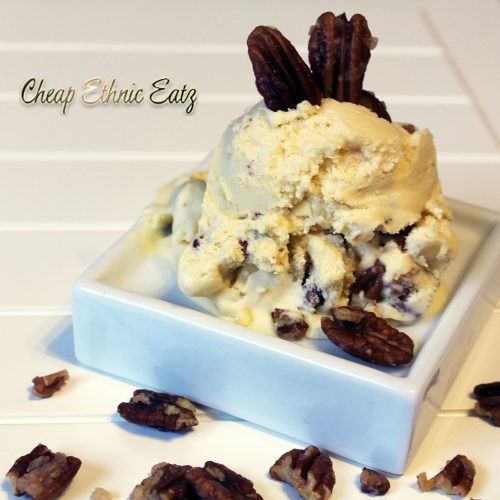 Hickory Nut ice cream got my attention right away. I have never seen a hickory nut before and I knew I was not going to find any soon…but I do have Hickory Liquid Smoke! I was also tempted by the maple element of the pie. Oh and pecans! Yes there must be pecans. Apparently they are a good substitute for hickory nuts. Hence I came up with this Maple Hickory Ice Cream with Buttered Pecans. How did it taste? Think salted caramel but with a Hickory wood instead, it was a great match, definitely a keeper. I wish I added a bit more liquid smoke, once frozen the taste was a bit dialed down.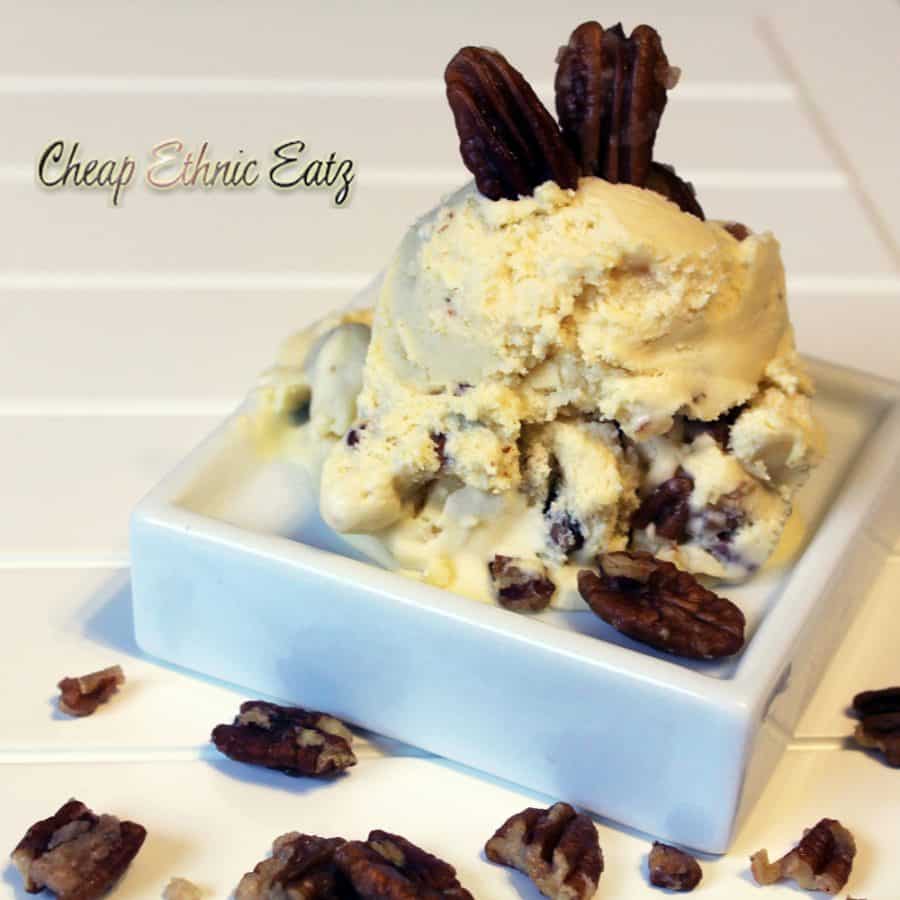 Maple Hickory Ice Cream with Buttered Pecans
Ingredients  
For the Buttered Pecans
3/4

cup

chopped pecans

1 1/2

tbsp

butter

1

tbsp

rounded sugar

Pinch

of salt
For the Maple Hickory Ice Cream
3

whole large eggs

2

cups

heavy cream

1

cup

milk

1/2

cup

maple syrup

1

tbsp

corn syrup

5 to 15

drops of Hickory Liquid Smoke

Pinch

of salt

3/4

cups

buttered pecans
Instructions 
For the Buttered Pecans
Melt butter in a saucepan and add remaining ingredients. Cook over low heat for 2-3 minutes, stirring constantly, until the butter is absorbed.

Cool on a lined cookie sheet in refrigerator for at least 30 minutes. Chop the pecans and keep a few whole ones to decorate
For the Maple Hickory Ice Cream
Whisk eggs in a medium bowl until well blended. Set aside.

Add all the remaining ingredients to a saucepan on medium heat, and bring to a light simmer.

Temper the eggs by slowly drizzling about 1 cup of the hot mixture into the eggs, while vigorously whisking the eggs.

Carefully pour the egg/cream mixture into the saucepan slowly, while whisking constantly.

Cook, stirring constantly over medium-low heat, until the back of your spoon remains lightly coated.

Refrigerate immediately, stirring occasionally during first 30 minutes, and cool completely for at least 3 hours.

Churn in ice cream maker according to manufacturer's directions and stir in nuts when transferring ice cream to a container.
Looking for more Southern-inspired recipes? Check out my other recipes below: