Nothing "smells" holidays like hundreds of Christmas cookies fresh out of the oven. I have 6 cookie recipes to share with you today to get you in the spirit of merry baking.
Have you ever spent an afternoon baking Christmas cookies for the holiday celebrations to come? Well I got together with my friends Catherine and Vitalia and we spent a good 6 hours baking our holiday butt's off. Yes you read that right, we made at least 200 Christmas Cookies all in one afternoon, and had six balls of dough left to freeze for future ready-to-go batches.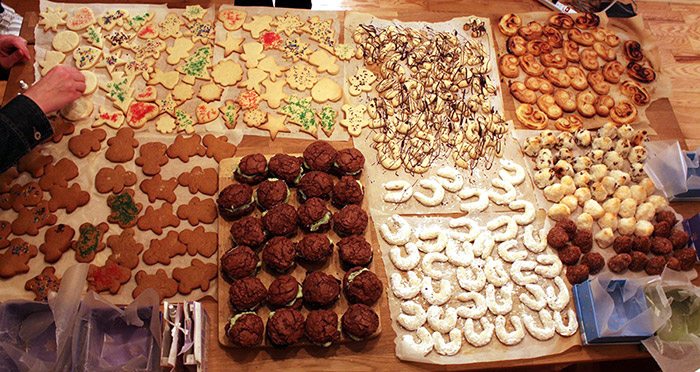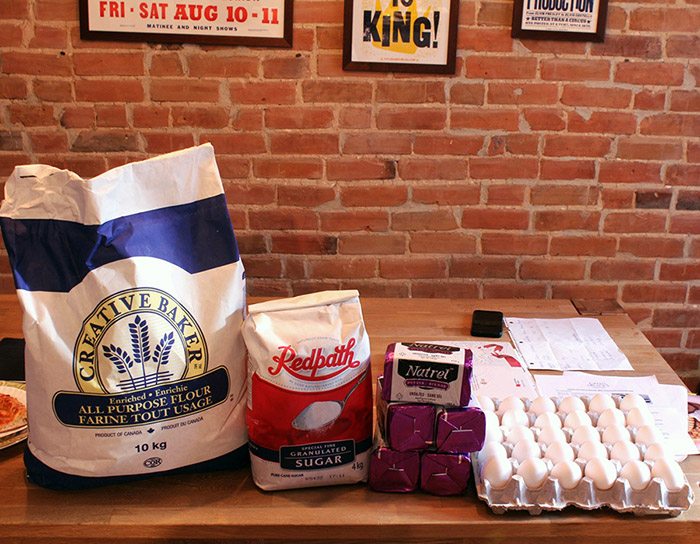 This was my first time baking on such a large scale in one sitting. We went through at least 5 pounds of butter, 4 pounds of sugar, maybe 10 pounds of flour and 24 eggs. Every recipe was doubled or tripled. The chocolate chip cookie dough did not even make it to the oven at all. We may have been a bit over ambitious but what a great way to spend time with friends! We had 1 guy who was our volunteer dishwasher and plenty of alcohol to sip throughout the day. It is very important to stay hydrated lol.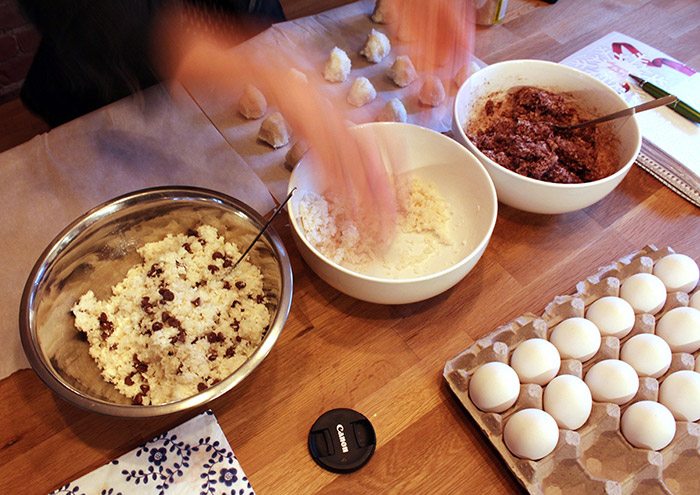 Picking my favorite Christmas cookies would be a tough call. All the recipes turned out well (even with mishaps in preparation) but if I had to pick one I would go with the Mint Chocolate Whoopie Pies because I love chocolate so much. The mint really gave them also that holiday feel. Close runner ups are the Macaroon and Palmier.
Here are the 6 cookies we made:
The Sugar Cookies from In Katrina's Kitchen.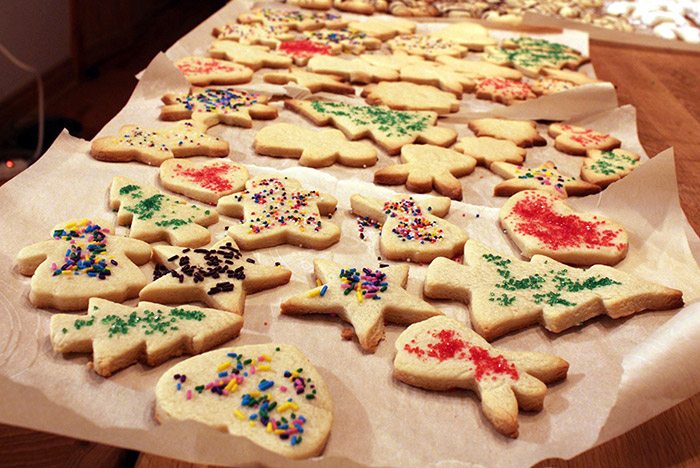 The Palmiers were from a Martha Stewart magazine issue Holiday Cookies issue 2001.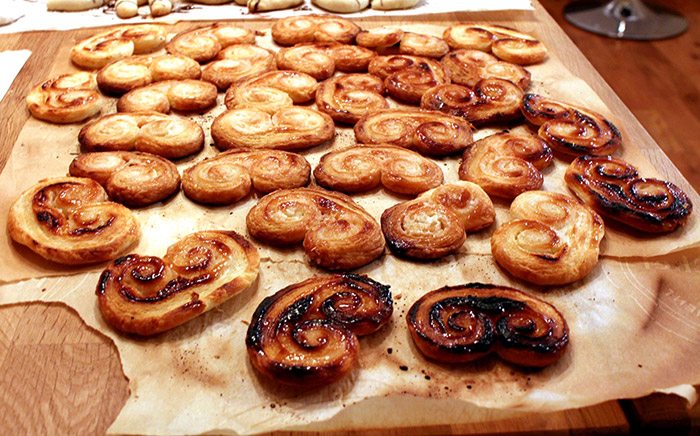 The Macaroons were from a Martha Stewart magazine Holiday Cookies issue 2001.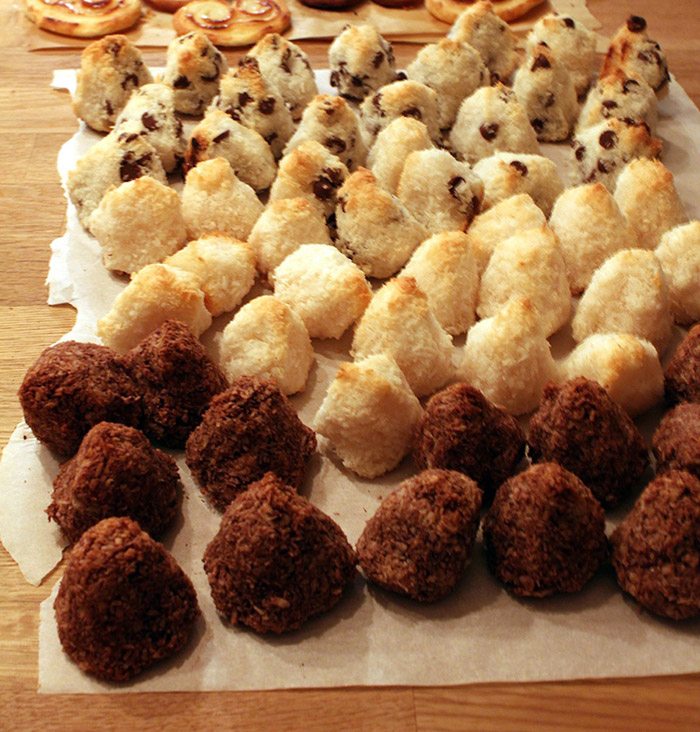 The Gingerbread Cookies are from Ricardo.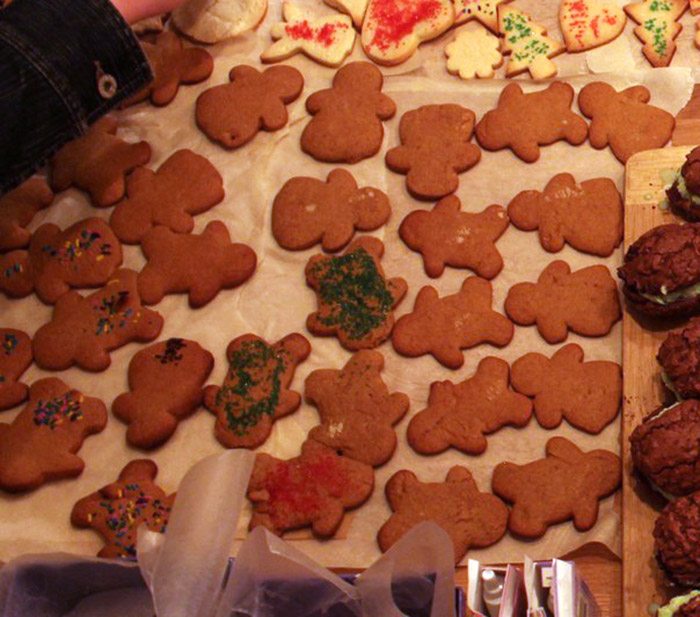 Austria Vanillekipferl from The Ambassador's Table.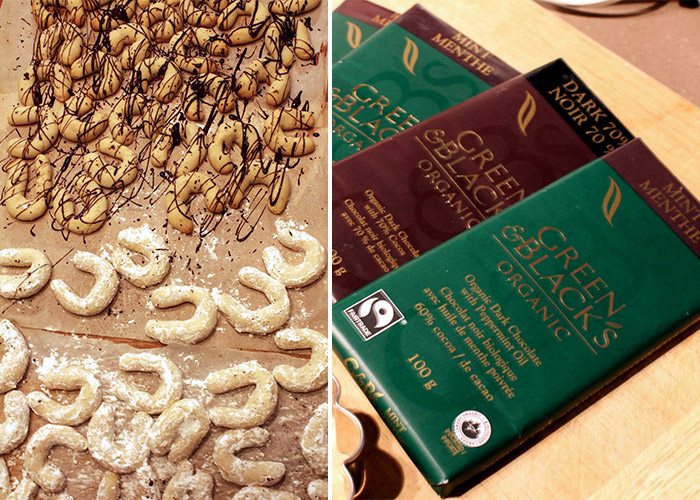 The Mint Chocolate Whoopie Pies were baked with chocolate sent to me by Green & Black's Organic. I got 3 bars infused Mint (with Peppermint oil) for the whoopie pies and 1 bar of Dark Chocolate which was used to drizzle on the Austria Vanillekipferl. I was not happy with the look of the icing but it tasted good.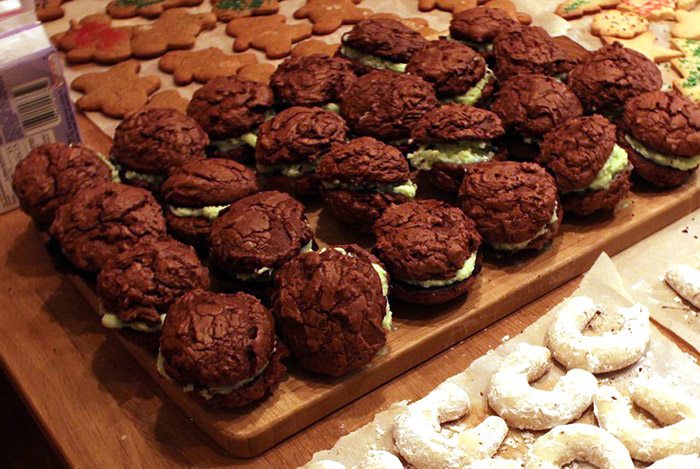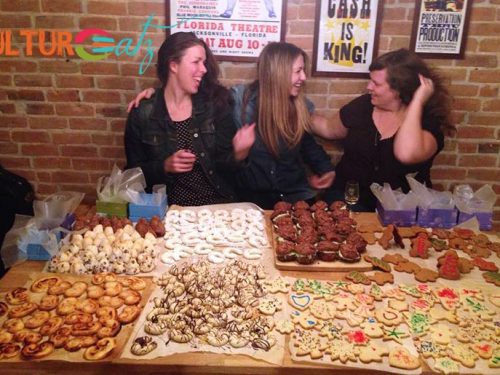 Green & Black's Organic Mint Chocolate Whoopie Pies
Ingredients  
Pie Ingredients
125

g

4 oz Unsalted butter at room temperature

150

g

5 oz Green & Black's Organic Mint Chocolate

225

g

8 oz Sugar

3

Large eggs

1

tsp

Vanilla extract

250

g

9 oz Plain flour

30

g

1 oz Good-quality cocoa powder

1

?2 tsp Baking powder
Frosting Ingredients
150

g

5 oz Unsalted butter

30

ml

Semi-skimmed milk

150

g

5 oz Icing sugar

Natural peppermint extract

Optional Natural green food colouring
Instructions 
Preheat an oven to 180°C (355°F). Line two baking trays with baking parchment.

Melt the butter and chocolate in a heatproof bowl over a pan of barely simmering water, making sure the bowl does not touch the water. Remove from the heat and allow to cool slightly.

Whisk the sugar, eggs and vanilla in a separate bowl for about three minutes or until light, fluffy and pale in colour, then fold in the chocolate mixture.

Sift the flour, cocoa and baking powder together and fold into the mixture.

Place tablespoons of the mixture onto the baking trays (the mixture should make about 20

biscuits) and bake for 10–12 minutes. Remove from the oven and allow to cool.

For the filling, cream the butter, sugar and milk together. Add a few drops of peppermint extract to taste. If desired, finish with a few drops of the natural food coloring until you're happy with the final color. Cream everything together until light and airy.

When the pies have cooled, pair them up and apply a layer of filling to one of the flatter sides and sandwich them together. Dust with icing sugar.
Notes
Recipe courtesy of Green & Black's Organic
Here are a few candid shots of the day, just for fun.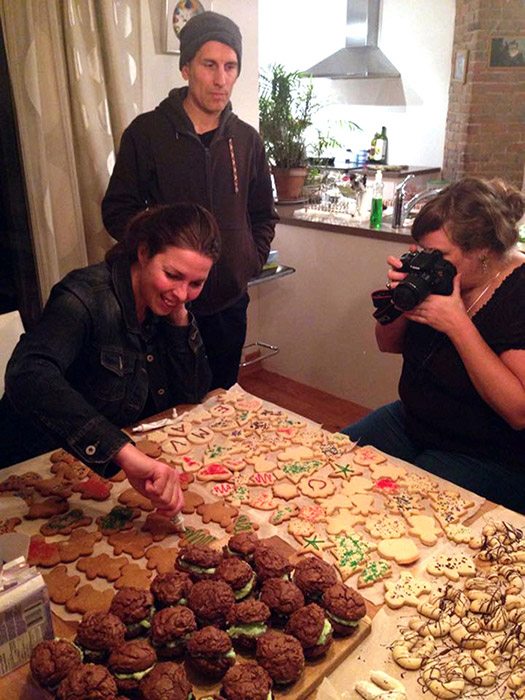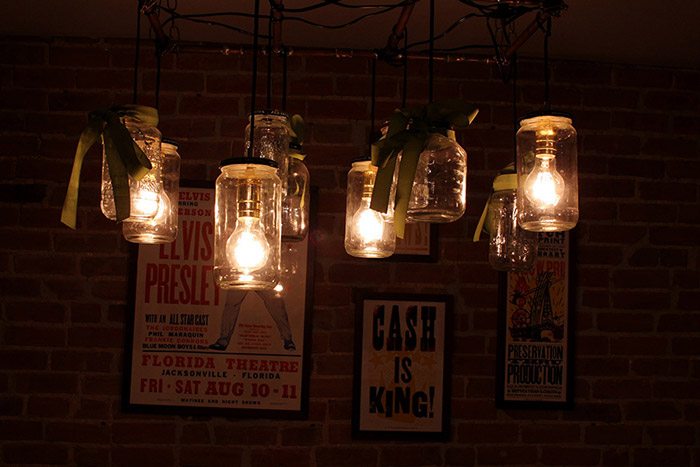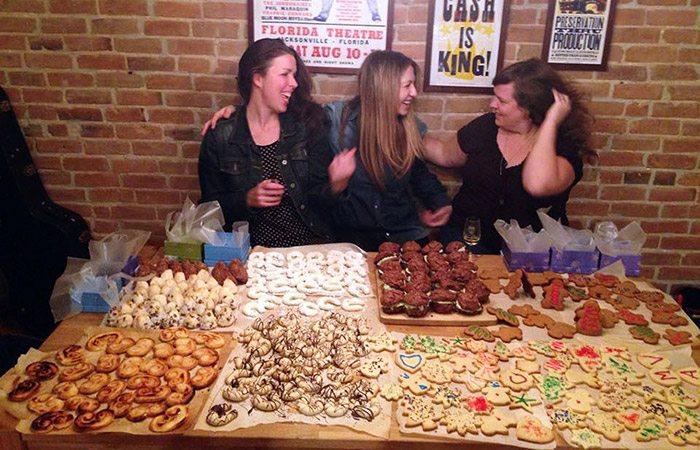 What is the largest number of cookies that you have baked in one sitting?
Do you bake Christmas cookies every year?
What is your favorite cookie?
Which cookie do you think you would like best out of the 6 recipes here?