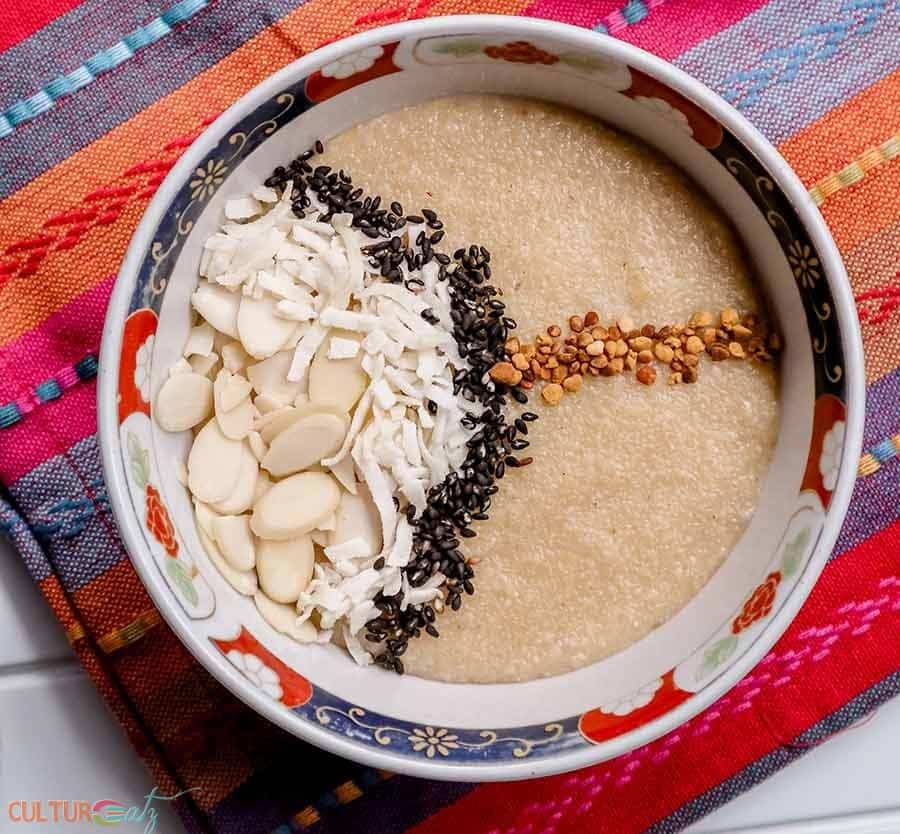 Uji, also known as the Kenyan Fermented Porridge, is the ultimate comfort breakfast food that is packed with probiotics. It is made of dried maize, millet, and/or sorghum that is made wet with water and left to ferment for a few days before cooking.
Fermented foods and fermented drinks are all the craze. They have been for a while and there seems to be no end in sight for this trend. It must mean the health benefits of fermented foods are really good for you. And everyone is scrambling to come up with the next fermented recipe idea. Well, turns out the Kenyans have been doing it all along with the Uji breakfast staple, a Fermented Porridge that is quick to prepare once you have nicely aged your flours with water.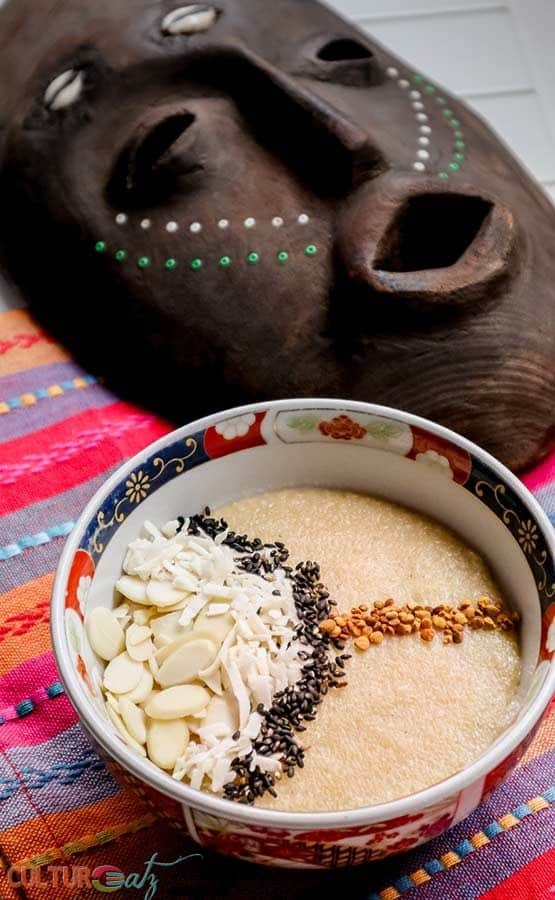 I just got back from a Travel Influencer conference – Women in Travel Summit or WIST18 – that was held this past weekend in Quebec City. It was my first travel conference and how cool that the first international destination the organization picks happens to be only 250km from me! It was an absolute blast and I will tell you more about it soon on the blog.
But man, I tell you, I have travel fever. Imagine 400 women talking about their favorite travel destinations! A few had mentioned traveling to Kenya. What a coincidence as it happens to be this month's country for Eat the World! I am so happy to add Kenya to the list of countries I have cooked from so far on CulturEatz with a Kenyan porridge.
Now let's get on with how to cook porridge with fermented grains. From this one recipe, you can make all types of porridge. Choose a mix of grains, grind it and you can make a flour porridge.
I have a FREE PRINTABLE for you
Surprise! I have prepared a Cheat Sheet that includes 41 Cooking and Baking Ingredient Substitutions that are commonly found in a kitchen. Click here to get your FREE Ingredient Substitutions Cheat Sheet right now!

Uji, a Kenyan Fermented Porridge
I made my Uji porridge with a mix or cornmeal and millet flour. I took regular millet and whizzed it in my spice grinder. Often you will find only sorghum in this sorghum porridge recipe but all mixes are acceptable. In specialty stores, you can even buy a Uji mix. Once you have mixed the flours, simply wet them with water, cover, and leave on the counter for 2 to 3 days.
That is when fermented magic happens. All the yumminess of fermented porridge that comes from either millet porridge, maize meal porridge, and/or a sorghum porridge recipe. And it is gluten-free with these grains. Plus using water is how to prepare porridge in this recipe, hence making it dairy-free.
When it is time for breakfast, bring some water to boil, add your mixture and leave it to cook for a few minutes. You can play around with the amount of water to get a more solid or liquid consistency. Add a little sweetener – I used honey – and top with nuts or dried fruits if you like. It was a total fluke that my topping turned into a pretty tribal design, next to a Kenyan mask I picked up in NYC a few years back.
How cool is my floating spoon trick below!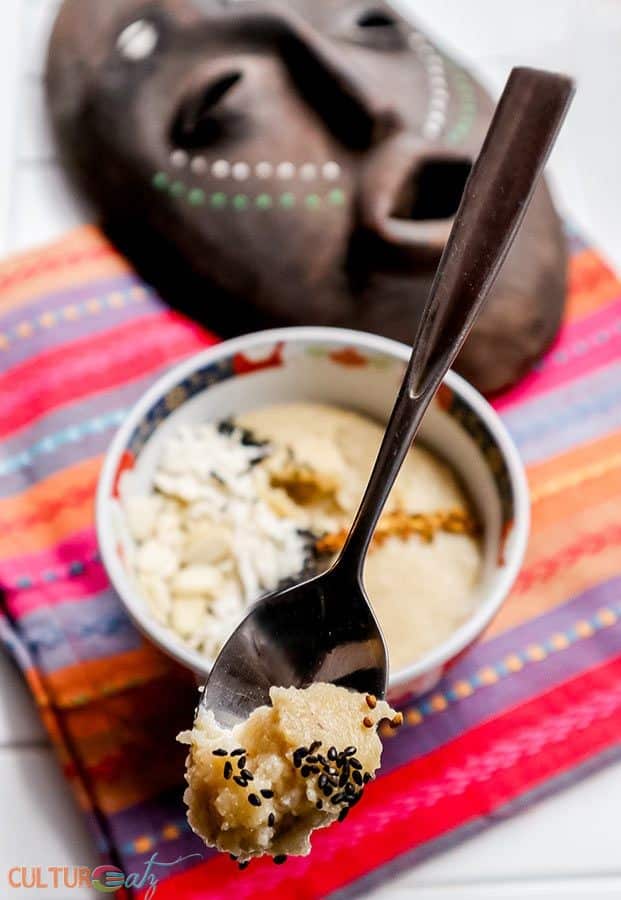 Why are fermented foods good for you?
Healthy fermented foods are made by setting up the ingredients to encourage Lacto-fermentation, like this fermented honey with garlic recipe. This process encourages the natural bacteria to feed on the sugar and starch in the ingredients, creating lactic acid and probiotics.
How did this African porridge taste? I must admit it was a bit special. Once the sweetener is added you get a sweet squash-like taste with just a note of cheese. Not bad but I am not sure it is something I would personally reach for instinctively in the morning.
Perhaps it is a bit of an acquired taste if you are not raised on it. But considering all the probiotic benefits I would take up the Uji challenge of making porridge again.
Check out my other fermented recipes: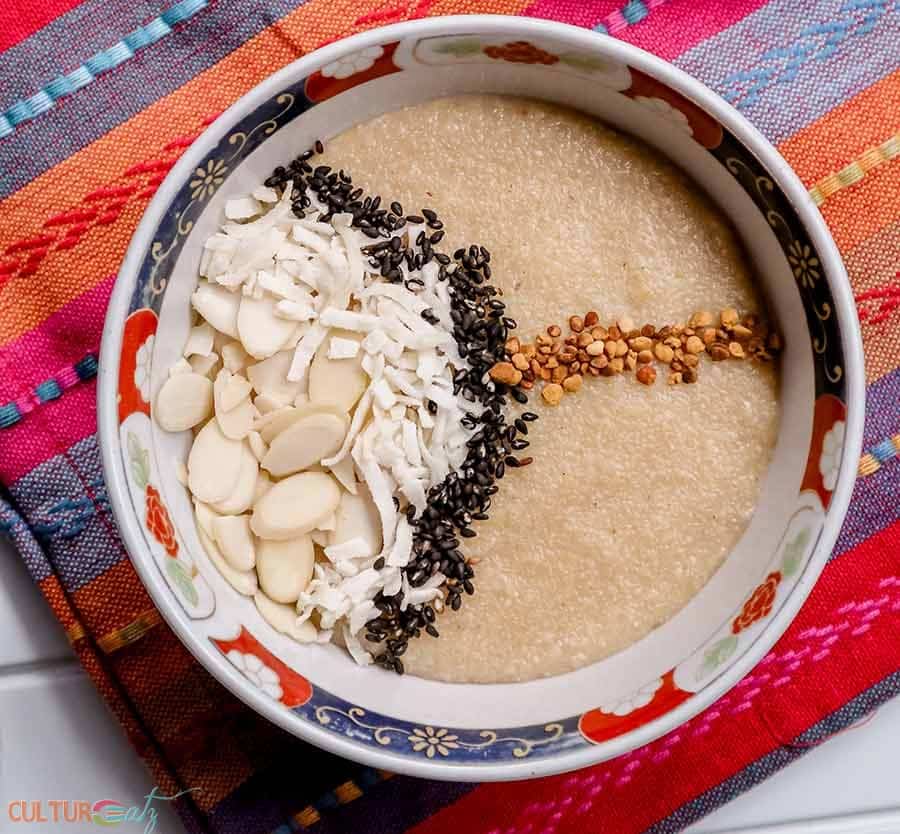 Uji, a Kenyan Fermented Porridge
Uji, also known as the Kenyan Fermented Porridge, is the ultimate comfort breakfast food which is packed with probiotics. It is made of dried maize, millet and/or sorghum that is made wet with water and left to ferment for a few days before cooking.
Ingredients  
1/4

cup

cornmeal

1/4

cup

millet flour

1/4

cup

water + 1 1/2 cup water

Sweetener to taste
Instructions 
Mix well the corn meal and millet flour with a 1/4 cup of water. Cover and leave to rest at room temperature for 2 to 3 days. This will ferment the mixture.

Bring 1 1/2 cup of water (more or less check consistency) to a boil, add the mixture and lower heat to a simmer. Stirring continuously, cook for 3 to 5 minutes. Add more water as needed. Add sweetener to taste, like honey. Serve into 2 bowls and top with nuts of fruits if desired. 2 servings.
Notes
You can skip the fermentation process by adding 3 cups of water and cooking the mixture longer, about 10-15 minutes on a simmer.
So tell me…
Do you enjoy the benefits of fermented foods?
Do you like preparing and cooking porridge?
How often do you eat porridge?
Eat the World Challenge
Check out all the wonderful Kenyan dishes prepared by fellow Eat the World members and share with #eattheworld. Click here to find out how to join and have fun exploring a country a month in the kitchen with us!
Wendy: Kenyan Pilau
Camilla: Kuku Paka + Irio
Tara: Chapati Za Ngozi (Kenyan Soft-Layered Chapati)
Margaret: Maharagwe & Ugali (Red Beans in Creamy Coconut Sauce with Cornmeal Slices)
Amy: Crunchy N'Dizi
Heather: Irio
Juli: Nyama Choma
Loreto and Nicoletta: Mango Ice Cream with Pineapple Rum Sauce (Coupe Mount Kenya)
Evelyne: Uji, a Kenyan Fermented Porridge
PIN IT FOR LATER https://www.pinterest.ca/pin/266275396703434369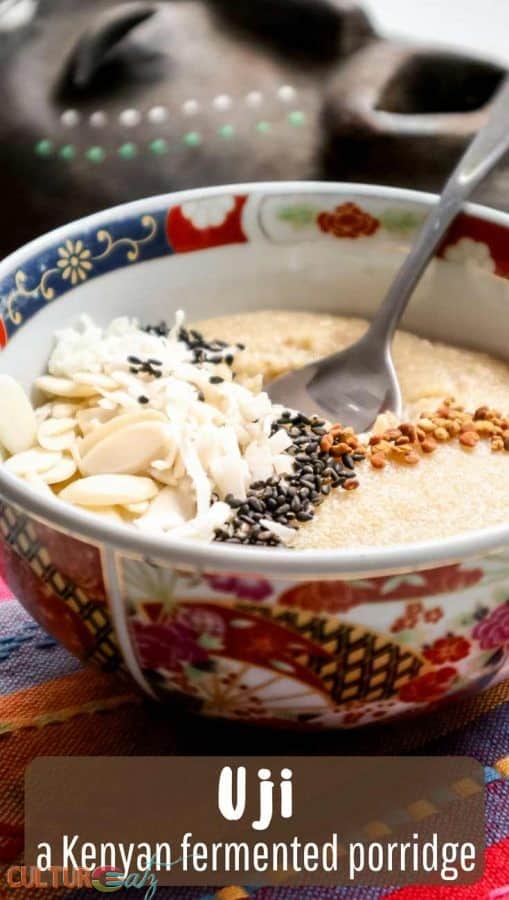 Check out more African recipes here: