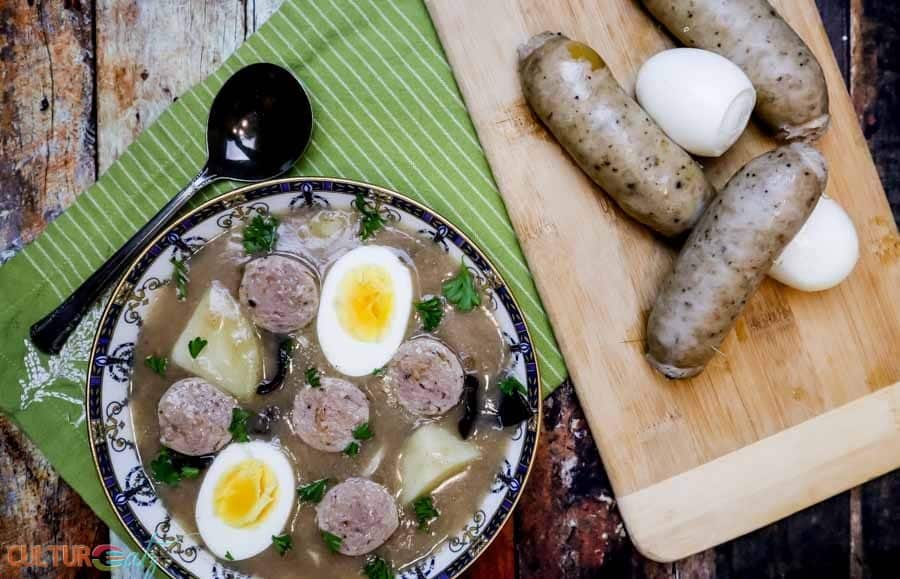 You know beet borscht soup but do you know the other one? Yes, there is a Polish White Borscht Soup recipe and it set's itself apart with a fermented sour starter, just like bread.
For this month's Eat the World Challenge we are traveling to Poland. This country has been on my travel bucket list forever. Until I get to actually go, I'll be able to experience Poland through its foods. Lots of traditional Polish dishes are similar to surrounding countries, like Russia and Ukraine. But when I came across this Polish white borscht soup recipe, I knew I found something really different and had to make it.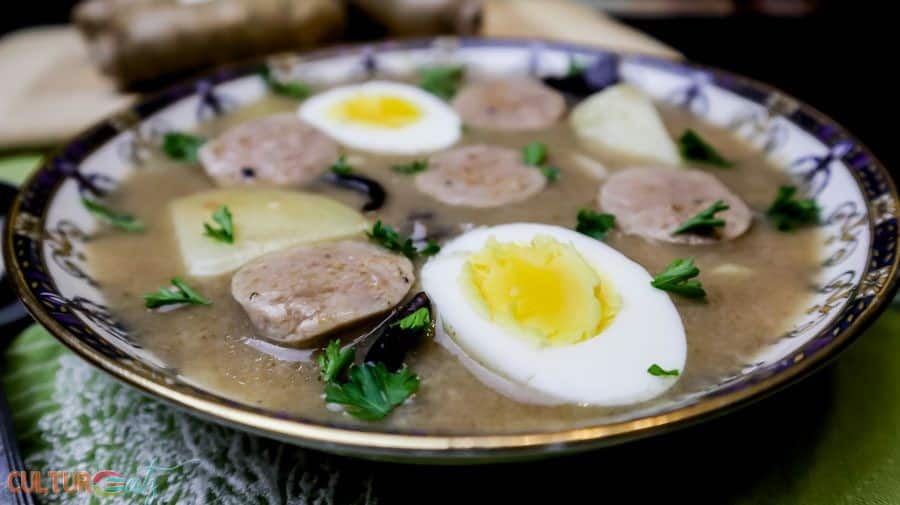 Polish cuisine
The Polish cuisine is very hardy and similar to neighboring Slavic countries. It is rich in meats and poultry, uses a lot of winter vegetables like potatoes and cabbage, as well as local spices, and herbs. Noodles and grains are common, and there is a heavy hand when it comes to butter, cream, and eggs.
A list of traditional Polish dishes includes bigos, pierogis, kiełbasa, kotlet which are breaded pork loins breaded,  gołąbki cabbage rolls, sour cucumber soup, a unique mushroom soup, tomato soup, tripe soup, and these cheese filled crepes called Nalysnyky. You may see a pattern here, soups are a big deal here, including more than one kind of borscht.
I have a FREE PRINTABLE for you
Surprise! I have prepared a Cheat Sheet that includes 41 Cooking and Baking Ingredient Substitutions that are commonly found in a kitchen. Click here to get your FREE Ingredient Substitutions Cheat Sheet right now!

Polish White Borscht Soup recipe
So turns out the word borscht has Yiddish roots and the word was to describe the original ingredient use when the soup was first invented: hogweed! You learned something new today!
The Polish white borscht is described as a sour rye soup as it made of soured rye flour. You basically need to make a starter, like a sourdough starter for bread, before you can make the actual soup.  In the Polish language, the soup is called żur or żurek. The word derives from the German word for sour, Sauer.
This is a peasant soup or a soup for the poor. The list of ingredients is very basic. It can be made clear or thickened with the rye starter. To make it heartier it is sometimes served in an edible bowl made of bread or with boiled potatoes.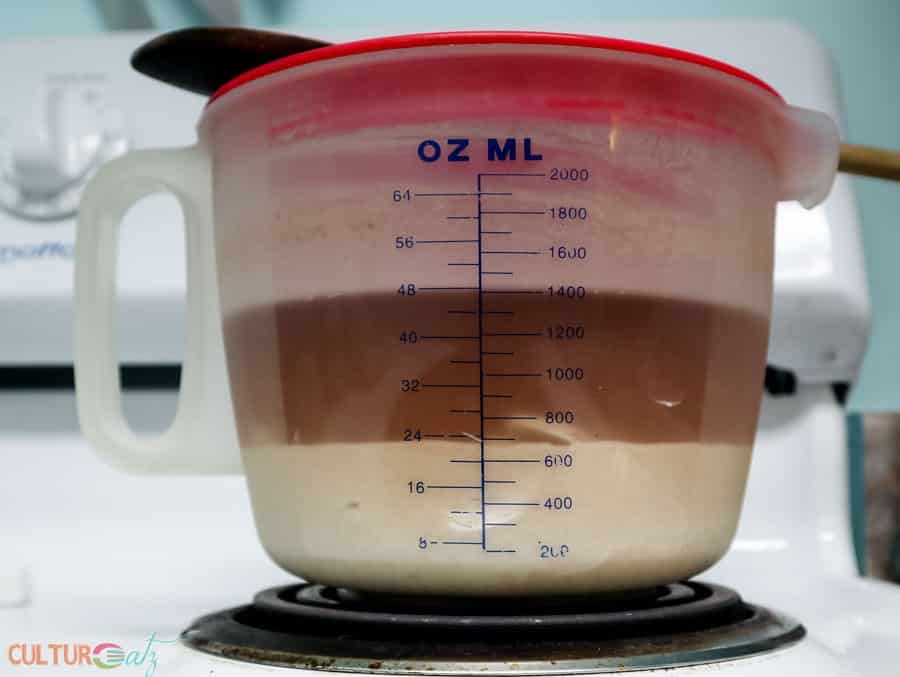 Zakwas, a rye flour starter
Zakwas is the given name to the special starter one must prepare ahead of time for this soup. It is made of rye flour and water, and for flavor, you can add a bay leaf and a few garlic cloves.
Just mix the start ingredients together and leave to ferment for 3 to 5 days until it is ready. This is where the soup gets most of its unique flavor.
So this soup technically falls under good for you gut fermented food category too! Check out my other fermented recipes: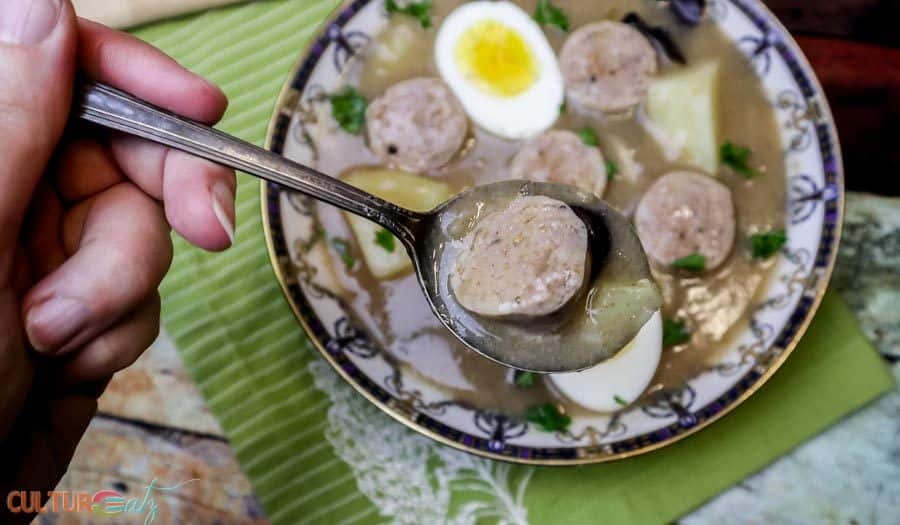 A Special Easter Soup
This is also a very traditional Easter soup and for this special occasion, one can add slices of sausage and hard-boiled eggs. A little fresh parsley or dill make the finishing touches. I found a most authentic recipe here.
We all know the beet-based borscht soup but I had no idea there was a white version. And I have to say, it is an acquired taste. one I did not acquire on my first or second bowl. What can I say, we can't like everything. But the whole point of this challenge is to at least try and discover new foods and flavors.
Maybe this Polish white borscht soup recipe will be the bowl of soup you have been craving all along.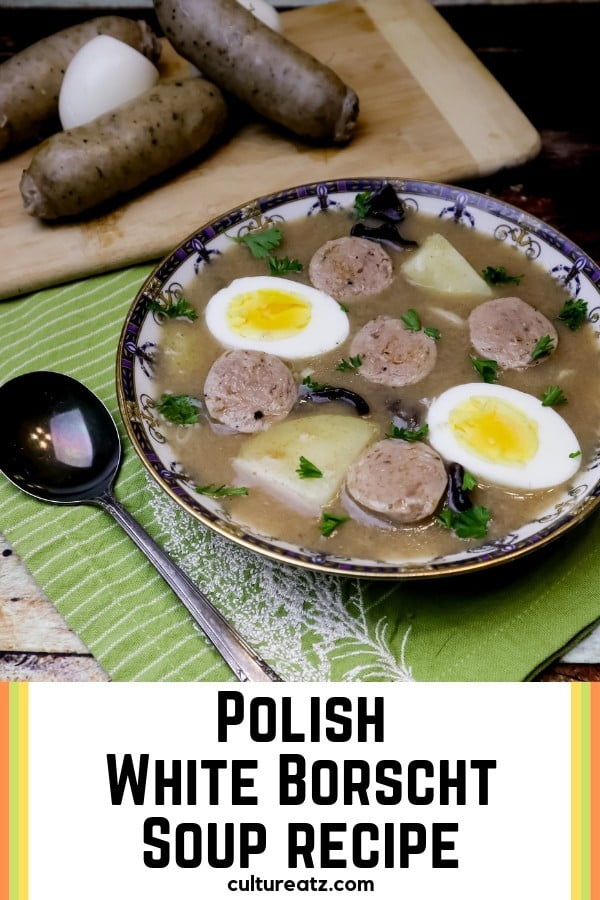 Polish White Borscht Soup Recipe | Zurek
You know beet borscht soup but do you know the other one? Yes, there is a Polish White Borscht Soup recipe and it set's itself apart with a fermented sour starter, just like bread.
Ingredients  
2

cups

rye flour

5

cups

warm water

1

bay leaf

3

garlic cloves

sliced

6

cups

vegetable stock

1

pound

potatoes

peeled and cut into 1 inch pieces

6

dried wild mushrooms and water

soaked for 30 minutes in hot water

1-2

chopped garlic cloves

1

teaspoon

marjoram

1

teaspoon

horseradish

optional

plain sausage

fresh parsley, hard boiled egg
Instructions 
Make your sour rye starter: boil 5 cups of water to kill bacteria and leave to cool in an 8 cup container. Stir in the rye flour, bay leaf and 3 sliced garlic gloves. Cover with a linen cloth, and leave to ferment for 3 to 5 days in a warm dark location. Stir the starter daily with a clean spoon. When you start noticing an acid smell and sour taste, it is ready.

In a large soup pot, add the rest of the ingredients (except the plain sausage, fresh parsley, hard boiled egg) and simmer till potatoes are just fork tender. For a clear soup add just the liquid part of the starter, and for a thick soup add the whole starter. Put on the heat again a bot to thicken.

To serve, ladle some soup in a shallow soup bowl, add 1 hard boiled egg cut in 2 per bowl, add slices of the cooked plain sausage, and garnish with fresh parsley.
Check out all the wonderful Polish dishes prepared by fellow Eat the World members and share with #eattheworld. Click here to find out how to join and have fun exploring a country a month in the kitchen with us!
Camilla: Pierniczki (Polish Gingerbread Cookies)
Amy: Baked Polish Chrusciki (Angel Wing Cookies)
Juli: Zupa Orgorkowa
Evelyne: Polish White Borscht Soup Recipe
Margaret: Polish Honey Cake
Syama: One Pot Bigos – The Hunter's Stew
Wendy: Piernik (Polish Gingerbread)
PIN IT FOR LATER! https://www.pinterest.ca/pin/266275396704569616