Who could resist these delicious Ukrainian cheese filled crepes, called Nalysnyky, which are flavored with a touch of dill, baked in copious amounts of butter, and luxuriously topped off with caviar!
If you are a regular follower you will know I have some roots in Austria, on top of my Quebec ones. But did you know my paternal grand father was actually Russian Ukrainian, pre revolution? He had ties to Moscow but supposedly owned a spa-like property in the Crimean peninsula, which is located in the south of the Ukraine and is mostly surrounded by the Black Sea. These Nalysnyky, or Ukrainian Cheese Filled Crepes, are a wink to my intangible ancestral past.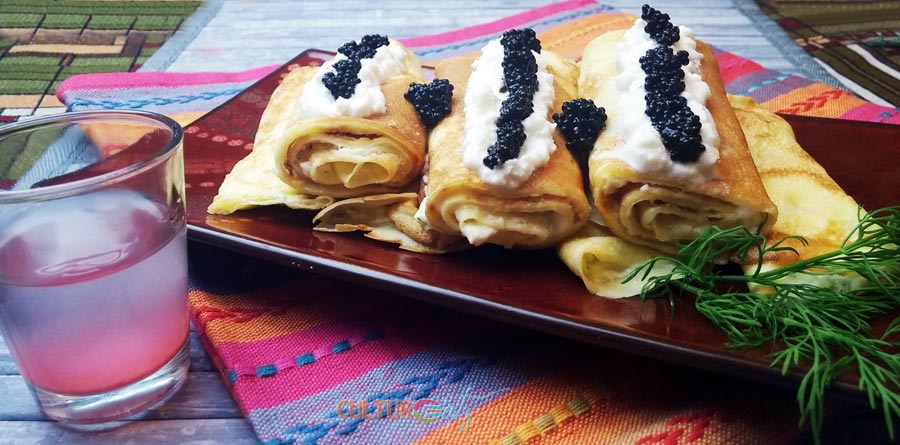 Apparently, my grandfather was in the private guard of the Tsar and he was imprisoned following the revolution of 1917. Someone later helped him escape and he headed first to then Czechoslovakia, and later Austria. I never met my grandfather and we have very little Russian ancestral information, or ties with any remaining family member if there are any.
So you can imagine anything related to Russia or the old USSR has always fascinated and enchanted me. I was thrilled when I found out the June/July pick for the Cook the Books club was Mastering the Art of Soviet Cooking: A Memoir of Food & Longing by Anya Von Bremzen (click here to see more information on this book), which is hosted by Simona at Briciole.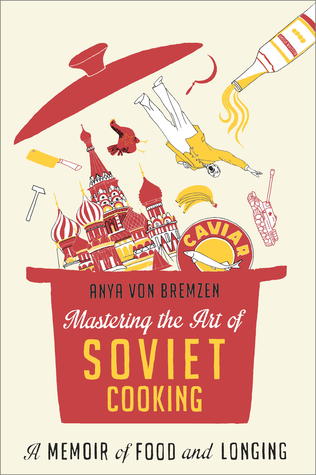 Mastering the Art of Soviet Cooking
Wow, what a read! I am not even sure where or how to begin. The book was not what I expected at all. Anya weaves in her memoirs indeed with family tales starting pretty much after the fall of the royal family to modern history. She covers family stories dating back a few generations all the way to her immigration to the US. But the book is super heavily dosed with historical facts, more like a scholarly book. Since I had a personal interest, I just devoured all the information. The book is not only about mastering Soviet cooking, but also Soviet history.
And the food, there is so much food in the book. Anya and her mother reproduce feasts in their American apartment for just about every decade of Russian history. But the memoirs…they are all about the lack of food in Russia at the time. It's all about buying a brick like bread or the piece of meat with the least amount of mould with your ration cards (kartochki). Some years in some part were so bleak people resorted to eating paper-maché, jelly made from carpenter glue, and even engaged in cannibalism. Over 18 million deaths due to famine during the 20th century.
In complete contrast, Anya describes the elaborate menus planned for state dinners. One in particular is a banquet set up for the meeting of the Big Three in 1945. Franklin D. Roosevelt, Winston Churchill, and Josef Stalin met in a resort in the Crimean peninsula to discuss post-war peace.
I really to go to Russia and the Ukraine one day.Not only the Crimean peninsula where I have some roots but all over the country. There are so many places to visit in the Ukraine, way more than Kiev which is all people can think of.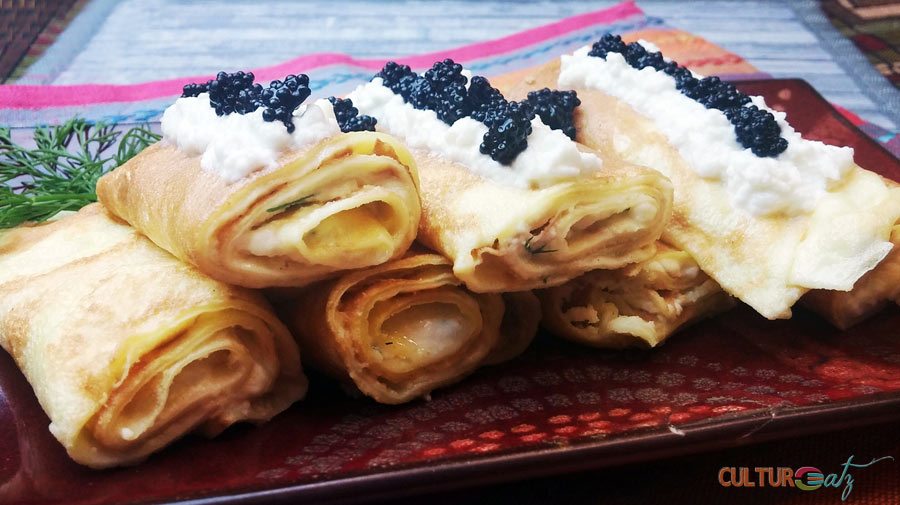 Lots of Russian Winks in China
I rarely get political on my blog but I cannot help it this time, just for this little section of my post. So you all know I was in China this past February 2017. And China is an extremely controlled communist country. There were several things mentioned in the book about communist Russia that I experienced in China. It was a weird feeling finding these similarities that are seperated by decades. The first one is the Lenin and Mao Zedong's Mausoleums, where both bodies can be visited to this day. The idea is to turn the leader into an living relic which can still rule, control and keep in check the people beyond the grave just by their iconic social force.
Another example is Anya talking about how she liked singing a song taught at school that her radical mother frowned upon. The song went along the lines of "Lenin is always alive…In your each joyous day. Lenin is inside you, and inside me". This is clearly propaganda and a way of programming how people think. Something that is very common in China, such as in advertising or state controlled TV stations.
All about controlling the people and the information they get. Even as late as 1991 when there was attempt to overthrow Gorbachev. Soviet TV stopped regular programming and played Swan Lake in a loop, keeping them in the dark of what was happening.

Buttery Cheesy Ukrainian Crepes
There was a massive selection of dishes to pick from the book, with a heavy Moscow influence. I could write out a really long list of mentioned dishes. If you are curious though you should totally check out The Book of tasty and healthy Foods, which was THE kitchen bible of the USSR for decades. It was published the first time in 1939 by Mikoyan, who was the People's Commissar of the Food Industry.
But I really wanted to make a recipe from the Ukraine, as it is part of my heritage. I settled on this very traditional Nalysnyky recipe from Claudia's Cookbook, a Ukrainian-Canadian blogger.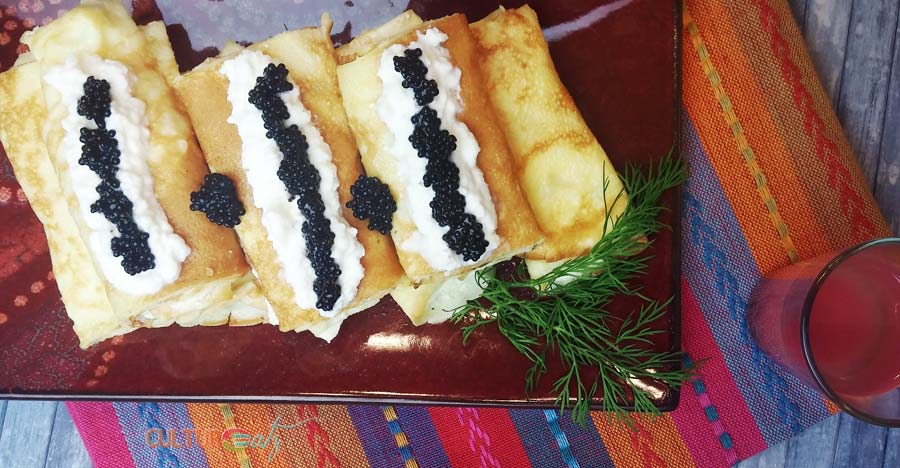 Nalysnyky are thin Ukrainian golden crips crepes rolled up with a cheese filling that can be either sweet or savory. This savory version is made with a few snippets of fresh dill. Once the crepes are rolled up, they are cut into three sections and layered in a dish before a quick baked stint in the oven. And don't forget to lubricate each layer with a healthy dose of butter.
The caviar is totally optional and not at all the traditional way of serving these Nalysnyky. But hey it's a post about Russia, the Ukraine, and everything about the Soviet era…so why not! I kept it modest with affordable lumpfish caviar.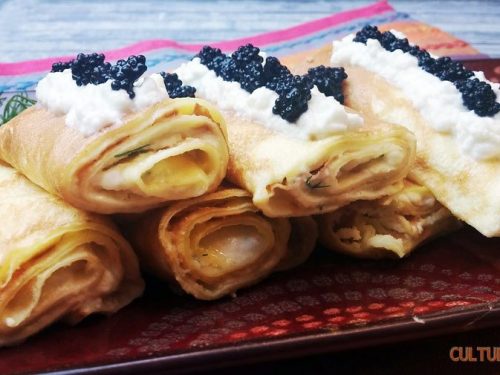 Savory Ukrainian Filled Crepes | Nalysnyky
Ingredients  
4

eggs

1

cup

milk

1/2

cup

water

1

cup

flour

1/2

tsp

salt

1/4

cup

of butter

2

cups

Quark Cheese

or ricotta, at room temperature

2

egg yolks

2

tbsp

whipping cream

Salt to taste

1

tbsp

fresh dill

or 1 tsp dried dill
Instructions 
Beat eggs in a bowl. Add the milk, water, and salt. Mix slowly the flour in while beating constantly to ensure there are no lumps.

Heat a non-stick pan a bit higher than medium and add 1 tbsp oil. Add 3/4 of a ladle full of batter and swirl around the pan too spread thinny over the whole bottom of the pan. Flip when side is golden brown and cook other side a bit. Oil pan as needed until you have made all your crepes.

Melt the butter and set aside. In a small bowl mix the Quark, egg yolks, whipping cream, salt and dill. Spread a thin layer of cheese on each crepe evenly and roll up gently. Cut each crepe in three equal pieces.

Add a bit of butter into the bottom of an oven proof dish that has been lined with aluminium foil. Layer the nalysnyky evenly and make sure to pour butter with a spoon in between each layer, otherwise the piece will stick together. Fold the foil loosely over the top of the dish. Bake at 350 F for 30 minutes.
PIN IT FOR LATER ! https://www.pinterest.com/pin/266275396701806727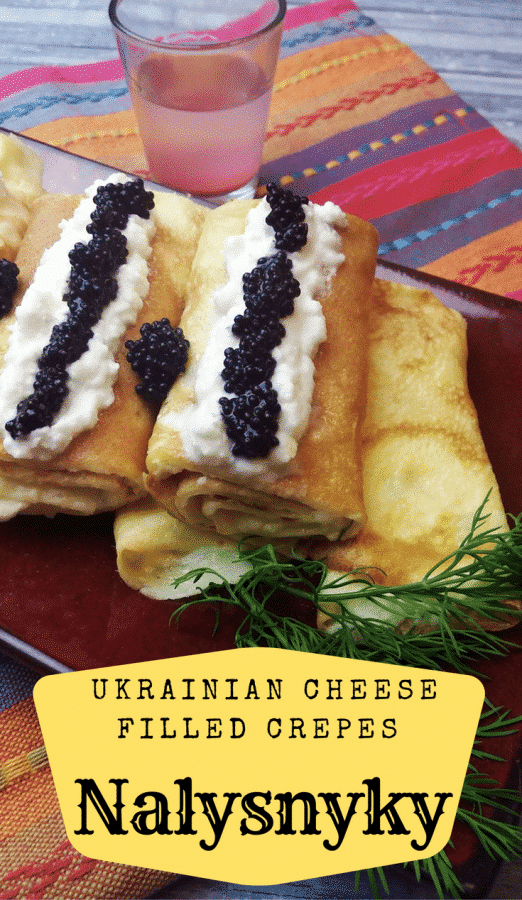 Check out more Eastern European recipes here: