It's time for the MENA (Middle Eastern & North African) Cooking Group. This monthly group has for goal to help us discover the culture and cuisine of the countries found in these parts of the world. The host of the month will choose a savory and a sweet dish from the country and the members pick one dish to make.
This month we are exploring Egypt and I chose the Egyptian Lentil Soup.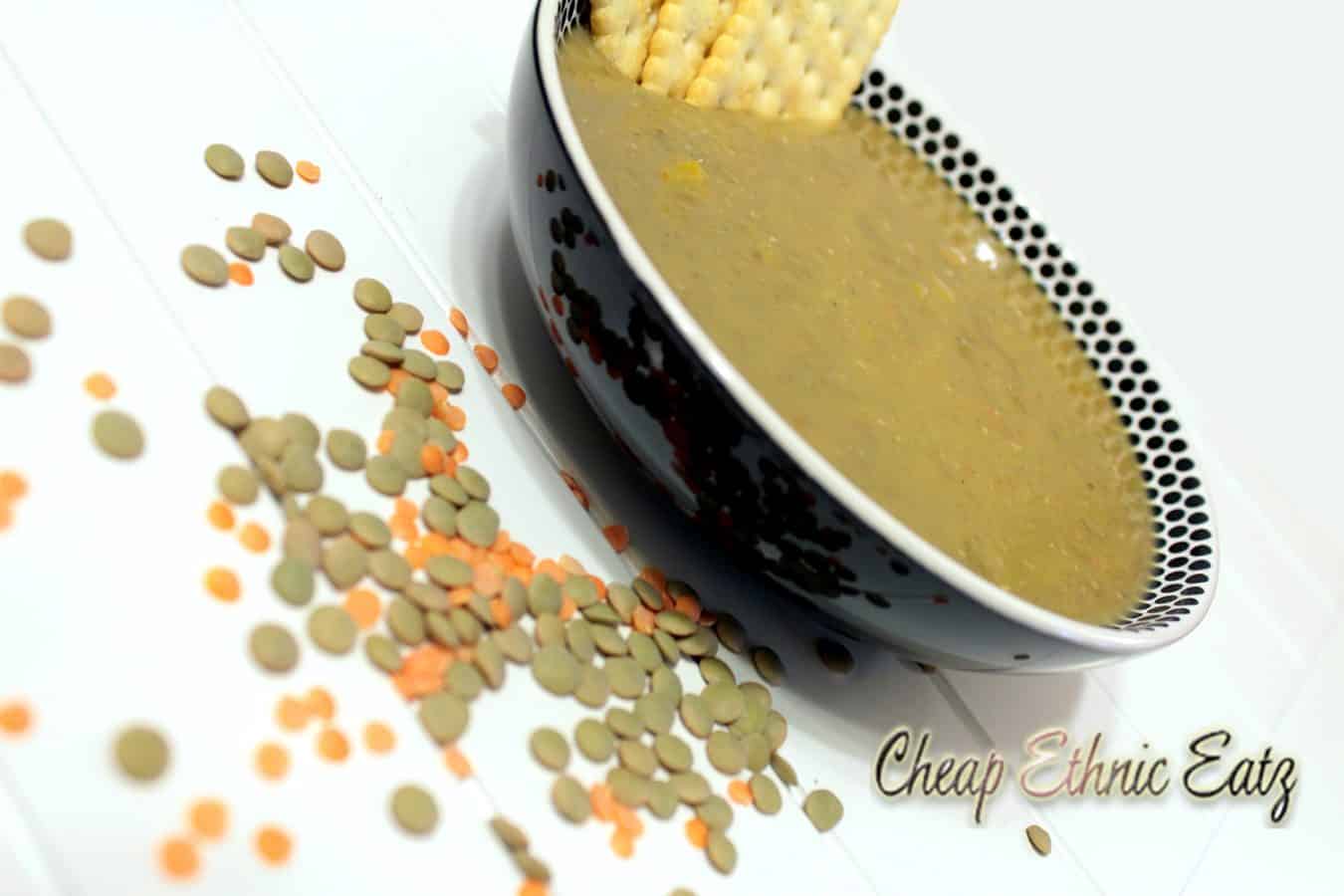 Egypt is in north-eastern Africa with its capital located in its largest city, Cairo. The country is bounded by the Mediterranean and Red Seas and geographically dominated both by the Nile River and its fertile well-watered valley and by the Eastern and Western deserts.
Other big cities include Alexandria and Luxor – gateway to the Valley of the Kings, amongst other fabulous attractions. Must-see sights include the Pyramids of Giza and the Sphinx, the Egyptian Museum, the Mosque of Mohamed Ali, Roman and Greek monuments, El Montaza Palace, Sinai's mountains and desert, and the Nile River.

The most popular dishes include Ful Medames, mashed fava beans; 'Molokheyya, a green plant chopped and cooked with garlic and coriander sauce; and Fetir Meshaltet.
Egyptian cuisine shares similarities with food of the Eastern Mediterranean region, such as rice-stuffed vegetables, grape leaves, Shawerma, Kebab, Falafel, Baba Ghannoug, and baklava.
Bread made from a simple recipe forms the backbone of Egyptian cuisine. It is consumed at almost all Egyptian meals; a working-class or rural Egyptian meal might consist of little more than bread and beans.
Egyptian cuisine also makes heavy use of legumes and vegetables, since Egypt's rich Nile valley and delta produce large quantities of these crops of high quality. Koshari, a mixture of rice, lentils, and macaroni, is considered by many to be the national dish.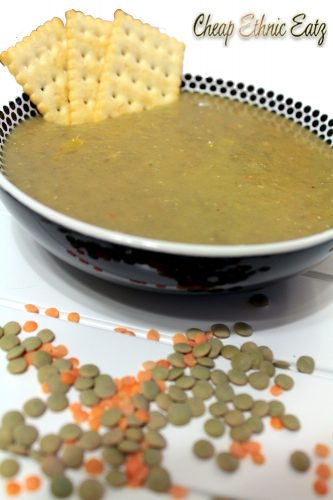 And lentils make another appearance in the Egyptian Lentil soup. Lentils are used to prepare inexpensive and nutritious soups in many parts of the world. It is a filling, warming, and nutritious meal. Did you know that 30% of their calories from protein?
Lentils also contain dietary fiber, folate, vitamin B1, and minerals. Their colors range from yellow to red-orange to green, brown, and black. This Egyptian soup recipe can be found right on Amira's site, or host.
It's just one version of many Middle-Eastern lentil soup recipes you can find in that neck of the woods.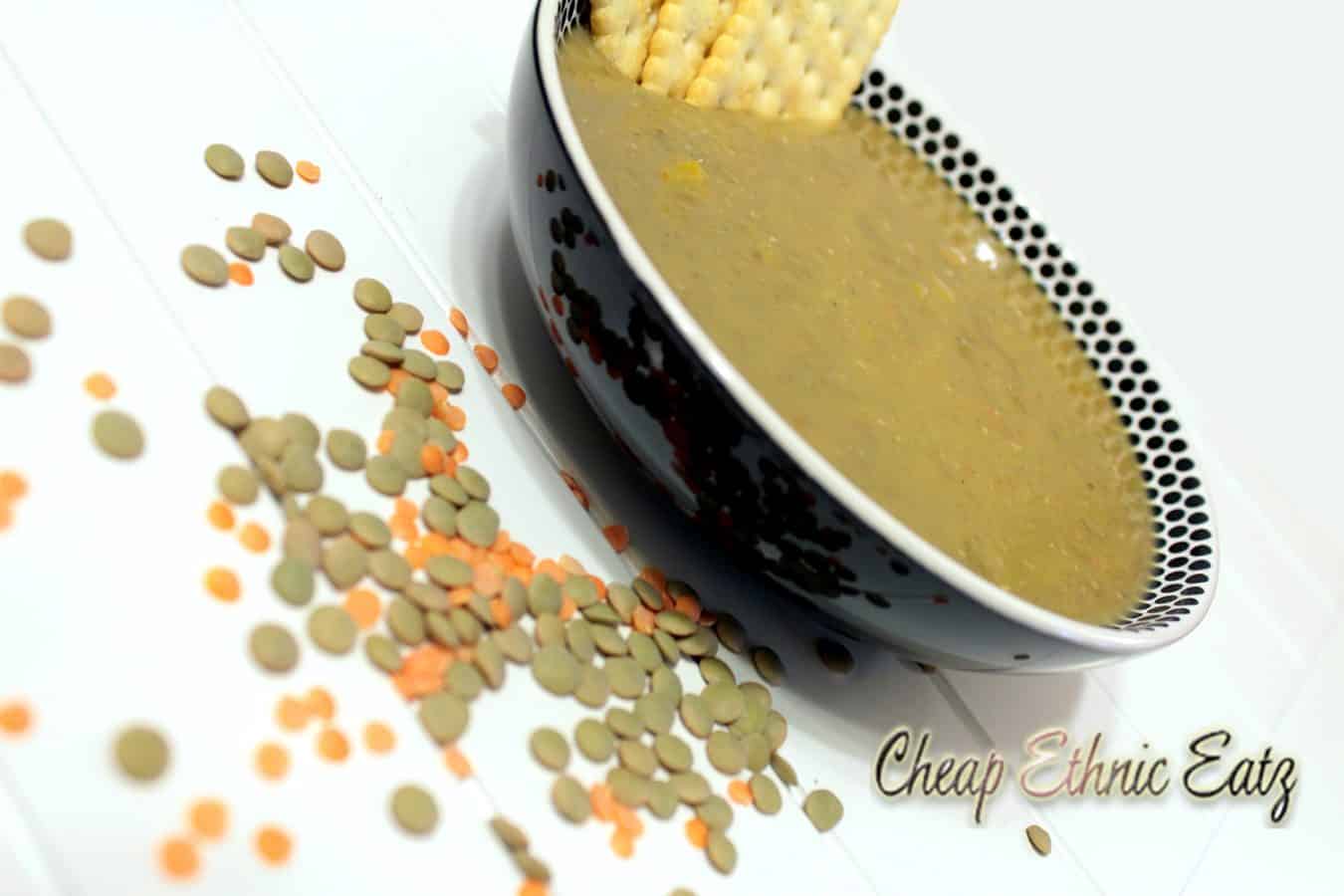 Egyptian Lentil Soup
Ingredients  
2

cups

of dry lentils

rinsed and drained

1

medium carrot peeled and cut in chunks

1

medium tomato cut in anyway even in half

1

medium onion cut in quarters

2

garlic cloves

1

yellow or red pepper

1/2

tsp

cumin

1

cup

broth

2

tbsp

butter

salt and pepper to taste
Instructions 
Put all the ingredients, except butter salt and pepper, in a pot and cover with water.

Bring to a boil and then lower the heat to a simmer for 30 minutes, covered. Add water, 1 cup at a time, if it feels too thick. Remove from heat and let it cool a bit.

With an immersion blender, puree the ingredients until smooth.

Return to the heat and bring to boil.

Remove from heat and add butter, salt and pepper to taste.
Notes
Add a little bit of lemon juice if you want a bit more acidity.
You could also add a dash of ground coriander or fresh coriander leaves.
Our host this month for the MENA cooking group is Amira of Arabian Mam
Check out more African recipes here: