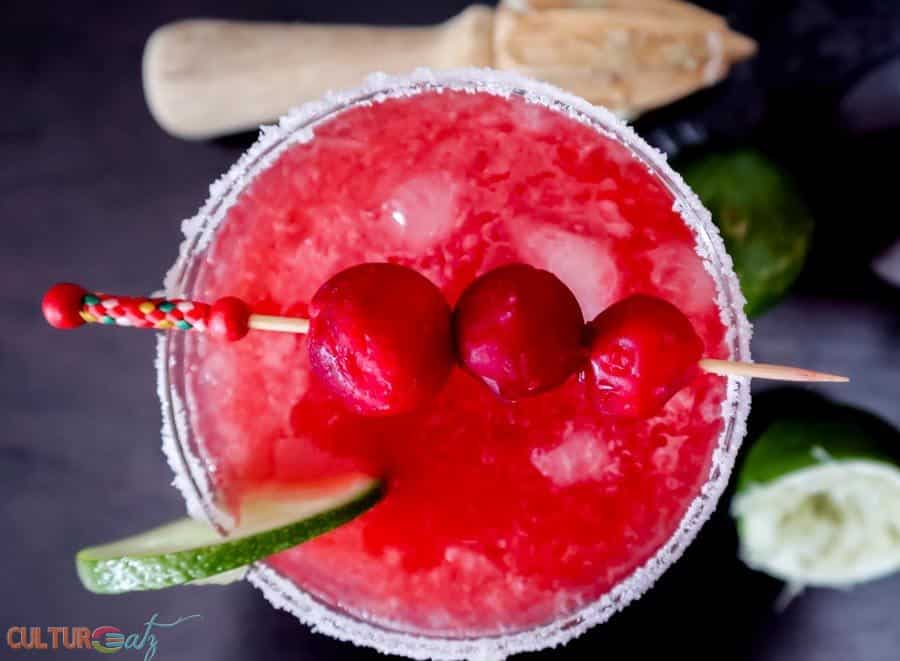 Whether you are out for blood or not, this Transylvanian Sour Cherry Margarita is to die for. Your guest will bite you for another glass. A fun twist on the authentic margarita recipe with the addition of sour cherries, a popular fruit in Romania, home of Dracula.
Summer weather is finally here, well most days, so it is the perfect time to break out those summer cocktail recipes. And this is exactly what we will do for this month's Food N' Flix. The movie pick was Bram Stroker's Dracula and my inspiration was a fresh lime margarita for summer and I added sour cherries for a touch ghoul, hence the Transylvanian Sour Cherry Margarita is worth its weight in blood, or just a festive summer red drink, whichever way you want to look at it!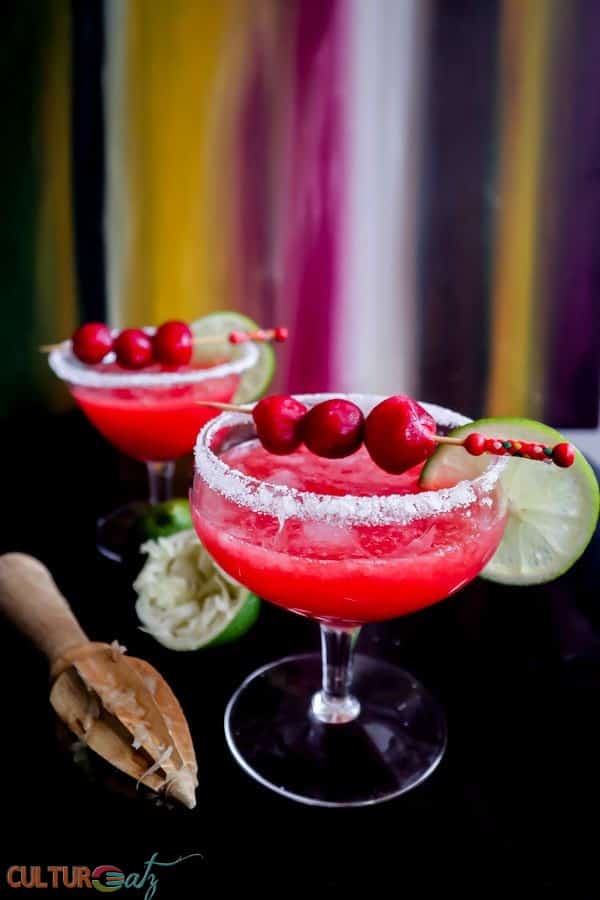 A quick note before we get started. I just did an Ask Me Anything event over at AMAfeed.com and I really enjoyed the experience. You can see all the questions and my answers on the topic of cooking my way through every country on planet earth right here on Cultureatz.
Bram Stoker's Dracula
Oh my, I lost count of how many times I have seen the movie Bram Stoker's Dracula. But it had been a while since the last screening. It's a classic story, my favorite classic movie version really, the one set in Victorian times. No need to tell you who Dracula is and his story. I am sure you all know it. Or if you are not familiar with the "real story" and the rest of the cast of characters, well click here to see the movie.
This 1992 American gothic horror version has an amazing cast: it stars Gary Oldman as Count Dracula, Winona Ryder as Mina Harker, Anthony Hopkins as Professor Abraham Van Helsing, and Keanu Reeves as Jonathan Harker. OK, I can skip Keanu, never been a fan. But sexy Victorian day Gary Oldman in London, HELLO! Many critics say he makes the movie!
I need a bloody inspiration
Food sightings in this movie, well not that much I have to say. This is what I spotted: blood, wine, roast chicken, apples, hors oeuvres, canapé of bugs, spiders, flies, sparrows, warms, cat, kittens, absinthe, garlic, roast, the host.
I played with the idea of impaled food or a traditional Romanian recipe, perhaps an absinthe cocktail, but what can I say I was drawn to the blood. I have made in the past Bloody Mary popsicles which are great for a summer picnic party. And yes, I actually made real authentic Blood Sausage from scratch once. We had a bloody good time and it was a bloody mess, literally.
Another bloody recipe was a fun idea. Something a bit more out of the box than all the blood Halloween cocktail recipes already out there. Hence, out of the dark Romanian shadows and it's bountiful sour cherry crops, my Transylvanian Sour Cherry Margarita saw the light, but not direct sunlight of course!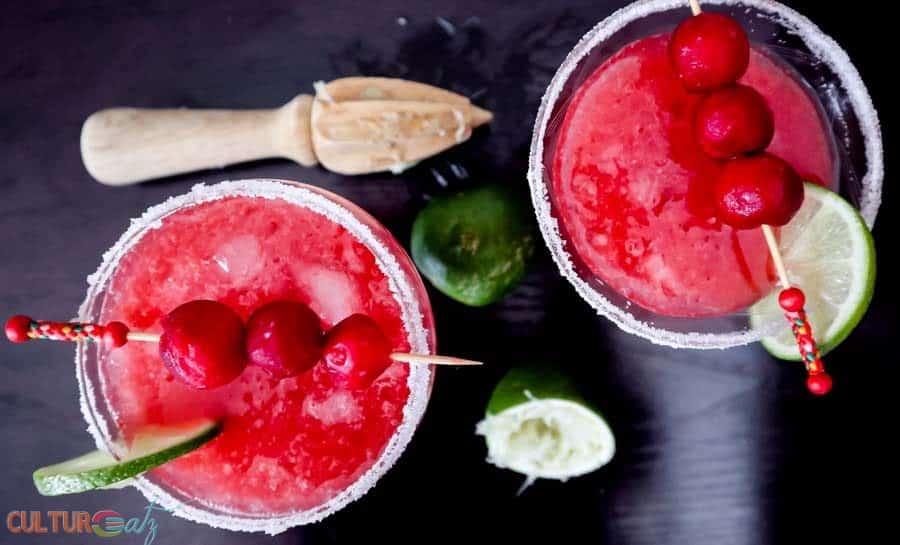 I have a FREE PRINTABLE for you
Surprise! I have prepared a Cheat Sheet that includes 41 Cooking and Baking Ingredient Substitutions that are commonly found in a kitchen. Click here to get your FREE Ingredient Substitutions Cheat Sheet right now!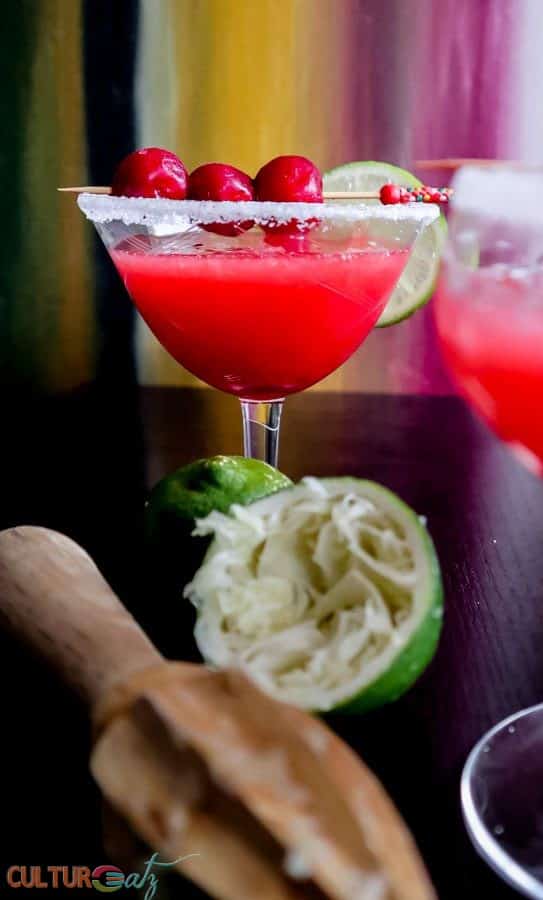 Sour Cherry Margarita Recipe
Calling this Transylvanian Sour Cherry Margarita a Romanian recipe might be a stretch of the imagination but sour cherries are a big June crop there, just like in Hungary and the famous sour cherry soup I made once. There even is a Romanian alcoholic beverage made from sour cherries, sugar, and alcohol called Vișinată.
But I wanted to celebrate summer's arrival so a fresh margarita recipe was in order. It is so easy to adapt a basic margarita recipe on a whim, like the yummy blackberry margarita recipe I'll have to try soon. Plus, there are loads of cherry alcoholic drink cocktails out there. I found lots of cherry vodka recipes, a cherry Mojito, even a cherry liqueur recipe and a cherry wine recipe. Adding sour cherries to a lime margarita recipe was a perfect creation. Let's call it a Romanian Mexican fusion margarita cocktail recipe.
Margarita Prep Tips and Tricks
Simple Syrup, a common cocktail sweetener, is usually one of the ingredients in a blended margarita recipe. If you use it a lot you can get a bottle of it premade. But in a pinch, like for this recipe below, just mix half your desired quantity in sugar and the other half with water. Pop it into the microwave a few seconds and stir to make sure all the sugar is dissolved. Leave to cool and you are ready.
Getting that slushy margarita frozen feel. I do love the slushy restaurants texture but you may think it is not possible to do at home. Well here is my frozen margarita recipe tip. Prepare the entire recipe and place the margarita in the freezer for a while. Alcohol does not freezer so only the blended water from the ice and juices will. Just stir it up and voilà, slushy margarita!
The verdict of the sour cherry margarita: YUMMERS! I like it a lot, so much so I had both portions. And after two glasses you will feel the tequila, let me tell you! It makes for a great Halloween cocktail or just skip the ghoulish idea and serve it as a festive summer party drink!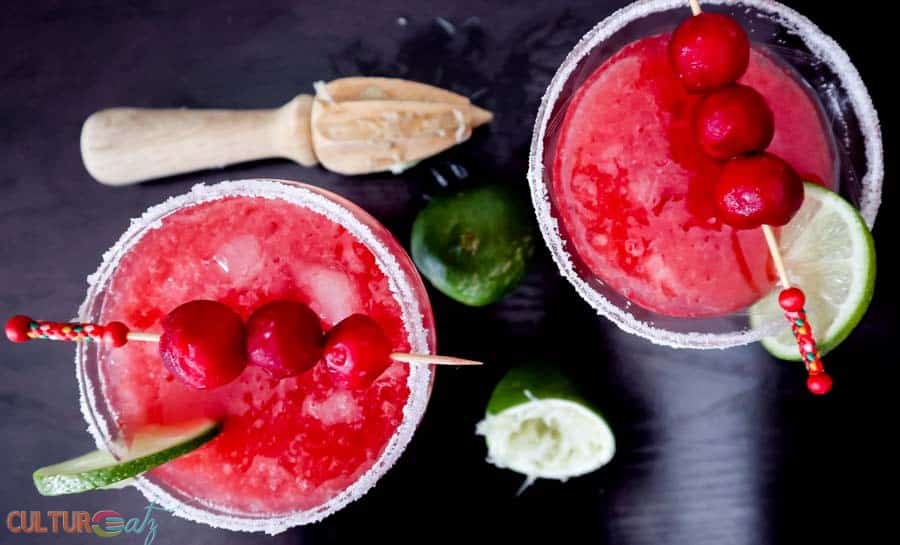 Sour Cherry Margarita Recipe
This Transylvanian Sour Cherry Margarita is to die for. A fun twist on the authentic margarita recipe with the addition of sour cherries, a popular fruit in Romania, home of Dracula.
Ingredients  
1/3

cup

sour cherries

pitted

2

tbsp

simple syrup

2

tbsp

fresh lime juice

1/3

cup

Tequila

2

tbsp

orange liqueur

or any clear fruit liqueur or brandy

6

cubes worth of crushed ice

Lime wedge

sugar and salt (equal amounts combined) for rimming glass
Instructions 
Rub a cut lime wedge around the edge of 2 glasses. Dip the glasses in the mixed of salt and sugar. Place in the freezer for 10 minutes.

Puree the sour cherries, simple syrup, lime juice, tequila, and orange liqueur in a blender.

Blend in the ice cubes lightly. Pour into the glasses and decorate with a lime wedge and sour cherries.
Food 'n Flix is hosted this month by Kimberly at Coffee and Casseroles! In this monthly group, a host picks a movie of their choice that pertains to food. Everyone watches the movie and then makes a recipe which the film inspired. It can be any recipe you want. Join us!
See more film inspired cocktails and beverages:
PIN IT FOR LATER https://www.pinterest.ca/pin/266275396703540336