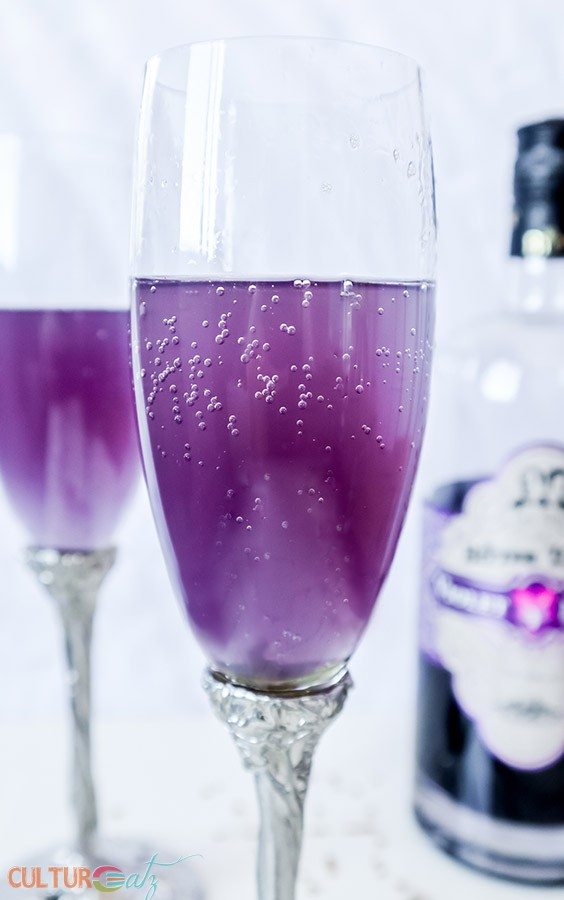 This Lilac Violet Wedding Cocktail is the perfect toasting bubbly for the newlyweds with refreshing floral spring notes, a zesty touch of lemon, all perfectly balanced with just a few tears of maple syrup. Cheers!
Happy Spring my Northern hemisphere friends! And boy is it about ever time with the winter we had. This month I get to combine two great groups for my recipe in one post: Food N' Flix and the Canadian initiative Connecting Over Cocktails. This month's movie pick is Runaway Bride for which I have concocted the ultimate wedding toast cocktail for the current in style wedding pallet, a Lilac Violet Wedding Cocktail.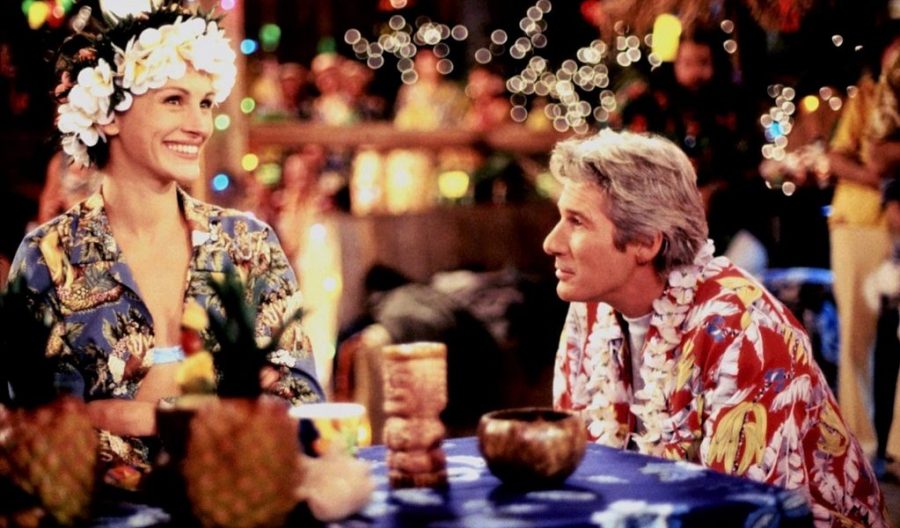 Runaway Bride
Runaway Bride is a real hardcore chic flick from that era. The film was released in 1999. It's so old you can see a) a cigarette machine in the bar, b) a typewriter!!!!!!!!!!!!!, and c) phones with cords!!!!!!!!!!!!!!!!!! Alas, I am really not a chick flick kinda a gal and I have never been a fan of this actor romantic combo:  Julia Roberts and Richard Gere. Joan Cusack was my saving grace. The film was just not for me, even if is it a classic in its genre, I give it that.
In a nutshell, it is the story of Maggie, a woman who is very good at getting cold feet before a wedding, as in cold feet while walking down the aisle, turning around and making a run for it….4 times! Her behavior catches the attention of columnist Homer Eisenhower Graham who writes a nasty story and goes one step further to do 'a follow-up' on her next wedding. Well guess what? They end up falling in love. So does she actually marry him for real in the end? Watch the film to find out!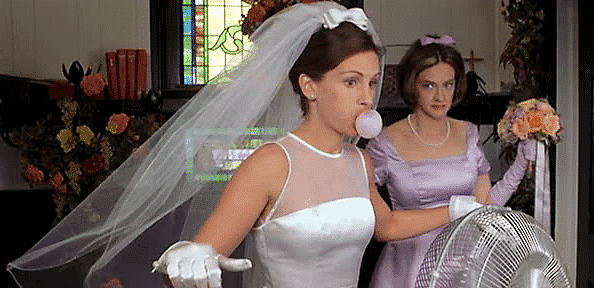 Food sightings in this movie
Town of Hale: home of the sweet peach, beer, cafe steaks chops bar, italian restaurant, martini, NYC, pretzel bowl, cat food, sandwich, man eater, falcon diner, bubble gum, wine, wedding cake, crab dinner, corn bread, tomatoes, sugar magnolia, rose tattoo, bakery, cinnamon buns, pumpkin, honey, luau, bread, bagels, scrambled eggs w/ salt pepper dill, peaches, magpie, Pepsi, utz cheese curls, coffee, pancakes and bacon, garden omelet white only, coffee, tea, corn fields, chips, scrambled, fiedand poached eggs, fortune cookie, grapes, Hawaiian cocktails, shrimp trout, oranges, bread, onions, champagne, ice cream cart, lilac brides maid dress, eggs benetict, toad in a hole, baguette.
PIN IT FOR LATER! https://www.pinterest.ca/pin/266275396703152808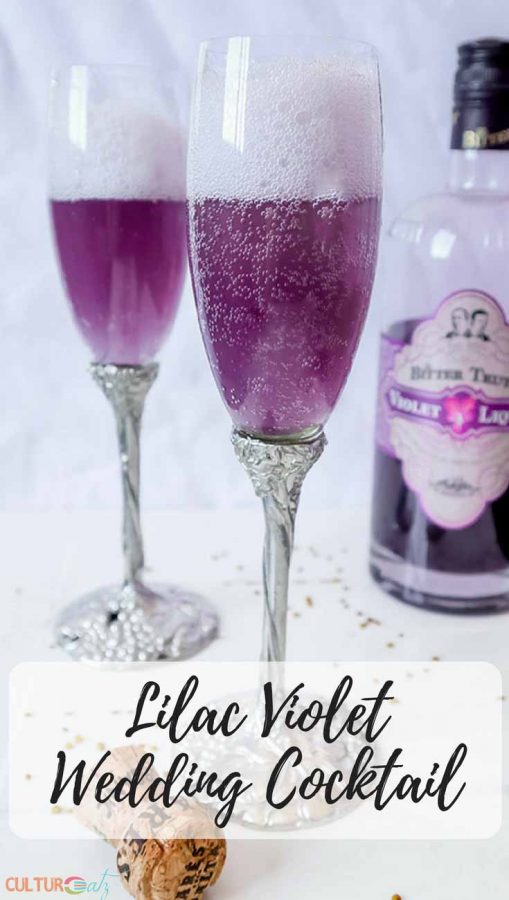 The Lilac Violet Wedding Cocktail
Well, the movie was a bit ahead of its time, or perhaps the style has already gone retro. But apparently the trendy wedding color scheme right now is lavender, purple and violet. In the last big wedding, the bridesmaids had pale lavender dresses.
And the cocktail theme is things spring related. I just so happen to have a liqueur called Crême of Violette made with violet flowers. And I had made my own lilac flower extract last year. Both are late spring blooms. I simply added a touch to a little bubbly, the 'must' toast making drink of weddings, and balanced it out with a touch of lemon juice and maple syrup. The Lilac Violet Wedding Cocktail is born.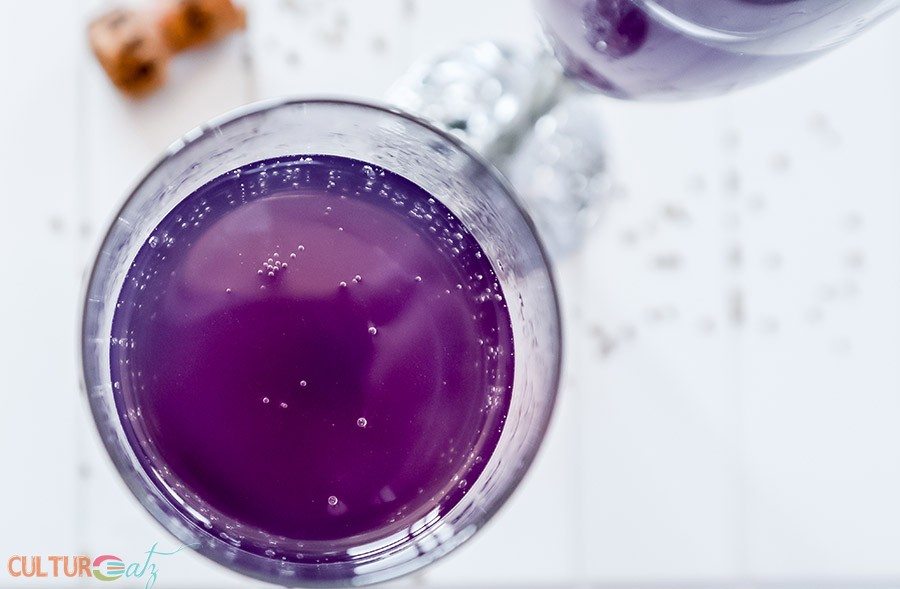 You think this Lilac Violet Wedding Cocktail is out of the ordinary? Well, I have a few unusual wedding related recipes on my blog already so why not one more.
Yields 1 cocktail
The Lilac Violet Wedding Cocktail
This Lilac Violet Wedding Cocktail is the perfect toasting bubbly for the newlyweds with refreshing floral spring notes, a zesty touch of lemon, all perfectly balanced with just a few tears of maple syrup. Cheers!
Ingredients
1/2 ounce crème de violette
1/8 oz lemon juice
1/8 oz maple syrup
a few drops of lilac extract (optional)
a dab of red food coloring from a finger (optional)
bubbly of your choice
Instructions
Mix the crème de violette, lemon juice, maple syrup and lilac extract together.
Add a mini touch of red food coloring until you get the violet shade you like. (you can test by pour a little of the mix in a very small glass of water).
Pour mix in a champagne flute. Top off with your bubbly.
7.8.1.2
498
https://cultureatz.com/lilac-violet-wedding-cocktail/
yes you read that right, I had to add a touch of red food dye. Even if the violet liquor looks like a deep purple in the bottle, when you pour it the liquid comes out a deep dark blue. Got figure!
A Mariage of Challenges
Food 'n Flix is hosted this month by Ali at Fix Me A Little Lunch! In this monthly group, a host picks a movie of their choice that pertains to food. Everyone watches the movie and then makes a recipe which the film inspired. It can be any recipe you want. Join us!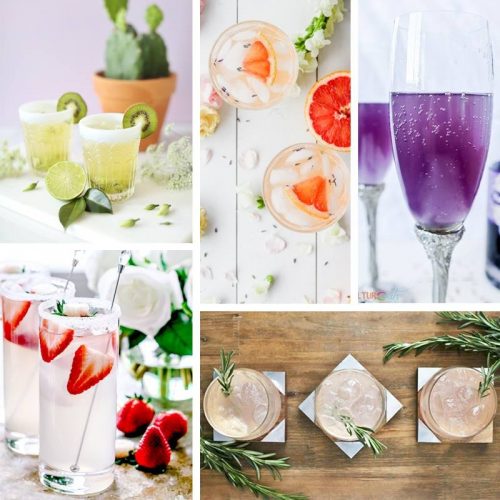 And I am also submitting my drink for the Connecting Over Cocktails collaboration with the theme of Spring Equinox, herbs, flowers, and refreshing ingredients. Check out all the Spring cocktails from my fellow Canadian Food Bloggers:
See more film inspired cocktails and beverages: