Celebrate summer berries with a sumptuous rustic Blackberry Galette. And you must add the ultimate final touch: a sweet Red Wine Sauce!
Actually I highly recommend making this sweet red wine sauce by the gallon. It is absolute to die for and you MUST add it to every single dessert you eat. So I have a big announcement, you will find it just below. It will be a very exciting week on CulturEazt! Did you get the hint in the post title? And I am kicking it off with this beautiful rustic blackberry galette, one of my favorite summer berries. Keep on reading to find out what all the hoopla is all about…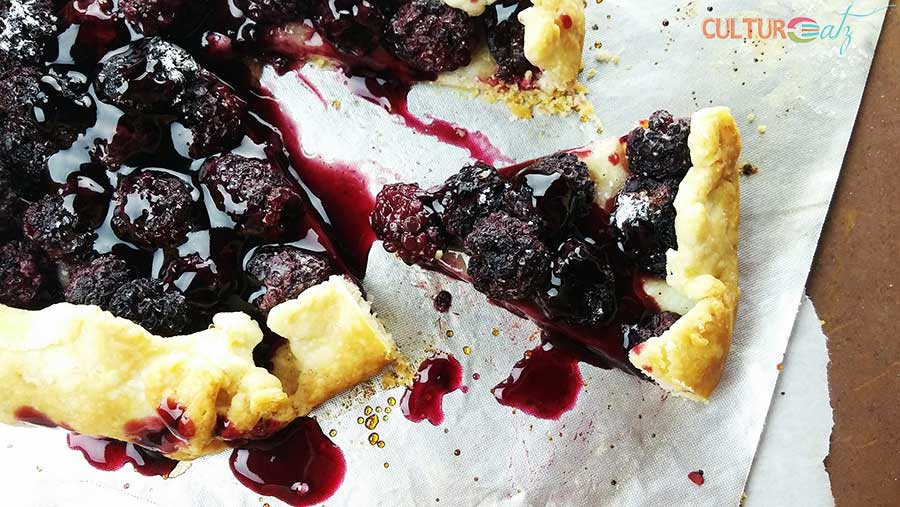 I am so super excited to tell you about what you can expect to see this week right here on CulturEatz and on Heather's blog All Roads Lead to the Kitchen! We are having a week long recipe battle in honor of the long awaited return of Game of Thrones to television. Season 7 premieres this Sunday July 16 2017.
Heather and I are both big fans and after a few email exchanges we settled on an epic GOT food week. Here is the plan: we will each take turns every other day posting 3 unique recipes each. And on Sunday July 16th we chose a specific theme we must both follow – but our recipes will remain a secret till our posts go live.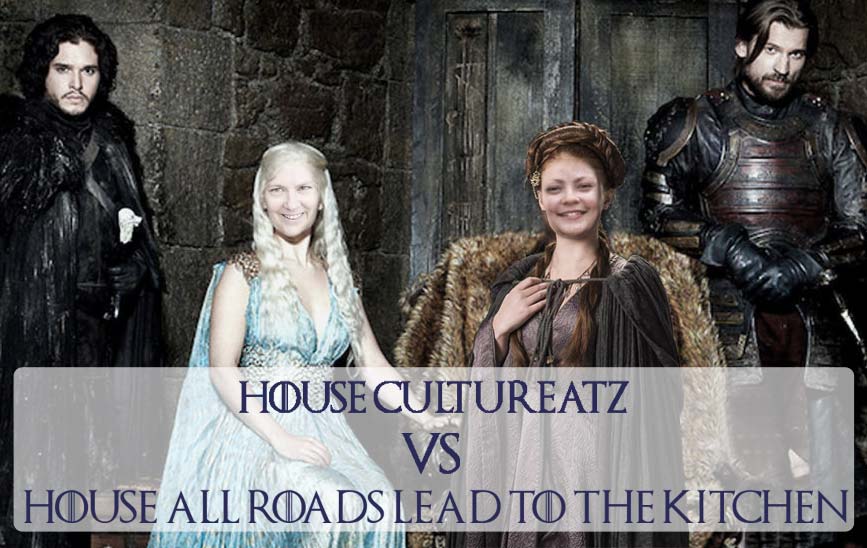 Evelyne – July 10: Blackberry Galette with Red Wine Sauce for a Red Wedding
Heather – July 11: Honeyed Chicken
Evelyne – July 12: Welsh Anglesey Eggs for House Banefort
Heather – July 13: Bran Muffins
Evelyne – July 14: Mother of Dragon Fruit Salad & a Mojito
Heather – July 15: Blackberry Wine Slushies
Evelyne – July 16: Sauteed Clams Oysters and Snails with Sea Greens
Heather – July 16: Smoked Oysters, Clams, and Cockles Linguine
Make sure to visit our sites each day this week to see all our Game of Thrones inspired recipes!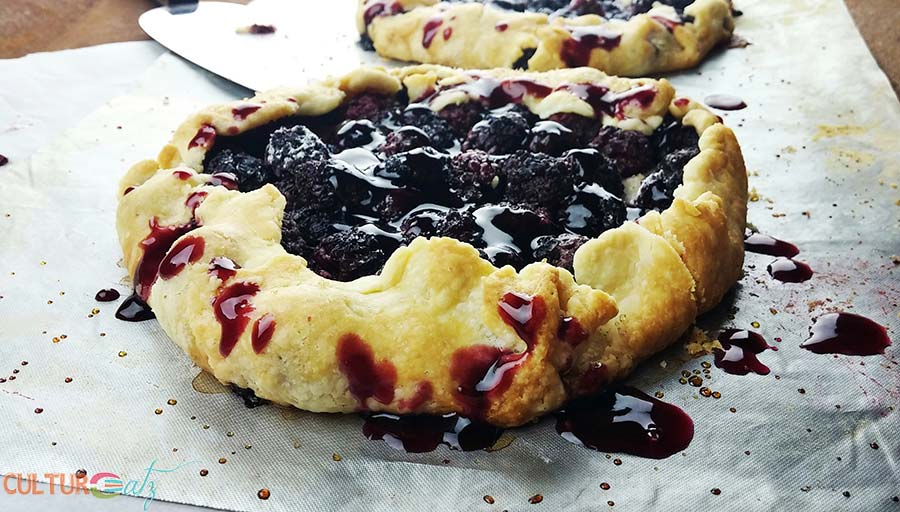 My first recipe is an inspiration from one of the shows most infamous episodes ever. The title of that episode is "The Rains of Castamere" (s03e09) but most people know it by it's nickname The Red Wedding. I actually just found out it was not the actual title of that episode. Did you know?
Spoiler alert…but hello you are 4 years behind!
So the show is about a wedding that kinda gets messy. The in-laws, they can be such a pain sometimes, right? So Robb Stark had promised to marry a woman of Lord Frey's house. But Robb fell in love with someone else, married her, and offered up his uncle as the next bachelor up for marriage.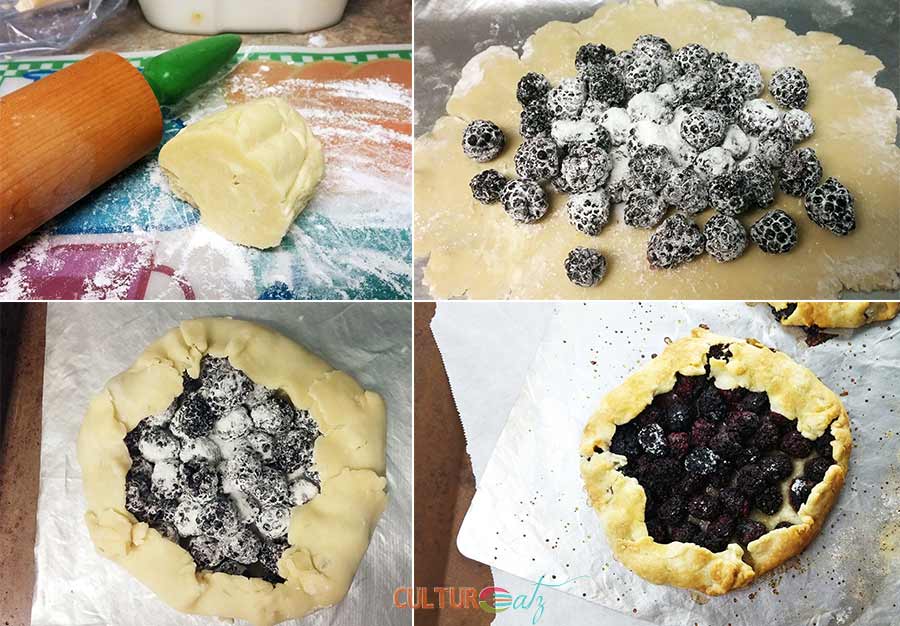 Lord Frey accepts and there is a big wedding and a feast. The honeymooners are whisked off for the bedding ceremony. But Lord Frey, he is pissed and he has a plan for revenge. He locks up the doors…and every member of the Stark family present pays for the betrayal with their lives! I bet your mother-in-law does not look that bad after all now.
So it's party and there is a lot of food! But most scenes show plates of finished meals with a few leftovers…..that I could not guess. Only two foods are mentioned in the show: red wine and blackberries. Hence here is an elegant yet medieval and rustic blackberry galette recipe…heavily drizzled with a red wine sauce to mimic all the spilled blood.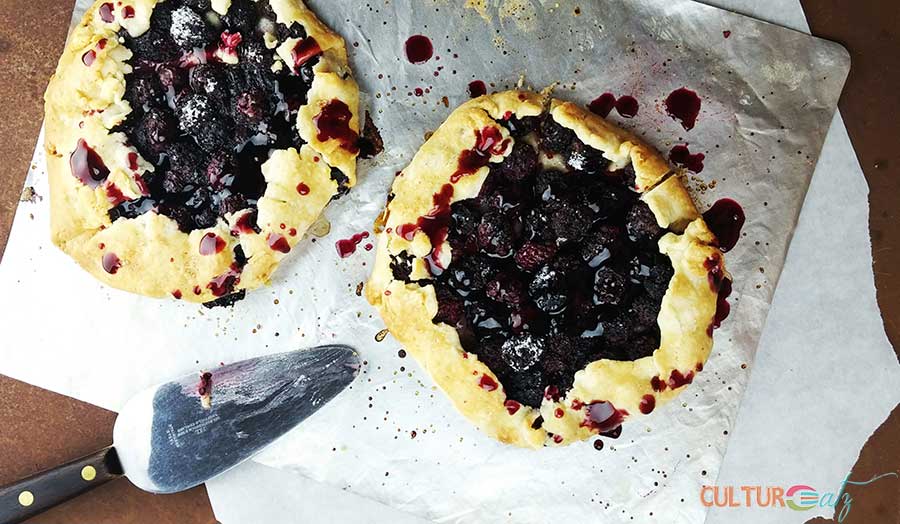 You can see all of the Epic CulturEatz Game of Thrones recipes here  and if you want more GOT inspirations check out the Baking Mischief's #AFeastofThrones linkup with Fandom Foodies!
Feeling left out because you have not seen or read anything from Game of Thrones?
Check out what all the fuss is about with the Five Novel Book Set or the Season 1 -6 DVD Set.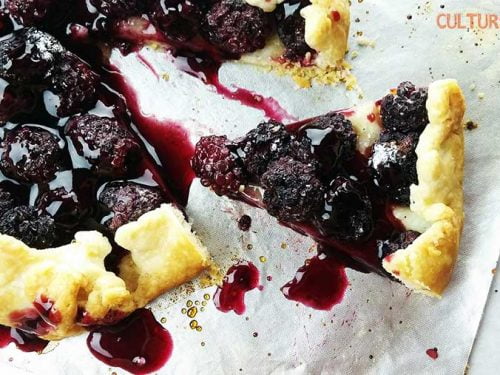 Blackberry Galette with Red Wine Sauce for a Red Wedding
Celebrate summer berries with a sumptuous rustic Blackberry Galette. And you must add the ultimate final touch: a sweet Red Wine Sauce!
Ingredients  
1 1/3

cup

all purpose flour

1

tbsp

powdered sugar

1/4

tsp

salt

150

g

cold butter in cubes

3

or more tbsp ice water

1

pound

/ 450 g fresh blackberries

1/3

cup

granulated sugar

1 1/2

tbsp

cornstarch

1

egg

1

tbsp

milk

1

tbsp

granulated sugar

4

ounces

of red wine + more as needed

2

tablespoons

of sugar

1/4

rounded teaspoon cornstarch
Instructions 
Mix in a bowl the flour, powdered sugar and salt. Cut in the butter until you get a crumb texture. Add 3 tbsp of water and mix until the dough comes together. Add an additional 1 tbsp at a time if need be. Wrap the dough in saran wrap and refrigerate for 2 hours.

Preheat oven to 350 F (175 C). Separate the dough into two. Roll each piece out on a floured surface into a 10 inch circle. Place the circles on a baking sheet lined with parchment paper.

Gently toss the blackberries with the sugar and cornstarch in a large bowl. Divide the berries evenly between the two circles of dough. Fold the edges over around the berries.

Lightly beat egg with milk, and brush edges with the egg. Sprinkle with the sugar. Bake for 35-45 minutes or until edges are golden brown and filling bubbly.

For the sauce, add 4 ounces of red wine and the sugar to a sauce pan. Let it boil until the sugar dissolves and then leave it to simmer for 3 minutes.

Mix the cornstarch and a little bit of the hot red wine sauce in a separate bowl until it is smooth.

Pour back into the pan and bring once again to a boil until thickened, stirring vigorously. Add a bit more wine if the sauce is to thick. Let the sauce cool a bit before pouring liberally over the galettes.
PIN IT HERE for later!