Have you ever tried the Welsh Anglesey Eggs dish? It's a simple yet hearty vegetarian recipe made with mashed potatoes, leeks, eggs, and a cheddar sauce.
It makes for an easy and quick supper…or a great brunch or lunch meal. Plus it is just as good served piping hot or cold out of the fridge on a hot summer day. Although best know as a 15th-century recipe hailing from Wales, some say Anglesey Eggs actually date back to the Viking days or even Roman times. We will never know for sure the recipe's origin, but we can attest to how delicious it is.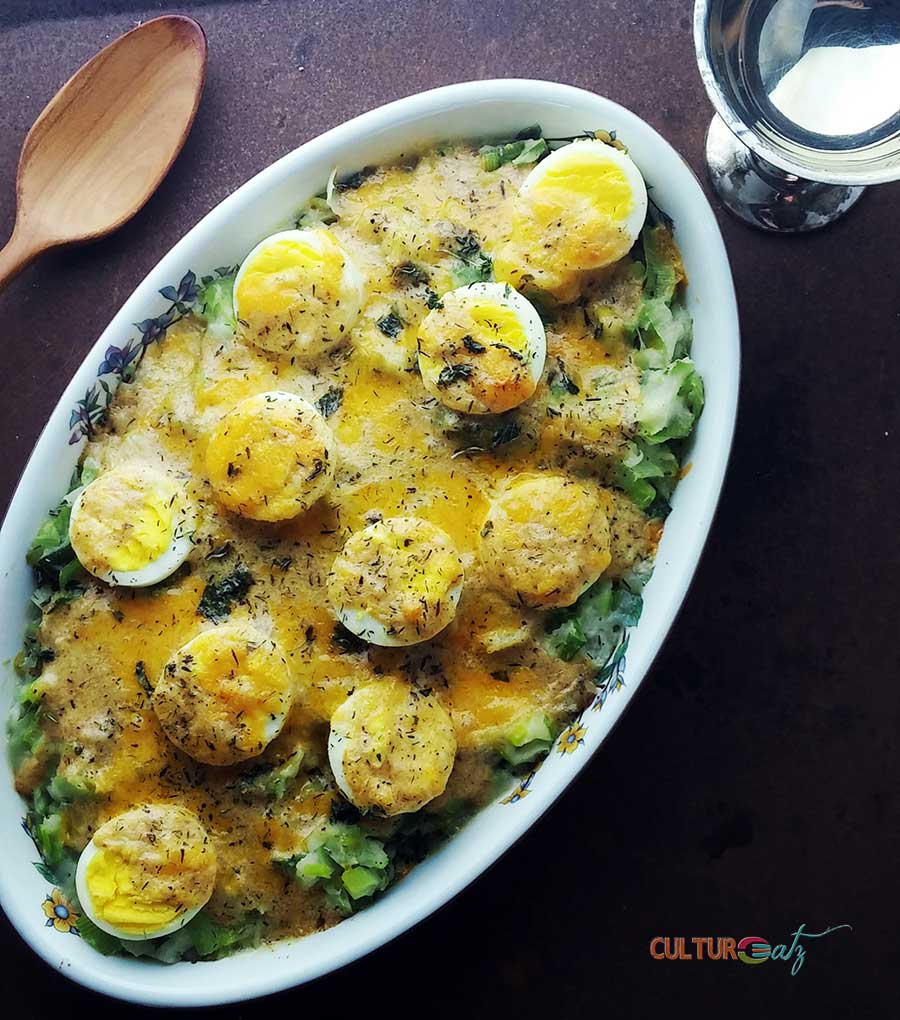 Welcome to Day 3 of the Epic Game of Thrones Food Battle between myself at CulturEatz and Heather at All Roads Lead to the Kitchen! We are having a week-long recipe battle in honor of the long-awaited return of the show which premieres this Sunday.
Heather and I are both big fans and after a few email exchanges we settled on this plan: we will each take turns every other day posting 3 unique recipes each. And on Sunday, July 16th we chose a specific theme we must both follow – but our recipes will remain a secret until our posts go live!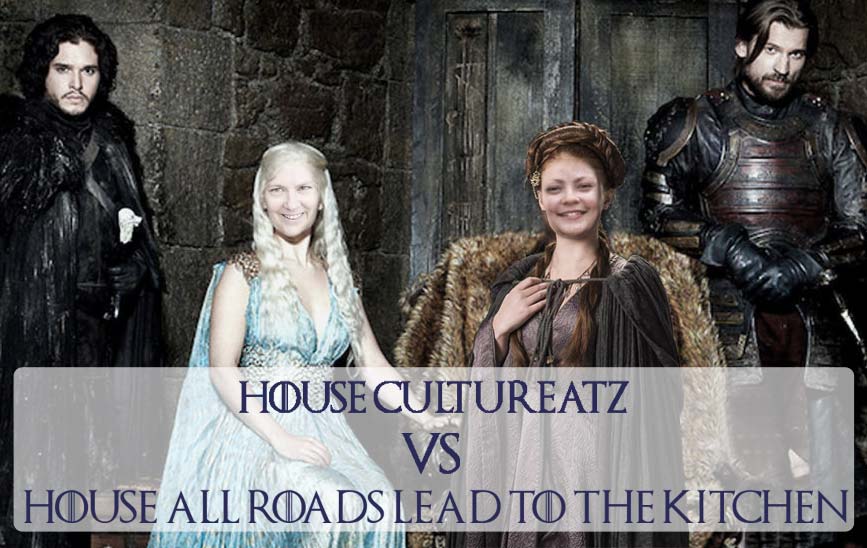 Evelyne – July 10: Blackberry Galette with Red Wine Sauce for a Red Wedding
Heather – July 11: Honeyed Chicken
Evelyne – July 12: Welsh Anglesey Eggs for House Banefort
Heather – July 13: Bran Muffins
Evelyne – July 14: Mother of Dragon Fruit Salad & a Mojito
Heather – July 15: Blackberry Wine Slushies
Evelyne – July 16: Sauteed Clams Oysters and Snails with Sea Greens
Heather – July 16: Smoked Oysters, Clams, and Cockles Linguine
Make sure to visit our sites each day this week to see all our Game of Thrones inspired recipes!
Have you ever looked at a map of England and at a map of Game of Thrones? It's not always easy to pinpoint exactly reality with fantasy. I found the Anglesey Eggs in my Medieval Cooking in Today's Kitchen cookbook. Now I had to place it in a GOT context. Let's see where Anglesey is?
OK it is an island off the north-west coast of Wales, pretty in between Dublin and Liverpool distance wise. But that island is not on the Game of Thrones map. The closest guess I have is Pyke or Banefort. My gut is leaning towards House Banefort on this one (Update: OK I have been corrected. It's actually Waterford, Ireland because Westeros map is Ireland upside down with England on top upside down OMG…see map here). From memory, they are not a big family we read or see regularly on the show.
If you are curious about planning a trip to the many film set locations in Ireland, make sure to check out this self-guided GOT Ultimate Tour Guide.

Welsh Anglesey Eggs for House Banefort
Located in Westerlands, one of the three first ethnic groups to have populated Westeros was the First Men. And some say the Starks have some of their blood running in their veins. I swear I only know this from looking online…yet I feel like a total geek right now 😉
Back to the recipe. There are a few interesting Welsh dishes out there, such as the Welsh rarebit recipe. I wanted something very local. Some of the few crops that grew successfully in Anglesey were leeks and potatoes. These ingredients are common in old recipes from that part of Wales. I somehow managed to make a pretty presentation in the dish, no small feat, but it serves terribly. Yet the taste of this simple dish is deceptively excellent for this all-vegetarian dish. 'All-but-the-kitchen-sink' leftover recipe would be a great way to explain the Anglesey eggs recipe from Medieval times, a recipe enjoyed both by the poor and the rich alike.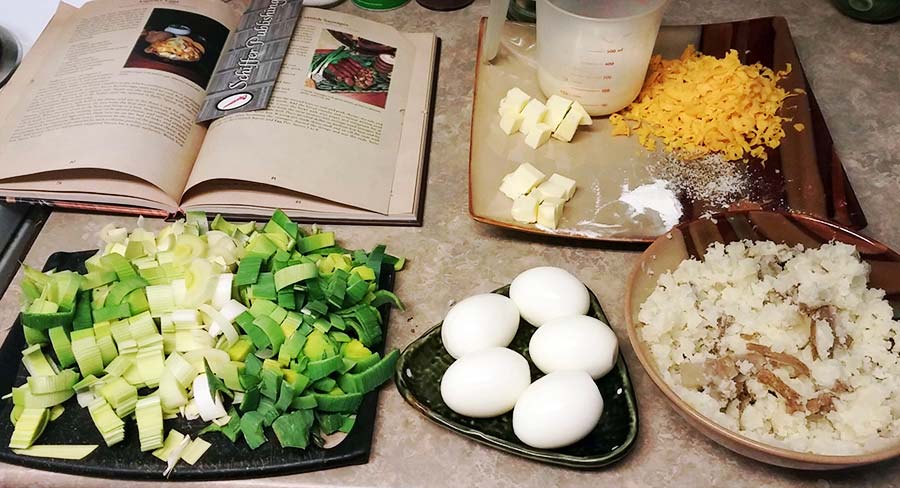 You can see all of the Epic CulturEatz Game of Thrones recipes here and if you want more GOT inspirations to check out the Baking Mischief's #AFeastofThrones linkup with Fandom Foodies!
Feeling left out because you have not seen or read anything from Game of Thrones?
Check out what all the fuss is about with the Five Novel Book Set or the Season 1 -6 DVD Set.
Note: I am listing the full recipe but I only made half.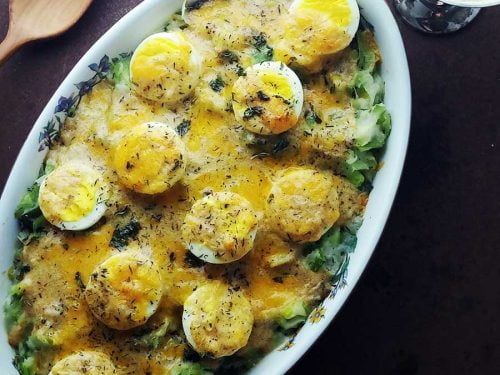 Welsh Anglesey Eggs
Have you ever tried the Welsh Anglesey Eggs dish? It's a simple yet hearty vegetarian recipe made with mashed potatoes, leeks, eggs and a cheddar sauce.
Ingredients  
5

hard boiled eggs

peeled and halved

1.5

pound

potatoes

1/2

cup

butter

4

large leeks

washed, chopped

2

cup

warm milk

2

tbsp

flour

1/2

tsp

nutmeg

6

oz

grated sharp Cheddar cheese

Salt

pepper, thyme and basil, to taste
Instructions 
Chop and cook the potatoes in a pan of boiling until tender, 10-15 minutes. Drain well and mash them. Beat in half the butter and season to taste with salt and pepper.

In another pan boil the eggs for 8-10 minutes. Run over cold water until cool enough to handle. Peel and half the eggs.

Boil the leeks in a pan of boiling water for 5-4 minutes, or until tender. Drain well and stir into the mashed potatoes.

Preheat the oven to 375 F. Grease an ovenproof dish with butter. Spoon mashed potato mix into the dish.

In a saucepan melt the butter over a low heat, whisk in the flour continuously for 1-2 minutes, until well combined. Whisk in vigorously the warm milk, bring to a boil, and simmer until the sauce is thick and smooth. Add the nutmeg and season to taste with salt and pepper. Stir in most of the cheese until melted.

Lay the eggs ace up on top of the potatoes. Cover with the sauce and sprinkle over the remaining cheese. Add a little bit of thyme and basil on top.

Bake in the oven for 20-25 minutes, until the cheese is a bit crisp and the sauce is bubbling.
PIN IT HERE for later!