This Sauteed Clams Oysters and Snails with Sea Greens dish is a most unique recipe that combines three mollusks rarely seen together, all tied together with the ocean flavors found in seaweed.
Let me start this post by appeasing a concern that has come up. There are no spoilers in this post! In fact, only my first post, the blackberry galette, has a spoiler. My three other Game of Thrones posts are spoiler free. So keep on reading if you have not seen he show yet!  For the grand finale, Arya Stark inspired this Sauteed Clams Oysters and Snails with Sea Greens from a scene in the episode S05E08. And that is all I am going to say for now 😉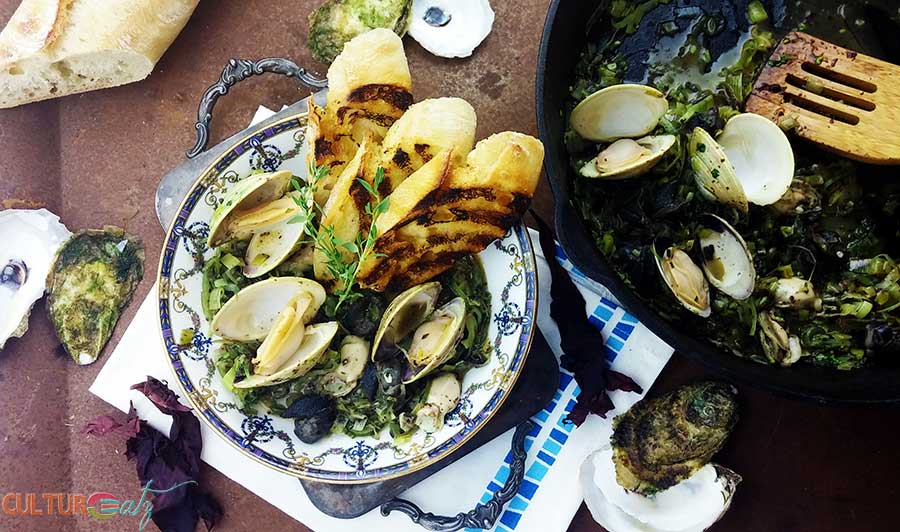 Welcome to the finale of the Epic Game of Thrones Food Battle between myself at CulturEatz and Heather at All Roads Lead to the Kitchen! It has been an awesome week and Heather has been a formidable opponent! Thank you Heather is as been such a blast doing this event with you. And thank you to all of you who have been visiting our post fatefully this week!
Heather and I are both big fans and after a few email exchanges we settled on this plan: we each took turns every other day posting 3 unique recipes each. Tonight, Sunday July 16th, is the Game of Thrones premiere of season 7. And for the food battle, Heather and I are going face to face with the theme "Oysters, Clams and Cockles".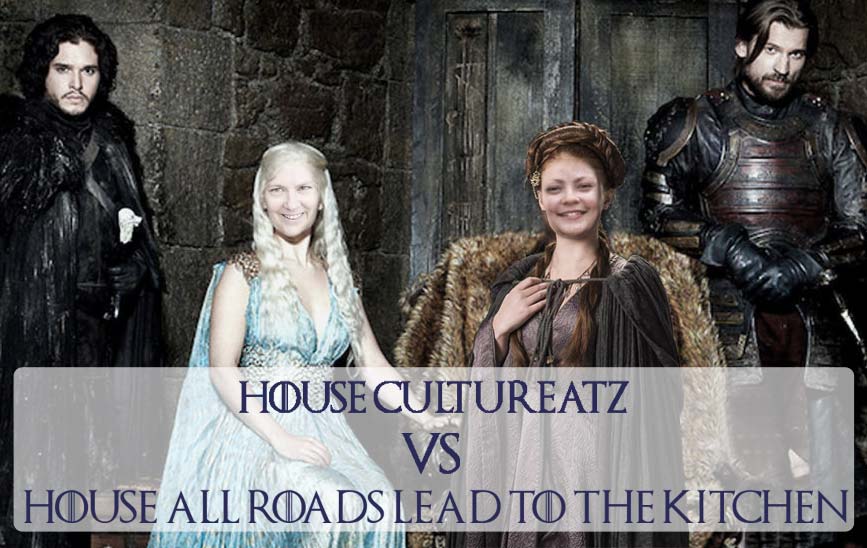 Evelyne – July 10: Blackberry Galette with Red Wine Sauce for a Red Wedding
Heather – July 11: Honeyed Chicken
Evelyne – July 12: Welsh Anglesey Eggs for House Banefort
Heather – July 13: Bran Muffins
Evelyne – July 14: Mother of Dragon Fruit Salad & a Mojito
Heather – July 15: Blackberry Wine Slushies
Evelyne – July 16: Sauteed Clams Oysters and Snails with Sea Greens
Heather – July 16: Smoked Oysters, Clams, and Cockles Linguine
Make sure to visit our sites to see all our Game of Thrones inspired recipes!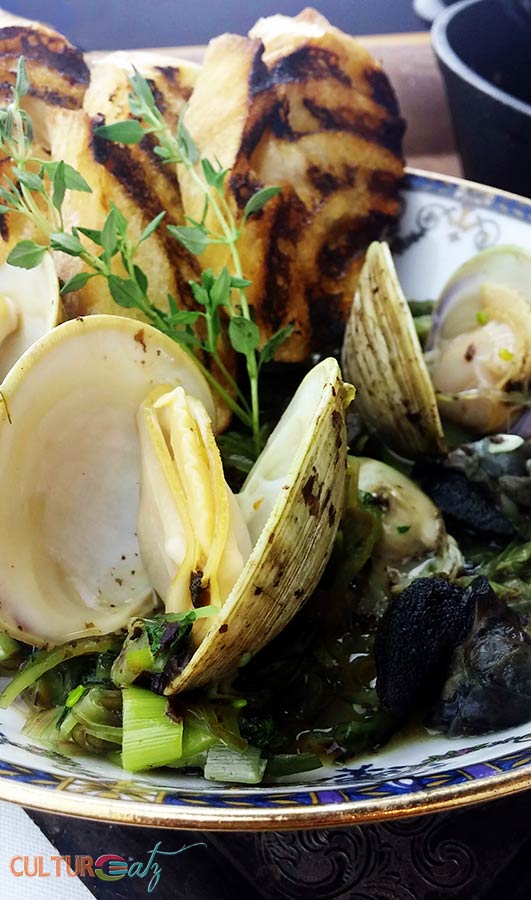 Sauteed Clams Oysters and Snails with Sea Greens for Arya
Arya Stark is one of the youngest main characters in the series. She is sister to Sansa and Robb Stark, and half-sister to John Snow. What a gene pool to share! Arya rejects the notion of being a Lady and prefers warfare. Without revealing too much, these instincts are exactly what have kept her alive so far. She kicks ass! And now she is looking for her way home.
The theme of our recipe comes from episode S05E08. Which, by the way, is one of the best episodes of the entire show! A lot of things happen. One of them is Arya pretending to be an oyster seller girl who pushes her goods around in a cart calling: Oysters, Clams and Cockles!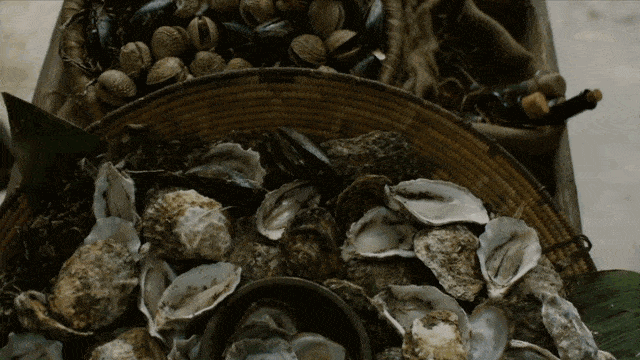 What is a girl to do when she can't find a cockle?
I cannot wait to see what Heather will post for this theme. You see, this is the only day that we kept the recipe a secret from one another. Now before I get to the recipe, I wanted to mention this idea turned out to be a bit insane. This is not oysters, clams and cockles season…like at all. We both did not get our hand on cockles, the rest we managed. If curious, my oysters are lucky limes.
So I swapped my cockles for snails. Here is why. Have you ever heard the phrase "it warms the cockles of my heart"? It is used to mean that a feeling of deeply-felt happiness has been generated. There are a couple of theories as to the choice of words. One is the resemblance of cockles to hearts. Another theory is that the Latin words for the ventricles of the heart are cochleae cordis. And cochlea alone is the Latin for snail. Yep, I know, far fetched but this is my snail swap excuse!
Here is a recipe video on how to prepare Sauteed Clams Oysters and Snails with Sea Greens dish! Please subscribe to the CulturEat Youtube channel if you have not done so yet!
What a challenge this theme was
Not a lot of recipes combine clams and oysters, let alone snails. I mean snails always get a bad wrap and are left on their own. But I managed to get all three molluscs to agree to a joint appearance in this Sauteed Clams Oysters and Snails with Sea Greens dish. The basic inspiration for this recipe came from over here.
And if my recipe was not crazy enough already…I added seaweed! A  bit of wakame and dulse from Nova Scotia seaweed turned this dish into a real offering from the ocean. I got to admit the result was surprising and exotic, even for me. It is very good but I only recommend it if you are a fan of seaweed in the first place.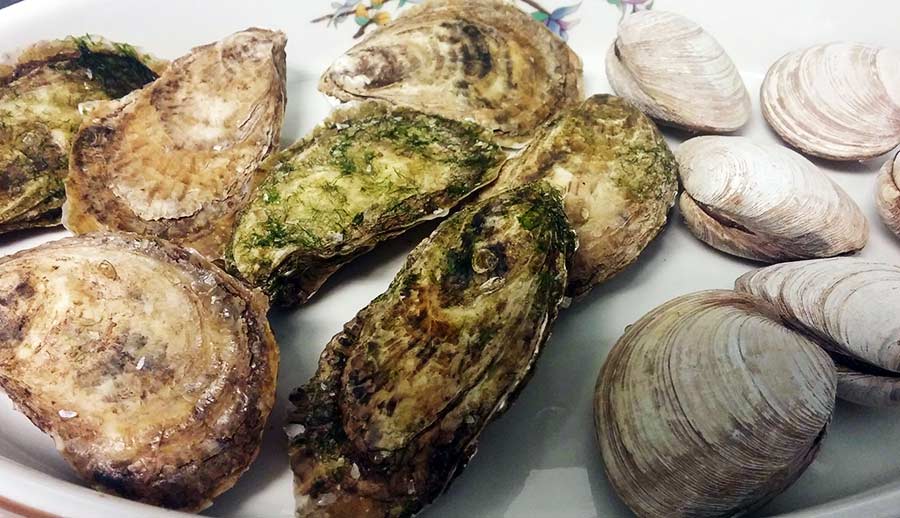 Want More Game of Thrones!
You can see all of the Epic CulturEatz Game of Thrones recipes here  and if you want more GOT inspirations check out the Baking Mischief's #AFeastofThrones linkup with Fandom Foodies!
Feeling left out because you have not seen or read anything from Game of Thrones?
Check out what all the fuss is about with the Five Novel Book Set or the Season 1 -6 DVD Set.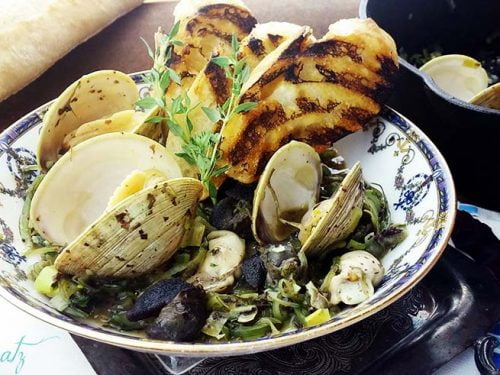 Sauteed Clams Oysters and Snails with Sea Greens
bla bla
Ingredients  
4

tablespoons

unsalted butter

2

small leeks

white and tender green parts only, thinly sliced

Salt

2

cup

seaweed

hydraded wakame or dulse

4

thyme sprigs

2

garlic cloves

thinly sliced

1/4

teaspoon

crushed red pepper

1

cup

dry vermouth

2

dozen clams

scrubbed

2

dozen oysters

freshly shucked, with their liquor

1

can of snails

2

tablespoons

coconut milk

2

tablespoons

chopped parsley

1

teaspoon

fresh lemon juice

2

dashes of siracha

Crusty bread

for serving
Instructions 
Melt 2 tablespoons of butter in a large casserole or skillet over medium heat. Stir in the leeks and season with salt. Cook until softened for about 8 minutes, stirring occasionally.

Add the seaweed, thyme, garlic and crushed red pepper. Cook while stirring for about 2 minutes.

Add the vermouth and clams. Bring to a boil and then lower heat to medium, cover and cook 5 to 10 minutes, or until the clams open. As each clam opens, place it in a plate. Discard any clams that do not open.

To the casserole, add the oysters and their liquor, the snails, the coconut milk, parsley, lemon juice, siracha and 2 tablespoons of butter. Cook for about 1 to 2 minutes, or until the oysters just start to curl around the edges. remove from heat.

Remove the thyme sprigs and stir back in the clams. Serve right away with bread.
PIN IT HERE for later!