Packed with 3 super healthy seeds, these fun Dulse Pull Apart Rolls with Chia, Flax and Sesame Seeds will win the heart of all bread lovers, especially those with a weakness for the sea!
Summer is going by too fast! It seems like it was just #twelveloaves a week ago but here we are already with my third participation. In this group we bake a bread every month with the addition of the monthly theme flavor or ingredient. This month we were asked to add seeds.
I was not even planning on participating this month because my schedule is just that insane! But I purchased a weird food ingredient (we love those at CEE) on my trip and I could fit it in my recipe, so here we are mixing up some dulse seaweed with chia, flax and sesame seeds.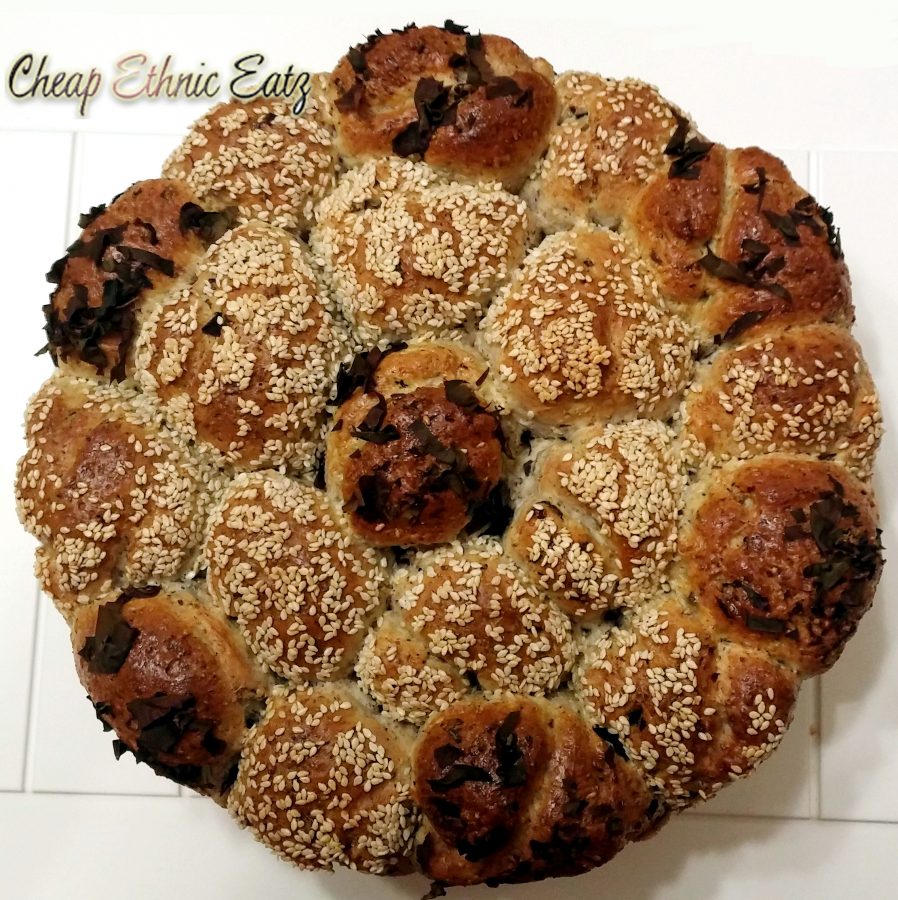 I used a quick yeast bread recipe I discovered a little while back, adapted it with the seed theme and added my newest discovery: dulse. I will  tell you all about it in a moment but first I highly recommend you try this bead sans seeds and seaweed if you want a plain bread. Normally it takes 1h30 min from start to out of the oven finish! Now that is a quick bread recipe! With the presentation and concept here, inspired by Don't Boil the Sauce, it took about 2 hour beginning to end.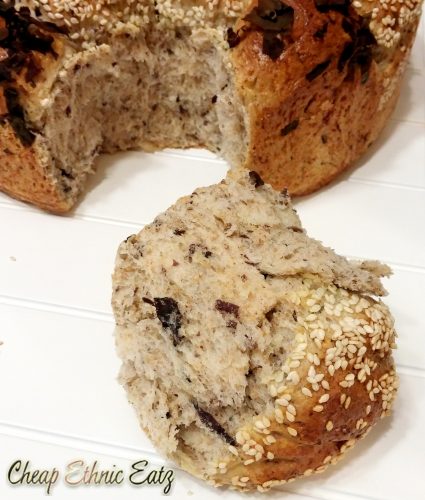 Seeds are all the rage in breads. They add nutrients and good health value to your diet. This recipe usually calls for only white flour but I decided to make a mix of white and whole wheat for an extra health kick. My chosen seeds usually figure on the super seeds lists: Chia seeds are high in iron, folate, calcium, magnesium, omega-3 fatty acids and they are a soluble fiber. Sesame seeds are high in antioxidants, zinc and are rich in protein. Flax seeds are also rich in omega-3 fatty acids, lignans and are a soluble fiber. Just remember the body cannot digest a whole flax seed so you must grind them to reap it's benefits.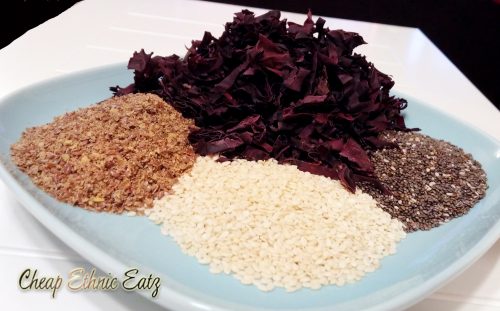 And Dulse, part of the seaweed family, is the newer health-craze kid on the block. I had honestly never heard of it before until I went to the Maritimes this summer (check out my travel photos post). My travel companion said in Ireland they serve it like peanuts in bars. What is Dulse? I will let my friend below from the Saint-John City Market (in New Brunswick) tell you all about it…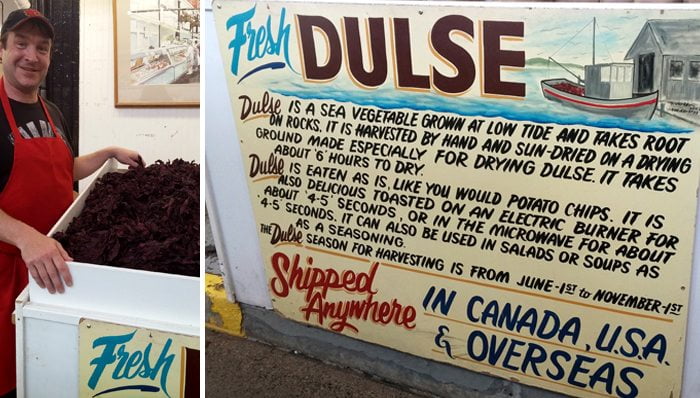 One will find this red seaweed growing mostly in California, New Brunswick, Nova Scotia, Spain, Ireland, Iceland and Maine. Dulse is a good source of minerals (including iodine) and vitamins compared with other vegetables, contains all trace elements needed by humans, and has a high protein content.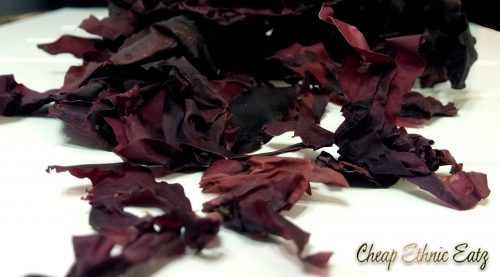 The 'red lettuce' can be used in soups, chowders, sandwiches, and salads, or added to bread or pizza dough. Finely diced, it can be used as a flavor enhancer in meat dishes, such as chili, in place of MSG.
It is an acquired taste and it is better when washed down with beer! But when fried it is often referred to as the perfect vegan bacon substitute!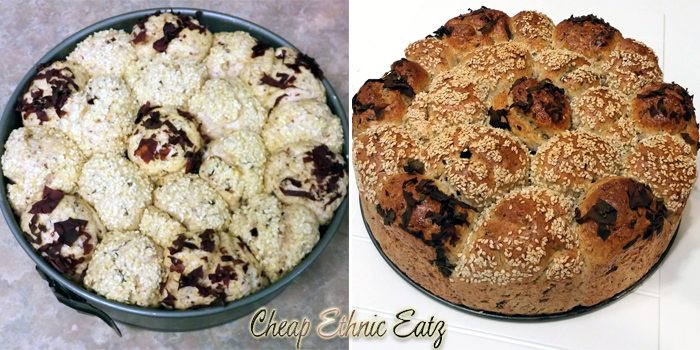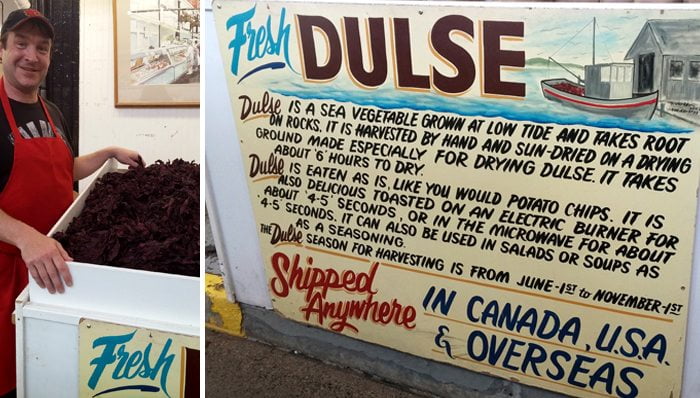 Dusle Pull Apart Rolls with Chia, Flax and Sesame Seeds
Ingredients  
3

cups

whole wheat flour

2

cups

white all-purpose flour

2

tablespoons

yeast

2

tablespoons

sugar

1

teaspoon

salt

1/2

cup

chopped dried dulse

packed

2

tablespoons

each chia

sesame and ground flax seeds

2

cups

warm water

1/4

cup

cooking oil

1

egg

beaten

Dried dulse

finely chopped

Sesame seeds
Instructions 
In a large mixing bowl mix 2 cups of each flour, yeast, sugar, salt, dulse and seeds.

Pour in warm water and oil, and mix until combined with a hook attachment if using a mixer.

Add the remaining cup of flour slowly until dough no longer feels sticky. Knead for about 5 minutes until the dough is elastic and smooth.

Return dough to the bowl and cover with a damp towel. Let it rise until the dough doubles in volume for about 30 minutes.

Punch down, weigh dough and divide weight by 19. Measure out 19 balls and roll them in shape.

Lightly oil a 10 inch round spring form cake tin. In 3 separate bowls place the beaten egg, sesame seeds and dulse.

Dip the top of each ball into the egg mix and then into one of the toppings. Place decoratively into the tin.

Cover again with a damp towel and let it rise for 30 minutes. Bake in a 365°F oven for 30 minutes or until golden.
Notes
If you want to make loaves, this recipe will make 2 breads. To do so bake at 400°F for 40 minutes.
#TwelveLoaves is a monthly bread baking party created by Lora from Cake Duchess and runs smoothly with the help of Heather of girlichef, and the rest of our fabulous bakers.
Our host this month is Lora from Cake Duchess and our theme is Seeds. For more bread recipes, visit the #TwelveLoaves Pinterest board, or check out last month's selection of #TwelveLoaves Malt Breads!
Anadama Bread from Cake Duchess
Savory Seeded Quick Bread from A Shaggy Dough Story
For more bread recipes, visit the #TwelveLoaves Pinterest board, or check out last month's selection of #TwelveLoaves Malt Breads!
If you'd like to bake along with us this month, share your Seed Bread using the hashtag #TwelveLoaves!