It's Food 'n Flix time again! In this monthly group a 'host' picks a movie of their choice that pertains to food. Everyone watches the movie and then makes a recipe which the film inspired. It can be any recipe you want.
I'm so excited to be hosting this month again. It really is a fun group to get involved with and I love to see what the other participants come up with after we all see the same movie. I chose a very funny comedy which is just perfect for what June is best know for: weddings! The movie in question is Bridesmaids and I decided to make a giant Wedding Dress Chocolate Chip Cookie.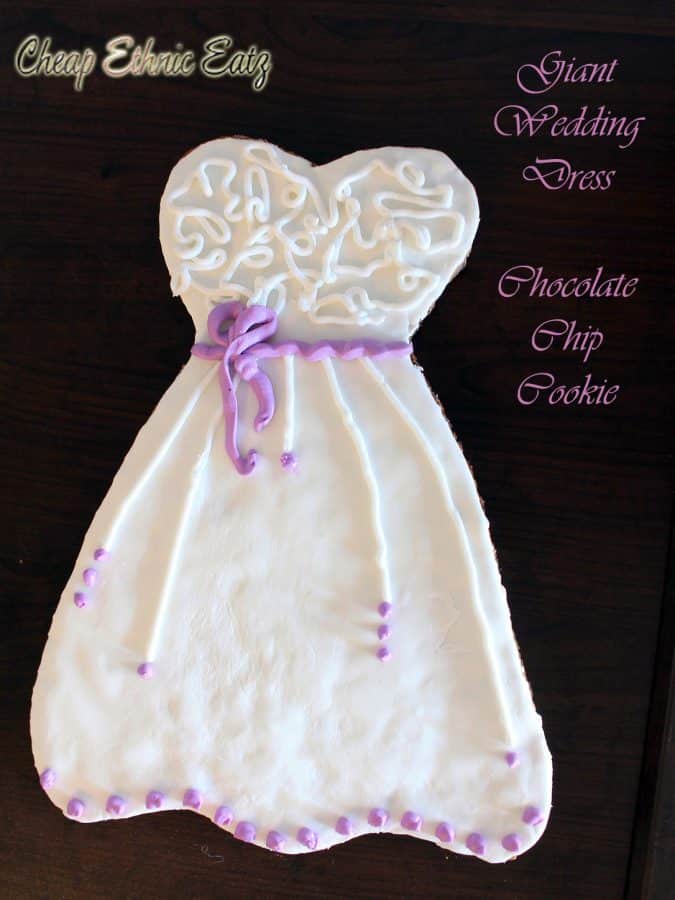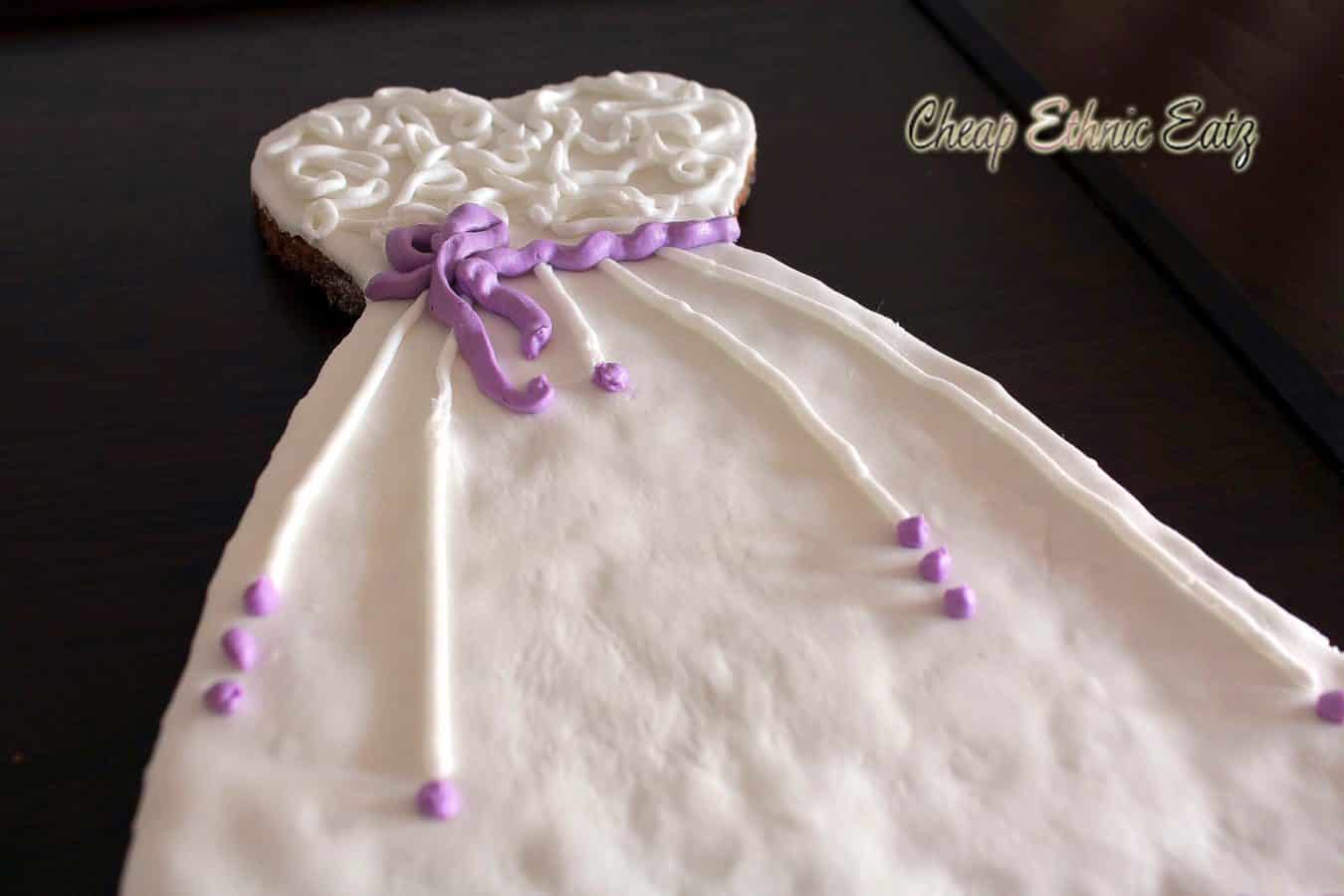 This romantic comedy film stars Kristen Wiig, Maya Rudolph, Rose Byrne, Melissa McCarthy, Ellie Kemper, and Wendi McLendon-Covey. Here is a quick resume: the movie starts with Annie being asked to be the maid of honor of her best friend Lilian who just got engaged. Annie is happy for her friend but crushed about becoming 'the single one'. Annie has had a lot of bad luck with loosing her cake shop business, working at a job she hates, having a looser friends-with-benefit guy, etc.
But she puts a smile on, not realizing just how much is expected with being asked to be the maid of honor; and to meet Helen the rich and beautiful new friend of the bride who only wants to sabotage Annie and Lilian's friendship. The competition between Annie and Helen escalates quickly as Helen outdoes all of Annie's plans for the bridal shower, bachelorette and all wedding planing situations. Needless to say things get out of hand and completely explode during the bridal shower. Did Helen win by booting Annie out of Lilian's life? Or will Annie come to the rescue in the very end? Mix in some raunchy moments, food poisoning, booze, prescription drugs, giant cookies, a ginormous chocolate fountain, and a cute cop (possible romantic interest?) to the mix too. Go out and get yourself a copy of the movie to find out!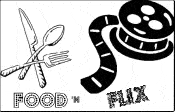 I have to admit, the first time I saw the movie I was not super crazy like everyone else was. There is a lot of slap stick comedy. I know I am not alone with my initial reaction but I found a really good quote online from Roger Ebert saying this movie: "seems to be a more or less deliberate attempt to cross the Chick Flick with the Raunch Comedy. It definitely proves that women are the equal of men in vulgarity, sexual frankness, lust, vulnerability, overdrinking and insecurity." The film however has received many nominations at various award ceremonies and it was the break out film for Melissa McCarthy.

I did see it again a year later and really enjoyed it. I got passed the gimmicky stuff and saw more into the heart of the movie. For this challenge I now saw it for a 3rd time and I can definitely say it is a favorite comedy. Maybe I can relate more as a (happy) single woman in the 30-40 age bracket? Her struggles are piled on to the extreme for the purpose of the story but I can relate on some levels. And as the moral of the movie goes…I realize the importance of being surrounded by amazing friends.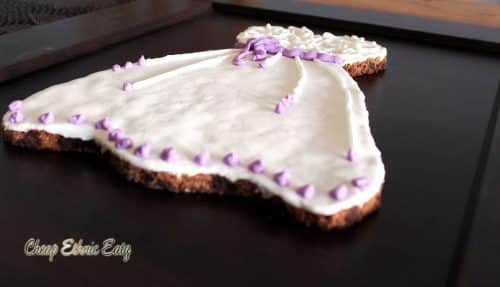 And on that note, as mentioned in my announcement post, little did I know when I asked to host this movie for June that I would eventually be asked to be a maid of honor for one of my best friend's wedding this September. We are in different cities so I cannot participate in some of the usual 'maid of honor' activities, such as shopping for the wedding dress. But with the magic of the internet she sent me tons of links to dresses for me to give an opinion on. In the movie there is a giant cookie (way bigger than mine) and I liked that idea as a recipe. So I decided to make a Wedding Dress Chocolate Chip Cookie. Susan, my amazing friend and bride to be, this cookie is for you (but I will eat it).
You can use any cookie recipe you want (or buy ready-made cookie dough) and you just adjust the baking time. I am not gifted when it comes to icing decoration but I did a decent job (and hid my mistakes well).
But the real challenge here for me was the fondant. I remember making a batch some years ago, the traditional way, and I thought is was a royal (icing) pain in the ass. I swore it off. But I came across this marshmallow fondant recipe that looked very simple. I cannot tell you how pleased I was with this marshmallow fondant recipe. Very simple, not messy and very cooperative fondant to work with. Plus once it dries it keeps a bit of a marshmallow texture.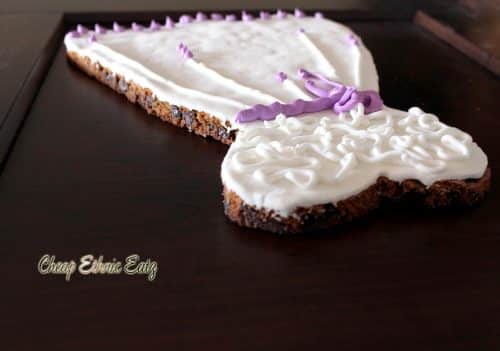 Giant Wedding Dress Chocolate Chip Cookie
chocolate chip dough recipe
marshmallow fondant (see recipe below)
white cake icing
food coloring
Draw a dress on a piece of paper and cut it out. Roll out cookie dough onto parchment paper, a bit larger than the size of your pattern. Cook at 375F for 15-18 minutes. Place pattern on top of cookie and cut out the shape with a good knife while the cookie is still warm. Let cookie cool. Roll out the fondant, place on top of cookie and cut around the edge. Decorate with icing as you wish. You may color a bit of the icing too.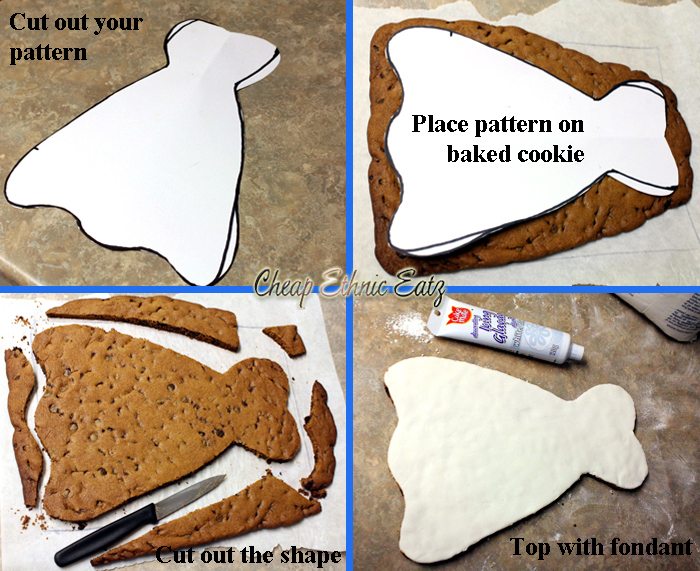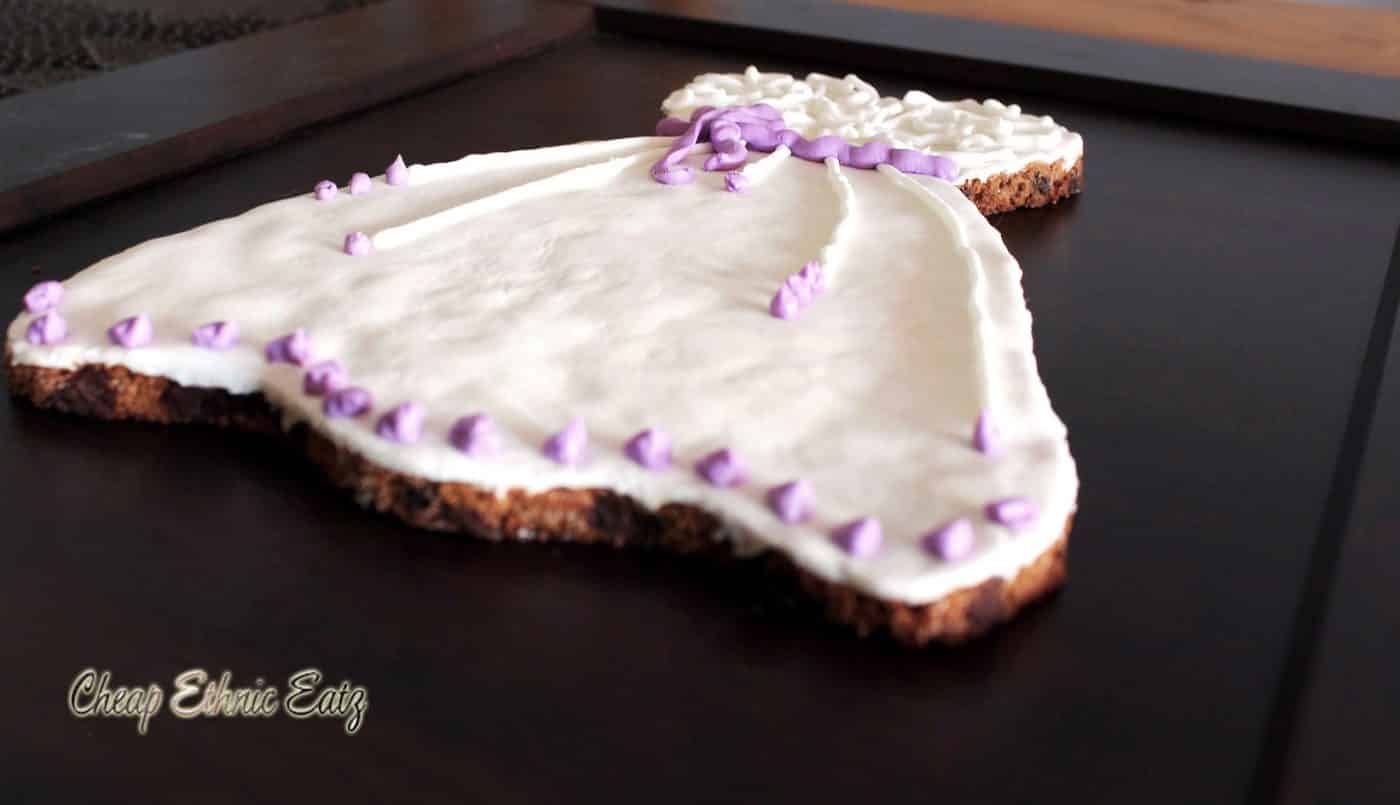 Marshmallow Fondant
Ingredients  
4

ounces

miniature marshmallows

1/2

pound

powdered sugar

plus extra for dusting

1

tbsp

water
Instructions 
Dust counter with powdered sugar. Place the marshmallows and the water in a bowl. Microwave on high for 30 seconds, until the marshmallows are expanded.

Stir the marshmallows with a spatula until melted and smooth. If you want colored fondant, add several drops of food coloring and stir until incorporated.

Add powdered sugar slowly and stir with the spatula until the sugar begins to incorporate and it becomes impossible to stir anymore.

Scrape the sticky mixture onto the prepared work surface. There will be lots of sugar that has not been incorporated yet. Knead the fondant mixture, working the sugar into the fondant.

Continue to knead the fondant until it smoothes out and loses its stickiness. Stop adding sugar once it is smooth or it may become stiff. Your fondant is now ready to be used: roll it out, shape it, or wrap it well in cling wrap and keep in the refrigerator.