Are your food allergies robbing you of your favorite treats? These glazed Allergy-Free Cinnamon Buns let you bite back at your sweet tooth cravings with satisfaction.
As a blogger I try to use all the tools at my disposable to build a genuine relationship with my readers. I love to get to know people and make friends. One way I can achieve this is by answering each comment I get personally. Sometimes there is a nice back and forth conversation with the commenter.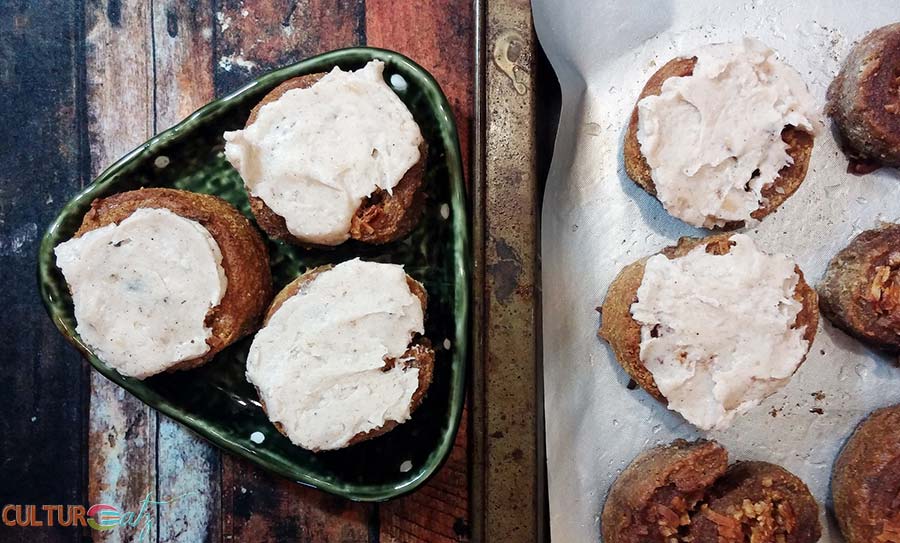 It was a chat with Gigi that gave birth to these Allergy-Free Cinnamon Buns with Extra Glaze.
When I posted this summer a Spatzle Salad recipe inspired by my summer holiday to Austria, I had great an exchange with Gigi Eats Celebrities. I said to her: any wishes the kitchen wizard can grant you? Gigi responded with: Oh man, make me a gigi-approved CINNAMON BUN with extra glaze! LOL!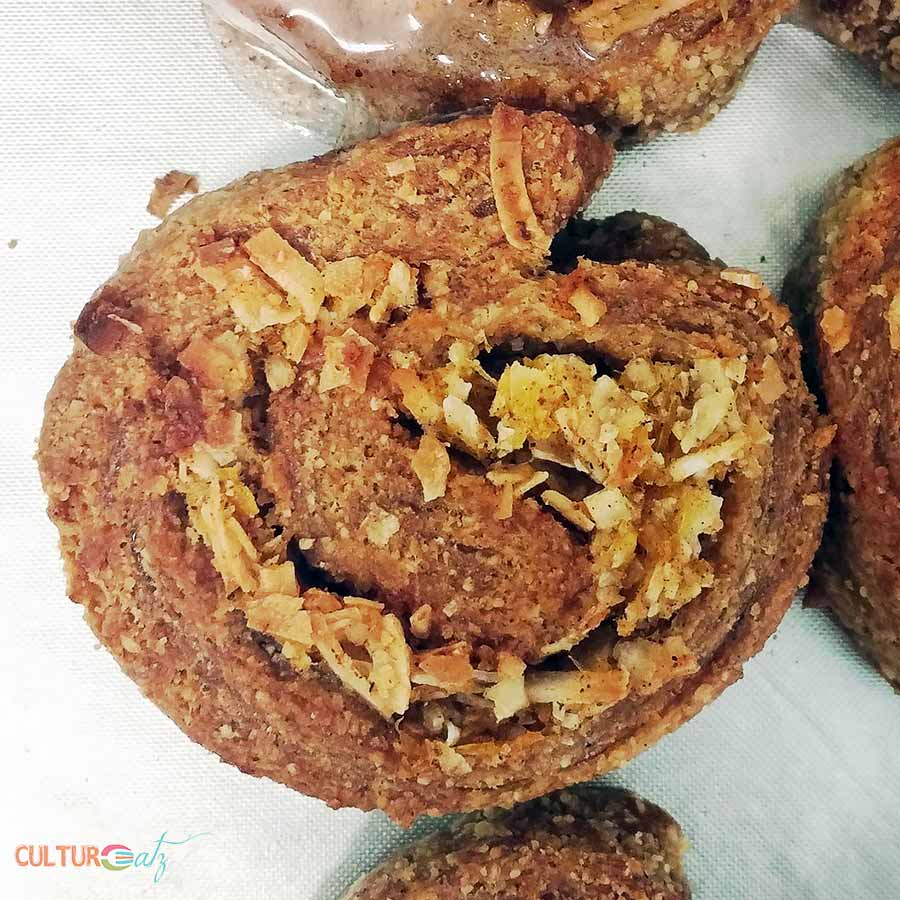 Mission Impossible ?
That may seem like an innocent enough request on her behalf but if you know her at all she has a serious list of food allergies….like a long one. I made no promises but asked here to send me the no-no list again:
Must be dairy free
Contain no sugar
Cannot use wheat/grains of any kind
No gluten
Not a nut in sight
And NO fruit
Mission Impossible much?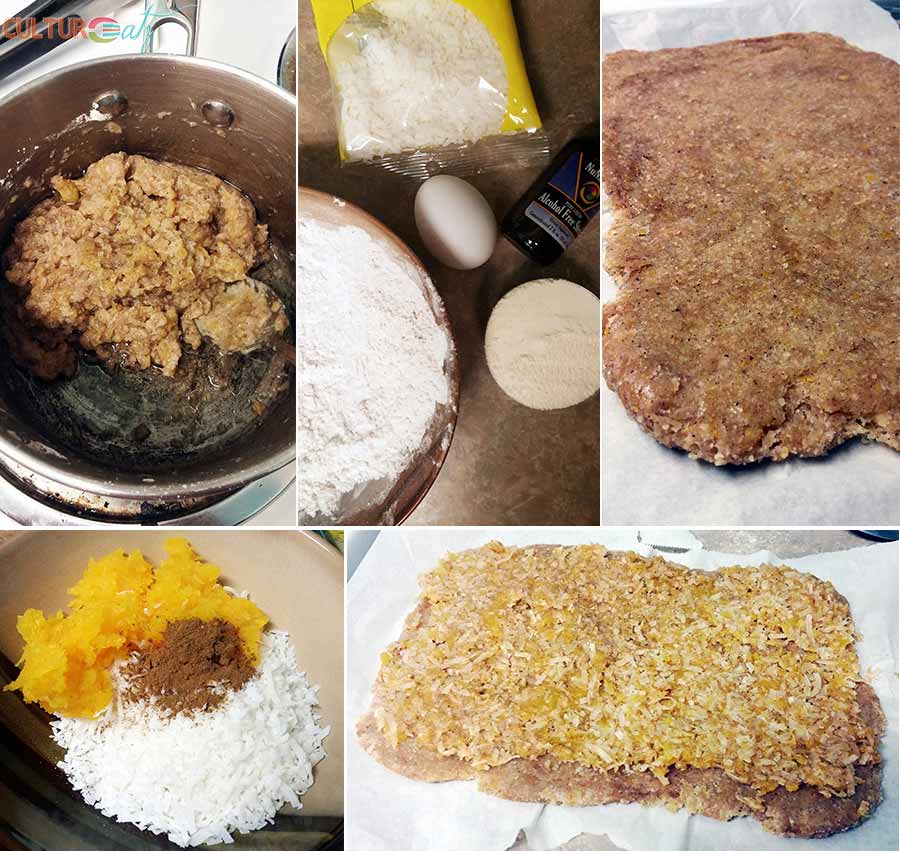 About Food Allergies
Did you know that there are eight specific foods account that account for about 90 percent of all reactions? These foods are: Eggs, Milk, Peanuts, Tree nuts, Fish, Shellfish, Wheat and Soy. Well Gigi has a few of these and a few more. I had a really tough time finding a recipe that would work but I eventually found and heavily adapted this recipe. I made it work with squash purée, 4 forms of coconut (milk, flour, flakes and oil), stevia and tapioca flour.
There is a egg in here but I have included a substitute. This switch would also make the recipe vegan. Besides the egg, this recipe is indeed allergy free: it is dairy-free, sugar-free, grain-free, gluten-free, nut-free and fruit-free.
I can hear you asking: how on earth does it taste? Well for sure it is nothing like a real yeasty cinnamon bun, I am not going to lie. But my allergy-free cinnamon buns are indeed quite tasty. The texture is a bit elastic but they are really delicious and quite healthy to boot.
A virtual wedding present
I was not necessarily planing on following through with my wish granting offer. The challenge of the ingredient restrictions was tempting I must admit, I have not dabble a whole lot in allergy-free recipes. But then I found out she was about to tie the knot this fall. Gigi is actually about to get married this very Saturday.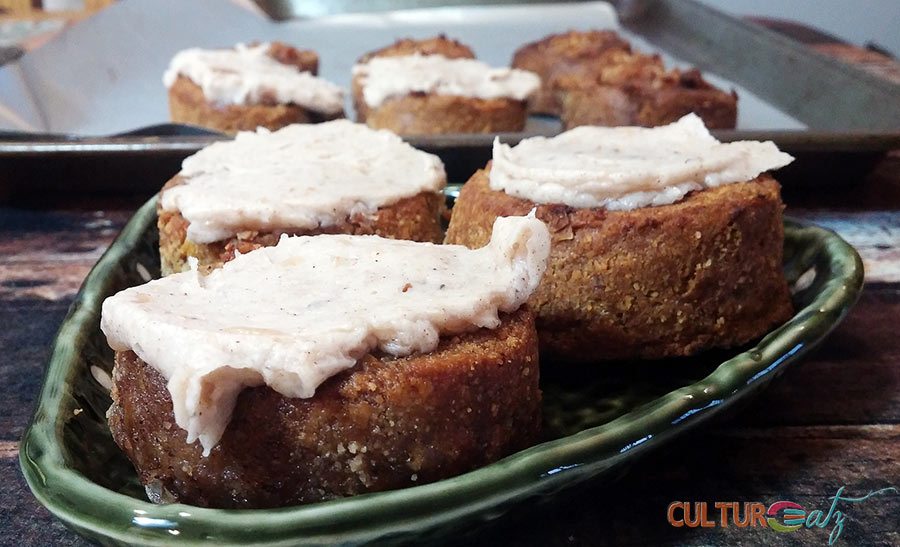 I decided to fulfill her wish (and push my baking limits) as a virtual wedding present from me to her. I wish you a fairy tale wedding day and a very happy and fulfilling life with your man.
So Gigi rub me three times and call me your Genie: here is an allergy-free cinnamon buns recipe WITH extra glaze that you can eat! I am stamping it Gigi Approved!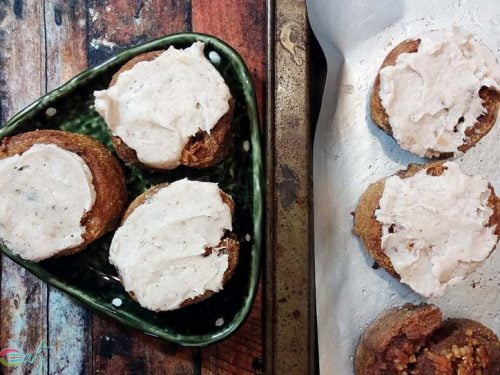 Allergy-Free Cinnamon Buns with Extra Glaze
Ingredients  
1/2

cup

coconut oil

1/2

cup

water

1/2

teaspoon

salt

12 to 18

drops liquid stevia

1/4

cup

squash puree

1

cup

tapioca flour

1/2

teaspoon

cinnamon

1/2

teaspoon

baking soda

1/2

cup

coconut flour

1

large egg

or 2 tbsp water + 1/2 tsp baking powder

1

cup

unsweetened flaked coconut

1/2

cup

squash puree

1/4

teaspoon

liquid stevia

1/2

teaspoon

cinnamon

1/2

cup

coconut oil

2

Tablespoon

coconut milk

1/4 to 1/2

teaspoon

liquid stevia

1/4

teaspoon

cinnamon
Instructions 
In a small bowl mix tapioca flour, cinnamon and baking soda. Set aside.

Put coconut oil, water, salt, stevia and squash puree in a small pan and bring to a boil. Boil for 30 seconds.

Remove from heat and add the tapioca mix to the pan. Mix well until you get a sticky mass. Leave to cool for 5 minutes.

Add the coconut flour and egg and mix well. It will look messy and may not stick well together. That is OK.

Dump onto a piece of parchment paper and knead for 1 minute.

Roll the dough with a rolling pin into a 7" x 11" rectangle.

Mix the coconut flakes, squash puree, stevia and cinnamon in a small bowl.

Spread mixture evenly over the dough leaving a 1/2" strip free on 1 long side.

Roll the dough into log and lightly press to pinch the seam.

Cut off the ends clean and slice into 1" pieces, about 11 buns.

Place the slices side down close together on a piece of parchment paper and bake at 350 for 30 - 40 minutes. Cool completely.

Beat coconut oil, coconut milk, stevia and cinnamon with a hand blender until smooth. Refrigerate a bit if it melts too much. Frost the buns just before serving.
Notes
There is 1 egg in this recipe but it can be substituted with 2 tbsp water + 1/2 tsp baking powder for egg allergies.
A couple of extra notes on the recipe
– When you add the coconut flour and egg to the tapioca mix, you may feel like it is just not gonna happen. Trust me just dump it on the counter and knead the dough. It will come together at this point. It is a weird stretchy dough but it works.
– The icing is also tricky temperature wise. At room temperature it will melt. Left in the fridge it will completely solidify. Better to keep it cool and let it come back to room temperature until you can spread it (or microwave no more than 5 seconds at a time and mix). Glaze the buns and consume within the hour. Place leftover glazed buns in the fridge and let them come to room temp before eating so the glaze can soften.