Don't panic! No real shaving cream was harmed in the making of this Shaving Cream Cocktail. It is actually whipped cream on top of a very manly scotch mixed drink which was inspired by a scene in the movie Guess Who's Coming to Dinner.
I am a bad host this month for Food 'n Flix. Life has been so busy I have to add my recipe post to the round for the February movie Guess Who's Coming to Dinner.  I bet you are wondering what inspired me in this film to create a Shaving Cream Cocktail! Read on to find out and enjoy the recipe roundup. Very little food was spotted in the film but there was a lot of food for thought! Lots of opinions and emotions came up. One participant even made me cry with her entry. Thanks to all who participated!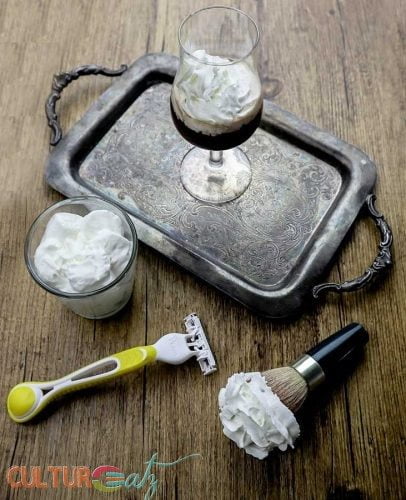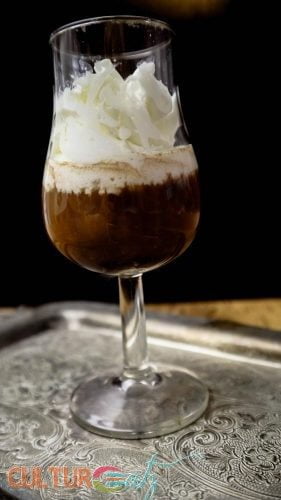 Guess Who's Coming to Dinner is a 1967 comedy-drama film that was celebrated for depicting the first positive view of an interracial marriage. Joanna Drayton (Katharine Houghton) brings home her new fiancé, John Prentice (Sydney Poitier), to meet her liberal-minded parents (Spencer Tracy and Katharine Hepburn). Not only that but John's parents are also invited, so the in-laws can meet. Needless to say, there will be a lot of interesting conversation during the cocktail hour before dinner. Will Joanna and John get their parents blessing by the end of the evening? Watch the film to find out!
If you liked this movie or you are curious to see a loosely adapted modern version of it, I highly recommend you check out this year's Oscar-nominated chilling movie "Get Out".
My Reaction
Apparently true love, love at first sight, can happen. But I do agree with a few of the others that if my 23 years older daughter brought home a man she met 10 days ago in Hawaii and she wanted her blessing RIGHT NOW or else, I would not be a happy camper. An older widowed man with a child no less! How about trying 2 months of living in really routine life first? That is the true test of a relationship: routine. I can sympathize with the parents in the film.
But here is the added twist: she is white and he is black. It is 1967 and at this time 17 states still considered such a marriage as illegal (for realz people). Martin Luther King is still alive. Neither set of parents know this before meeting the couple. Everyone is a bit shocked, even the house help has probably one of the biggest racist reaction in the film. The priest funny enough is the coolest dude in the movie about the inter-racial fact. Part of the movie has not aged well but the inter-racial situation and having unaccepting family and friends is still a very real problem to this day. And that is very sad.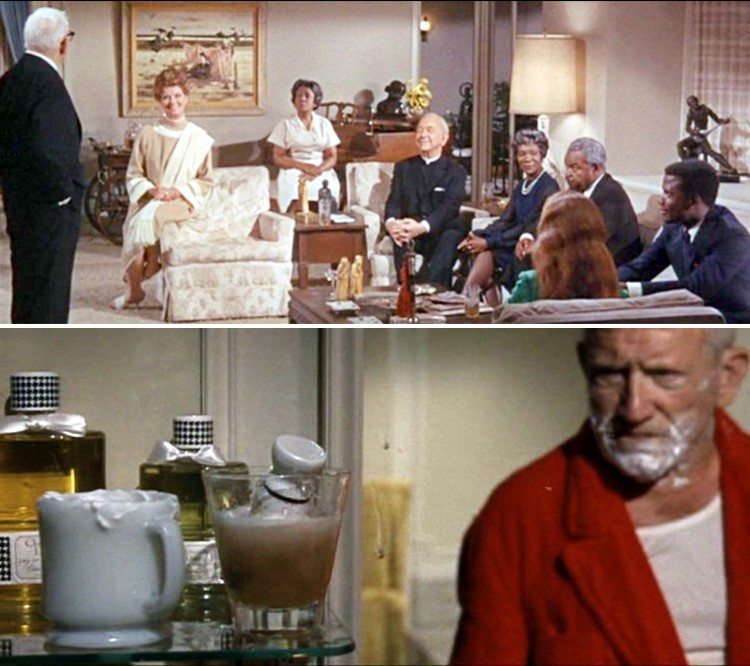 Is my family racist?
My mom will be 85 soon and I have asked her many times to tell me stories of segregation and things she saw when they would travel down to Florida for a vacation. She actually remembers the colored only bathrooms, the water fountains, etc. One of my favorite stories is when my grandad wanted to give a tip to the black gas attendant. I think this was the 50s and he gave like 10 cents – which was a good tip at the time – and the guy was really reluctant at first to accept a generous tip from a white man.
I was always saddened by this story, that this man was afraid of taking a tip because of skin color. And I was always so proud to realize how accepting my family was.  I am not saying I am a perfect person when it comes to any form of racism. We all have a bit of prejudice even if we do not realize it. But I have dated men of various skin color and cultural background. None met my parents and I am not sure how the initial meeting would have gone but in the end, it would have been OK.
A Shaving Cream Cocktail
Guess who is coming for dinner movie food sightings: sandwiches and coffee, steak fry, lettuce, beans, pie, mandarins, drive-in dinner, a gazillion ice cream flavors mentioned including boysenberry, geisha waitress in a Japanese restaurant, cocktails, scotch and soda, sherry, bourbon…lots of booze like they drink in the day.
Oh yeah you all came here for a recipe, right? So I had the weirdest inspiration for this film and I created a Shaving Cream Cocktail. There is a scene where Spencer Tracy is shaving, the old fashion way, and is have an argument with his wife. The shaving cream loaded brush ends up accidentally in his drink from how upset he is.
And boy do they drink in this film. Back then any excuse was good to pour a glass of hard liquor, straight up! I made a strong and manly drink with scotch and brandy, added a touch of chocolate love for Sydney 😉 and topped it off with whipped cream to recreate the scene. Voilà, a Shaving Cream Cocktail!
PIN IT FOR LATER!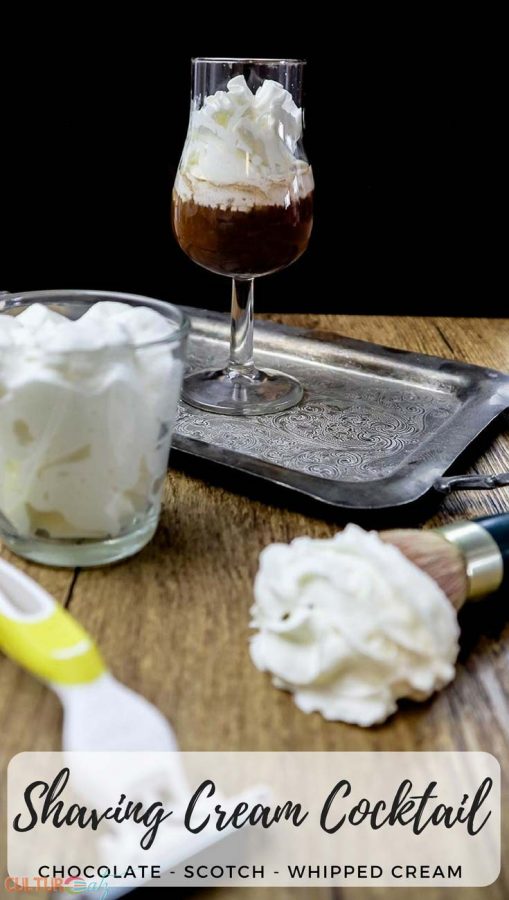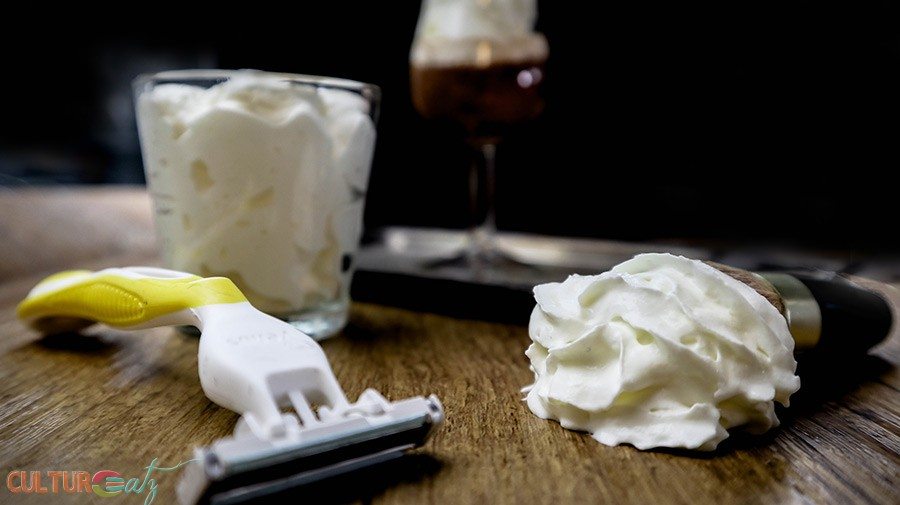 The Shaving Cream Cocktail
Don't panic! No real shaving cream was harmed in the making of this Shaving Cream Cocktail. It is actually whipped cream on top of a very manly scotch mixed drink which was inspired by a scene in the movie Guess Who's Coming to Dinner.
Ingredients  
2

tsp

Brandy

1

tbsp

liquid chocolate sauce

1.25

oz.

Scotch

and/or Whisky

Whipped Cream
Instructions 
Shake the first 3 ingredients in a shaker with ice.

Pour into a snifter glass and garnish with whipped cream.
Guess Who's Coming to Dinner Reactions
Even with the lack of food, everyone who participated had mixed and strong feelings about this film. I achieved my goal of getting the discussion going in honor of Black History month for February. Some had a tough reaction to the subject matters broached in the movie. Please go visit everyone's posts, it is really a fascinating series of posts to read.
Roundup Offerings
Wendy from A Day in the Life on the Farm got her soup on with a Celery Soup.
I have sat down to write this post, I don't know how many times.  Each time I was moved to tears and had to stop writing.  This film hit me square in the face with my own faults and shortcomings.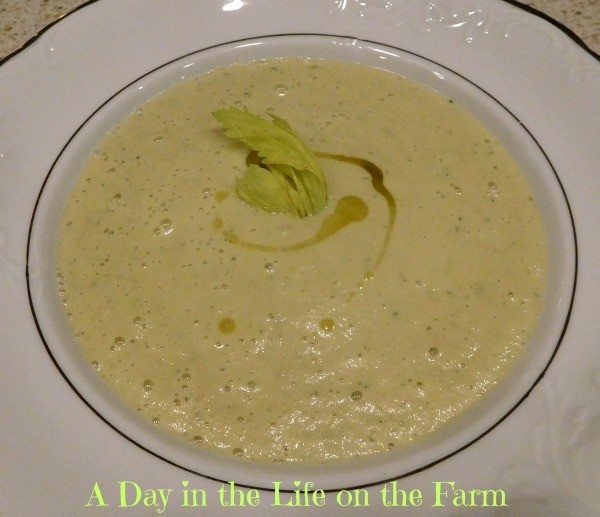 Amy from Amy's Cooking Adventures created a yummy Homemade Queso.
The real problem here is that the met only a week ago and plan to get married straight away and demand a blessing from their parents or they'll be miserable forever!  I mean, how selfish can you be?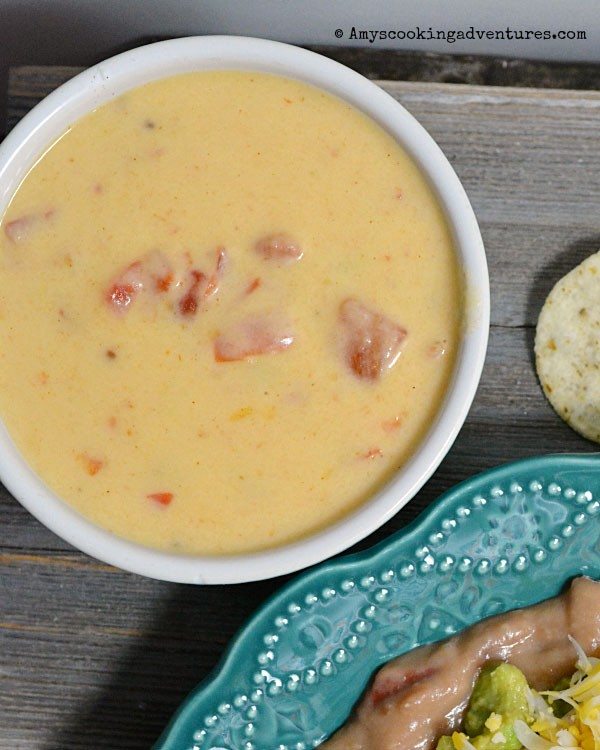 Camilla from Culinary Adventures with Camilla prepared delicious Rib-Eye Steaks and Single Malt Scotch.
I mentioned it to my sister-in-law who said, "Great movie!" And, when I came home from work yesterday, my mom was there with D. They were watching it. She commented, "I saw this when I was 17…I definitely got more out of it today."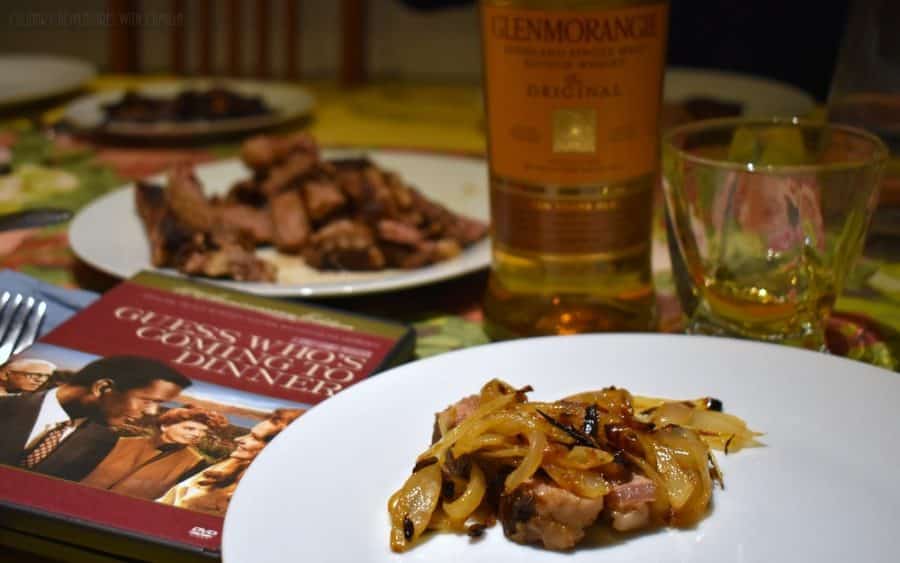 Debra from Eliot's Eats offers us a wonderful Celery Soup and Egg Salad Sandwich.
Have things really changed? While I have no doubt that this film caused quite the buzz and conversation in 1968, I can't help but think the film served up a rosy view and quick denouement to the situation. Where are we now? I mean seriously…have you seen Get Out? So, I don't have an answer.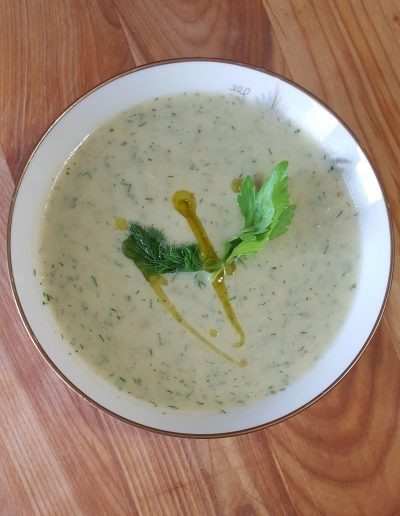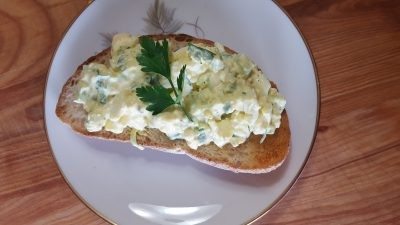 Lynda from RCHreviews went retro with 60s style Mock Tournedos.
To put it into the context of its time, Loving vs. Virginia, the Supreme Court Case ending laws outlawing interracial marriage, was decided while this movie was in post-production, and it predated by several months the landmark Star Trek episode featuring the first interracial kiss on TV (deemed so controversial, it had to occur in the context of Kirk and Uhura being controlled against their will by a powerful entity).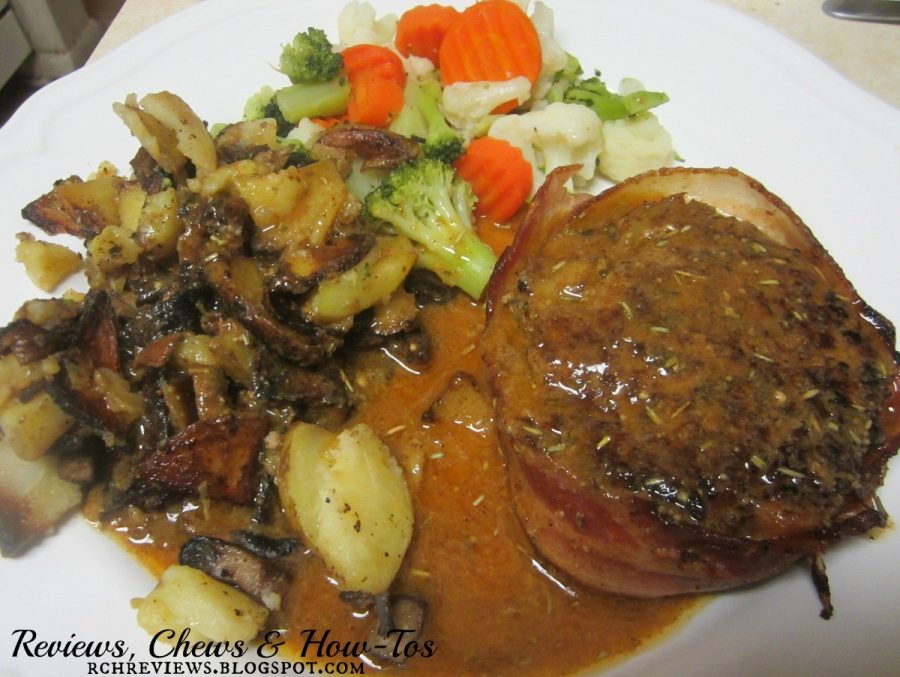 Kelley from Simply Inspired Meals churned up a Boysenberry Sherbet
I must admit I was a little concerned it might be a "message" movie where they really hit you over the head with the message they are trying to get across. Instead, I found this to be a really entertaining movie, that yes, has a message, but delivered in a thoughtful way that I believe would make anyone see the point.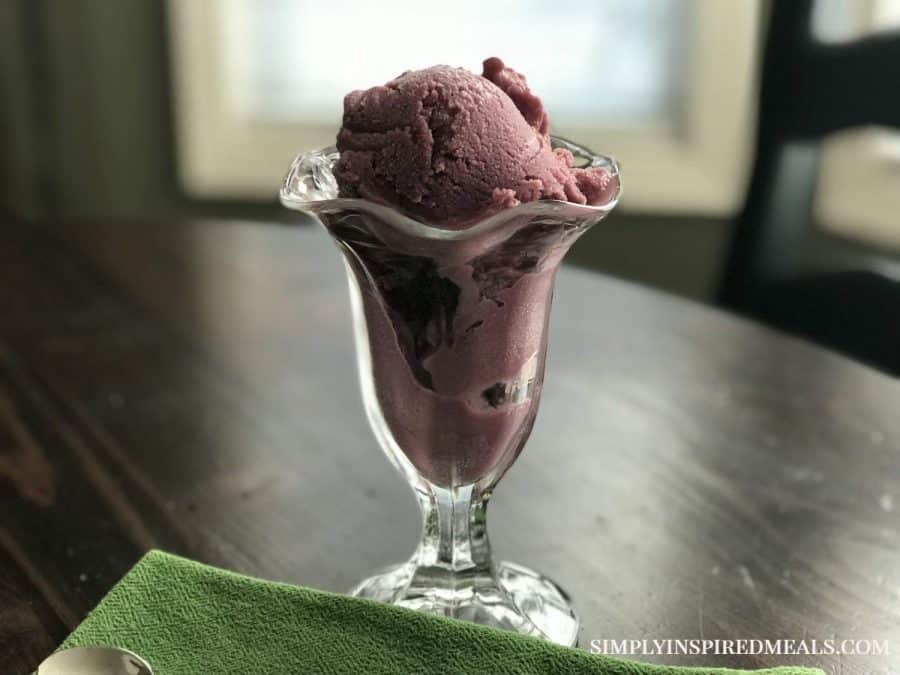 And I put on my mixologist cap on with a Shaving Cream Cocktail. You are already on the right post with the Shaving Cream Cocktail recipe and my comments s above.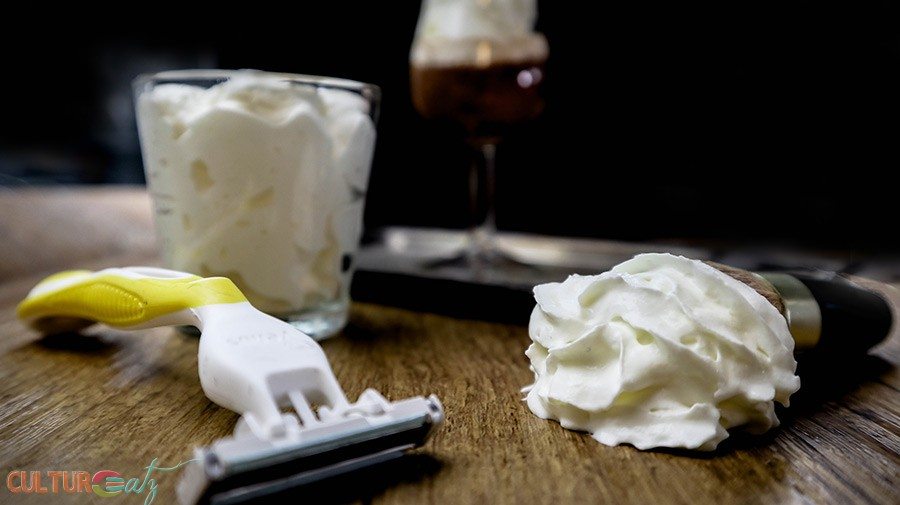 Want to have fun with us by watching a film and cooking? Join us next month at Food 'n Flix with our host Sarah from Fix Me A Little Lunch with the movie Runaway Bride!
See more film inspired cocktails and beverages: