Are you looking for scary Halloween drinks, savory meals and dessert recipe inspirations for an upcoming costume party? Check out the 6-6-6 ideas below!
I love this time of year where I get to see just how creative people get when it comes to Halloween food ideas. And I have posted my fair share of Halloween food recipes on the blog as well. The more creepy and ghoulish, the better. For this round-up, I wanted to call on the devil himself with 666 Halloween party food ideas. Now don't be terrified, I am not sharing 666 actual recipes, but rather 6 scary Halloween drinks, 6 blood-curdling savory recipes, and 6 spine-chilling desserts.
Warning: this scary Halloween food recipe round-up is not for the faint of heart or those with weak stomachs. Muahahaha!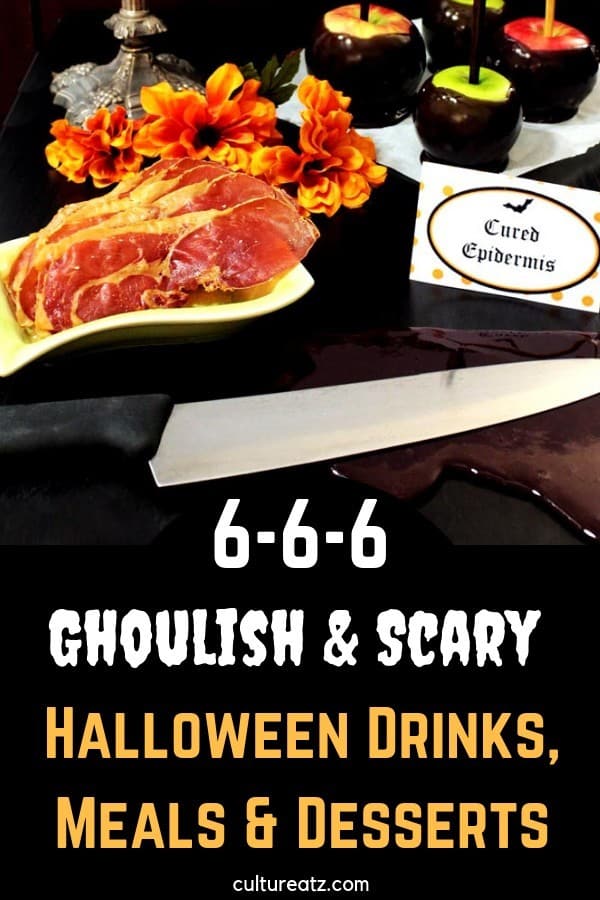 A Scary night in at the movies
In today's society, Halloween has become a celebration for both the young and decrepit old. As an adult, I am fond of costumed house parties, I must admit. If I have no parties planned, horror movies will be on the menu.
I also associate a couple of childhood traumas to horror movies I saw as a tween. One was a Friday the 13th flick, I don't remember which one. But there was a scene where a giant Freddie was using a teen's veins to move him like a puppet.
The next was a very campy horror movie, the classic style of the 80s genre, called Sleepaway Camp. The whole thing scared me. It was the first scary movie I ever rented, back in the VHS days.
My horror film tastes have changed. I am not into the brutal stuff anymore and I abhor torture porn flicks. But twisted psychological stories still intrigue me. Recent favorites include Get Out, Don't Breath, and the new one called Hereditary.
Are you into horror films? If so, which ones are your favorite?
Scary Halloween Drinks for the parched lost souls
Specimen Jar Halloween Cocktails
Don't you think an edible brain at the bottom of a gorgeous cocktail is a great way to start a Halloween dinner party?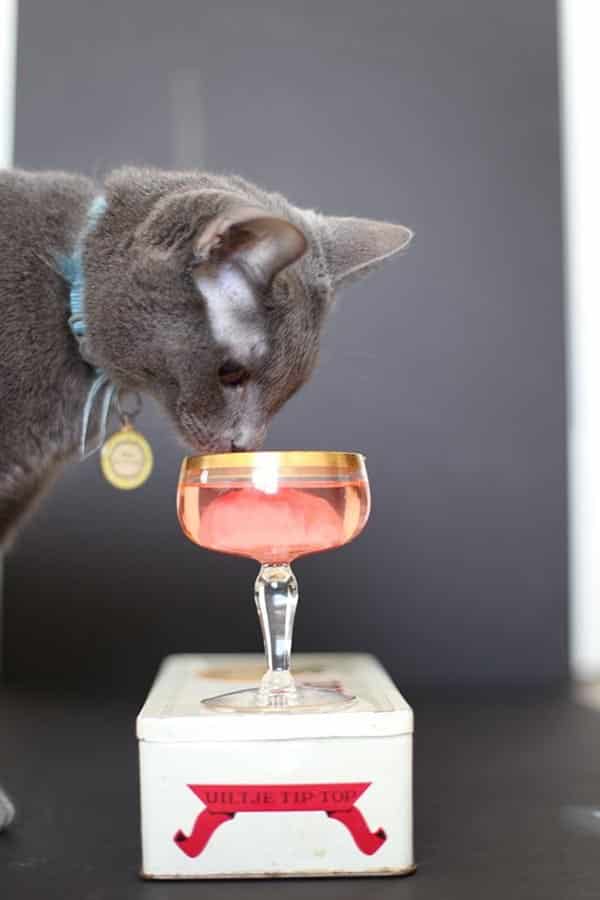 Blood Red Mocktail Sangria
Virgin sacrifices, oops I mean drinks, are always a good idea to have on hand in your Halloween party recipes repertoire, as long as you don't mind a little blood in it.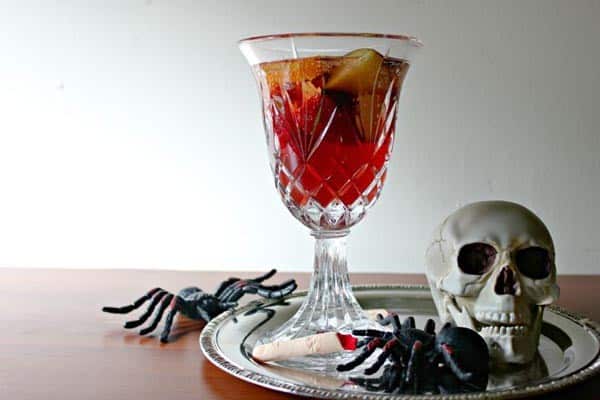 Frog's Breath Float
I love the creepy eww factor in Halloween recipe ideas, just like this one. Who knows, maybe the frog's breath coems from a frog prince?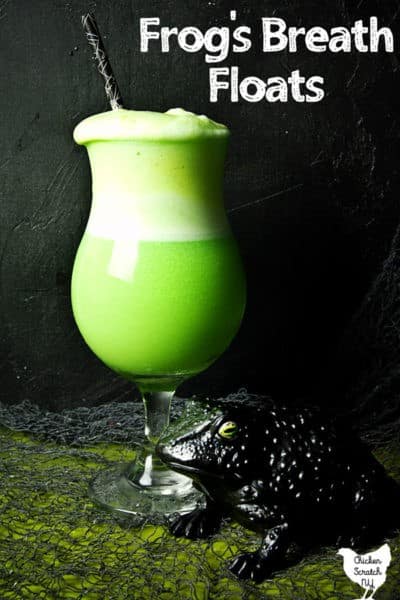 Blood Bag Cocktail
Totally blown away by the original presentation of this idea. And it is one of the easy Halloween recipes here as there are only 2 ingredients.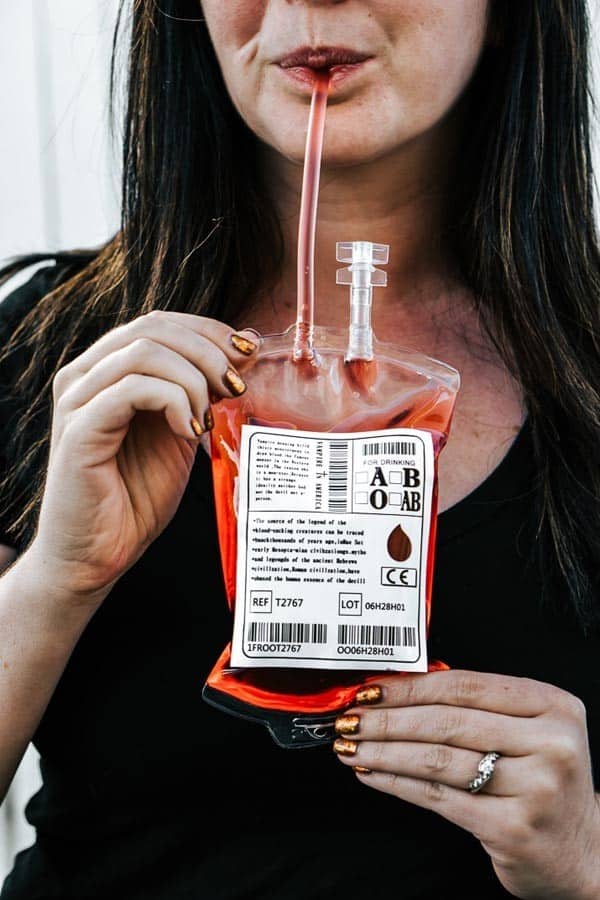 Creepy Halloween Punch
Costume parties are best when there are deliciously spooky Halloween punch recipes to make and serve to many guests.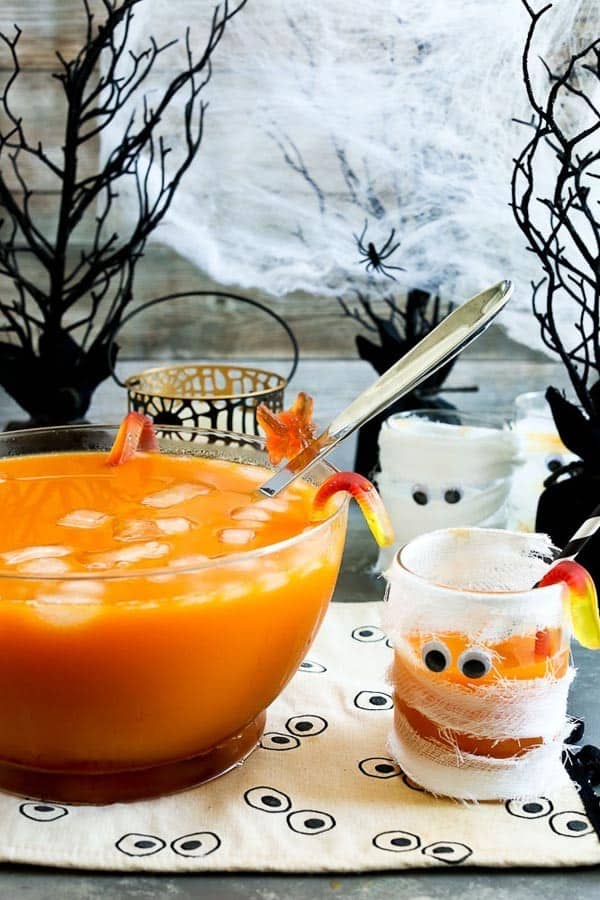 Tequila Mocking Eye Martini
Along with your Halloween party food for adults, you can also serve up a classy literary inspiration as this stiff bloodshot eyes drink.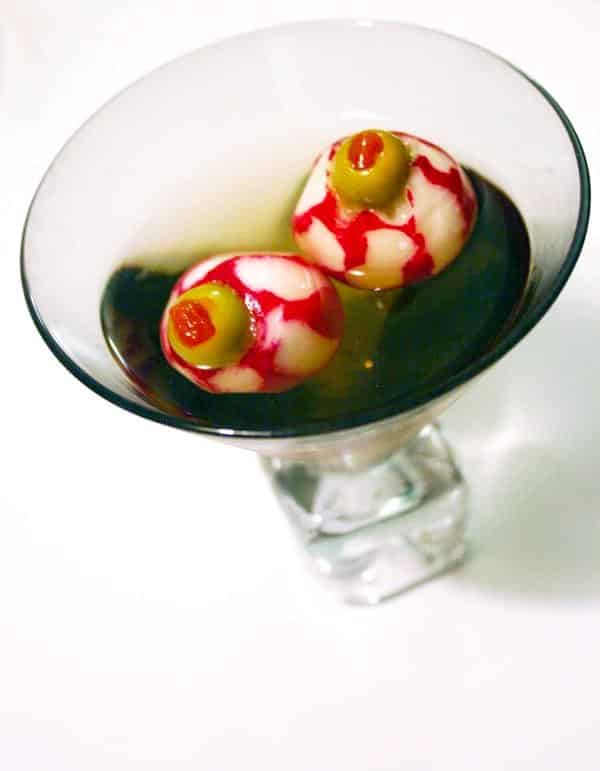 Did you get your FREE PRINTABLE yet?
Surprise! I have prepared a Cheat Sheet that includes 41 Cooking and Baking Ingredient Substitutions that are commonly found in a kitchen. Click here to get your FREE Ingredient Substitutions Cheat Sheet right now!

Savory Halloween Dinner Recipes that will terrify your guests
Dead Body Caprese
Trying to hide those bits and pieces of that body laying around? Problem solved, you can use them to make creative Halloween party appetizers like this one.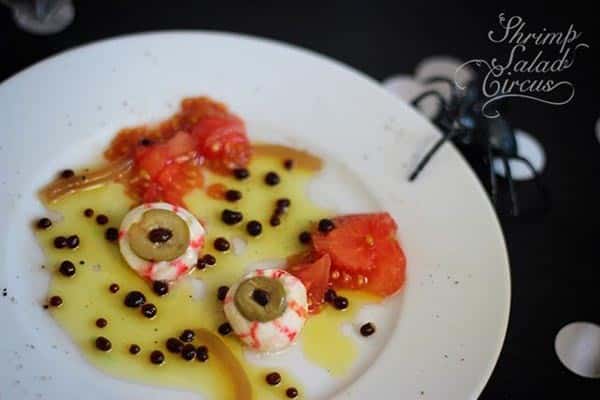 Cured Epidermis
If you need some quick Halloween party food ideas, look no further. You will never see prosciutto the same way again!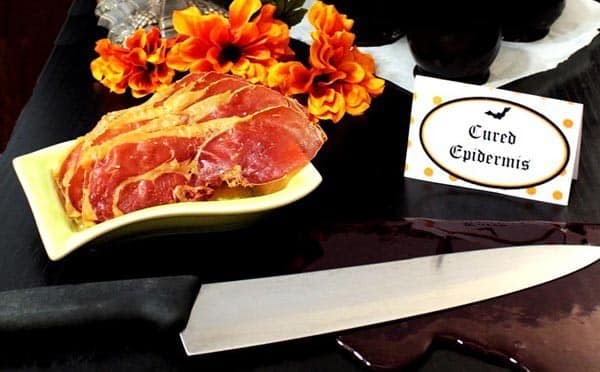 Zombie Snot Dip
Another great one to add to the list of easy Halloween appetizers. This awesome idea is so gross.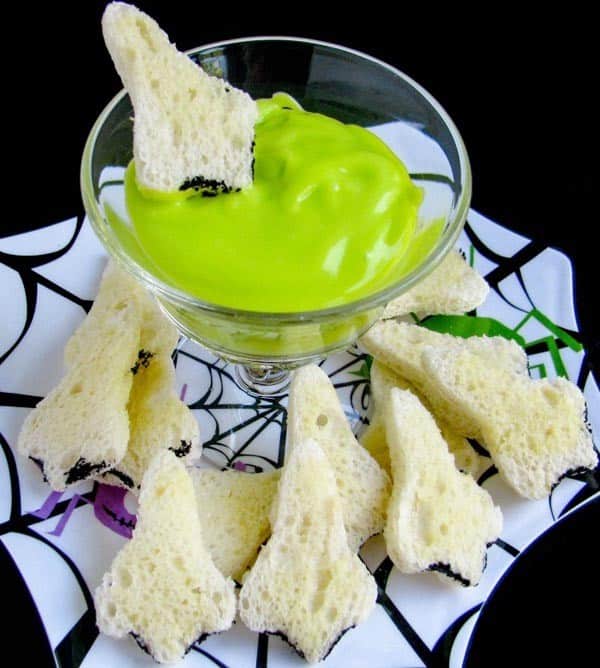 Rat Loaf Meatloaf
Finding that main dish when it comes to Halloween dinner ideas can be tough, but a dirty rat gave me a great idea.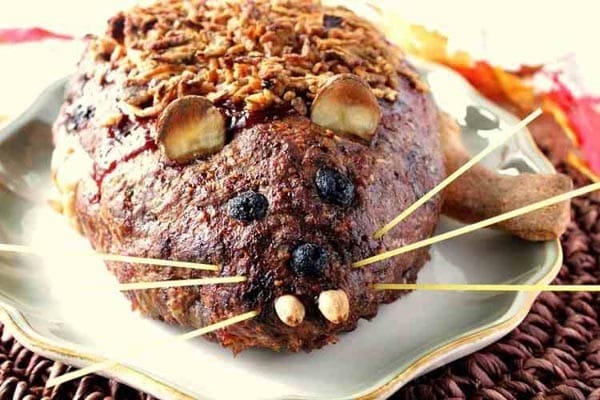 Swamp Monster Slow Cooker Jackfruit Gumbo
If rats aren't your thing then swamps are always a good way to go for Halloween themed food. And idea straight from the bayou!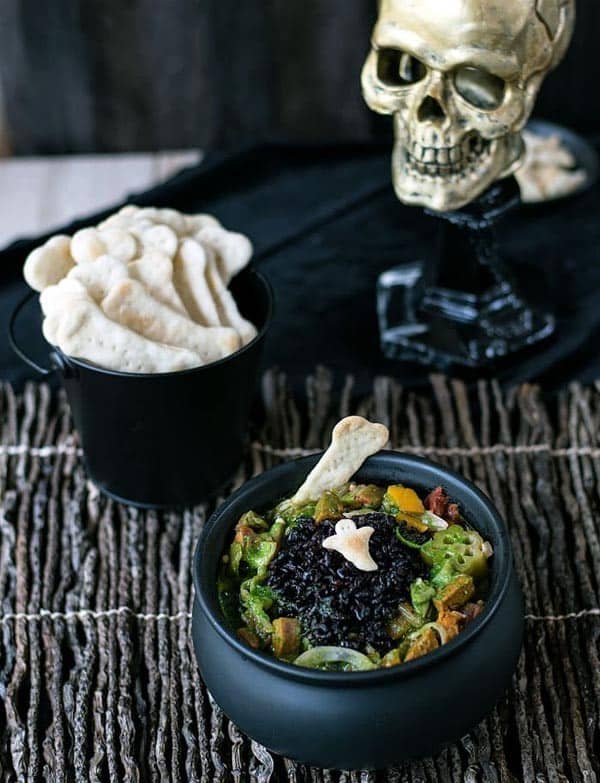 Spooky Skull Vegan Pot Pies
Nothing makes me happier than having a skull looking right back at me on my plate. This one tops the creepy Halloween food ideas.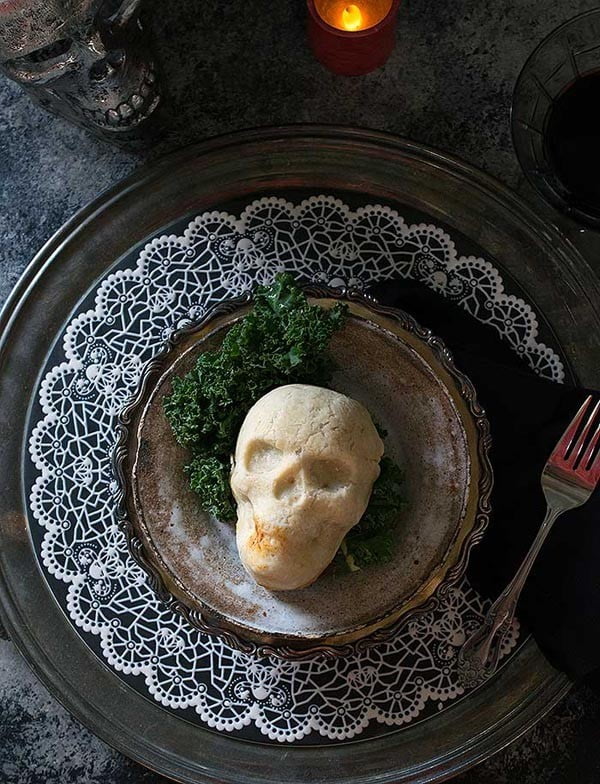 Horrifying Halloween Dessert Recipes
Clown cupcakes inspired by the IT movie
I tell no lies, this one made my blood curdle when I saw these babies. Perfectly executed if you ask me. One of the best Halloween baking ideas I have seen.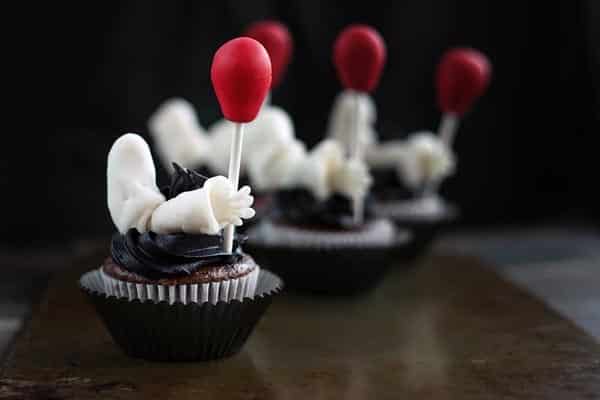 Zombie Guts cinnamon rolls
Looking for some sweet internal organs to tickle your internal organs. Topping the list of realistic body part Halloween dessert ideas, voilà.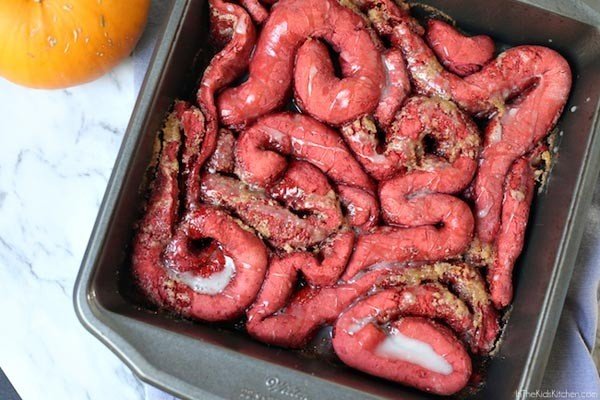 White Chocolate Skulls with Brains Mousse
If you are in need of Halloween treat ideas with a touch of classy, these are it. Creepy but so tempting. And they make you smarter, scouts honor.
Halloween Eyeball Popcorn Balls
Every proper costume celebration needs a good set of eyeballs at the table. These are great Halloween snacks for the party buffet.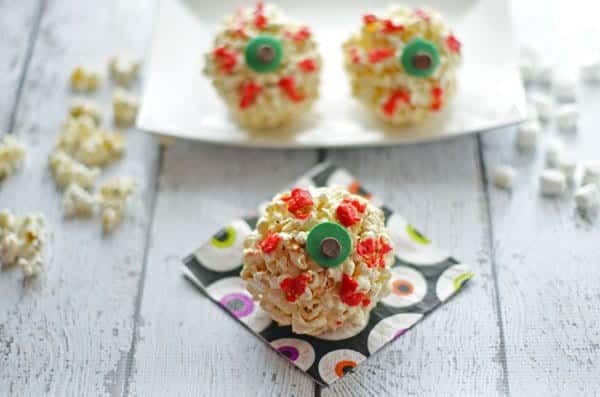 Frankenstein rice cereal treat
Ah, the magic of snap, crackle, and pop is perfectly suited for making easy Halloween desserts, just ask this infamous monster.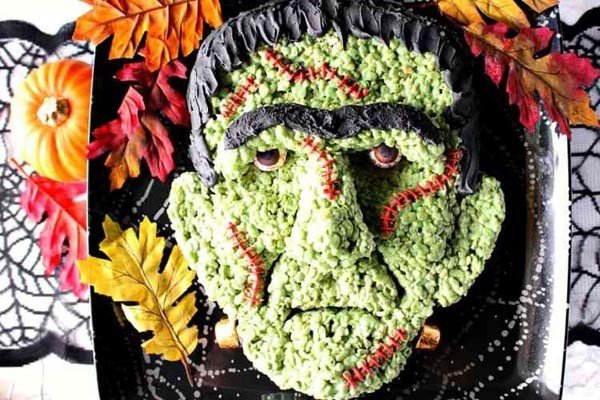 Creature in the Wall Halloween Cookies
Now, these are frightful cookies if I ever saw some.  A must add to any Halloween cookie recipes file.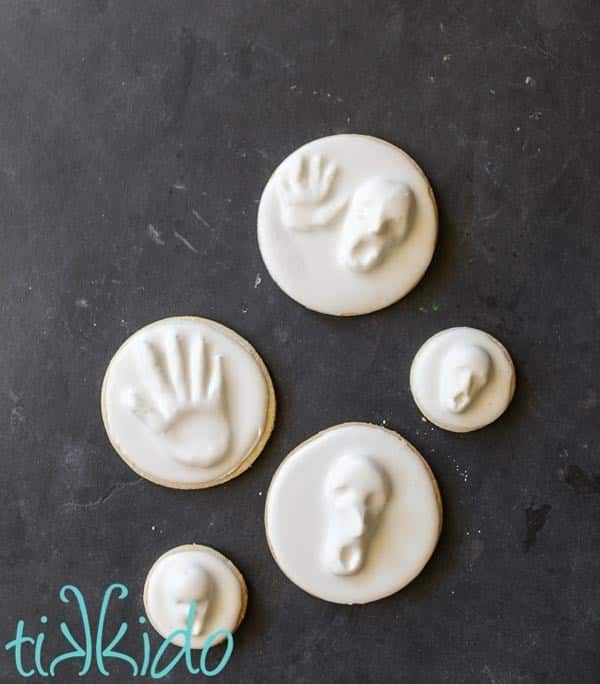 I hope you enjoyed this Halloween recipe round-up and found inspiration for your next creepy meal! I think I need to go make one of the Scary Halloween Drinks to calm my nerves.
What are your plans for this Halloween?
PIN IT FOR LATER! https://www.pinterest.ca/pin/266275396704202589