The art form of cake decorating can be intimidating to a novice. But even masters had to start with a humbling first cake. Learn in this post the basic tools needed and how to prepare your canvas for your creations.
Let's eat a fancy decorated cake for my 9th blog anniversary! No, not one cake, let's have two cakes! Here is a blog veteran tip: keep challenging yourself, make those hard recipes, try those scary cooking techniques. Today I will attempt to conquer one more personal kitchen nemesis: cake decorating.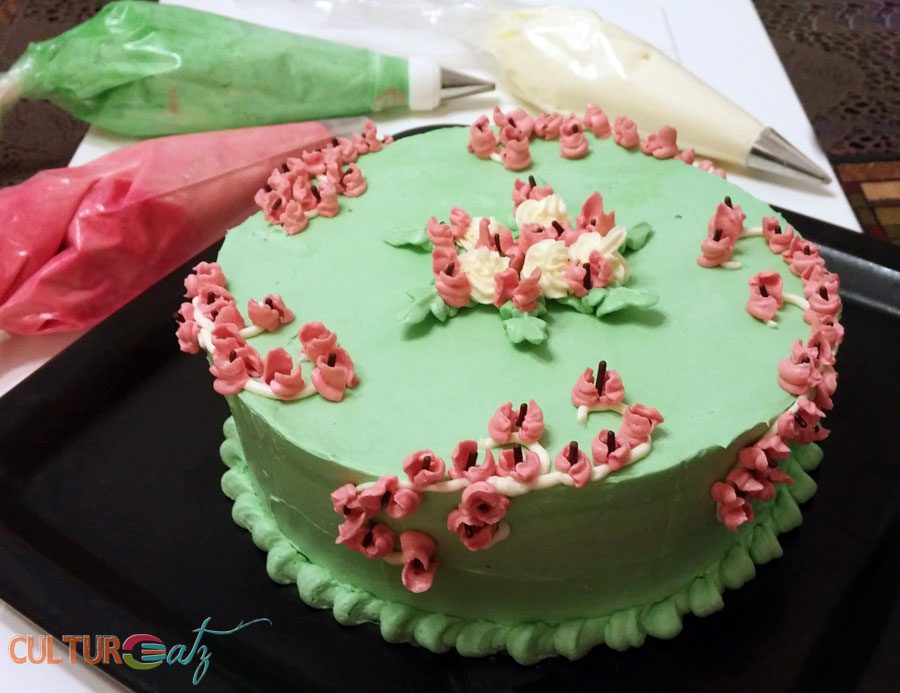 For my first few blogiversaries, I was always so thrilled and excited. Now I am thrilled and dumbfounded. How did 9 years go by since I started blogging? How come I have survived blogging and still keep doing it with a smile? I am far from the 'oldest blogs on the net' but when I started, blogs regularly vanished after a couple of years. Now blogger veterans are everywhere. And OMG next year it will be a DECADE!
A heartfelt thank you to my family, friends, coworkers, and all my online friends/fellow bloggers for reading my posts, eating my food, helping to prepare recipes with me, and leaving your comments that I so cherish. I could never express enough my gratitude for each time you take a moment to visit me here.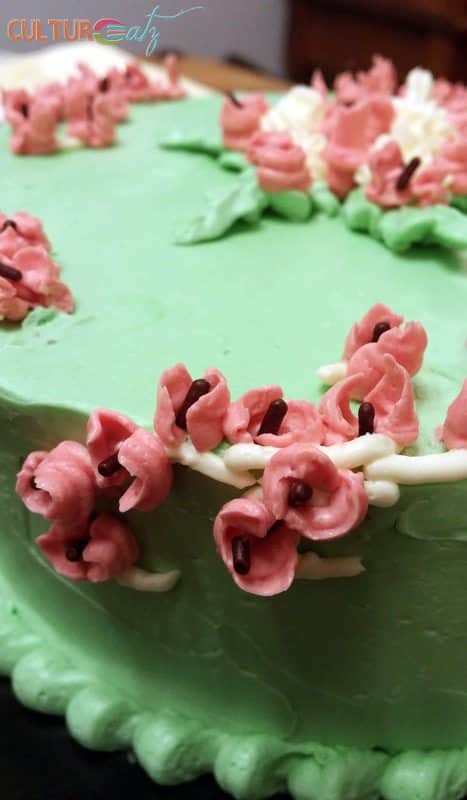 This year has been huge. Here is a quote from my 8th-anniversary post: "And just so I have it inked here, I do plan on revamping the site in the coming months! Hold me to my word and make me accountable lol." Well, a year ago I was Cheap Ethnic Eatz. I did rebrand this year to CulturEatz. I still have things to check off my to-do list (like a new theme and prepare a step by step rebranding sheet) but I have learned so much and I faced the rebranding beast head on. I want to single out one person and thank them for that extra push: thank you Kia, you are a beautiful and fabulous person who inspires me greatly.
I have also returned more to my roots since the new year and I have concentrated once again on really exploring unusual ingredients, digging up lesser-known recipes from around the world, and facing a few kitchen techniques that have always eluded me in the past. Here are some of my achievements so far in the last year…
My blogiversary post is actually a Part 2 of a cake decorating series. We are going to put that gorgeous Swiss Meringue Buttercream I prepared recently to good use. Cake decorating is one of my Achilles tendons in the kitchen but I am going to give it my best shot. It is an anniversary, after all, we need to have a cake!
Well two cakes actually: my mom's birthday cake and our Easter cake. We are just 3 in the family so a 6-inch cake is a perfect size. This cake is on the dense side, the way we like it. Also on the menu for this post is icing tools and tips (metal tips not advice haha), how to fill an icing bag, and how to crumb frost a cake. I am in no position to teach you specific icing techniques, for that I recommend the book I used: the step-by-step Sensational Buttercream Decorating book by Carey Madden.
Click here to buy the Sensational Buttercream Decorating cookbook.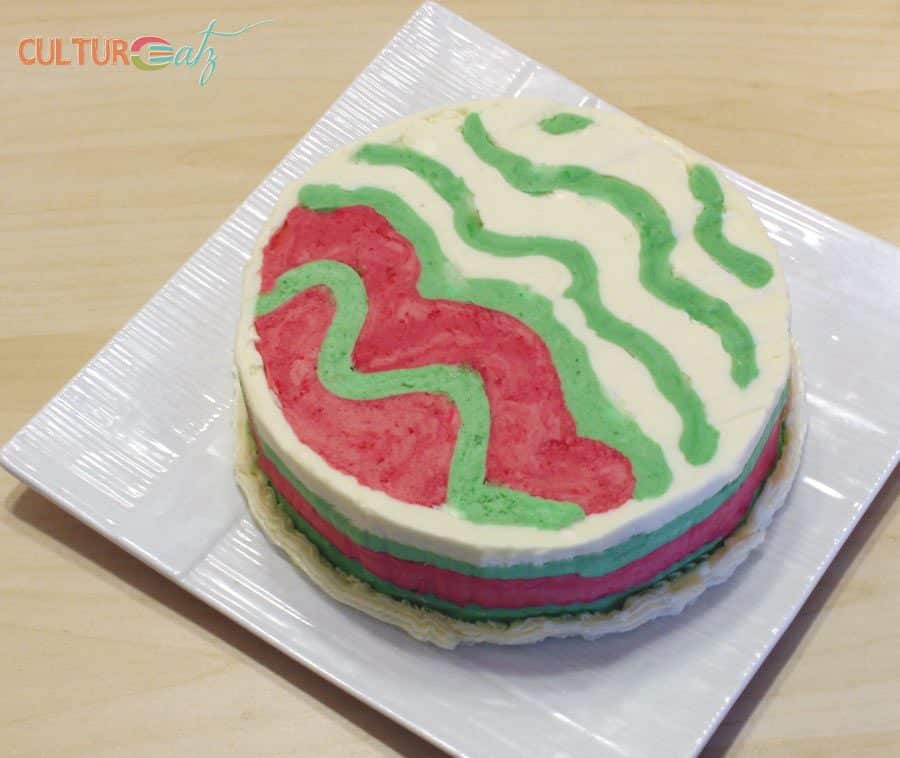 Cake decorating for beginners: cake decorating tools
If you want to go all out you could look at investing a lot of money into setting yourself up for some serious cake decorating. But better to start small. Here is the bare minimum you will need: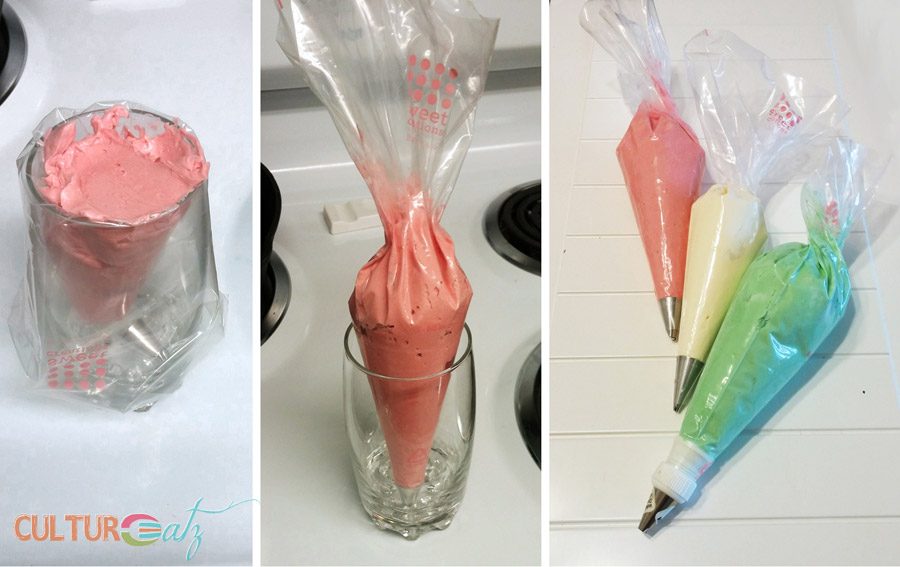 Filling your Pastry bag
Place tip or coupler on the bag. Now put the bag in a highball glass, flip the bag over the sides of the glass and fill it with icing – the right color for the tip, I learned that the hard way. Fill it only about 1/3 to 1/2 up and avoid air bubbles. Now twist off the end so the icing does not come out. Prepare all your bags ahead of decorating.
Leveling and crumb frosting the cake
Rarely does a cake come out flat and even on top. Take a long knife and slice the top. If you have several layers place you filling and pile your layers up. Now, this is THE BEST ADVICE ever: place a thin layer of icing all over the cake and fill any gaps. Put it in the fridge until the icing is firm. No more crumbs messing up your icing job. It's an extra step but really worth it!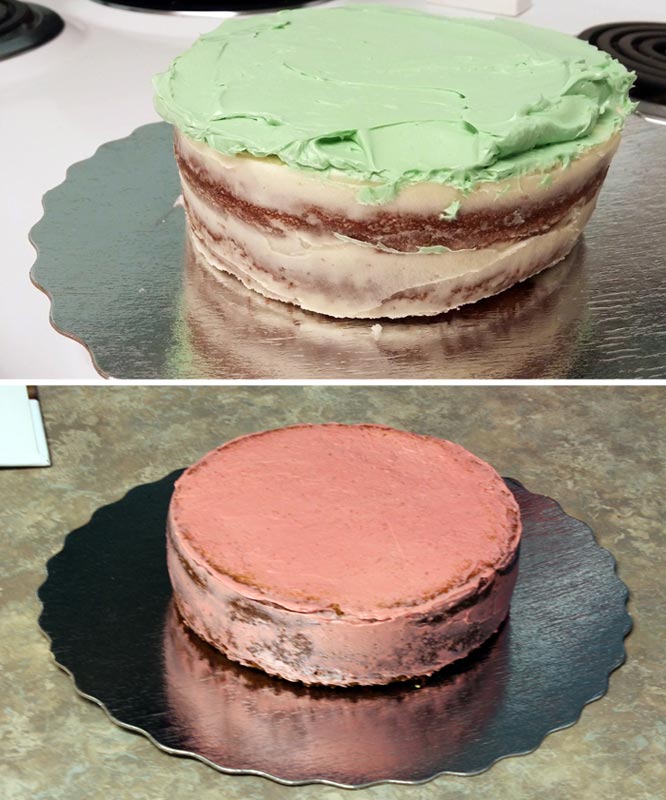 One last tip before I tell you about my two cake designs. Take a little bit of extra frosting and dab a few spots on your cake serving plate. Place cake on top. Once in the fridge, it will bond the cake to the plate and prevent the cake from slipping off.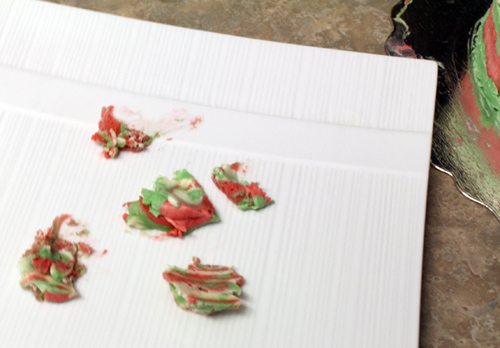 For my first cake, I chose a less intimidating project from the book (p239): a Lily of the Valley cake. See I put the wrong icing in my U tipped bag. I was supposed to use the white icing! Turns out there are rose-colored Lilies in real life…phew! I placed a chocolate cake sprinkle with a pair of tweezers inside each flower for a final realistic look. For my first try ever I am very happy with the final result.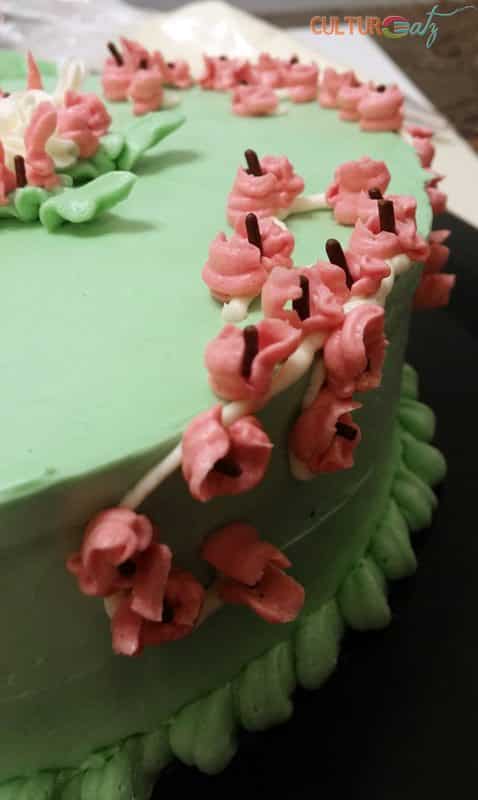 I had half the icing leftover so I got my pastry bags out of the freezer for Easter. This was just for fun and is very crude but what a fun technique. It is called the Reductive Scraping Icing Technique. Just pipe your design all over the cake as evenly as possible. I was going for an Easter Egg design. Once you have covered the whole cake place it in the fridge until well chilled (but not hard).
Click here to buy the Sensational Buttercream Decorating cookbook.
Take it out and while turning on a turntable slowly scrape away a layer at a time with a spatula until you get a uniformly flat surface. Do the same for the side. This technique requires practice, mine is far from perfect, but the look is so cool. Don't worry,  if your icing is chilled enough, the colors will not bleed into one another.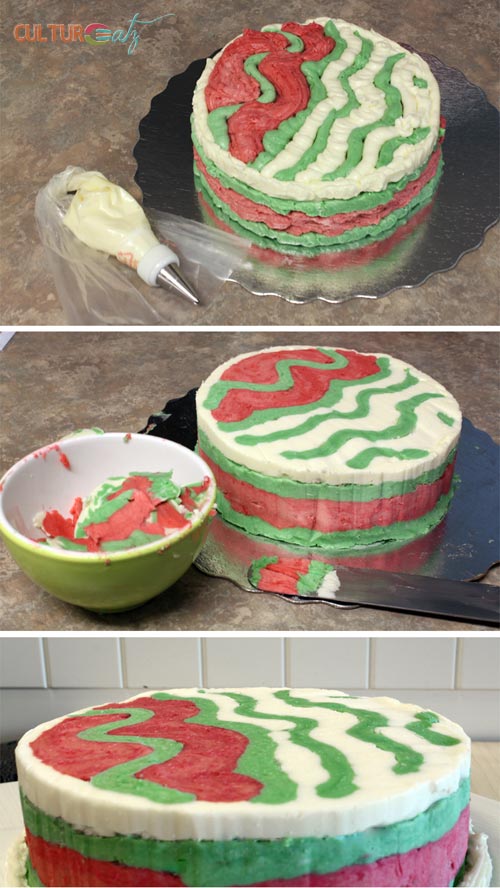 I have a long way to go before I am hired by a pastry shop as an icing expert, but I am really impressed with my first two cake decorating attempts. What do you think?
Are you a natural at cake decorating?
Is cake decorating a skill you would like to learn?
If you have a blog, how many years have you been blogging?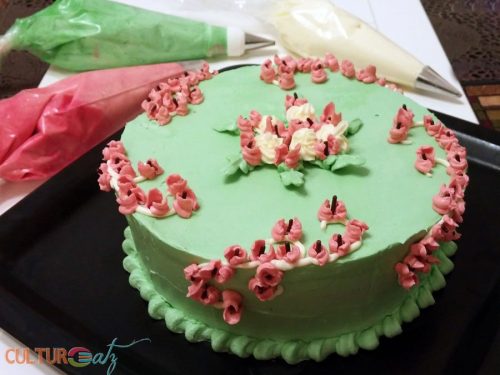 6-inch White Cake
Ingredients  
1

cup

+ 2 tablespoons cake flour

2

teaspoons

baking powder

1/4

teaspoon

salt

1/4

cup

butter

room temperature

1/2

cup

granulated sugar

1

egg

1

teaspoon

vanilla extract

1/2

cup

milk

1/2

batch of Swiss Meringue Buttercream
Instructions 
Preheat oven to 350.F. Grease a tall springform 6-inch round cake pan.

In a bowl mix the flour, baking powder and salt together.

In a mixing bowl cream together the butter & sugar until light and fluffy with a mixer, 3 to 5 min.

Add the egg and vanilla and beat well, scraping down the sides on the bowl.

Now add and beat between each step: 1/3 of the flour mixture, 1/2 the milk, 1/3 of the flour mixture, the remaining milk, and the remaining flour mixture. Scrape down the sides the bowl regularly.

Pour the batter into the prepared pan, and shake it a bit to remove air bubbles. Bake for 30 to 40 minutes, or until a toothpick inserted in the center of the cake comes out clean. Cool for 10 minutes on wire rack before removing from the pan and cool completely before icing.

Ice cake as desired with Swiss Meringue Buttercream
Want more awesome birthday cake ideas? Check out these recipes: