The Breton Kouign Amann pastry is utter heaven in a bite. The recipe calls for lots of butter, barely held together with flour and sugar. I am sure once you try it you will be hooked for life. Sorry hips you're gonna get bigger!
I am so late on this one, this was the April 2016 Daring Kitchen assignment and life got in the way. But I had to do it because Kouign Amann is one of those pastries where I melted IN love at first bite…and it became my nemesis in the kitchen. Finally, for once, I won the battle! Sweet delicious victory!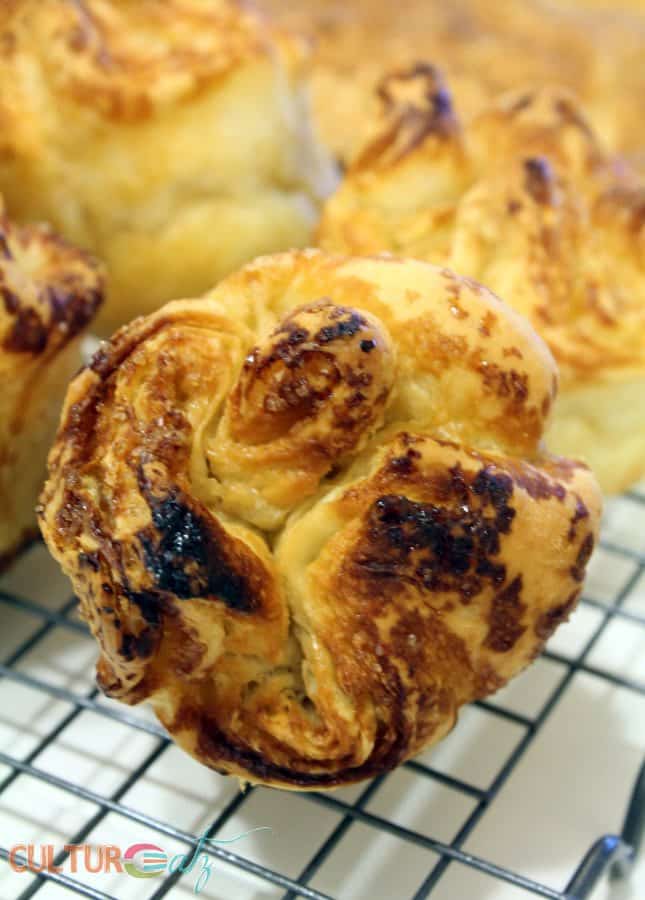 Kouign Amann is a Breton (France) pastry. Usually prepared like a round cake, it is made made with yeast-based bread dough containing layers of butter folded in several times (like puff pastry) and laminated with sugar.
The slowly baked pastry puffs up from the layers of butter and the sugar caramelizes. In Brittany the word for cake is  "kouign" and for butter "amann". Oh yeah baby it's a butter cake! Kouign amann originates from the town of Douarnenez in Brittany, some time around 1860.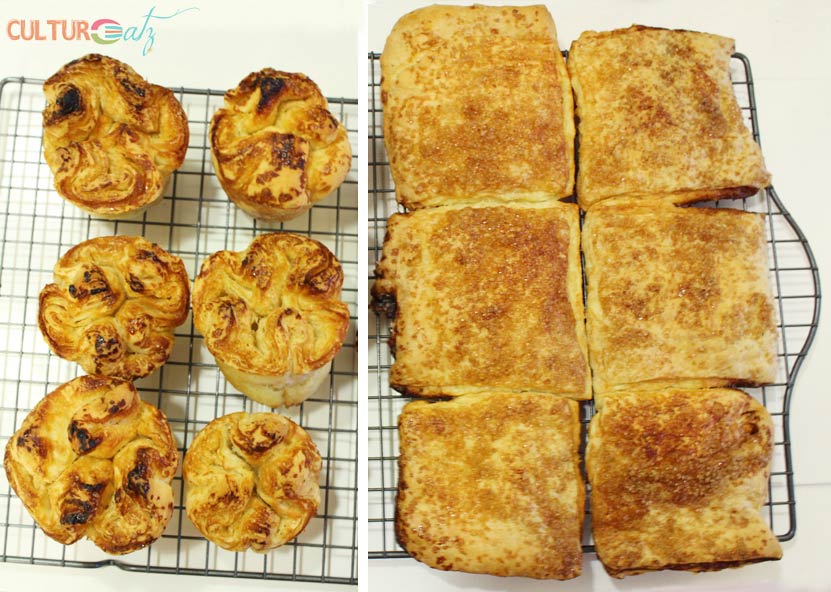 I tasted my first Kouign Amann years ago but I do not remember when I discovered it. There is also a Breton pastry shop near my work that sell Kouign Amann, so of course I avoid that shop like the plague. This is my second attempt at this recipe, the first back in 2011 (also a Daring Kitchen's challenge), and it was a fail.
Just like the two times I have tried to make puff pastry from scratch. Am I not patient enough in between folds? Do I roll the dough out too much with the butter in? This time I tried to follow everything to the letter and finally, for the first time in my life, I had a flaky and quite light result!
In this recipe from BBC food we are asked to make it in portions sizes by baking them in muffin tins. The recipe calls for 12 and I only have a tin for 6…so I just baked the remaining 6 as is in squares. They took a bit less time to bake and were just as good.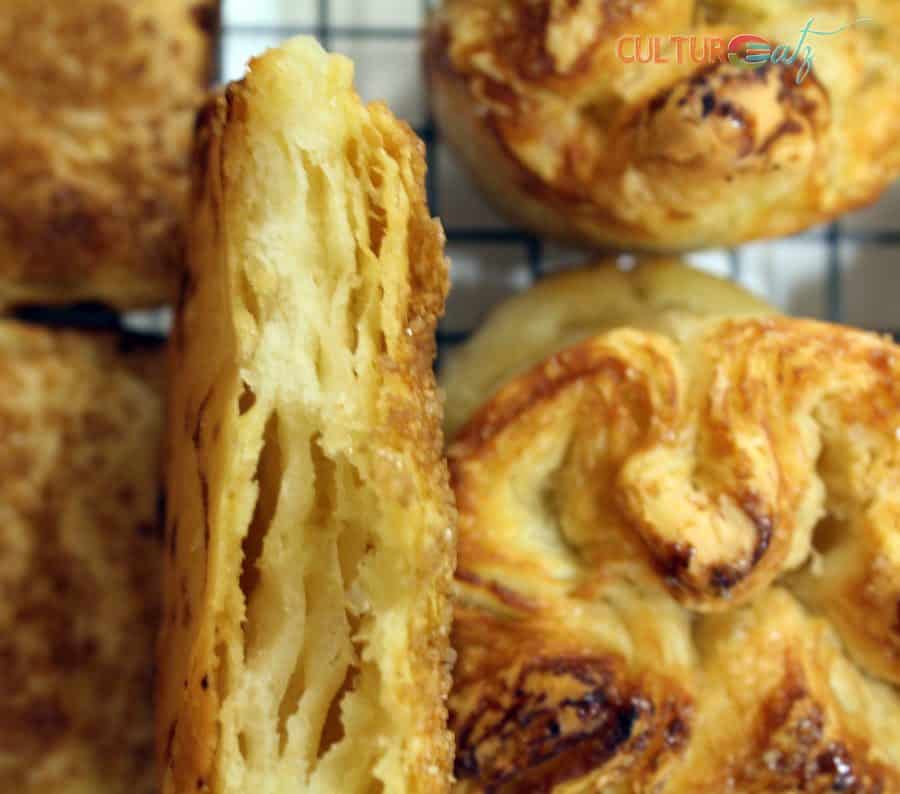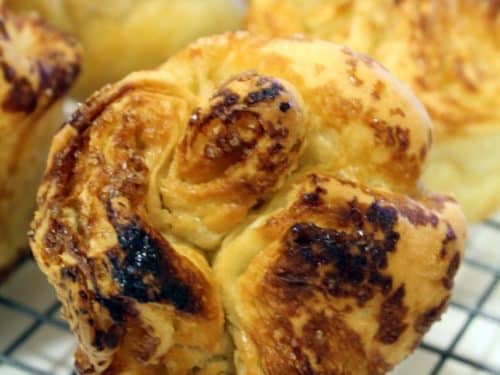 Kouign Amann
Ingredients  
300

g/10 1/2 oz / 2 2/5 cups strong plain flour

plus extra for dusting

5

g

/ 1 1/2 tsp instant yeast OR 6.75g / 2 1/2 tsp active dry yeast

5

g

/ 1 tsp salt

200

ml

/ 6 3/4 fl oz / 4/5 cup warm water

25

g

/ 1oz / 1 3/4 Tbsp unsalted butter

melted

250

g

/ 9oz / 1 1/5 sticks / 1 cup + 1 1/2 Tbsp cold unsalted butter

in a block

100

g

/ 3 1/2 oz / scant 1/2 cup caster sugar

plus extra for sprinkling
Instructions 
Put the flour into the bowl of a freestanding mixer fitted with a dough hook. Add the yeast to one side of the bowl and the salt to the other. Add the water and melted butter and mix on a slow speed for two minutes, then on a medium speed for six minutes. NOTE: If using active dry yeast, activate it in the water for 5 minutes first.

Tip the dough onto a lightly floured work surface and shape into a ball. Put into a lightly oiled bowl. Cover with cling film and leave to rise for one hour.

Sandwich the butter between two sheets of grease-proof paper and bash with a rolling pin, then roll out to a 14 cm / 5½" square. Place in the fridge to keep chilled.

On a lightly floured surface, roll out the dough to a 20cm / 8" square. Place the butter in the center of the dough diagonally, so that each side of butter faces a corner of the dough. Fold the corners of the dough over the butter to enclose like an envelope.

Roll the dough into a 45 x 15cm / 18 x 6" rectangle. Fold the bottom third of dough up over the middle, then fold the top third of the dough over. You will now have a sandwich of three layers of butter and three layers of dough. Wrap in cling film and place in the fridge for 30 minutes. This completes one turn.

Repeat this process twice more, so you have completed a total of three turns, chilling the dough for 30 minutes between turns.

Roll the dough into a rectangle as before. Sprinkle the dough with the caster sugar and fold into thirds again. Working quickly, roll the dough into a large 40 x 30cm / 16 x 12" rectangle. Sprinkle the dough with additional caster sugar and cut the dough into 12 squares.

Grease a 12-cup muffin tin well with oil. Gather the dough squares up by their four corners and place in the muffin tins, pulling the four corners towards the centre of the muffin tin, so that it gathers up like a four-leaf clover.

Sprinkle with additional caster sugar and leave to rise, covered with a clean tea towel, for 30 minutes until slightly puffed up.

Preheat oven to 220°C / 200°C (fan) / 425°F / Gas Mark 7. Bake the pastries for 30 - 40 minutes, or until golden-brown. Cover with foil halfway through if beginning to brown too much. Remove from the oven and leave to cool for a couple of minutes before turning out onto a wire rack. Be careful not to burn yourself on the caramelized sugar, but don't leave them to cool for too long, or the caramelised sugar will harden and they will be stuck in the tin. Serve warm or cold.