I bowed out of this month's Daring Bakers as I just had too much on my plate with the cold and with time/personal issues. Good news, the cold is getting better. Please accept this offering instead.
This Breton flaky pastry means Butter Cake and the recipe originally comes from the town of Douarnenez in France. Imagine taking the base of a bread dough but then rolling it out and folding in layers of butter and sugar. The baked result is a layered caramelized flaky caked.
I have never eaten one before (the one I just made) but I have been dreaming of it for years. I've heard tales of friends having enjoyed this dessert in the North of France that was basically flour, butter and sugar mixed together just enough to make a dough. It turns out with my research the process is slightly more complicated then mixing everything in a bowl.
Kouign Amann
Ingredients
10 g yeast (not the instant stuff)
200 ml warm water (just below 100°F) I had to add more after
250 g granulated sugar
500 g flour
250 g half-salted butter
1 beaten egg
Directions
1. Mix water with the yeast and a pinch of salt in a medium mixing bowl.
2. Add the flour and knead it until you have obtained a homogeneous ball. Let the dough  rise for 30 minutes in a warm place.
3. Roll out the pastry and distribute the butter over the whole surface. Powder with sugar and fold the sides over the dough, just like you do when making puff pastry.
4. Roll out the pastry again and repeat this operation four more times.
5. Butter a mold and place the pastry in it. brush the surface with egg. Bake in the oven for 25 minutes at 400°F or until golden. Cool a bit but remove from mold before any syrupy sugar hardens.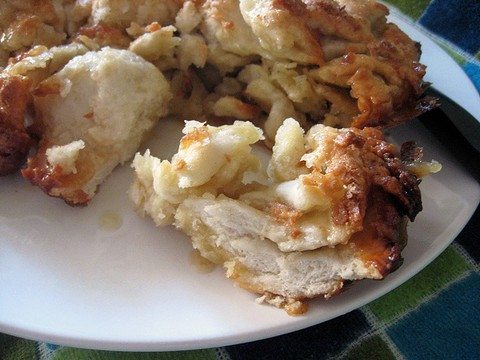 Puff pastry making and I do not get along, this is my third time doing the technique and I have no patience. I had butter popping out all over the place and it did not look pretty. But for this dessert IT'S OK, I just dealt with it and plopped my butter dough ball in the mold. Even if you do get it right this dessert will never win a presentation award. Its all about the taste. So don't stress out if your butter is 'farting' out, go with the flow and improvise.
The verdict: Wow, everything  and nothing like I had imagined and more. Since my butter spurted out it did not quite flake so much but there are layers. More bread like in taste then expected but the intense butter/sugar combo is what I was dreaming of. As Julia Child said with enough butter, anything is good.