Got a party in the works? How about serving up these adorable beach themed lemon cupcakes and cake! No special skills are required to prepare these sweets and your dessert just may steel the spotlight from the honored guest!
As you get older you realize that one of the most important things in life is being well surrounded by people you love. Or to keep certain people close enough to you that they are willing to plan a huge party for you. Just kidding! On May 31st 2015 the party organization team of Sue and Evelyne threw a big 50th Birthday bash for our dearest friend Michele. It was an absolute pleasure to plan Michele's birthday as she is like family to me and I know it is a mutual feeling. So one more time: Happy 50th Birthday Michele!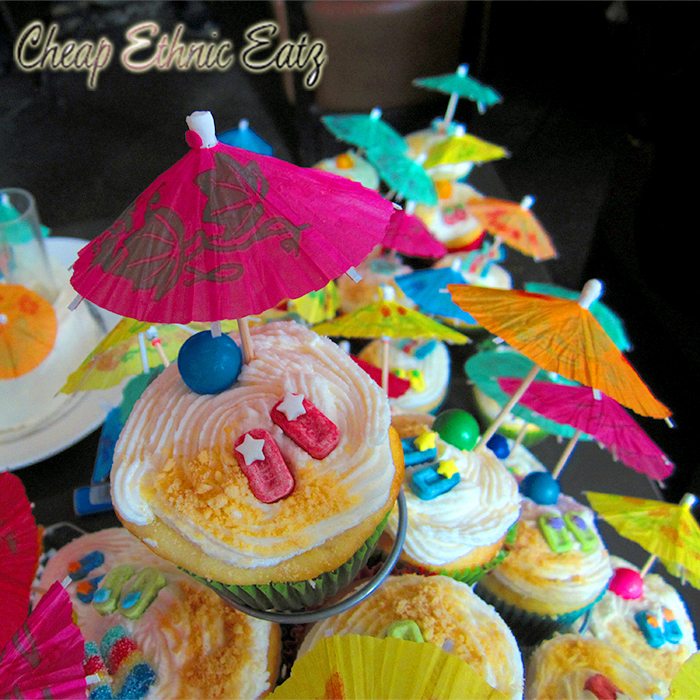 It was a brunch party held at the swanky Suite 701 in Old Montreal. They do a DJ Brunch every Sunday with a great fixed menu of $25. There is a sweet mixed platter to share and then you choose one of 4 main options for you main meal. They also have a 25$ deal for all the booze you can drink for 2 hours. The drinks are POTENT! The restaurant was very accommodating as we took our section over and decorated with balloons, props and table centers. And they were also happy to let us bring our own dessert for free as long as we could serve it ourselves.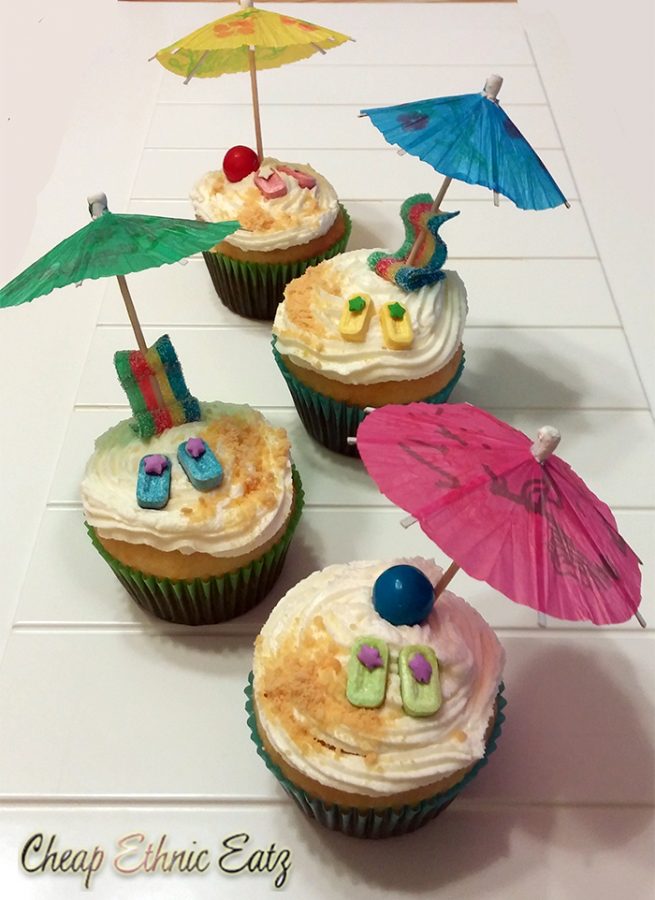 So I took on an absolutely terrifying task of baking 36 cupcakes and a cake for the party. I have no fear of baking but pretty dessert decorations are not my strength. I searched online for ideas and finally settled on a manageable Beach theme made with candies and drink umbrellas. Michele loves to travel so the beach look was perfect.
Here is how I did it. I doubled the cake recipe below and baked as follow: 36 cupcakes and one 6 inch cake. I got the cake recipe from a French Canadian magazine issue Coup de Pouce mai 2014. I also doubled the Classic Vanilla Buttercream Frosting found on Add a Pinch. If you want to go full-on Swiss Buttercream Icing check out my recipe here. The rest involved a trip to the candy store.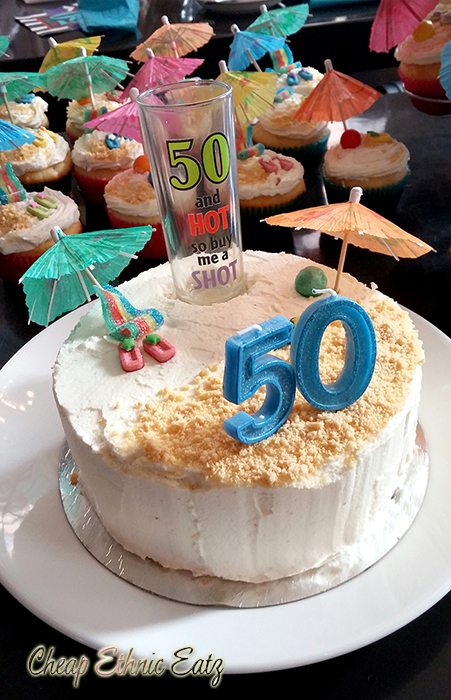 The beach theme cupcakes were composed of:
sand: a sprinkling of crushed plain cookies
beach balls: small gum balls of various colors:
flip flops: PEZ candies are topped with sprinkle stars (glued with a tiny drop of melted white chocolate)
beach chairs: rainbow sour belts (held in place with drink umbrella)
parasols: lots of drink umbrellas!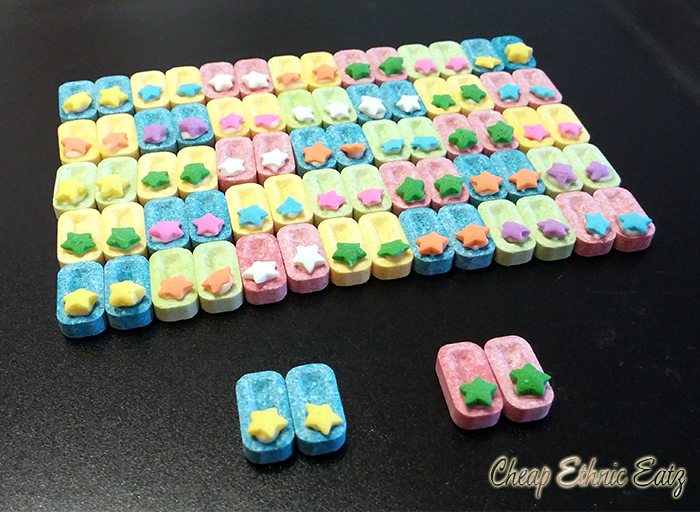 I was so happy with how the cupcakes and cake turned out. I highly recommend you bake this cake 24 hours before serving so the lemon flavor can develop a bit more. Everything freezes really well too.
The decorating process was really easy so don't be scared to try it. No need to panic too much on how well you frost the cupcakes and cake as there will be plenty of distractions on top.
We also added a double shooter on the cake and had the restaurant fill it with Tequila just before lighting the candles. Needless to say, the desserts were a huge hit with the birthday girl and all the guests.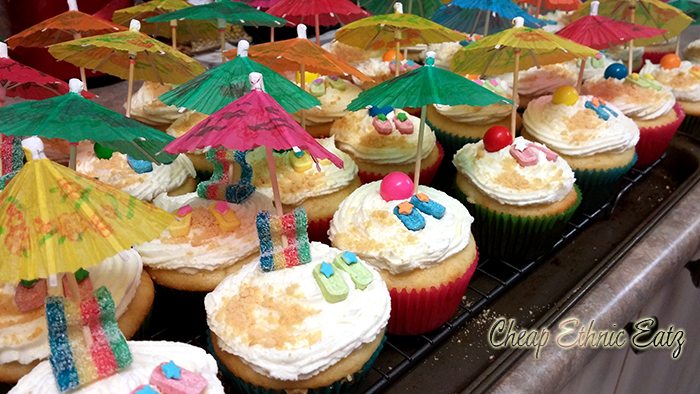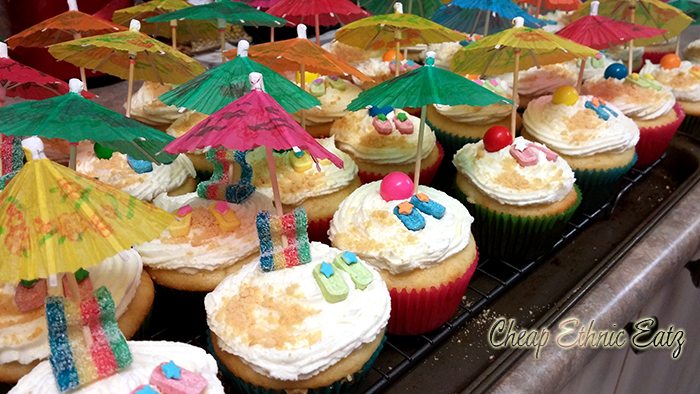 Lemon Cupcakes are just Beachy
Ingredients  
For Lemon Cake or Cupcakes
3

cups

flour

1

tbsp

baking powder

1/2

tsp

salt

1

cup

canola oil

1 1/4

cup

sugar

4

eggs

1

tsp

vanilla

2

tbsp

freshly squeezed lemon juice

2

tsp

lemon zest

1

tsp

orange zest

3/4

cup

milk

1/2

cup

plain yogurt
For Classic Vanilla Buttercream Frosting
1

cup

butter

2 sticks, softened

3-4

cups

confectioner's sugar

sifted

2

tsp

vanilla

pinch

salt

2-3

tbsp

milk

heavy cream, or half-and-half
Instructions 
For Lemon Cake or Cupcakes
In a bowl combine flour, baking powder and salt. Set aside. In a large bowl, using an electric mixer, combine oil and sugar. Add eggs one at a time, beating well after each addition, then continue to beat 6 to 8 minutes on high speed until the mixture is pale and thick. Fold in vanilla, lemon juice and zests. Fold in dry ingredients alternating with milk and yogurt, beating on low speed after each addition until the batter is smooth but no more.

Spoon batter into two 9-inch buttered and floured round pans (or 24 lined muffin pans) . Bake in preheated oven at 350F for 30-35 minutes (or 18-20 minutes for cupcakes) or until a toothpick inserted in centers comes out clean. Cool on a wire rack for 10 minutes. Invert cakes onto rack and cool completely. Frost cake with buttercream frosting.
For Classic Vanilla Buttercream Frosting
Using an electric mixer with a paddle attachment on a medium setting, cream the butter until it is smooth and has lightened in color, about 3 minutes. Add 3 cups of confectioner's sugar, ½ a cup at a time. After each cup has been incorporated, turn the mixer onto the highest speed setting and for about 10 seconds to lighten the frosting. Fold in vanilla, salt and 2 tbsp of milk or other. Adjust with remaining sugar and milk. For a firmer frosting, add more confectioner's sugar, a ¼ cup at a time. For a softer frosting, add more milk or cream, a tablespoon at a time.
Want more awesome birthday cake ideas? Check out these recipes: