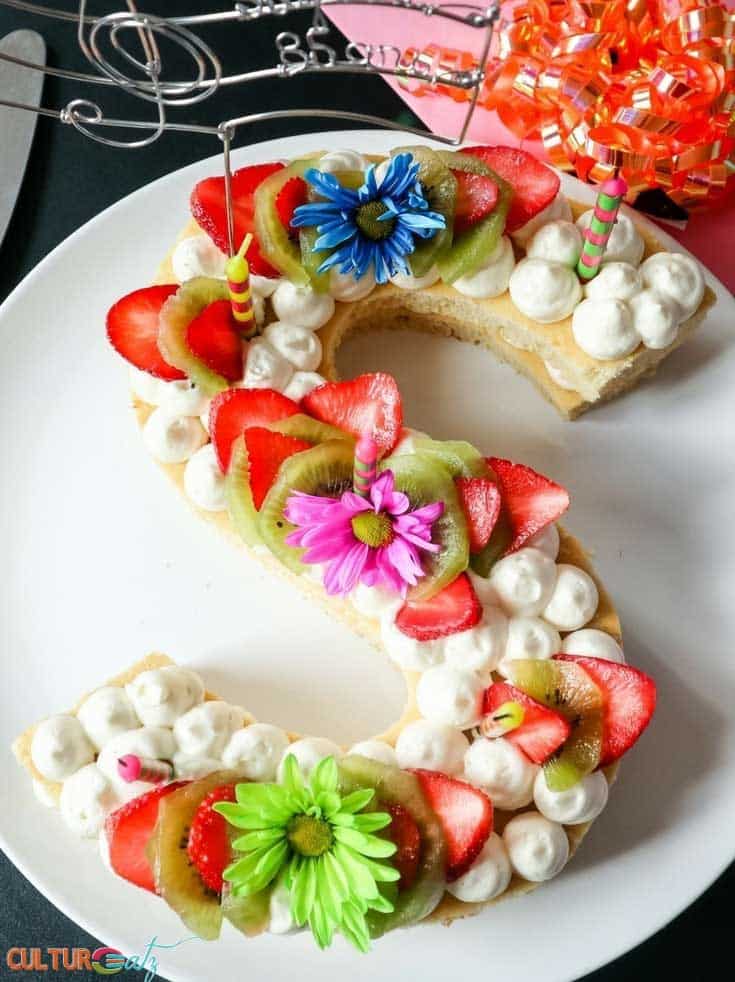 The Cream Tart, a stunning 2 layered number or letter-shaped cake with a luscious cream cheese whipped cream, is the raging trend in cakes. What really makes this alphabet cake stand apart is the gorgeous topping of fruits, candies, macarons and/or flowers. Looks intimidating but the cream tart is actually really easy to make.
When I saw my first cream tart recipe online, it was love at first site. Wow! Who came up with such a pretty and elegant presentation idea? And then I moved on because it looks really complicated to make. But when the time came to find the perfect birthday cake to prepare for my mom, images of cream tarts and alphabet cake were the only thing coming to mind. OK, challenge accepted.
PIN IT FOR LATER! https://www.pinterest.ca/pin/266275396703307923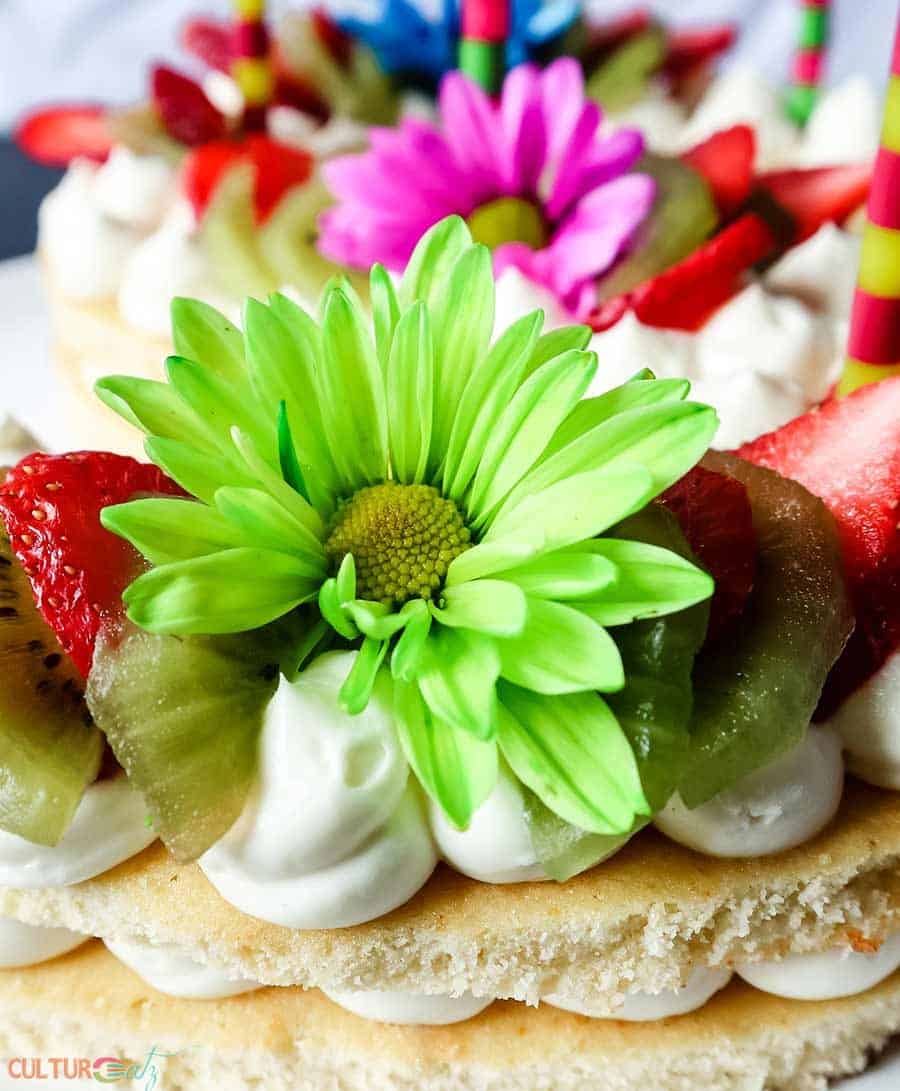 And so I googled and that is when I had my first surprise. This cream tart cake goes by so many other names: alphabet cake, letter cookies, number cookies, letter cake, number cake, letter tart, number tart, cream cakes, cream tart cake, fresh fruit tart, fruit tart cake, etc. And finding a cake recipe was no easier, options abound: did I want a tart crust, a cookie base, an almond sponge base or a regular sheet cake base? Well, I was going for height and a wow factor so I chose the sheet cake.
Once you have this part figured out, you will soon realize this is an easy cake recipe to prepare and a perfect post idea for my blog. It is just a cake, icing and a few decorations. Nothing scary or wicked. Just follow my alphabet cake tutorial below and your friends and family will soon proclaim you as the master of the best tart recipes!

I have a FREE PRINTABLE for you
Surprise! I have prepared a Cheat Sheet that includes 41 Cooking and Baking Ingredient Substitutions that are commonly found in a kitchen. Click here to get your FREE Ingredient Substitutions Cheat Sheet right now!

A Cake for a Special Lady
This year, my mother's birthday fell on Easter and April Fool's Day. She was also hitting a big special number by turning 85. I still cannot process that little bit of information. And it was the first birthday we were celebrating without my dad who passed away in September. I really wanted to go out of my way to make the celebration as memorable and happy as possible. And I was pretty sure she would be blown away by this cake in the shape of the letter S for Suzanne! Yeah, her first look at the cake was pretty freaking priceless.
And did you notice the absolutely awesome cake topper on the cake? Unless you read French you may not be able to read it. But it says Bonne Fête Suzanne 85 ans, or Happy Birthday Suzanne 85 years old. Is that not the coolest cake topper ever?
If you remember my recent vegan mapo tofu recipe, you will recall it was a really fun collaboration with my friend Heather who is a wire art artist who jazzed up some plain chopsticks with beads. When we did our recipe I asked if she could make a custom cake topper for my mom with the provided text. Also, my mom loves to sing and has been in a choir for decades, hence the musical score. My mom loved it and she said it was going to be a beautiful keepsake as well.
Heather makes gorgeous jewelry, bookmarks, sculptures and cake toppers that she sells on her site Heather Boyd Wire. Check out Heather's creations or get in touch with her for a custom order.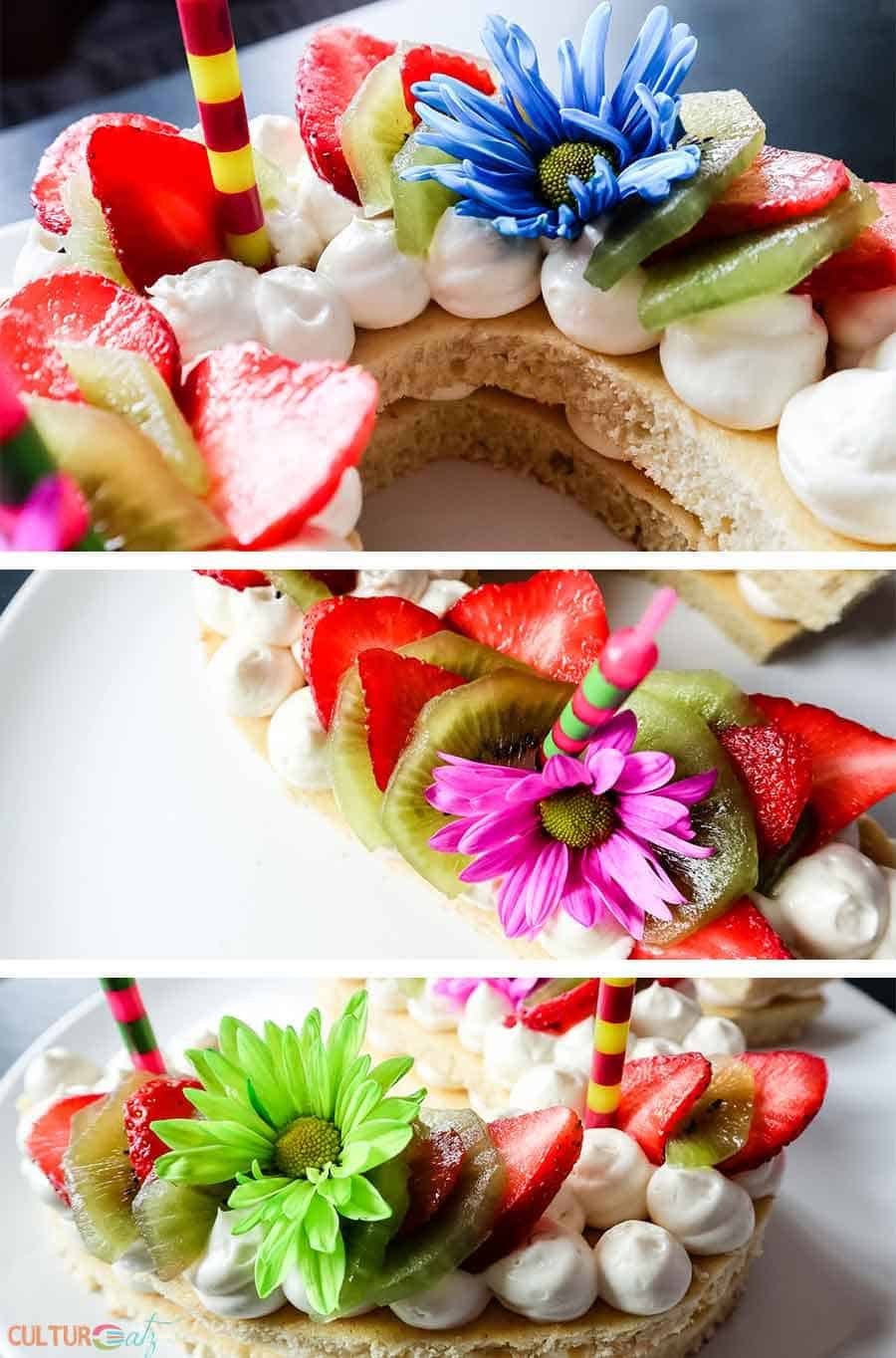 How to Make a Cream Tart / Alphabet Cake
Below you will find the perfect sheet cake pan and icing recipes for this easy tart recipe. But the biggest question is what shape do you want for your tart dessert? Mine was going to be a letter but you could choose a number or a simple shape like a heart. I went with the easiest cake letter stencils idea possible. I google clip arts for the letter S and printed it out big enough for the width of my cake mold pan but narrow enough that I could cut out the shape twice. Once the cake was cooled it was easy to do my own letter cutting with a small knife.

If you do not feel comfortable cutting out your own letters or numbers, there are several number cake pans or cake letter cutters for you letter cake designs. But buying one pan for one specific letter or number is a bit ridiculous. That is why I suggest you check out Wilton's affordable pan that you can adjust to make the shape you need. Click here to get more information and see the latest prices.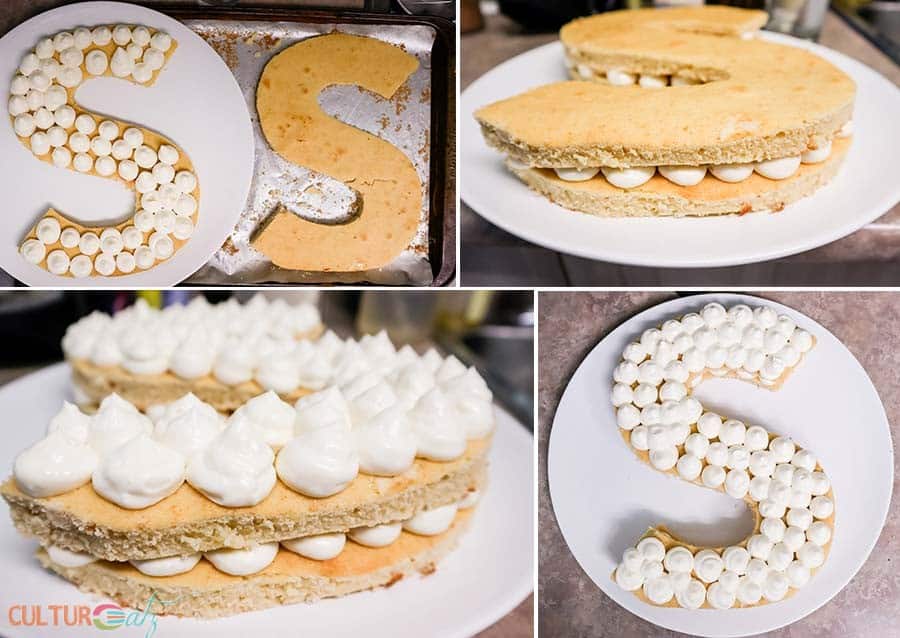 Cream Tart Cake Decorating Tips
Armed with the below dessert tart recipes, you now have your cake layers cut out into the right shape. Making the cream cheese whipped cream frosting is pretty straightforward. A Swiss Buttercream Icing would work too if served right out of the fridge, check out my recipe here. This icing is perfect because it does not collapse with the weight of the top layers. Plus, it is rich and delicious. It is also easy to pipe into pretty dots. Make sure to cover the whole cake surface and not have any large gaps.
Now I must admit that the part I was most intimidated by was the decoration part. For sure all the beautiful alphabet cakes I saw online were by professionals who know how to balance the pretty toppings. I was nervous but I decided to go with the KISS theory, keep it simple, stupid! Really, this is the best cake decorating tip I can give you. Stick to 2-3 colors max, choose a couple of fruits, a few extras. Flowers are really impressive. I had a basic idea of my design beforehand and added slowly. At one point I just knew it was done, more would have been too much. Follow your gut instinct and the results will be spectacular.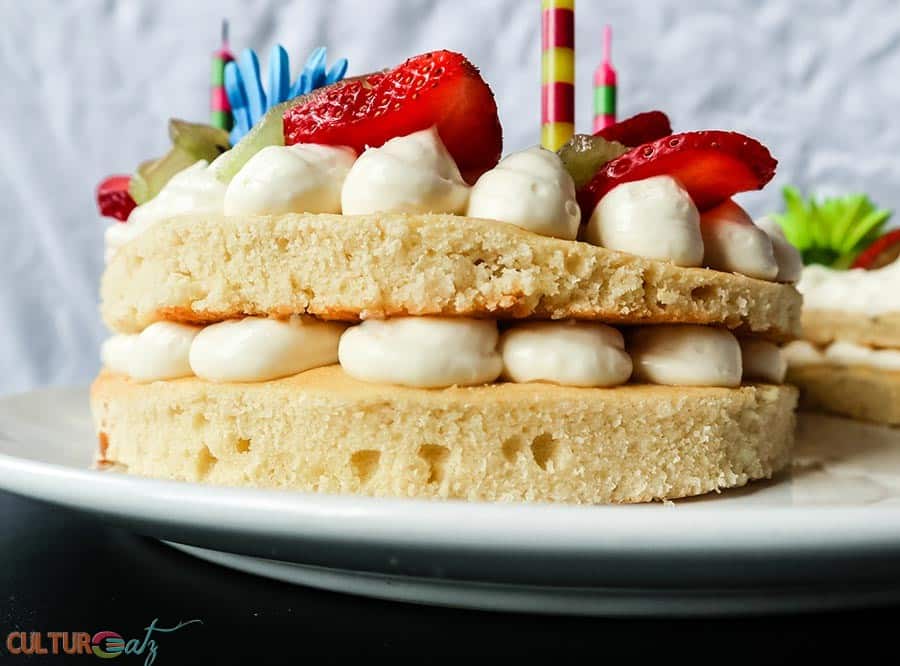 This alphabet cake will be a huge success for any occasion and the person celebrated will be very touched by a personalized design. I do recommend that you cut some smalls pieces because the cream cheese whipped cream frosting is very rich. A small portion goes a long way!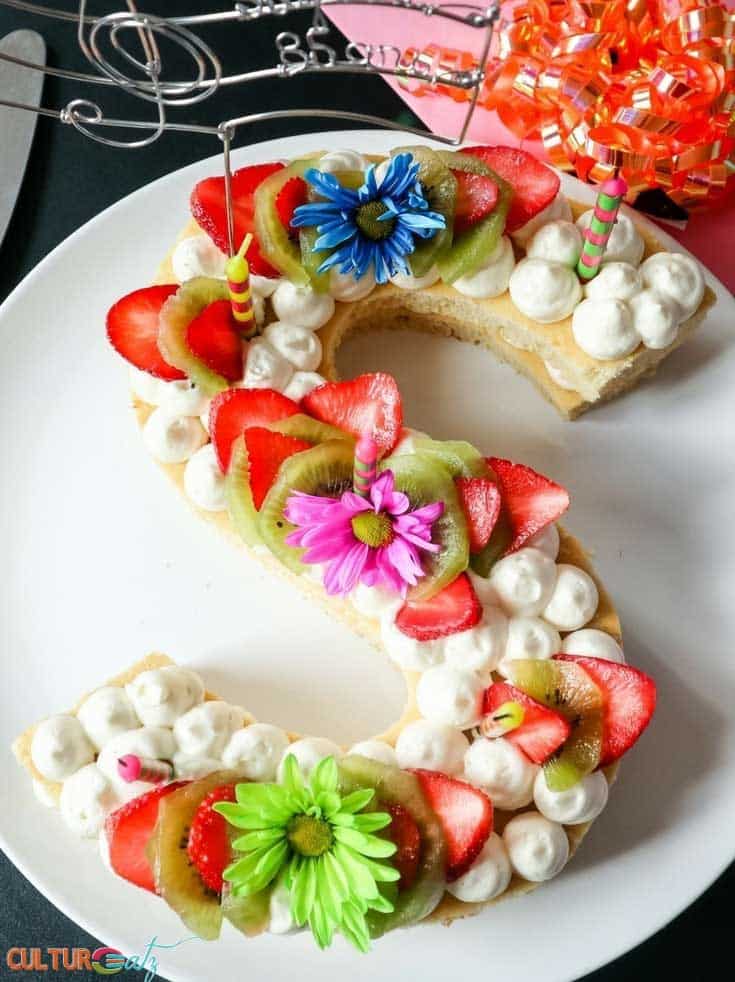 Cream Tart | Alphabet Cake
The Cream Tart, a stunning 2 layered number or letter-shaped cake with a luscious cream cheese whipped cream, is the raging trend in cakes. What really makes this alphabet cake stand apart is the gorgeous topping of fruits, candies, macarons and/or flowers. Looks intimidating but the cream tart is actually really easy to make.
Ingredients  
2

cups

all-purpose flour

1

teaspoon

baking powder

1/4

teaspoon

salt

1

cup

butter

softened

1 1/2

cups

granulated sugar

3

eggs

2

teaspoons

vanilla

1

cup

milk

100

gr

35% heavy cream

500

gr

cream cheese

70

gr

icing sugar

fruit

flowers, macarons and/or candies for decoration
Instructions 
Pre-heat oven to 350°F and line a 15 x 10 x 1 inch sheet pan with an oiled parchment paper.

Mix the flour, baking powder and salt in a small bowl.

In a large bowl, beat the butter and sugar with a mixer for 2 minutes on medium, until light and fluffy. Scrape the sides of bowl occasionally. Next add the eggs one at a time until blended, and finally mix in the vanilla.

Beat in 1/3 of the flour on low speed, next 1/2 the milk, and repeat with flour mixture and milk, ending with flour mixture, just until smooth.

Pour and spread the batter evenly in the sheet pan. Tap the pan on counter 2 or 3 times to remove air bubbles.

Bake the cake for 25 to 30 minutes or until toothpick inserted in center comes out clean. Leave to cool completely before proceeding. Cut out your two layers with a stencil to your desired shape.

Beat the cream until stiff peaks form with a mixer. Add the cream cheese and icing sugar and beat until the mixture is smooth. Transfer the icing into a piping bag with a plain round icing tip.

Pipe dots all over the surface of the first layer of cake. Carefully place the second layer on top in alignment with your bottom layer. Repeat the piping step on the top layer of cake.

If you prepare the cake earlier, keep it refrigerated until it is time to decorate. Decorate the cake with fruit, flowers, macarons and/or candies no more then 6 hours before serving.
Want more awesome birthday cake ideas? Check out these recipes:
PIN IT FOR LATER! https://www.pinterest.ca/pin/266275396703307923