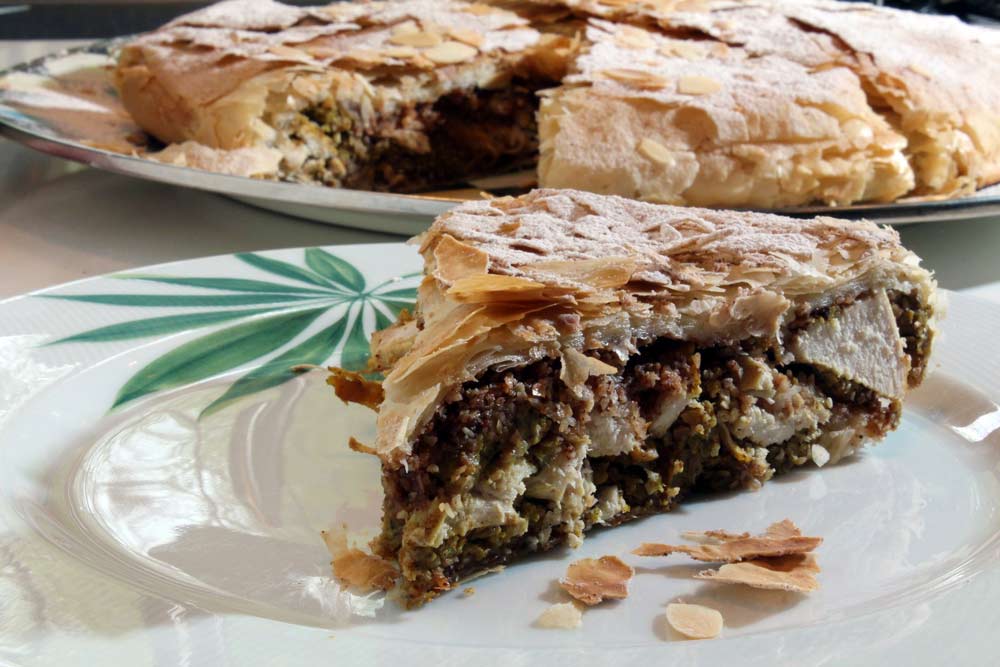 Chicken Bastilla is a traditional Maghrebian pie filled with chicken, scrambled eggs and a crunchy layer of sweet cinnamon toasted almonds, all wrapped up in buttery phyllo pastry.
I savoured my first slice of authentic bastilla recipe probably about 20 years ago. I fell in love at first bite. I had never tasted anything quite like it. A chicken pie with sugar and cinnamon? How can that be? How come it works so well?
All I knew at the time is that is was a Moroccan dish and it was hard to come by. I was fortunate enough to have devoured a few bastillas since then. The occasional authentic restaurant has it on the menu, I saw a few at cultural festivals, and I found a homemade bastilla once at a community center pot-luck.
Updated: October 10 2022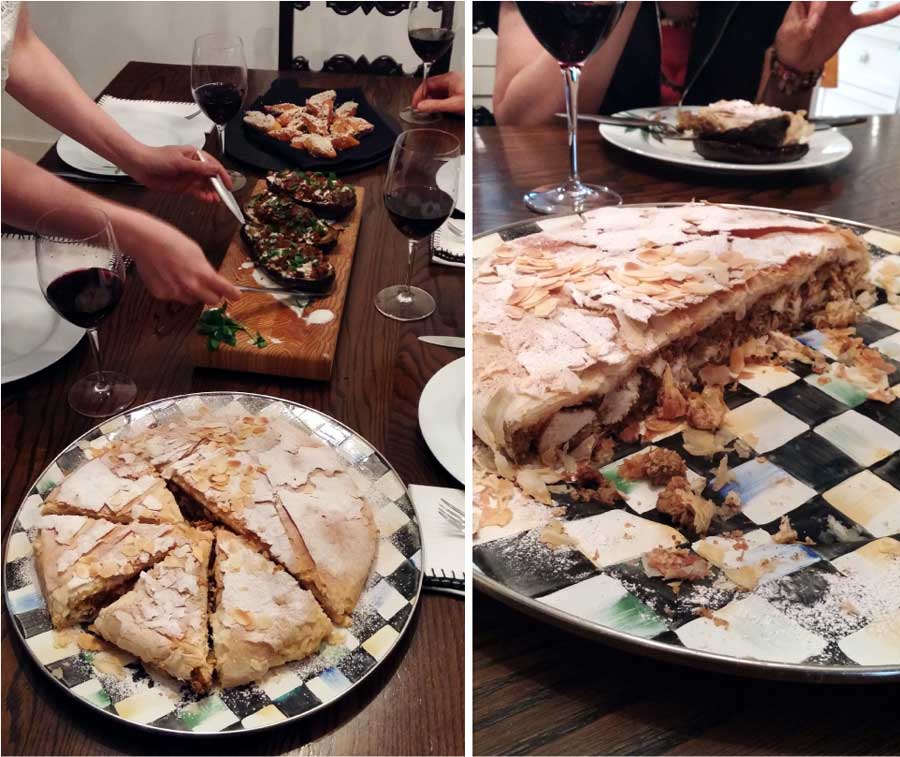 Moroccan in the kitchen
Preparing Moroccan recipes is not new to me (cannot count how many tagines and couscous I have made), but making a chicken bastilla pie has been on my recipe bucket list for at least 10 years. I never got around to it as I was intimidated by the process and did not want to serve a failure to guests. Taking time to research the history behind this Moroccan recipe helped overcome some fears.
And it turns out the dish is not 100% Moroccan! The original name is Pastilla and it is actually Andalucian with Middle Eastern flair. What? The dish was created in Andalucia by a famous Spanish chef during an Arabian occupation and it was one of the favorite dishes of the Sultan of Fes in Morocco.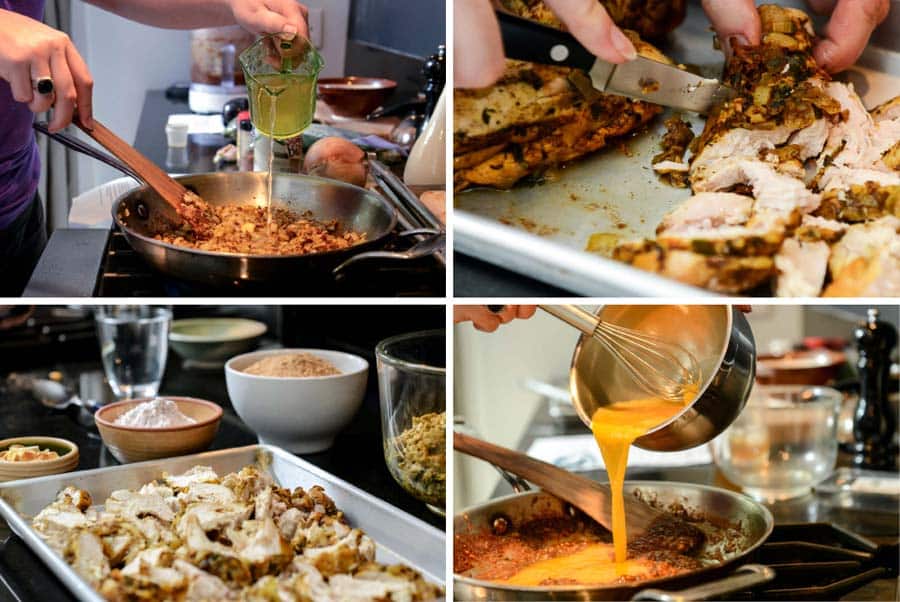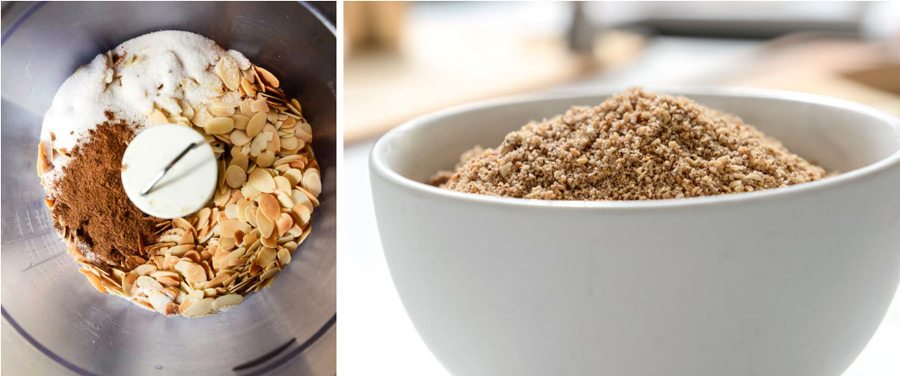 It's all in one letter
The spanish chicken pastilla recipe (p) became a bastilla (b) in Arabic countries. One can actually find various spellings – such as b'stilla or beestiya – depending on which North African country you are in. There is even a seafood version of this pie.
But the traditional sweet and savory recipe is made from stewed squab (chicken nowadays) with spices, a scrambled egg filling, and a crunchy layer of toasted ground almonds mixed with cinnamon and sugar. The crust is made from phyllo dough.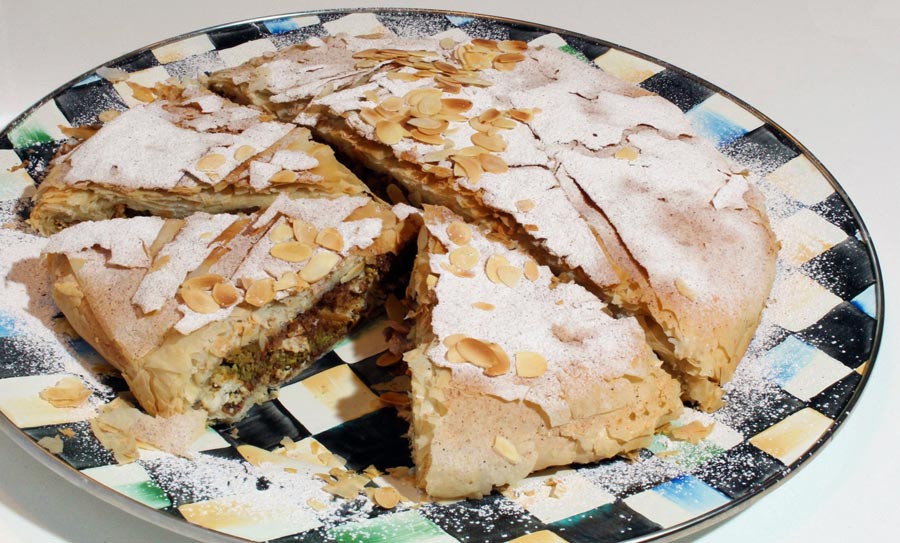 Cooking with Friends
Since one traditional moroccan bastilla recipe serves 10 guests, it is truly ideal for entertaining and a perfect group project. Nothing beats cooking with friends. But having an opportunity to cook with friends who just so happen to be part of the roster of wonderful Montreal food bloggers, now that was a real treat. Meet Hilary and Kimberlie.
We all met in 2015 via the Food Bloggers of Canada 2015 conference and we have enjoyed several meals together since then. When the idea of cooking together and planning a cross-blog post project came about, I thought my chance to check the chicken bastilla of my bucket list might have finally arrived. I was thrilled when they liked the idea.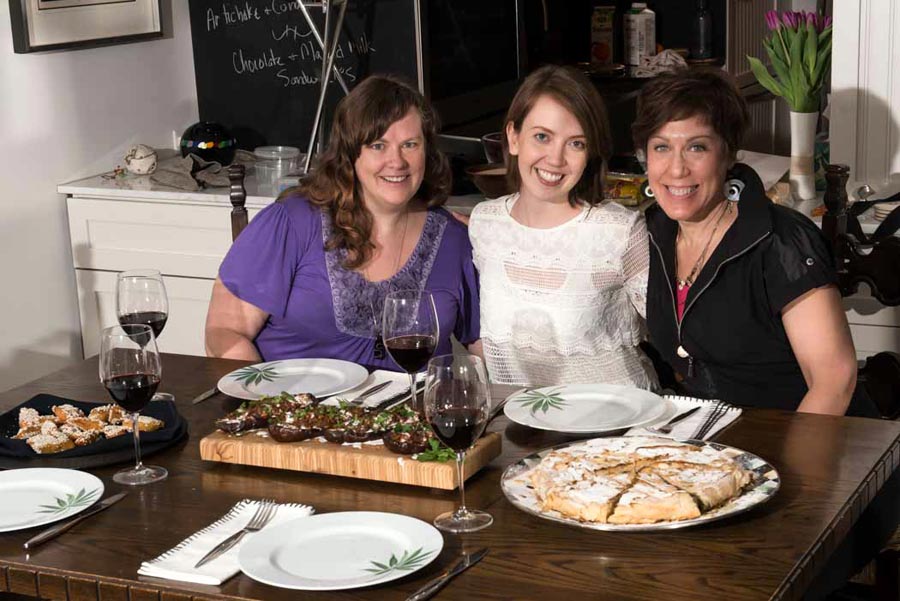 Our North African Menu
Roasted Stuffed Eggplant
Moroccan Chicken Bastilla
Makroud (Date Filled Semolina Cookie) 
What to serve with chicken bastilla
The deliciously talented Hilary of Cocoa Bean, The Vegetable (above center), prepared our starter with a quinoa stuffed eggplant dish. Kimberlie of The Finer Cookie (above right, and she makes damn fine cookies), took charge of our North African dessert with date semolina cookies. Kim's husband, Rick, was our in-house photographer, because he really knows what he is doing! He took most of the shots during the day while the gals cooked.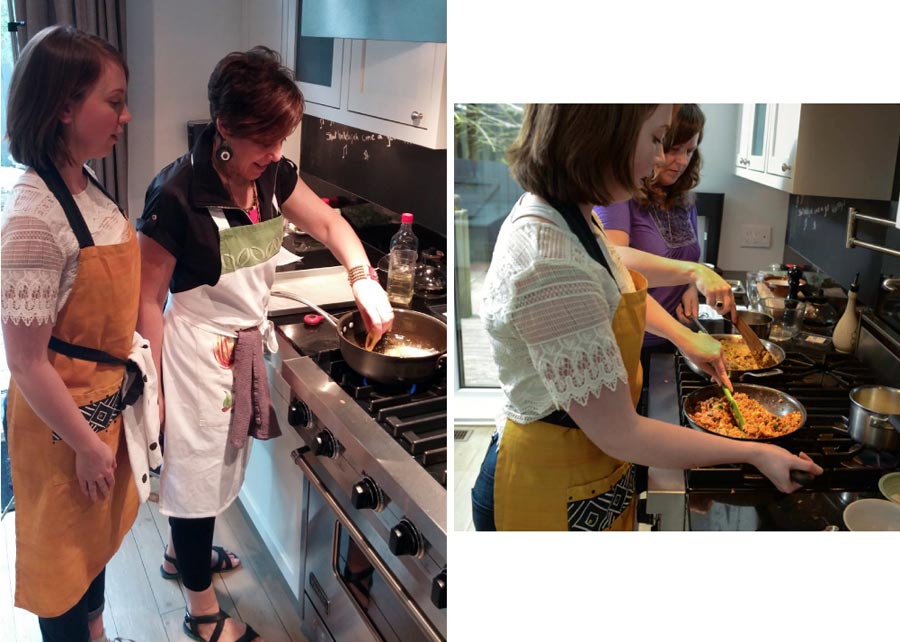 So how did the recipe turn out? Did it live up to my expectations after so many years of build up bastilla fantasies? The chicken bastilla was absolutely extraordinary, fantastic, amazing, can I go on? I think it is a tie at no. 1 with the homemade version I had once in the basement of a community center. Be generous when buttering the phyllo sheets because you can really taste the butter. This recipe really is just incredible!
Is three food bloggers to many cooks in the kitchen? Absolutely not, we had a blast and worked great together. My only favorite part to cooking together was … eating together 🙂 It was a meal fit for a Sultan and Sultanas.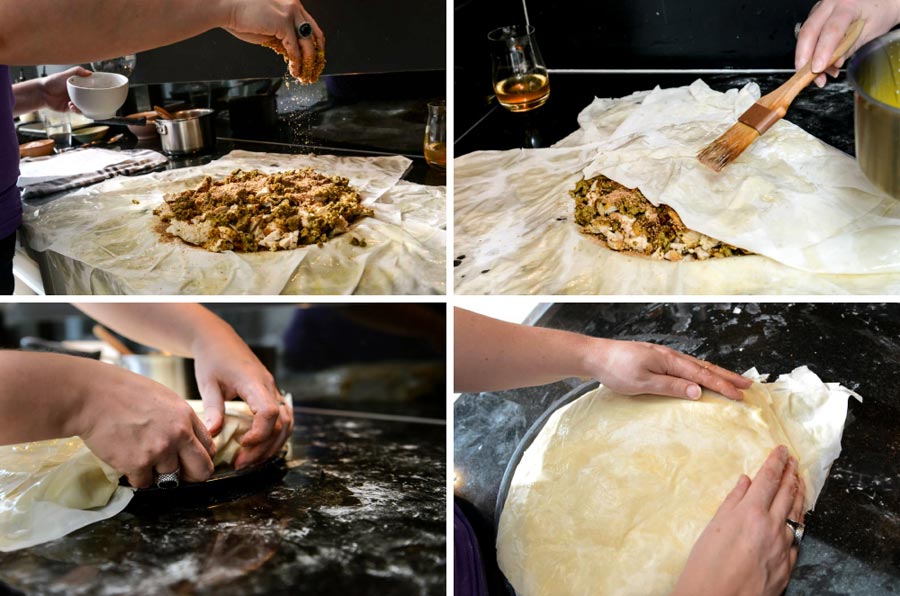 Before I get to the recipe make sure to check out Hilary's and Kimberlie's posts as well so you can get all 3 recipes of this fantastic meal. They would love to also hear what you think of our day together.
our starter by Hilary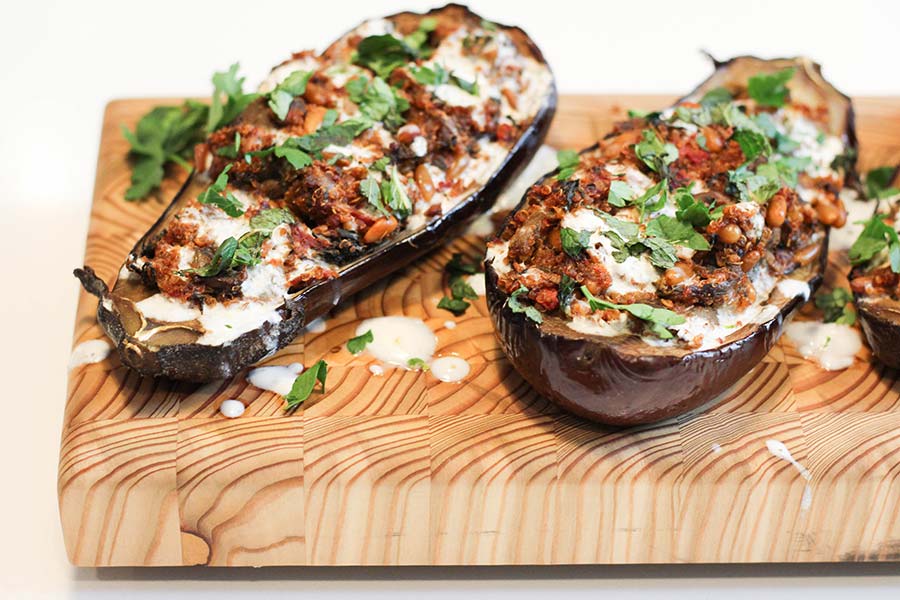 our dessert by Kimberlie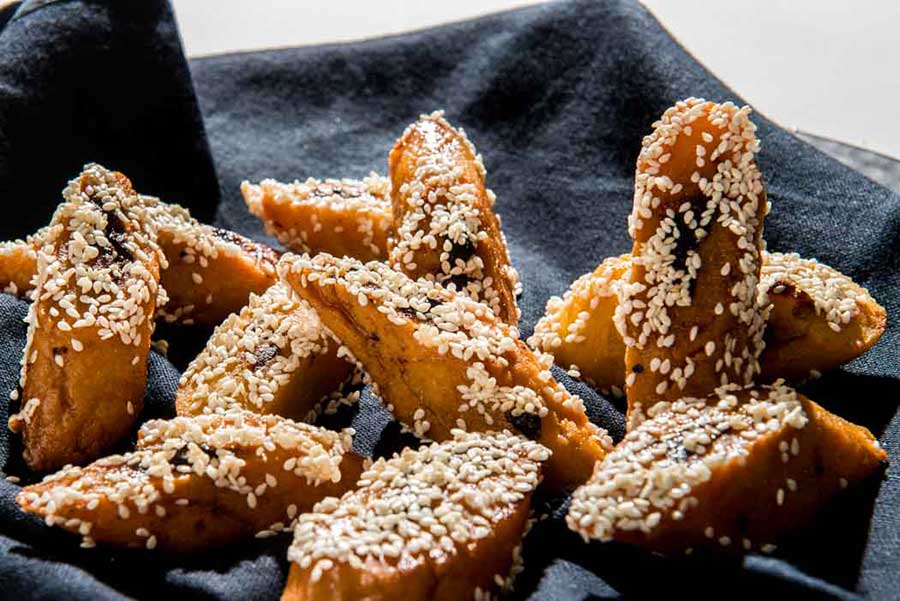 Got to enjoy a cocktail during our cooking day!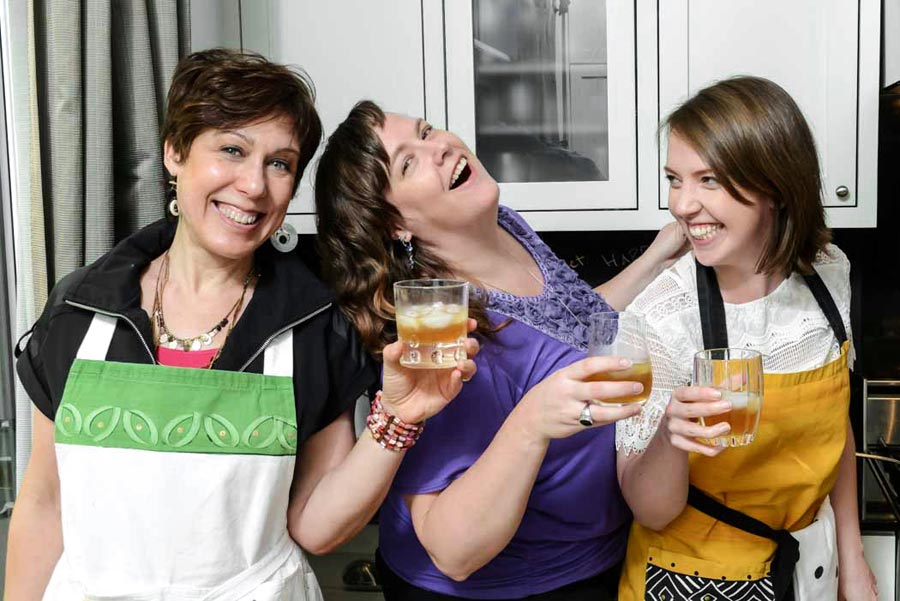 And you can find my easy chicken bastilla recipe recipe just below…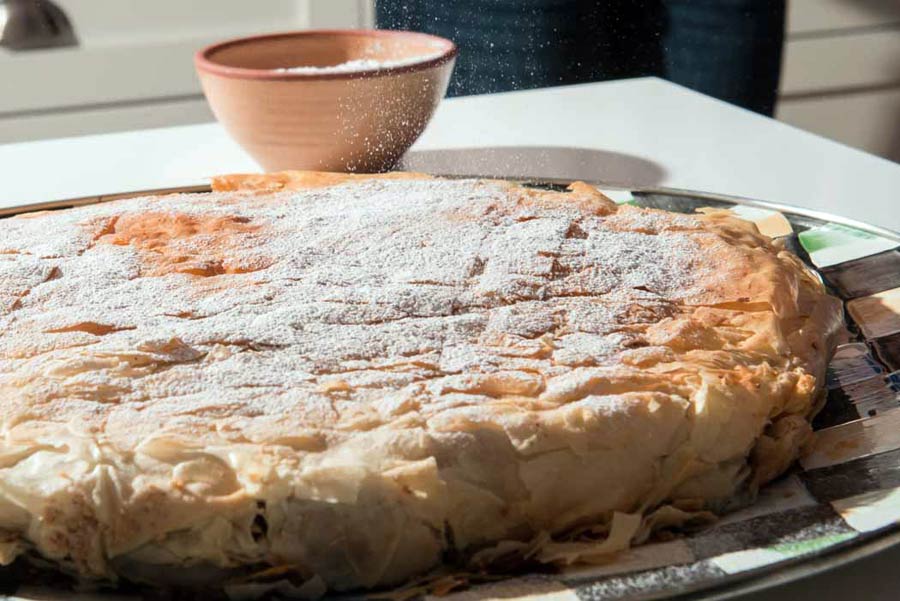 How do you feel about cooking with friends?
What theme would you like to prepare for a group meal?
If you are a blogger do you know fellow bloggers in your city that you could get together with?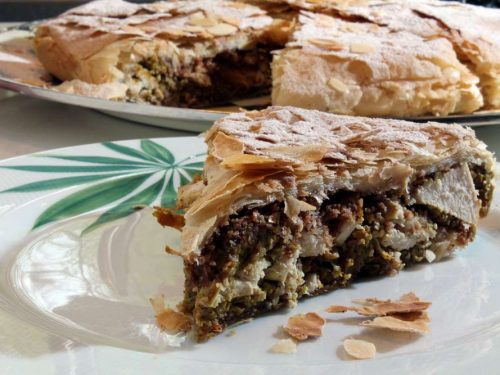 Moroccan Chicken Bastilla
Chicken Bastilla is a traditional Maghrebian pie filled with chicken, scrambled eggs and a crunchy layer of sweet cinnamon toasted almonds, all wrapped up in buttery phyllo pastry.
Ingredients  
2

tablespoons

olive oil

divided

1 1/2

lbs

chicken breasts

deboned

1 1/2

cups

onions

chopped

3

garlic cloves

finely chopped

1

teaspoon

fresh gingerroot

peeled and finely chopped

2

teaspoons

ground cinnamon

1

teaspoon

ground cumin

1

teaspoon

ground coriander

1/2

teaspoon

ground red pepper

1/2

teaspoon

turmeric

1/4

teaspoon

saffron

ground

1

cup

reduced-sodium chicken broth

3

tablespoons

fresh coriander leaves

chopped

7

large eggs

lightly beaten

1

teaspoon

salt

1/2

teaspoon

ground black pepper

1

lb

phyllo dough

thawed (about 18 to 24 leaves)

1

cup

butter

2 sticks
Topping for Phyllo leaves
1/2

cup

confectioners' sugar

1

teaspoon

ground cinnamon
Topping for filling
1 1/2

cups

slivered almonds

2

tablespoons

sugar

2

teaspoons

ground cinnamon
Instructions 
In a large skillet heat 1 tablespoon olive oil over medium-high heat. Add chicken breasts and cook until golden brown on all sides. Remove chicken from skillet and set aside.

In the same skillet add onions, garlic, ginger, and 1 tablespoon oil. Saute, stirring constantly, until onions are translucent. Stir in cinnamon, cumin, ground coriander, red pepper, turmeric, and saffron. Reduce heat to low and cook, stirring constantly, until onions are completely coated with spices, about 3 minutes.

Increase heat to high and add the broth and fresh coriander to skillet. Bring to a boil, stirring to combine. Return chicken to skillet and spoon mixture on chicken, cover, reduce heat to low and simmer for 30 minutes. Remove chicken from skillet to plate and set aside to cool.

Continue to cook onion mixture until almost dry, about 15 minutes. Add eggs, salt, and pepper to skillet and cook until soft curds form, about 3 minutes. Remove skillet from heat and set aside.

Make phyllo leaves topping: heat oven to 375 F. Spread almonds on a ungreased baking sheet and place in oven for 7 minutes or until lightly toasted. In food processor, process almonds with sugar and cinnamon until coarsely ground.

When chicken is cool enough to handle, tear chicken into 2-inch-long strips.

To assemble bastilla, place phyllo between 1 sheet of parchment paper and cover with damp towel at all times. Brush 12-inch pizza pan with some melted butter. Remove 1 sheet of Phyllo and place on pan, letting the edges hang over the rim. Brush phyllo with butter. Working quickly, stack and butter 1/2 the sheets, arranging them in the pan in an overlapping, circular fashion.

On center of phyllo, in even layers, place half the topping, half of onion-egg mixture, all of chicken, the remaining onion-egg mixture, and the remaining Topping, Fold overhanging phyllo over top of bastilla and brush top with butter.

Continue to butter the other 1/2 of the phyllo sheets in the same pinwheel fashion over top of bastilla. Carefully tuck the overhanging ends underneath it. Brush top and side of bastilla with butter.

Heat oven to 350 F and bake bastilla 20 minutes, or until golden. Place a baking sheet or another 12-inch pizza pan over the bastilla and invert so that the underside is now on top. Return to oven on the new pan and bake 25 minutes longer or until crisp and golden.

When the bastilla is ready, flip as above on a serving plate. Sprinkle confectioners' sugar and ground cinnamon on top of bastilla, with a handful of toasted almonds slices if you wish.