The ultimate fragrant Moroccan stew, a Tagine Berber is my idea of comfort food with aromatic meat served alongside big juicy pieces of vegetables.
It's time for the MENA (Middle Eastern & North African) Cooking Group. This monthly group has for goal to help us discover the culture and cuisine of the countries found in these parts of the world. The host of the month will choose two savory and a sweet dish from the country and the members pick one dish to make. Get your camel ready as we are exploring Morocco this month with a traditional Tagine Berber.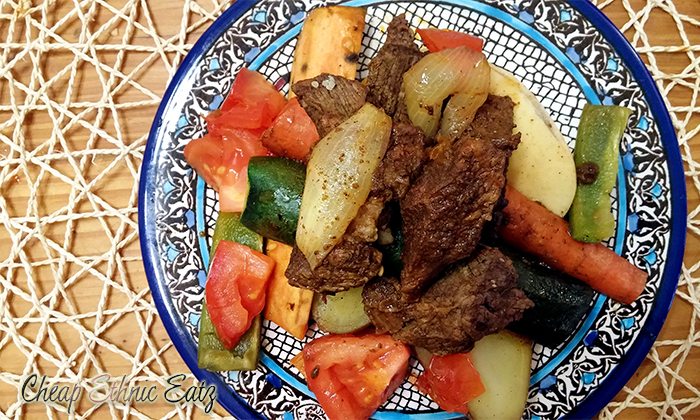 Morocco is a North African country that has a coastline on both the North Atlantic Ocean and the Mediterranean Sea. It has borders with Western Sahara to the south, Algeria to the east and the Spanish territories of Ceuta and Melilla on the Mediterranean coast in the north. It is just across the Strait of Gibraltar from Gibraltar. Morocco is composed mainly of Arabs and Berbers or a mixture of the two.
Because of the chosen recipe we will concentrate on the Berbers. Sizeable numbers of Berbers live mainly in the country's mountainous regions — long areas of refuge for them where they preserve their language and culture. Want to get to know these people better? Imouzzer is a traditional Berber town perched in the Atlas mountains, with beautiful scenery and a wonderful waterfall. Amizmiz is home to one of the largest Berber souks in the High Atlas Mountains one day a week. It's a great place to get a handmade Berber carpet. While you are there try to see if you can have a taste of the local judeo-berber vodka, with a mild anise flavor and brewed from figs.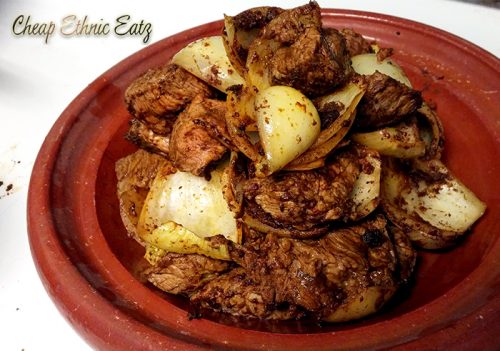 Moroccan cuisine is typically a mix of Mediterranean, Arabic, Andalusian and Berber cuisine. The Berbers are an ethnic group indigenous to North Africa and are quite dispersed. Berber cuisine differs from one area to another, yet it is considered as a traditional cuisine which evolved little in the course of time. It is based primarily on corn, barley, ewe's milk, goat cheese, butter, honey, meat, and game. Popular authentic Berber dishes of Tunisian, Moroccan, Algerian, and Libyan cuisine include tajine, couscous, shakshouka, pastilla, merguez, harissa, makroudh, sfenj, and ahriche.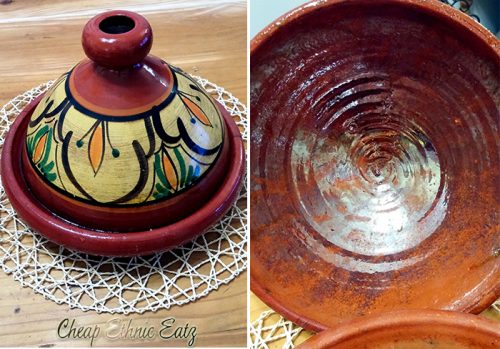 A tagine dish is named after the earthenware pot in which it is cooked and served. Lucky for me I just so happen to own one that a friend brought back for me from a holiday in Morocco. How to use a Tagine on a stove top: a ceramic or clay tagine should only be used over low to med-low heat and use only as much heat as necessary to maintain a simmer. A diffuser is essential and is placed between the tagine and the heat source. A metal disk is ideal. If you brown your meat in a regular pot first it is a good idea to warm up your tagine in the oven at 325F for a bit to speed but the simmering process. Get lots of more tips here.
Our MENA Cooking Club host this month is Aiza from La Tour De Force.My Tagine Berber recipe is slightly adapted from Saveur. Two pounds of lamb was not in the budget so I went with beef. I used a mix of small potatoes and a sweet potato as well.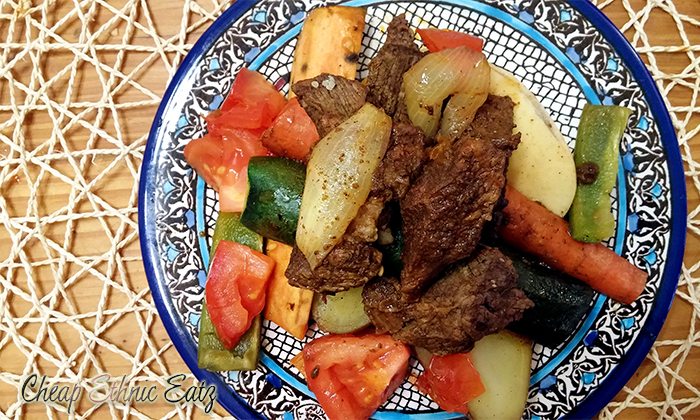 Moroccan Tagine Berber
Ingredients  
4

tbsp.

olive oil

2

lb.

boneless lamb shoulder

cubed (or beef)

2

medium onions

peeled and quartered

2

tsp.

ground cumin

1

?2 tsp. ground cinnamon

2

tsp.

sweet paprika

Pinch

saffron threads

Salt and freshly ground black pepper

2

medium Yukon gold potatoes

peeled and quartered

1

large carrot

peeled, halved crosswise, and quartered

1

large zucchini

halved crosswise and quartered

2

small white turnips

peeled and quartered

1

medium green pepper

trimmed and cut lengthwise into 1'' strips

1

medium tomato

thinly sliced
Instructions 
Heat 2 tbsp. oil in a large heavy-bottomed pot over med-high heat. Add lamb in batches and brown on all sides, stirring frequently. Set aside.

In same pot, heat remaining 2 tbsp. oil over medium-low heat, add onions, cook for 15 minutes, then add cumin, cinnamon, paprika, and saffron and season to taste with salt and pepper. Stir, mixing well, and cook until onions are translucent, about 5 minutes more.

In same pot or a warmed tagine, return meat and mix well. Form mixture into a mound in center of pot. Arrange potato quarters around meat, pressing angled sides into mound. Arrange carrots and zucchini the same way. Arrange turnip quarters and green pepper strips alternately around mound. Season vegetables with salt and pepper.

Cook, covered, over medium-low heat, basting occasionally with liquid from bottom of pot, until vegetables are cooked, about 1¼ hours (longer with a tagine 3-4 hours).

Arrange tomatoes atop meat, cook, covered, for 5 minutes more, and serve.
Check out more Moroccan recipes here: