Chickpeas are a staple of Moroccan cuisine. Find it in dips, tagines, and couscous. And chickpeas make for a delicious and hearty salad, like this Moroccan Corn Chickpea Salad.
The Food N' Flix pick this month was actually a movie I had never heard about. Usually I always know the movie or have seen it before. So I was really looking forward to watching Secondhand Lions. My recipe inspiration came from the old stories of times past spent in North Africa, probably mostly Morocco. Enjoy a serving of this Moroccan Corn Chickpea Salad as I tell you more about the movie.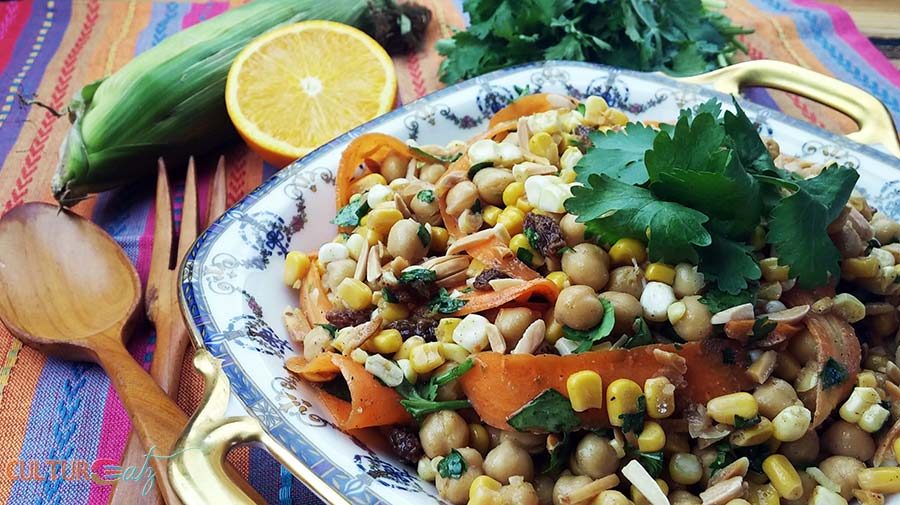 How many secondhand lions does it take to shoot a salesman?
Have you seen or heard for the movie Secondhand Lions? I had not. It was cute but it is more of a family movie…and I am a single, urban, paint-the-town-red kinda gal. It was released in 2003 and stars Michael Caine, Robert Duvall, and Haley Joel Osment.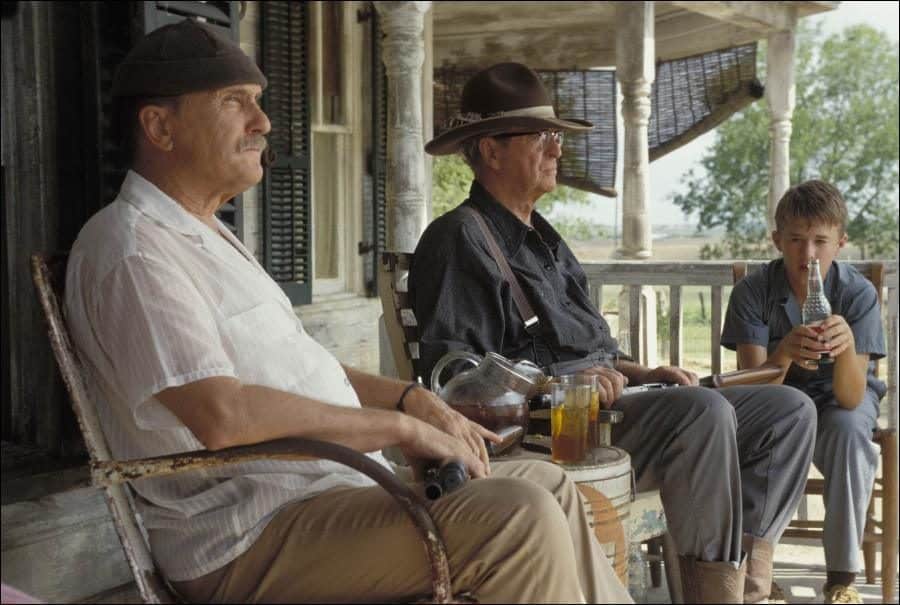 Set in the 50s, a young boy is sent to spend some time with his two recluse uncles in deep Texas. Now the boy's mom would win a prize as the worst mother of the year even by today's standards. The boy does not want to be with these estranged uncles at first but a bond forms between them all quite quickly. One daily entertainment is all the salesmen that come and try to sell or swindle the old lions from a supposed fortune they own. Some say the uncles robbed Al Capone, they say the got it from Sheik in North Africa.
Well, these traveling salesmen usually get welcomed with a shot or two from a riffle. But the boy convinces them to enjoy some of their fortunes. So fun things are bought, including seed for a garden of many vegetables that turned out to be only corn. Oh and the also buy a pet lion! is the fortune real? And was it a robbery or a real gift from Morocco. And how is the lion involved in the story? Watch the movie to find out!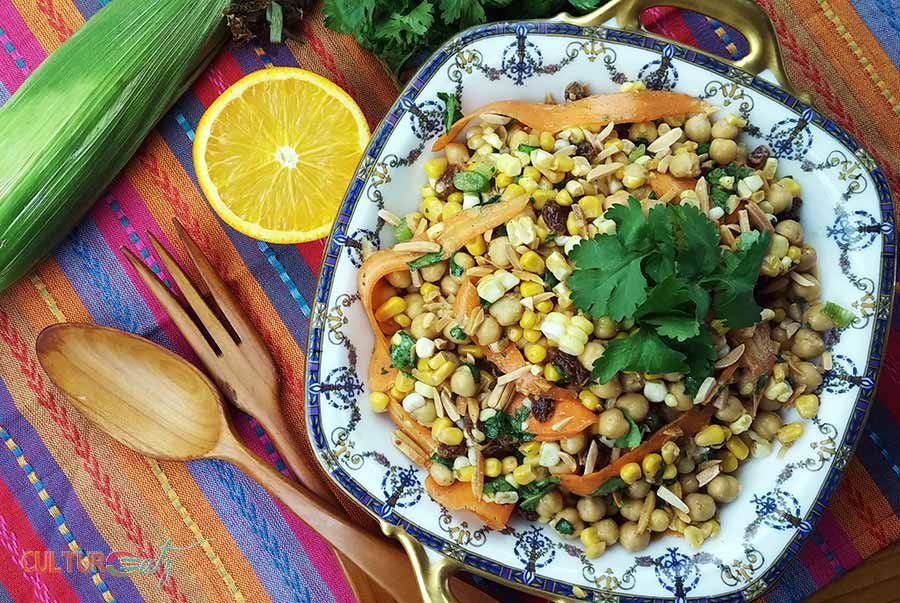 More corn recipes:
Mysterious Morocco!
Food sightings from the movie: I was actually not that good at paying full attention this time so here is what I did note. There was lemon iced tea, scrambled eggs and sausage, mentions of Morocco and Shanghai, root beer, garden vegetables, bok choi, LOTS of corn, and lion chow food – like that is even a real thing.
I decided to go with a Moroccan dish, a nice light summer salad with makes for a great meal on a hot summer day. But I also wanted to add quite a bit of corn to it as it was so present in the movie. This Moroccan Corn Chickpea Salad is quick to make but the salad does benefit from some rest time so the flavors have time to mingle. So give it at minimum 30 minutes to rest if not a few hours. You could even leave this Moroccan chickpea salad overnight.
Food 'n Flix is hosted this month by Courtney at Fictional Fare! In this monthly group, a host picks a movie of their choice that pertains to food. Everyone watches the movie and then makes a recipe which the film inspired. It can be any recipe you want. Join us!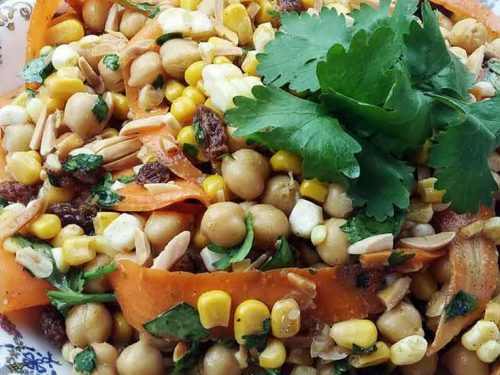 Moroccan Corn Chickpea Salad
Ingredients  
1/4

cup

extra virgin olive oil

1

teaspoon

lemon zest and 3 tablespoons fresh lemon juice

1/4

cup

fresh orange juice

1.5

tablespoons

honey

3/4

teaspoon

salt

1

teaspoon

ground cumin

1/2

teaspoon

ground ginger

1/2

teaspoon

ground cinnamon

1/4

teaspoon

ground coriander

1/4

teaspoon

cayenne pepper

14

ounces

corn

fresh and/or canned

2

ounces

carrots

grated or ribboned

1/3

cup

currants

1/2

cup

slivered almonds

toasted

1/2

cup

chopped fresh mint and/or cilantro

1 15-

ounce

can chickpeas

rinsed and drained

2

tablespoons

finely minced shallots

1

garlic clove

minced
Instructions 
Preheat oven to 350 F. Place the almonds on an aluminium foil and bake for about 5 minutes, or until golden.

Prepare the dressing by whisking the first 10 ingredients in a bowl large enough for the entire salad.

Add the remaining ingredients to the salad bowl and toss very well. Cover the bowl with plastic wrap and refrigerate for a minimum of 30 minutes or up to overnight.

Adjust seasoning if necessary and garnish with fresh chopped herbs before serving.
Check out more Moroccan recipes here: