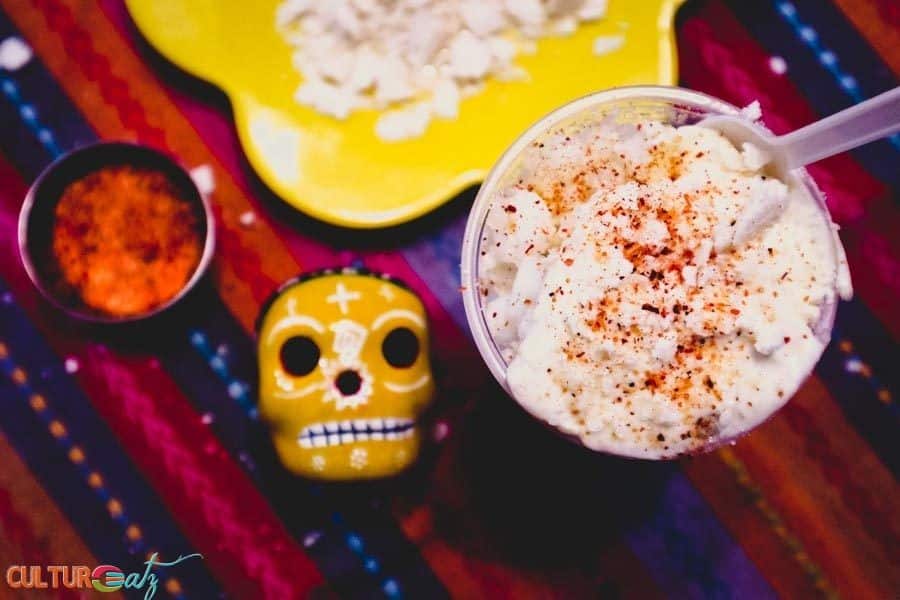 Looking for the perfect Mexican snack? Mexican street corn in a cup, or Esquites in Spanish, is a popular street food found in Mexico. And it is very easy to make at home for the whole family to enjoy!
It's Food N' Flix time and this month we are doing something different by watching a documentary all about what it is like to run a restaurant and how much work goes into it. My inspiration was based on one of the restaurants but not from a recipe we see, but rather something I tasted recently in Mexico. So go make yourself a quick batch of Mexican Street Corn in a Cup called Esquites and watch Spinning Plates with me.
I remember seeing this movie a long time ago. This documentary explores three very different restaurants and the people who own them. And in all three scenarios, the people are dealing with difficult and unique situations: cancer, a fire, and foreclosure.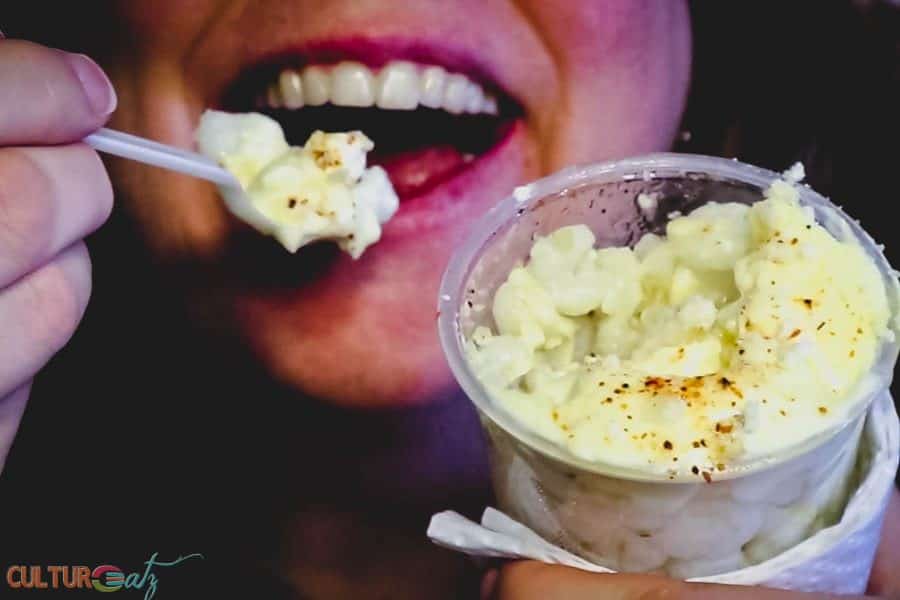 Spinning Plates
This film really humanizes eating establishments. For me, the main message I got from this film was to get a glimpse into what it's like to own a restaurant, but also what ties them all together even if they serve completely different foods to different clienteles. The three restaurants are:
Alinea, in Chicago. It's my dream to go here one day. This Michelin star restaurant has been voted Best Restaurant in North America and has placed in the top 10 of Best in the world. It's chef, Grant Achatzis know for his contributions to molecular gastronomy or progressive cuisine.
In 1852, this dinner was a popular stop for traveling stagecoaches in Iowa. The Breitbach family purchased it in 1891. The Breitbach's Country Dining is still around with the family, 6 generations later. This place is the very definition of a small town family restaurant, and it is known for its delicious pies and fried chicken.
Finally, the small La Cocina de Gabby restaurant in Arizona is run by Gabby and her husband Francisco who are trying to build their American dream. Gabby makes homestyle Mexican food as she was taught by her mother.  They work crazy days and evening to get their new restaurant going, while their daughter plays and helps a bit.
Did you get your FREE PRINTABLE yet?
Surprise! Never know what to pack when getting ready for a trip. I got you covered with my Ulitmate Packing Checklist. Click here to get your FREE Ulitmate Packing Checklist right now!

And the inspiration for my recipe goes to…
So guess which restaurant inspired me? Where was I just recently on holiday? That is right, Mexico! But it is not the only reason I chose this family as inspiration. I could just relate to them the most.
They are trying to survive, to not lose their house, the build a business. I saw many such small roadside restaurants myself during my trip. It is really a question of survival for them.
So what to make? Funny enough, the food they prepared looked really Tex-Mex to me, even if she claims it was her mom's cooking. Or I should say it looked very plain to what I saw, even compared to street food from street vendors.
I did not see any of her food while in Mexico but some ingredients where classic Mexican ones, like corn, which is plentiful there. How about making a Mexican corn recipe? Perhaps a street corn salad or a Mexican corn side dish.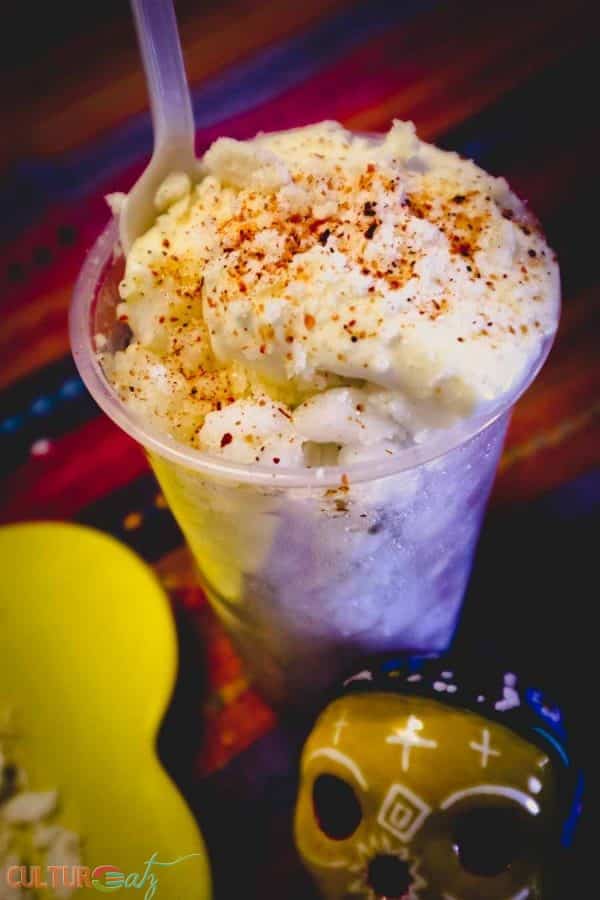 The best of Mexican Street food
The amount of street food in Mexico City is beyond incredible. I don't know why people would even cook at home, street food is so rampant. We had a few meals and many, many snacks sold by street vendors.
And I have been publishing lots of videos with examples of street food on my Youtube channel. I have shown so far:
And this week I am releasing a video with the Mexican street corn off the cob called Elote. You will also see the authentic Mexican street corn in a cup or corn esquites in the clip.
It's really cool to watch them prepare the elote.
[embedyt] https://www.youtube.com/watch?v=3Gj5GLS1zL4[/embedyt]
Mexican Street Corn in a Cup: recipe for Esquites
Elote and Esquites (Mexican corn in a cup) are always both available at these stands. And that is what I will show you how to make today: how to make corn in a cup.
Esquites Mexicanos is sold as a snack but you could serve this Mexican street corn salad as well. Corn is mixed with mayonnaise, butter, tajín (chili peppers, salt, and lime), and cheese. Yep, mayonnaise.
Now traditionally one uses white corn which is not as sweet as yellow corn. But if you can't find white corn just go with what you have. You can use corn cut from the cob, frozen corn, hominy, or canned yellow corn.
The cheese used in Mexico for this Mexican corn salad recipe is queso fresco (use feta instead) or cojita cheese which has a stronger flavor (go with parmesan).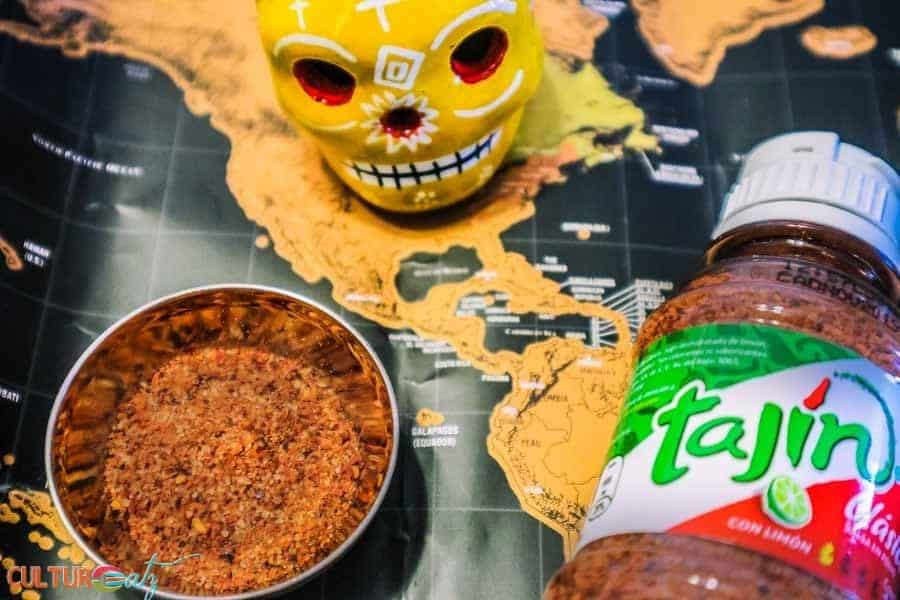 There was an ingredient, a spice mix called Tajín, which you will probably not have at home (but you can get Tajín here). The taste is a bit spicy and super tangy. Like pucker face sour.
It is used on vegetables, fruits like mangos, and to rim glasses for cocktails, like the one I had which was beer and tomato juice.
Tajin is made of chile peppers, lime, and salt. So to make your own, simply mix equal parts of fine sea salt, red chili powder, and True Lime dehydrated lime juice. If you don't have True Lime just squeeze in a bit of fresh lime juice.
To me, Tajín summarizes the basics of Mexican flavor in a bottle.
My reaction to my first taste of Tajín is…priceless.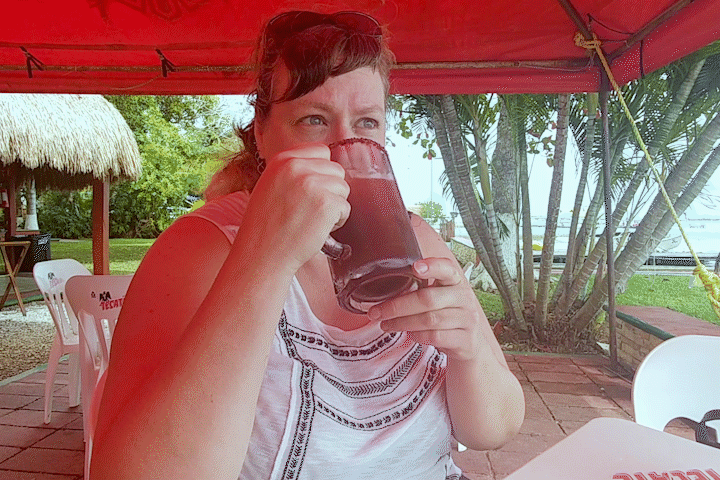 Don't let it scare you. There was a lot of tajin on the rim of my glass and I had no idea what it was lol.
The Mexican Street Corn corn in a cup recipe I will show you below is the way it is really made on the street carts. It is how to make Mexican corn street food style the authentic way.
You could fancy up your recipe with fried onions and maybe cilantro too. Mix it all up in a salad bowl and you have a dinner salad.
Food 'n Flix is hosted this month by my friend Culinary Adventures with Camilla! In this monthly group, a host picks a movie of their choice that pertains to food. Everyone watches the movie and then makes a recipe which the film inspired. It can be any recipe you want. Join us!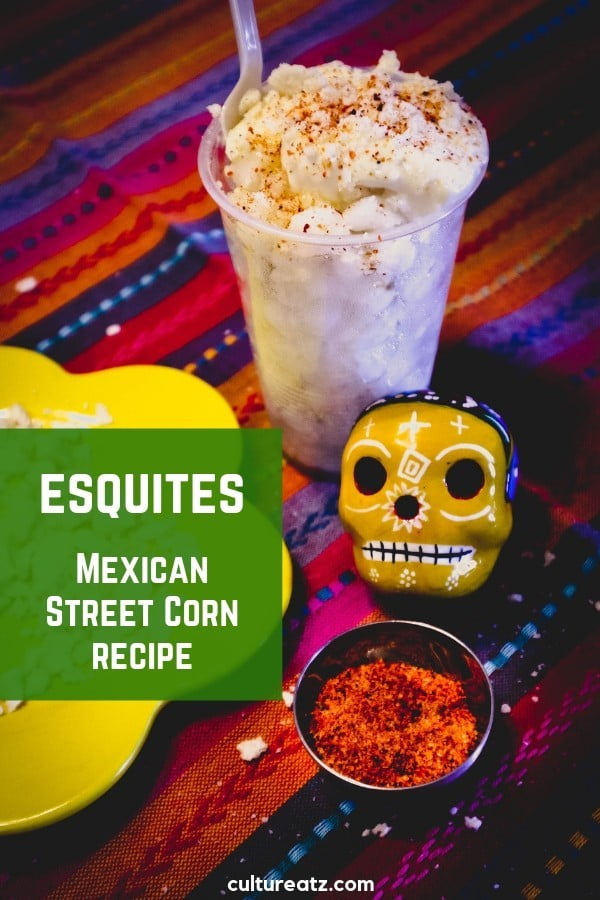 Mexican Street Corn in a Cup | Esquites
Looking for the perfect Mexican snack? Mexican street corn in a cup, or Esquites, is a popular street food found in Mexico. It is very easy to make at home.
Ingredients  
3

cups

of fresh cut corn kernels

optional: 2 sprigs of fresh epazote or 1 teaspoon dried epazote

1/2

cup

mayonnaise

1/4

tablespoons

unsalted butter

6

tablespoons

crumbled cotija queso or parmesan

1

tablespoon

of Tajín

or 1 teaspoon each of fine seal salt, red chili powder and True Lime dehydrated lime juice
Instructions 
If you have fresh or frozen corn, cook as per package instructions with the epazote in water. If your corn is cooked, on the stove warm it up with a bit of water and epazote, brought to a quick boil.

With a slotted spoon, fill 4 glasses with the corn to the top.

With a large spoon, slater on 1 tablespoon of butter and 2 tablespoons of mayonaise per cup.

Sprinkle with the cheese and finally with your spice mix, to taste.
PIN IT HERE for later!