I have a stack of cool kitchen books for you once again. And this one covers a large spectrum of interests: from sausage maker, quick sheet pan meals, to mixing all your own vegan beauty products.
Yes I am mixing meat and vegan beauty recipes together in one swoop, call me crazy, but my interests vary. I have trouble focusing one one subject very long and my mind wanders 🙂 Maybe your interests change a lot too and you are looking to explore new untapped skills! Here are a few suggestions for you to try. Or perhaps these books could become great gift inspirations. After all Christmas, Hanukkah and Kwanzaa … they are not really that far away!
I am including not one but two beauty recipes for you to try right now!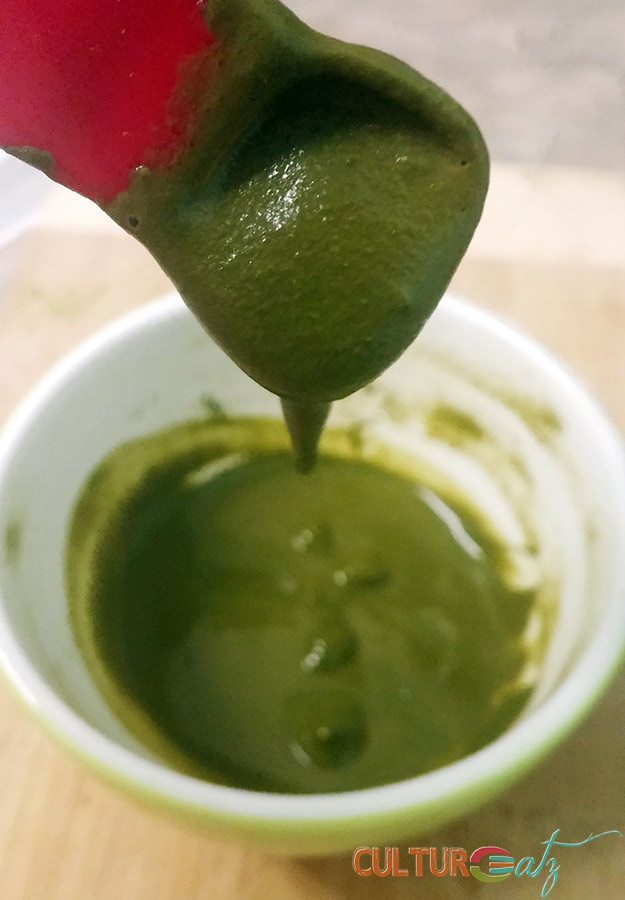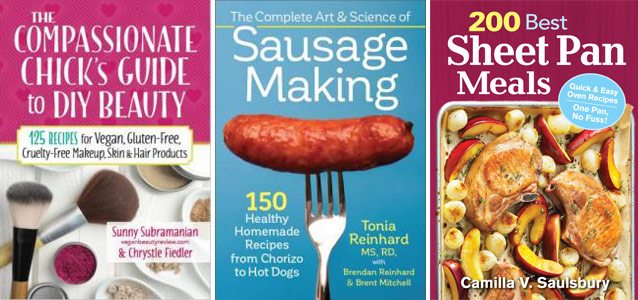 As much as I like to plan an elaborate meal for friends, when it is me myself and I for dinner on a week night I look for quick options. We all have our favorite one-pot meals but ever thought of doing sheet pan meals as well? They allow you to cook several individual parts of your meal all at once. And cleanup is an absolute breeze (parchment paper!). Most of the recipes are fast to prepare and some recipes are certainly entertaining-worthy.
I really enjoyed the Pork Chops with Roasted-Apples, Pearl Onions and Thyme recipe. I want to try next the Sheet Pan Clam Bake. Or perhaps the Spicy Pinto Bean Burgers. And why not the California Fish Tacos with Cucumber and Pineapple. Even desserts are included in this cookbook, like Chewy Coconut Trail Mix Bars and Sour Cream Vanilla Pound Cake.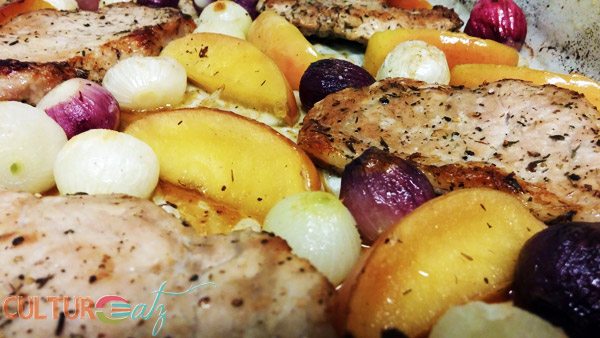 I am fascinated with the art of making sausage. I have only tried once before and I went for a blood sausage recipe. Boy was it a learning process from little mistakes, but we had fun. So I was more than happy to check out this book. You'll find in here easy-to-follow instructions for mouth-watering recipes plus all the tips and equipment needed. My only complaint ab the book is that I wish there would be meat alternatives suggested if one does not own a meat grinder… but you can still wing it.
Many of the recipes include exotic varieties from all over the world and as well as classics like pork, beef, lamb, chicken and turkey to more adventurous options like wild game and fish — and even vegetarian and vegan sausages.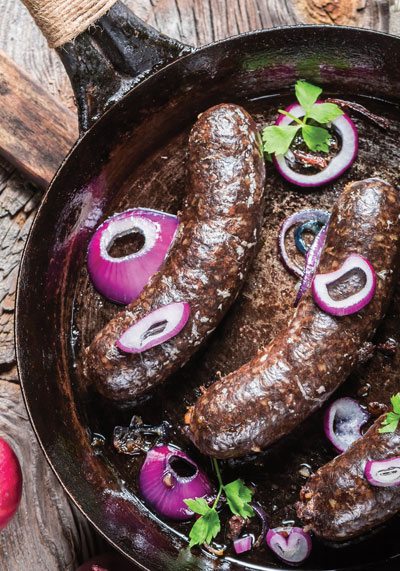 Did you know that I have been a fan of making my own beauty products since my teenage years? I loved preparing my face masks and hair lighteners or conditioners. I have bought many books on this topic over the decades. I truly mean it when I say this book is the best and most complete I have ever seen, hands down! There are DIY recipe for products I have never seen anywhere else here. My one comment is that not all recipes tell you how long leftovers can last.
The tone of the book is witty, whimsical, edgy and inspirational. The vegan beauty instructions are easy to follow and have step-by-step photos. And to boot all the recipes are vegan and non-toxic, plus they cost pennies per treatment. Why spend $40 on a facial mask when you can make these vegan beauty products yourself for just a dollar or two.
The recipes are divided as follow:
Face care: scrubs, cleansers, toners, masks and moisturizers.
Bath and body care: washes, soaks, scrubs, body butters and oils, gel, bars and creams.
Hair care: shampoos, conditioners, rinses, masks, serums, sprays and treatments.
Makeup and cosmetics: foundations, lip balms with SPF, powders, bronzers, blush, eyeliner, mascara, eye shadows, fixers and lipstick.
Unisex essentials: deodorant, powder, toothpaste and mouthwash, whiteners, shave cream, after shave, bug repellent, creams and a hand sanitizer.
Here are a couple of vegan beauty recipes to play with right away, courtesy of The Compassionate Chick's Guide to DIY Beauty by Sunny Submaranian & Chrystle Fiedler © 2016 www.robertrose.ca Reprinted with publisher permission.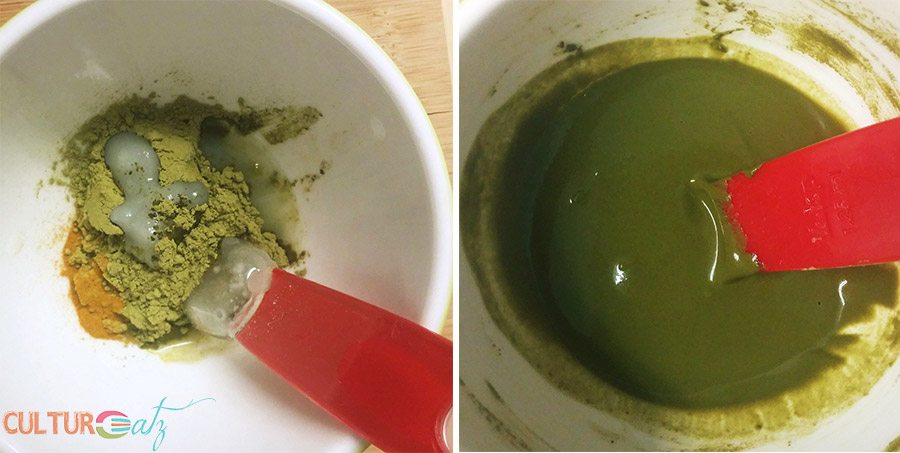 Matcha Green Goddess Facial Mask, page 103
Matcha is so good for you in a cup, why not on the skin? This is one of the best masks I have ever tried. The matcha really detoxified my skin and removed extra oils in my pores. But the best part is that after you rinse you will feel hydrated from the coconut oil. No need to top off with moisturizer.
Here is my face modeling the mask for you twice (don't be afraid lol) cause I don't care about being silly for my readers!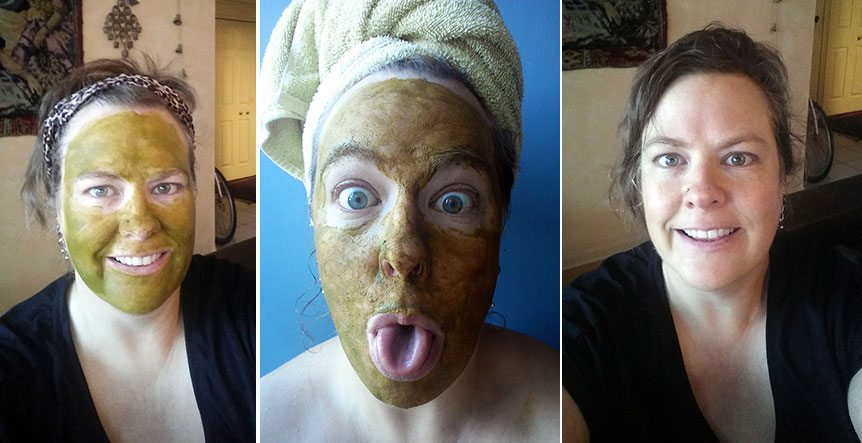 Matcha Green Goddess Facial Mask
Best for: Oily/acne-prone l Normal and Combination skin
Superstar ingredient: Matcha is full of antioxidants and contains chlorophyll, a powerful detoxifier. It also has the ability to decrease sebum production, making it especially kind to acne-prone skin.
Ingredients
1.5 tbsp water (original said 3, too watery)
1 tbsp matcha powder
1/2 tsp coconut oil
1/4 tsp freshly squeezed lemon juice
Pinch turmeric
Instructions
In a bowl (blender optional), mix water, matcha powder, coconut oil, lemon juice and turmeric until a paste forms. Spoon into a small bowl.
Using fingers, spread a thin layer of mask all over damp cleansed facial skin. Let stand on skin for 10 minutes.
Rinse face with warm water and pat dry with a towel. Store in refrigerator.
7.8.1.2
204
https://cultureatz.com/vegan-beauty-products/
Flawless Powder Foundation, page 202
I never though I would make my own natural powder foundation! I actually rarely use this stuff, just to hide a bit of shine. I throw away products I buy like this because after a few year they are gross. This I can make just a bit at a time. Just go slow with adding your colorant and make a note of how much you used for the next batch.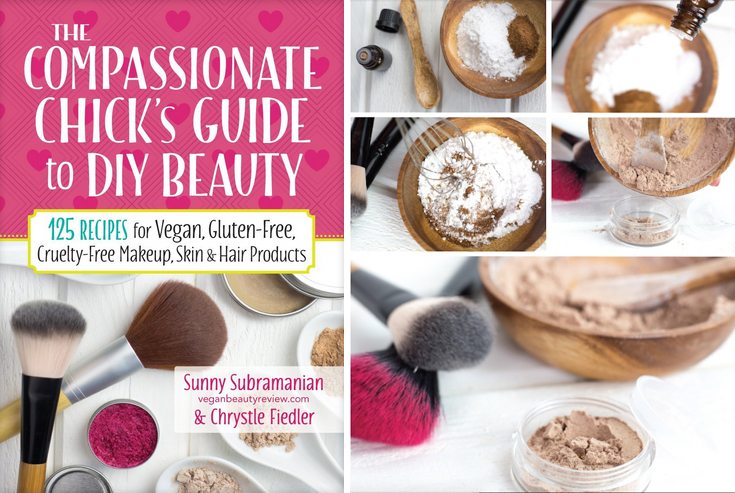 Flawless Powder Foundation
Best for: All skin types
Superstar ingredient: Arrowroot powder is a natural starch made from the roots of the tropical South American plant Maranta arundinacea. It's white and lightweight, so it's a versatile base for powders and other DIY vegan beauty products.
Ingredients
2 tbsp arrowroot powder
Powdered natural colorant: such as unsweetened cocoa, powder ground cinnamon, or ground nutmeg
5 drops lavender essential oil
Instructions
In a small bowl, combine arrowroot powder and enough of the colorant to achieve a perfect color match with your skin. Add lavender essential oil. Whisk until well combined. Pour into a jar.
Sprinkle powder onto a large fluffy makeup brush and apply to facial skin.
Store at room temperature for up to 6 months.
Notes
Top Tips: Lots of beauty-supply stores sell excellent jars designed for storing homemade makeup. For this powder, look for a jar with a built-in sifter top. It will keep any lumps at bay and sprinkle just the right amount of powder on your brush.
7.8.1.2
269
https://cultureatz.com/vegan-beauty-products/
Check out more of my natural beauty recipes:
Did you make one of my recipes? I would love to see it. Take a photo and tag me on Instagram @cultureatz.
EDITOR'S NOTE: This post may contain affiliate links (disclosure policy). Please support CulturEatz by clicking on the links and purchasing through them so I can keep the kitchen well stocked. It does not alter the price you pay.