Everything is coming up LAVENDER for this month's International Incident Party brought to us by Jeroxie. Yes lavender is the theme this month. I believe a lot of participants were a little concerned with this challenge as lavender may not be everyone's cup of tea. But I am actually a fan of it, I just so happen to have a jar in my pantry and I have cooked twice recently with it to make a Lavender Ice Cream and a Lavender Lime Cake.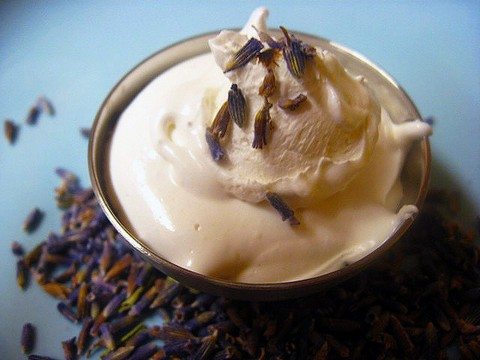 I wanted to use it in a different way this time around. At first I planned on a savory dish but then I came across a few homemade cosmetic recipes using lavender: here and here. I was sold, after all the preparation reads very much like any recipe. I settled on a lavender salve. You can use this lavender body butter lotion anywhere…your face, hands, feet, anywhere you want to soothe your skin. The final product is hard like a salve but easy to scoop out and melts like butter instantly with the heat of your skin.
Lavender Salve
2 tbsp almond oil
3 tbsp shea butter
1/4 tsp vitamin E
1 1/2 tsp dried lavender flowers
1/4 tsp cornstarch (reduces "greasy" feeling)
Direction:
Put about an inch (2.5cm) of water in the bottom of a medium-sized pot and heat to a low simmer.
Place a bowl in the pan of water.
Place the shea butter and almond oil in the bowl and warm slowly over a low heat until the butters are melted.
Stir in with a metal spoon the vitamin E and lavender and leave on a LOWEST heat fro 1h30min (a wooden spoon absorbs the scent of essential oils).
Strain and return to bowl.
Place bowl into a larger bowl filled with ice.
Beat for several minutes using electric beaters until it starts to get nice and thick like whipped cream.
Spoon into cosmetic jars.
How about a little martini while the lavender is infusing on the stove? Most lavender martini recipes I found required the use of lavender syrup. I did not care to make some so I found this instant one instead. If you find it too strong feel free to add a bit of orange juice.
Lavender Infused Martini
1/2 tsp lavender
1 tsp lemon juice
1/2 tsp sugar
2 ounces quality gin or vodka
Muddle the lavender in the lemon juice.
Add all the ingredients to a shaker with an ice cube.
Shake about 20 times and strain in a glass.
Check out more of my natural beauty recipes: