Would you like to take your dates to the next rich step by smothering them in a thickened butter sauce? That is the Qatari Rangina dessert way, or Sweet Buttered Dates.
It's time for the MENA (Middle Eastern & North African) Cooking Group. This monthly group has for goal to help us discover the culture and cuisine of the countries found in these parts of the world. The host of the month will choose two savory and a sweet dish from the country and the members pick one dish to make. We are visiting the lesser known country of Qatar this month and we will sample Qatari Rangina, or Sweet Buttered Dates.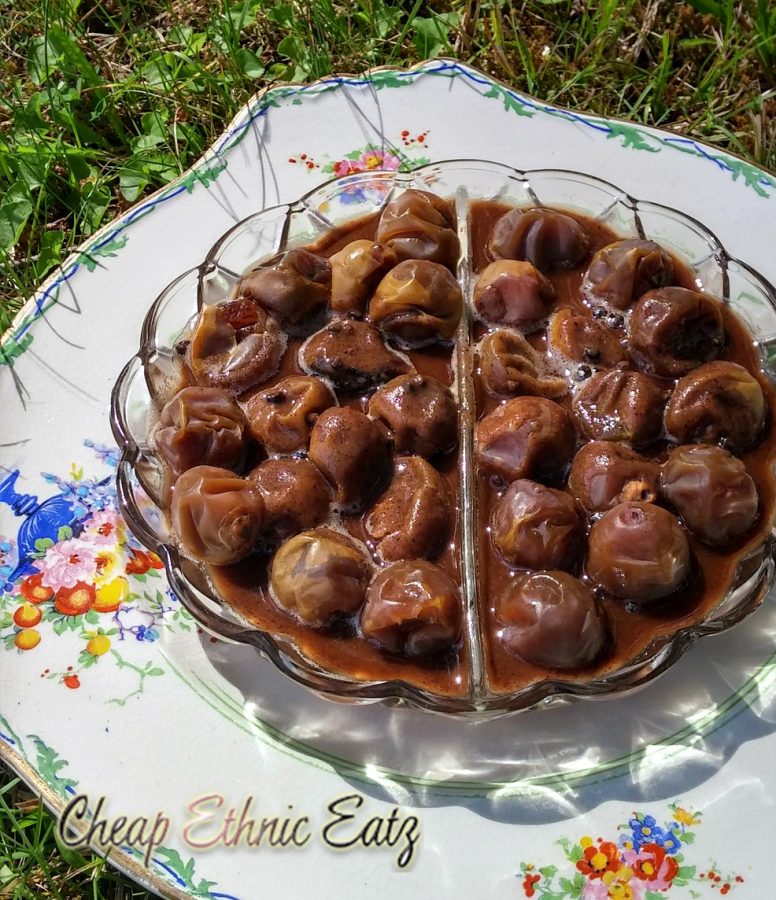 Qatar is a peninsula jutting into the Persian Gulf, to the east of Saudi Arabia, East of Bahrain and West of the Emirates. Since the mid-1800s, Qatar transformed itself from a British protectorate into an independent state with significant oil and natural gas revenues, which enable Qatar to have a per capita income almost above the leading industrial countries of Western Europe. Visit the capital of Doha which is home to many wonderful museums and a great souq. Or see the Khor Al Udeid, a region of rolling dunes where tourists and locals alike enjoy racing up and down the seemingly endless sand dunes, and visit the ruins of Zubarah, a deserted city and a fort built in 1938.
Qatari cuisine is made up of traditional Arab and Levantine cuisine. It is also largely influenced by Iranian and Indian cuisine. Machbus, a meal consisting of rice, meat, and vegetables, is the national dish in Qatar. Other popular dishes are Kabsa, Balaleet and Ghuzi.  Seafood and dates are staple food items in the country. Many desserts can be found to tempt you, lots of course with dates like today's recipe.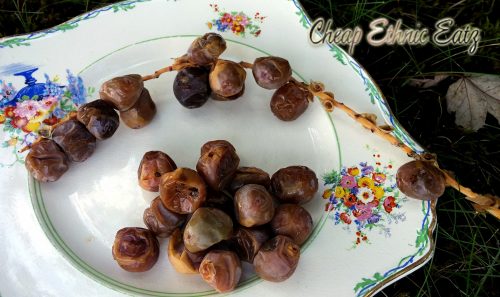 Finding fresh dates was not a challenge but apparently I had just missed the season. I have an awesome Middle-Eastern grocery store near me and I had seen nice fresh yellow dates 2 weeks prior. When I went back there were no more, or only a few stems of very ripe ones. These Iranian Kabkab dates which are best once they have turned brown and mushy like these. Delicious but they are not the most photogenic.
I could not find any info really on this recipe or it's origins. All I can say is that Al Rangina, or Sweet Buttered Dates, are dates served in a butter sauce which has been thickened with flour and a few spices. The butter supposedly cuts down the sweetness of the date and make it a rich experience to taste. This was not one of my favorite recipes but I am happy I tried it. Our MENA Cooking Club host this month is Carrie Rashid from Witchy Kitchen.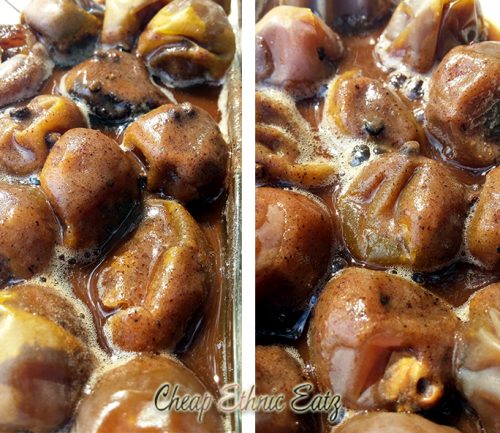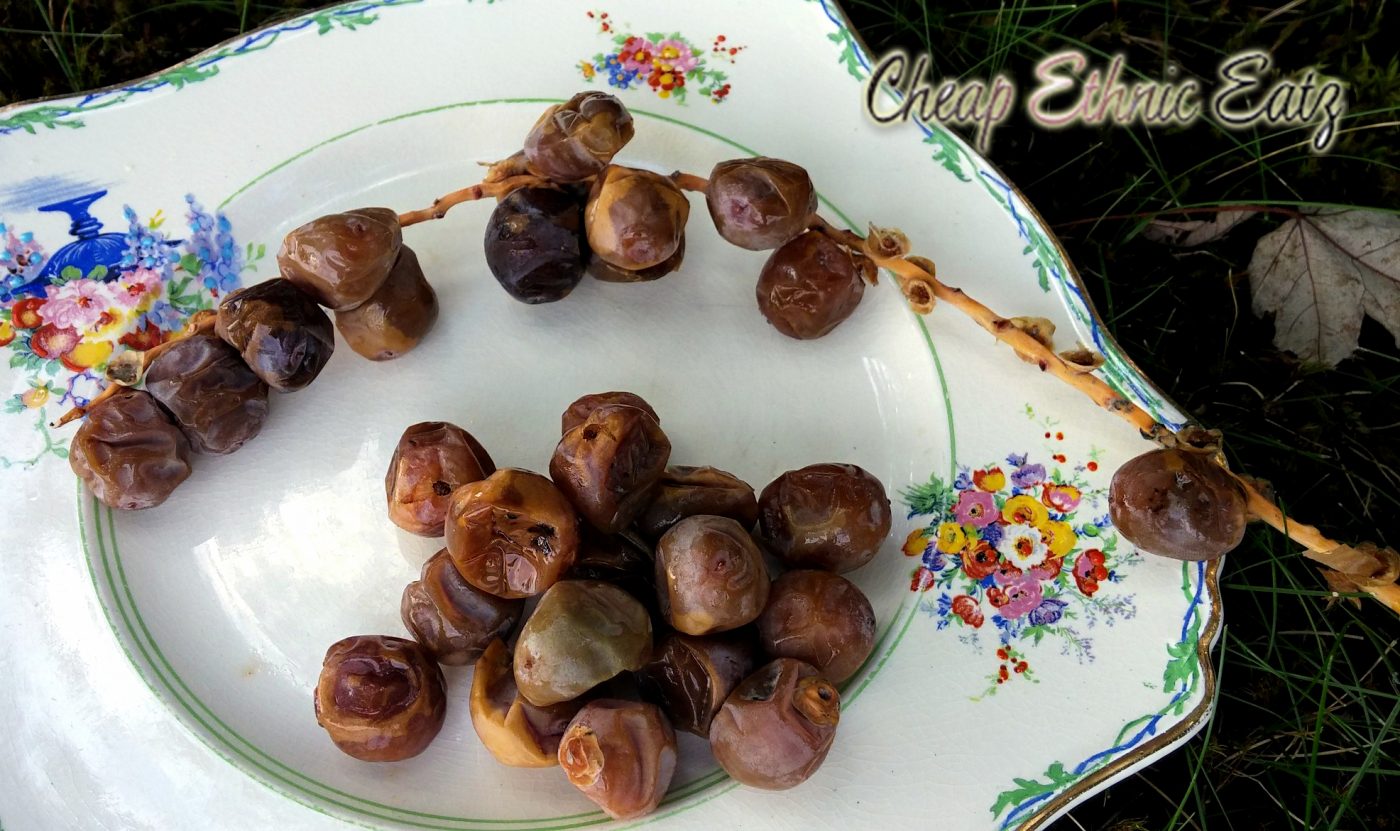 Qatari Rangina (Sweet Buttered Dates)
Ingredients  
4

cups

fresh ripe dates

1/2

cup

flour

1/3

cup

butter

1

flat tsp cinnamon

1/2

tsp

cardamon powder

1/4

tsp

olive oil
Instructions 
If you can, pull or push out the pit but keeping the date intact is OK too.

Arrange the dates tightly in your serving dish.

Over medium heat, toast the flour until it browns, stirring frequently to avoid burning.

Add the cinnamon, cardamom, and butter. Mix until a paste-like mixture is formed.

Stir in the olive oil to make a pourable mixture. Pour the hot mixture over the dates and cool a bit before serving.
Check out more Middle Eastern sweet recipes here:
Looking for more date recipes? May we suggest…
Spicy Roasted Carrots Dates with Yogurt
Mashed Potato Candy
4 Easy to Make Snacks with Little Ingredients and Medjool Dates
Best No-Bake Healthy Date Bar Surprise
Mashed Potato Candy with Medjool Dates