An exotic perfumed cake from Kuwait called Gers Ogely; with saffron, cardamom, rose water and toasted sesame seeds flavor notes.
It's time for the MENA (Middle Eastern & North African) Cooking Group. This monthly group has for goal to help us discover the culture and cuisine of the countries found in these parts of the world. The host of the month will choose a savory and a sweet dish from the country and the members pick one dish to make.
This month we are exploring Kuwait and I chose a traditional and very popular cake called Gers Ogely.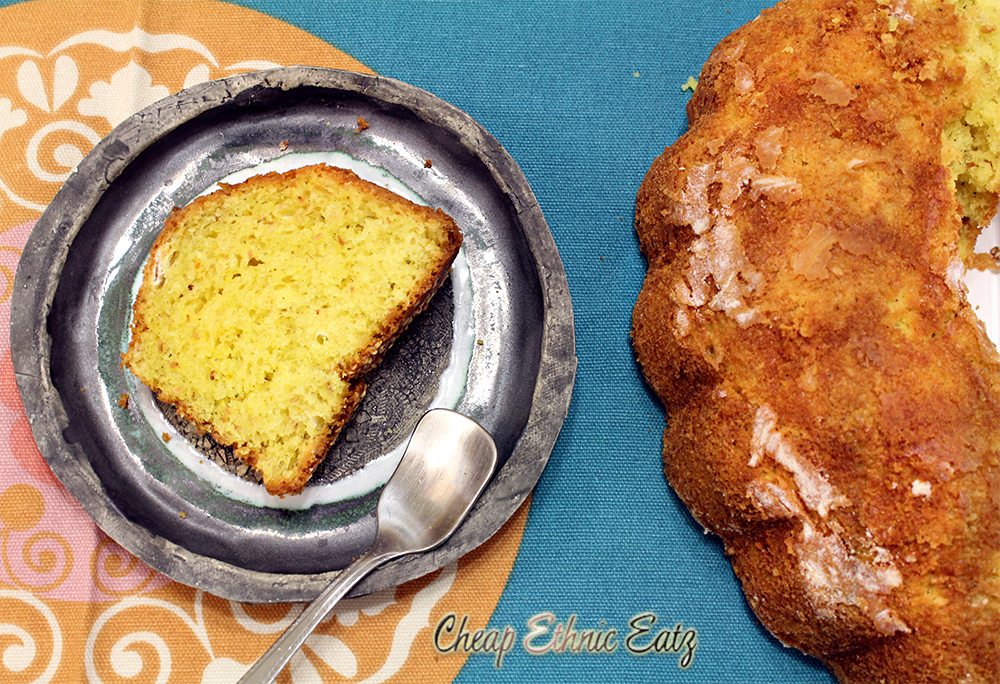 Kuwait is a country in the Middle East. It is located at the head of the Arabian Gulf, with Iraq to the north and west, and Saudi Arabia to the southwest. The capital is Kuwait City with its many museums, and other notable cities are Jahrah with great historic importance and Salmiya known for it's beaches. Wafrah and Failaka Island are common getaways for Kuwaitis and residents.
Kuwaiti cuisine is an infusion of Mediterranean, Persian, Arabian and Indian cuisines. A prominent dish in Kuwait is known as Machboos, a rice-based dish made with spices, rice and chicken, mutton, fish, eggs, or vegetables. A very significant part of the Kuwaiti cuisine is fish and other seafood, the main fish eaten by Kuwaitis is the Zobaidi. Another fish is the Hamou, typically served grilled or fried, it has thick flesh and a distinctive taste. Most of the time, fish is eaten with rice. Kuwait's traditional flatbread is called Khubz. It is a large flatbread baked in a special oven. Numerous Khubzbakeries dot the country. It is often served with mahyawa fish sauce. Little dishes, called Mezze, are very popular as well.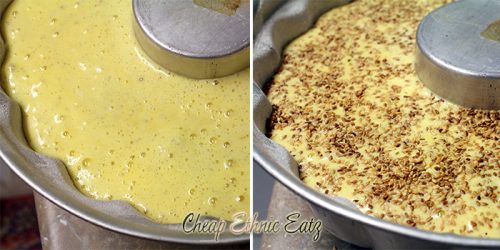 Dessert options abound in Kuwait. Some the of most renowned dessert are Almond Cookies, Coconut and Sesame with Dates, Date and Nuts Sweets, Baklawa, Dessert Couscous, Figs in Syrup, Fresh Fruit with Rose Water Syrup, Halawas, Sponge Cake with Pomegranate, Mamool Cookies, and Rice Puddings to name a very few.
I have tasted a many Middle Eastern sweets but I had never heard of this Gers Ogely cake. I am pretty sure dear reader neither have you, not many have. This Arabian perfumed cake is very moist and pretty unique in texture. This is a true old-fashioned Kuwaiti cake with strong notes cardamom, saffron, rose water and sesame. I found this recipe at Sukarah.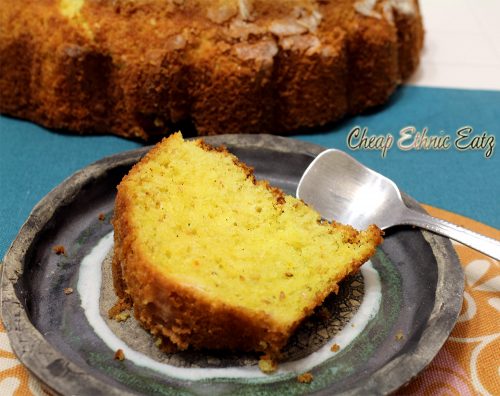 I loved this cake and it is rare I can say I ate something that was really unfamiliar to me. Just loved the toasted sesame sprinkled on top of the cake before baking.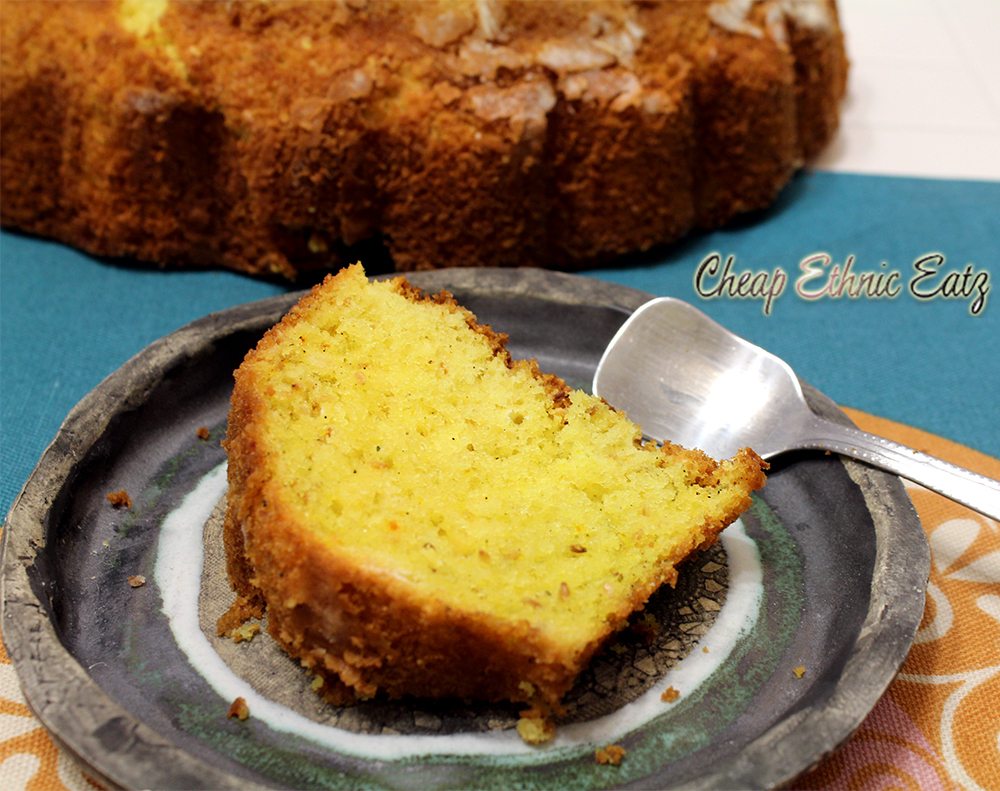 An exotic perfumed cake from Kuwait
Ingredients  
2

cups

230 g all purpose flour

1 ½

tsp

baking powder

¼

tsp

salt

4

tbsp

toasted sesames

½

tsp

saffron

1

tbsp

sugar

4

eggs

1 ½

cup

300 g fine sugar

½

cup

113 g butter, melted and cooled

1

cup

250 ml milk, room temperature

1

tsp

cardamom

1

tsp

rosewater
Instructions 
Preheat oven to 180°C /350 °F /Gas mark 4.

Butter and flour the sides and bottom of a 12" bundt cake pan (or a 9" springform pan). Set aside.

In the mortar, crush the saffron threads with 1 tsp of sugar until it's a powder. Add 2 tablespoons milk to saffron powder. Leave to soak for at least 10 minutes.

In a large bowl, sift together the flour, baking powder, salt and two tablespoons sesames. Set aside.

In the bowl of the stand mixer fitted with the whisk attachment, whisk the eggs and sugar until light and thick and frothy. The mixture should triple in the volume. About 10 – 12 minutes on medium to high speed.

In a large measuring cup, combine the butter, milk, cardamom, rosewater and saffron mixture.

Using a large slotted metal spoon (or a wooden spoon), gently fold in the dry and wet ingredients into the eggs, beginning and ending with flour. Fold from top to bottom until combined.

Pour into the prepared cake pan. Sprinkle with the toasted sesames.

Bake for 35 to 40 minutes, or until a skewer inserted in the middle come out clean and the cake has shrink from the sides.

Cool completely on a wire rack before inverting.

Serve with tea or chai b haleeb (milk tea).

Store in an airtight container in the fridge for three days.
Join us at the MENA cooking group next month for recipes from Lebanon.
Check out more Middle Eastern sweet recipes here: