Are you looking for an exotic and light (on the calories) dessert that takes very little time to prepare? A favorite of mine is called Muhallabieh. It is a rose water flavored milk pudding which is quickly thickened with cornstarch.
This Muhallabieh is a very traditional Lebanese dessert but you will find it all over the Middle East; particularly in Syria, Jordan, Israel, Palestine and Egypt.
Rose water is the gathered evaporated water when rose petals are distilled, part of the process used to make rose essential oil. This edible floral water is not for everybody but I find if used in moderation you can get away with serving it to almost anyone. It can be substituted with orange blossom water.
Usually this pudding is topped with pistachios or pomegranate seeds but I did not have any nor had had I time to buy some. I did have sour cherries in the freezer though so I prepared a quick Sour Cherries Sauce topping for the Muhallabieh.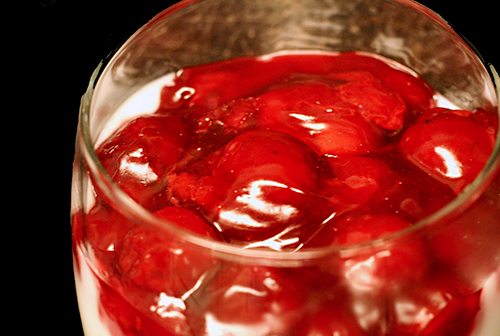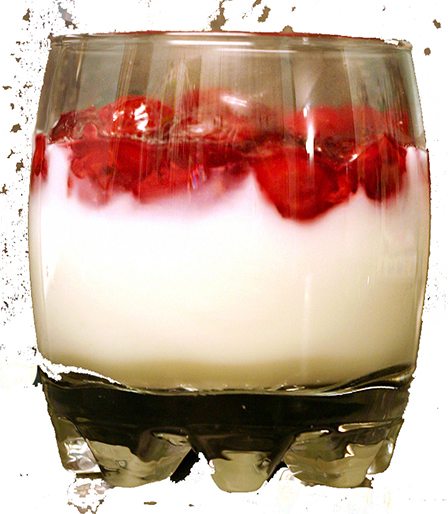 Muhallabieh
Ingredients  
For Muhallabieh
6

tbsp

cornstarch

500

ml

full-fat milk

200

ml

water

4

tbsp

honey

1

tsp

rose water
For Sour Cherries Sauce
1/2

cup

sugar

2

tablespoon

cornstarch

1/2

cup

water

2

cup

fresh or frozen pitted sour cherries
Instructions 
For Muhallabieh
Whisk the cornstarch with 1/2 cup of milk and set aside. Pour the remaining milk, water, flavored water and honey, and heat gently in a medium saucepan until the sugar is dissolved.

When the milk begins to bubble on the edge of the saucepan, whisk in continuously the cornstarch mix until the pudding comes to a boil and thickens like thick custard. Remove from heat.
For Sour Cherries Sauce
Mix the sugar and cornstarch and water in a small saucepan. Add the sour cherries.

Cook over a medium heat until in comes to a boil, lower heat and simmer for 2 minutes more.

Remove from heat and let cool.
Assembly
Pour into 6 individual bowls or wine glasses and top with sour cherries sauce. Let it cool in the fridge until set, about 3 hours.
Check out more Lebanese recipes: