Who could resist these beautifully grilled chicken skewers known as Lebanese Shish Tawook?
Marinated in yogurt, lemon juice, tomato puree, loads of garlic, and shish tawook spices, this is one excellent chicken shish tawook recipe.
Believe it or not, this Lebanese Shish Tawook recipe has been the number #1 recipe on on the Cultureatz blog for the last few years. But the post needed a bit of spit and shine so here is my revamped version. I hope it remains your favorite post for a long time to come.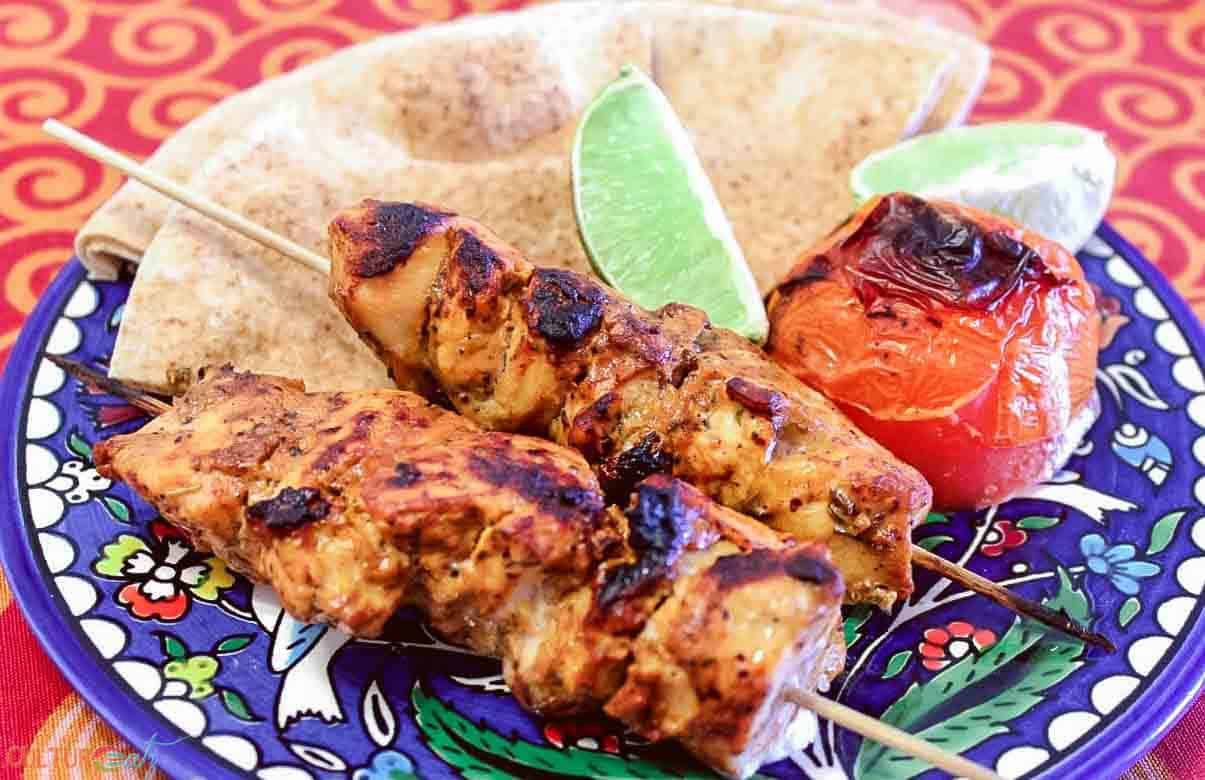 Let's Explore Lebanon
The Republic of Lebanon is a small Middle Eastern country and its trendy capital is Beirut. The country dips its coast along the beautiful Mediterranean Sea and Lebanon shares a border with Syria and Israel.
Lebanon is a country with a long and rich history. Phoenician, Egyptian, Roman, Umayyad, Crusader, and Ottoman ruins are scattered about the country. Lebanon is a country rich in natural scenery from beautiful beaches to mountains and valleys. Most everyone in North America and Europe is familiar with Lebanese cuisine.
Popular Food in Lebanon
They include an abundance of starches, whole grains, fruits, vegetables, Tabouleh Salad, fresh fish, and seafood. Mezze, an array of small dishes such as pickled vegetables or raw vegetables, hummus, baba ghanouj, are common. The Lebanese flatbread is a staple to every Lebanese meal and can be used to replace the usage of the fork.
Lebanese chicken recipes are enjoyed occasionally, as are Lebanese lamb and goat kebab recipes. Grilled marinated seafood and skewered meats often make up the main meal. Turns out the Lebanese shish kebab recipe is any kind of meat dish, from the skewered meat to a patty, to the one in a stew. Other Lebanese food recipes are baked or sautéed in olive oil.
They also include copious amounts of garlic, lemon juice, herbs, and spices, which make up the majority of the shish taouk seasoning.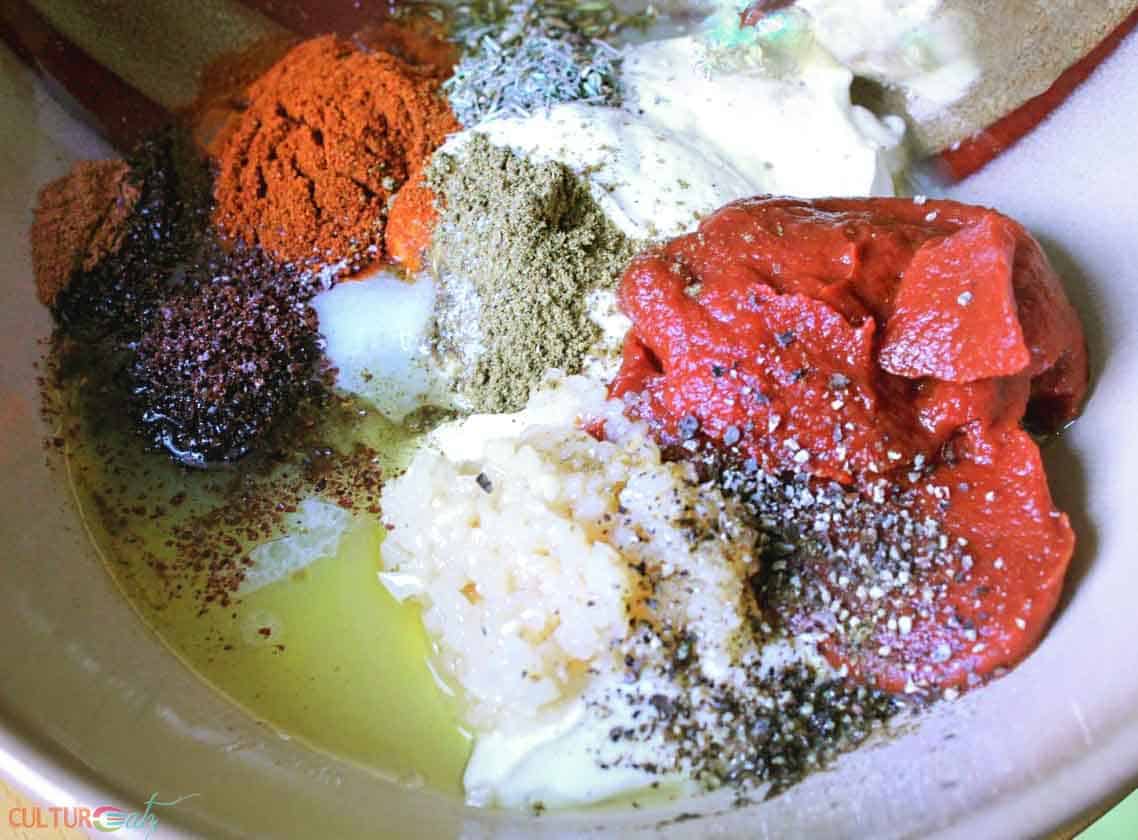 Lebanese Sweets
These include baklava, Kaak, Sfouf, Muhallabieh, sumptuous fruit cocktails, oriental-flavored ice creams, and Maamoul. Arak, an anise-flavored liqueur, is the Lebanese national alcoholic drink and is usually served with traditional convivial Lebanese meals. You will also see fruits, cheeses, nuts, and more.
Is Shish Taouk Lebanese?
The shish tawook origin actually comes from the Ottoman Empire, which was based in Turkey. The word "Shish" means a skewer and the word 'tawook' means chicken. So you may see several names for the Lebanese tawook recipe. Here are a few spellings I have come across:
Chich taouk recipe

Taouck Lebanese marinade

Tauok chicken kebab

Shish taouk Lebanese recipe

طاووق لبناني

Shish tawok Lebanese chicken skewers

shish tawouk recipe

Lebanese Shish
Tawook
Shish Tawook is one of the best-known Middle Eastern chicken recipes.  And even if the name has actually Turkish roots, you can find it in most Arabic countries, like the Persian's Jujeh Kabob.
But for most people, Arabic Shish Tawook chicken skewers are synonymous with Lebanese restaurants, often served as a shish tawook wrap with pita bread. And it is no surprise we have incorporated these delicious grilled meat skewers into our diet because they are a type of grilling technique.
The shish taouk sauce includes a base of yogurt, lemon juice, tomato puree, loads of garlic, and exotic spices which includes a healthy dose of sumac. This recipe is adapted from Hungry Foodies recipe.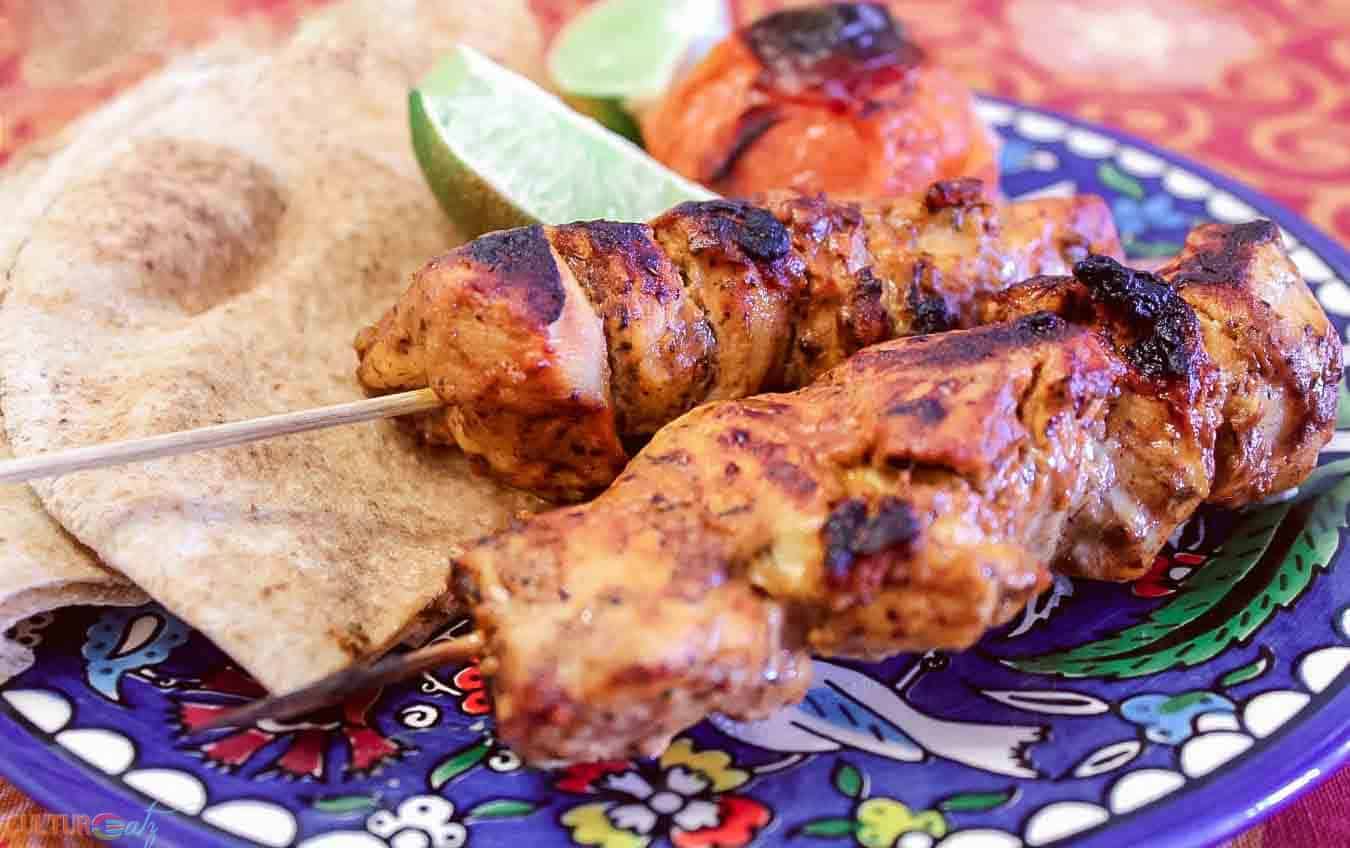 What Does Shish Tawook Taste Like?
I always get the chicken Lebanese taouk plate when I go to a popular fast-food Lebanese joint in my city. They often cook it traditionally on a long skewer that is rotated by hand. My best Lebanese Shish Tawook recipe is a smaller scaled version that can be made at home and tastes just like the real deal.
The shish taouk marinade recipe is creamy and tangy, has a nice shish tawook spice mix, with earthy aromas, and is full of garlic. It greatly seasons the tender and juicy marinated chicken, giving the perfectly charcoal grilled Lebanese chicken shish tawook recipe a lot of depth of flavor.
I am amazed at how well this chicken shish kabob recipe turned out at home, it may be even one of the best shish taouk recipes I ever tasted.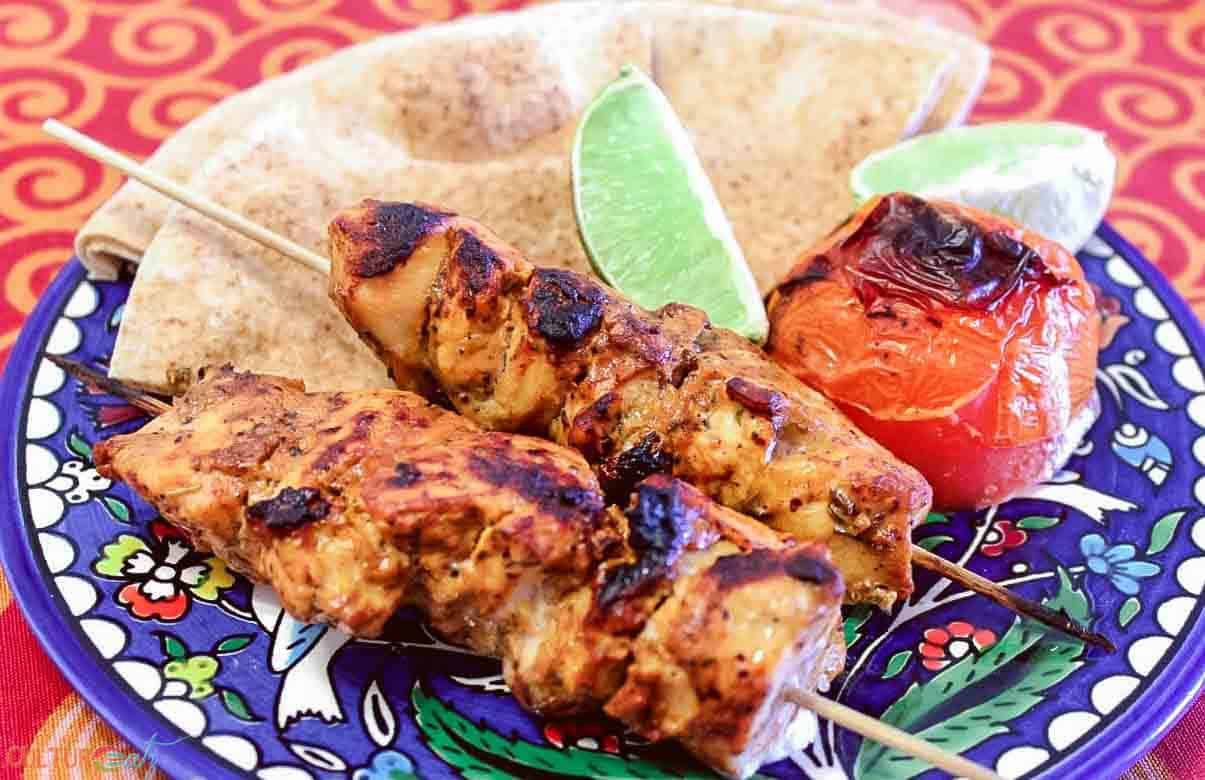 Lebanese Shish Tawook - Grilled Chicken Skewers
It's so easy to make Lebanese Shish Tawook, just marinate your chicken in yogurt, lemon juice, tomato puree, loads of garlic, and a few exotic spices
Ingredients  
2

boneless skinless chicken breasts

cut into large cubes

1/4

cup

Greek yogurt

3

tbsp

olive oil

2

heaping tbsp tomato paste

6

cloves

garlic

minced

1

lemon

juice

1

tbsp

paprika

1

tsp

thyme

1

tsp

cumin

2

tablespoons

sumaq

1/4

tsp

cinnamon

1/4

tsp

nutmeg

salt and pepper to taste

4

skewers

soaked in water for 30 minutes

1 to

tomato

halved and broiled

2

pitas

cut into triangles
Instructions 
In a bowl, combine yogurt, tomato paste, olive oil, minced garlic and lemon juice. Stir in all the herbs and spices well.

Coat the chicken with the marinade and refrigerate for 2 to 8 hours.

Thread chicken on skewers and grill or broil on high for 10-15 minutes, turning once, until you see visible char marks and the chicken is cooked.