Searching for a healthy snack for your busy lifestyle? Try my no-bake healthy date bars. Packed with nuts, soy, and dried fruit, each bite will satisfy your cravings without compromise!
I'm so excited to share my latest little recipe. It's a 3-ingredient no-bake healthy date bar that's got all the antioxidants, fibre, and protein we need around these parts!
These would make an ideal snack any time of day: as part of our pre-workout, a satisfying mid-day snack, but also before bedtime when that last hunger pang hits you.
Are Medjool dates a healthy snack?
Medjool dates are a nutritious and natural sweetener that can be enjoyed on their own or as an ingredient in recipes. The fruit contains many minerals including potassium, magnesium, etc., which make them perfect for those who need extra nutrients!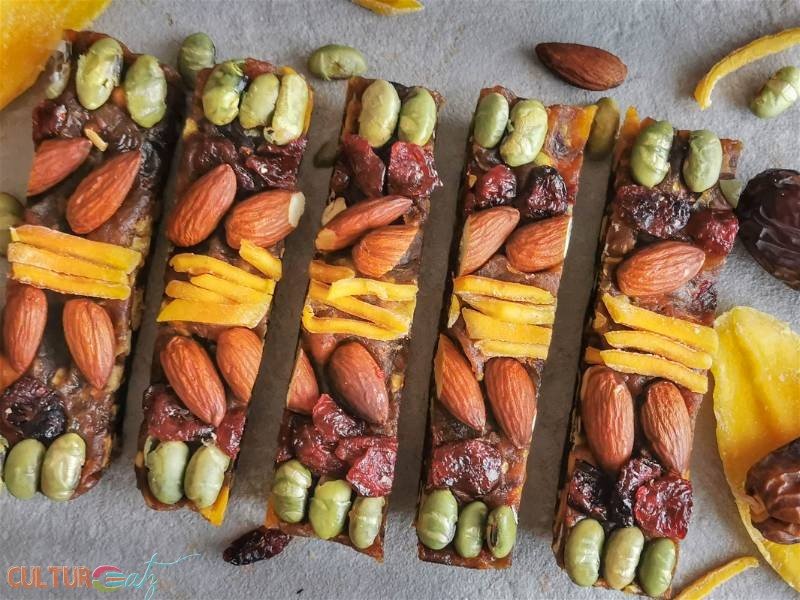 Disclaimer: Thank you to Natural Delights Medjool Dates for this sponsored post opportunity. Note that all thoughts and opinions are my own. Lire l'article en français ici.
What is the best way to enjoy Medjool dates?
One of the most popular ways to enjoy dates is in their natural raw form. Simply cut open a Medjool date, remove the seed, and eat away! I love to add them to my oatmeal or yogurt for breakfast.
In fact,Medjool dates can be used as a sweetener for baked goods, making dates a versatile ingredient in cooking and baking. Even some meat dishes explode with flavour when you add a few dates to them.
Best of all, fresh dates offer the most lovely chewiness in the mouth.
Medjool dates are a delicious fruit that you can find year-round in the produce section, so grab some today!
Why are dates good for you?
Medjool dates are loaded with soluble fibre, thus helping to keep you regular.
You will find sixteen essential nutrients in dates, including potassium, selenium, magnesium, manganese, iron, and copper.
Dates also provide antioxidants that protect cells from damage by free radicals
Medjool dates will help bones stay healthy, help to prevent osteoporosis, and can add suppleness to your skin.
There's evidence that dates can help prevent cancer, osteoporosis, diabetes, and heart disease.
You'll be healthier and happier with Natural Delights Medjool Dates. With their healthy properties, these delicious treats will benefit your physical health, and give you an extra boost to stay active all day long!
Add them to your must-have-at-home list of special foods with benefits.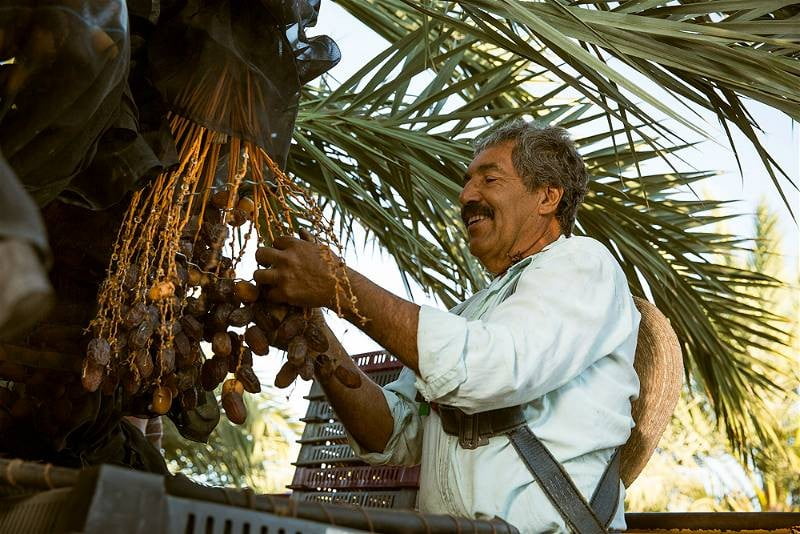 No-bake healthy date bar recipe
These no-bake bars are the perfect grab-and-go snack. They contain loads of minerals from dates, which makes them sweet enough that you can enjoy them without feeling guilty about it too much!
Since dates are a natural sugar substitute, no extra sugar is added to the recipe. The natural chewy consistency of dates makes them malleable, plus once refrigerated, the bars will keep their shape.
Have you guessed the Surprise by now? It's the nuts and dried fruits included in them. You can use any mix of nuts and or dried fruits that you want. I chose almonds, cranberries, mango, and roasted soy for a bit of extra protein.
And I had the best time decorating the top of my bars with a mosaic design of my added ingredients. Very option but highly entertaining.
If you are looking for a healthier snack or dessert, or even a quick breakfast on the go. Look no further than this recipe.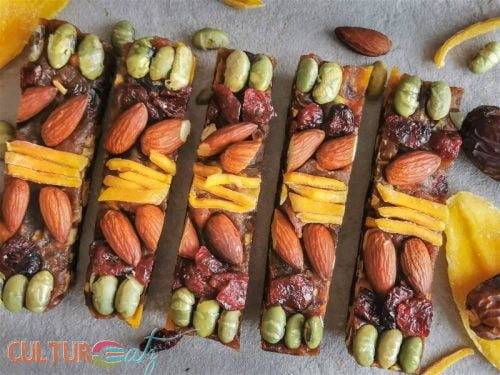 No-Bake Healthy Date Bar Surprise
Packed with nuts, soy, and dried fruit, these no-bake healthy date bars are sure to satisfy your cravings!
Ingredients  
1

cup

Mejdool Dates

grounded ahead in a food processor

3/4

cup

Nuts and Dried Fruits, chopped

 I used soy, cranberries, almonds & mango

1

tbsp

Butter

or coconut oil
Instructions 
Heat a small pan at medium-high heat. Add the grounded dates and the butter.

Stir until the dates get softer, about 3 minutes. Add the nuts and fruits, and mix until they are mixed in with the dates for another 2 minutes.

Line a small ( about 5 x 6 inches) dish with parchment and add the date mixture to it. Press the mixture evenly, trying to keep a rectangular shape. use a wooden spoon first as the dates will be hot.

OPTIONAL: add a small handful of nuts and fruits on top. I decided to create a mosaic look.

Cover the mixture and let it set in the refrigerator for 2 hours. When ready, cut into 10 squares or 5 rectangles and serve.
Notes
121 Kcal per portion when cut into 10 squares