If you're looking for something new and different to try, then this yummy spicy roasted carrots and Medjool dates with yogurt dish is a great choice.
It's time to add some flavour to your weekly menu! This spicy roasted carrots recipe is packed with bold tastes and nutrition, making it the perfect meal for anyone who loves bold flavors and healthy eating. Let's get cooking!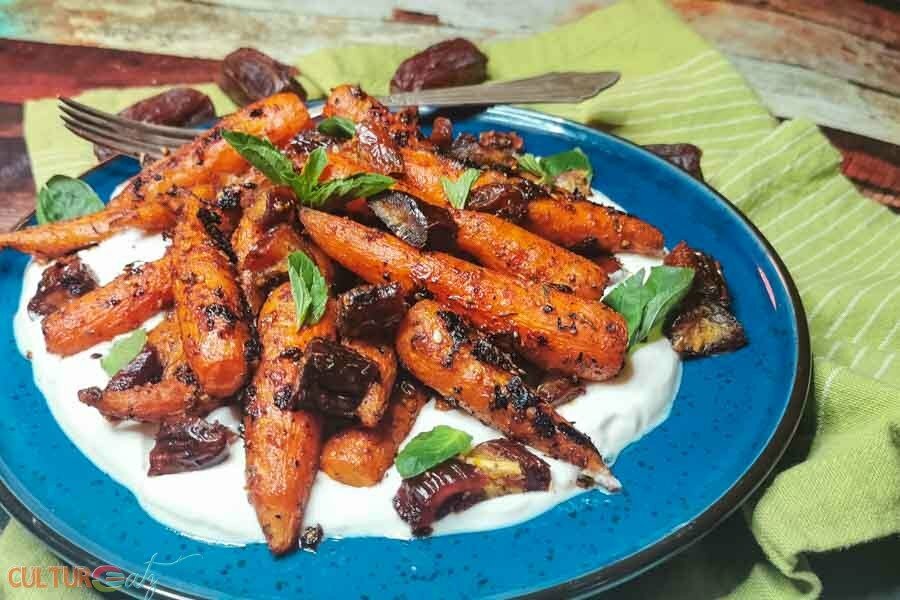 Disclaimer: Thank you to Natural Delights Medjool Dates for this sponsored post opportunity. Note that all thoughts and opinions are my own. LIRE L'ARTICLE EN FRANÇAIS ICI.
How to Roast Carrots with the Best Seasoning for Carrots
Roasting is absolutely one of my favourite ways to bring out the flavour of vegetables. This technique concentrates the flavours and the natural sugars start to caramelize. Additionally, roasting helps preserve nutrients by sealing in moisture.
My roasted carrots recipe is very reminiscent of Middle Eastern and North African dishes. The herbs and spices are very close to the Za'atar mix. And the touch of harissa paste, a paste made from chillies and herbs, adds a nice touch of heat.
Carrots are naturally sweet so roasted carrots are especially delicious and when seasoned correctly, now that is a way to really knock the flavours out of the park.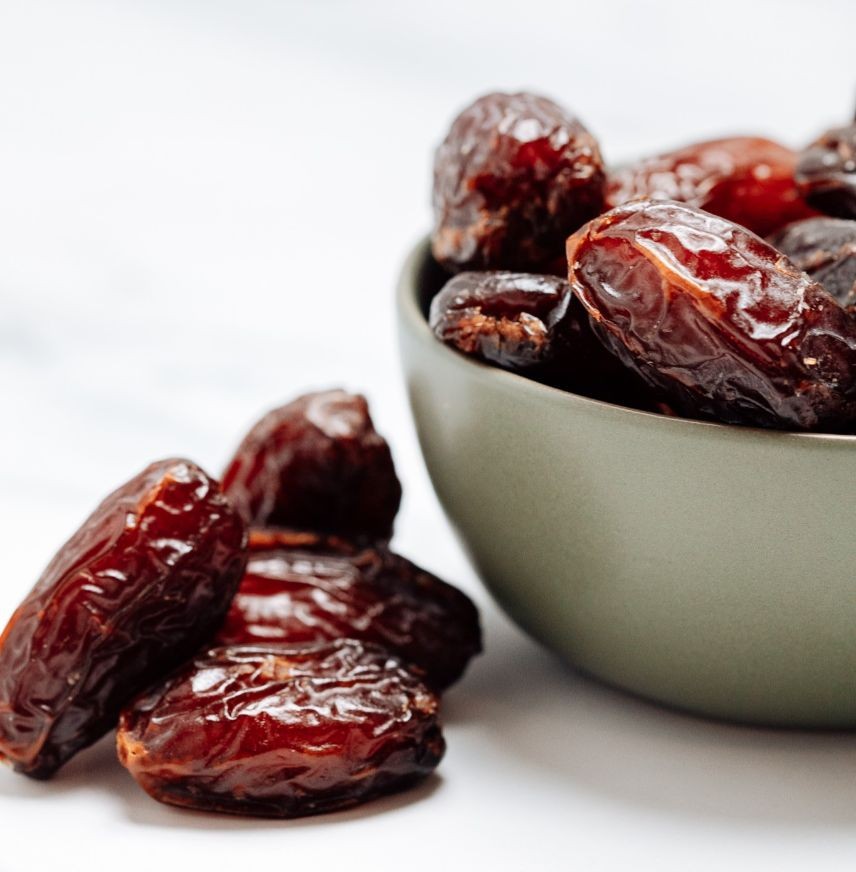 Adding a Touch of Sweetness with Pitted Medjool Dates
When you serve a spicy dish, like spicy carrots, you need to balance out the intensity with another flavour. In this case, I choose Medjool dates. Medjool dates are a very common ingredient in all kinds of North African dishes, especially Moroccan ones like couscous.
Did you know that Natural Delights Medjool Dates are available year-round in your produce section? That is because they are a fresh fruit and never dried. And I love how Medjool dates are so versatile as they can be used in both cooking and baking.
I could not resist including them in the Moroccan spiced roasted carrots dish. I even roasted the Medjool dates with the same seasonings as the carrots.
I always keep a few Medjool dates around for that 3 pm pang of hunger. I'll enjoy them with a small handful of nuts or a slice of cheese. It's a great way to keep my energy levels up till dinner time.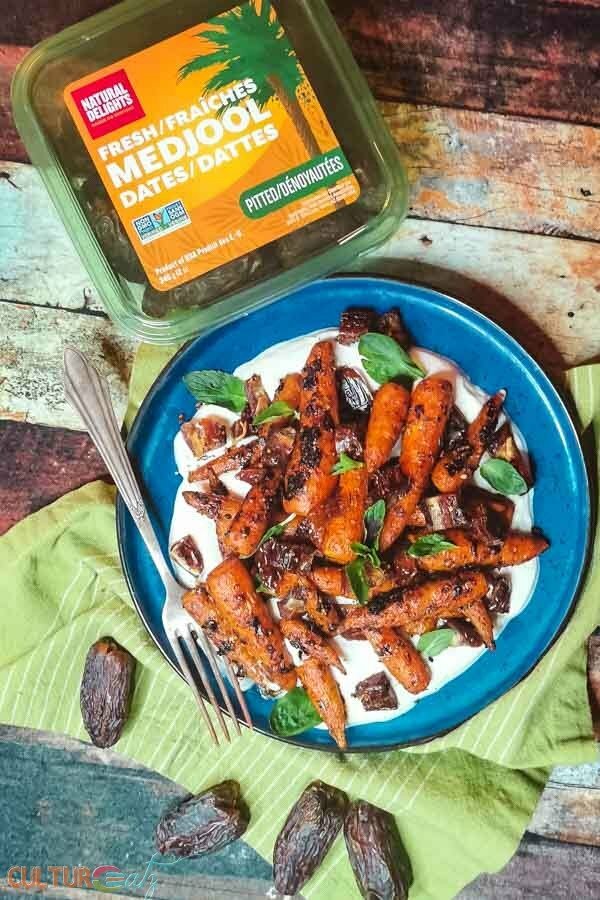 How to Make the Yogurt Sauce
While the carrots and Medjool dates are cooking away in the oven you can prepare your yogurt sauce. Simply whisk together the plain Greek yogurt with the pressed garlic clove, lemon juice, and honey in a small bowl until smooth.
You could even do this yogurt dressing the day. Giving time for the flavours to combine leave you surprised by how much the flavours will have improved.
The garlic tang of the sauce is the perfect complement to the sweet and spicy roasted carrots. Each bit is perfectly balanced and the yogurt can cool down any extra heat coming from the harissa paste.
When you are ready to serve the roasted Moroccan carrots, prepare a serving plate that has been covered on the bottom with the thick Greek yogurt sauce.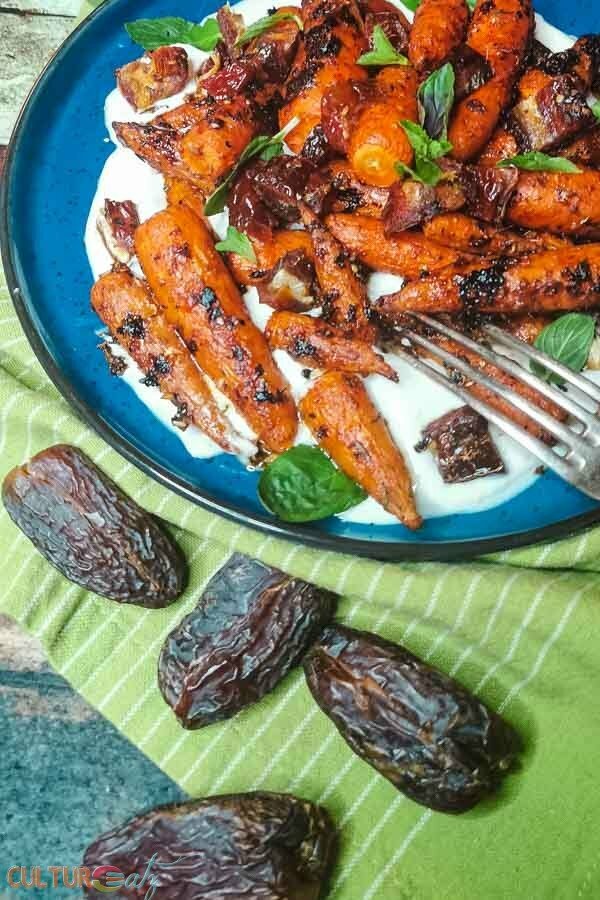 Ready to Dive Into the Spicy Roasted Carrots and Medjool Dates with a Fork?
Once your spicy roasted carrots are cooked, transfer them onto the serving plate and sprinkle the chopped Medjool dates on top. Finally, garnish with small or chopped mint leaves.
The sweet and spicy roasted carrots and Medjool dates with yogurt recipe is an exciting way to spice up any meal!
Plus, don't we all deserve to introduce ourselves to some interesting and new while still enjoying something familiar like honey-roasted carrots?
You may serve this spicy carrot recipe as a vegetarian main course or as a side dish—either way, it's sure to be a hit!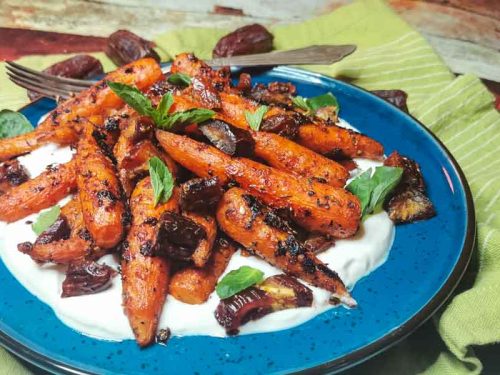 Yummy Spicy Roasted Carrots & Dates With Yogurt
Want to add some flavor to your menu? This yummy spicy roasted carrots and Medjool dates with yogurt dish is a great choice.
Ingredients  
Spicy Roasted Carrots
1

pd small carrots

1

tsp

coriander seeds

crushed

1/2

tsp.

cumin

1/4

tsp

dried thyme

1/4

tsp

toasted sesame seeds

1/4

tsp

salt

freshly ground pepper

to taste

1

Tbsp

olive oil

2

tsp

harissa paste

1

Tbsp

honey

1

Tbsp

lemon juice
Yogurt Sauce
1

cup

5% greek yogurt

1

garlic clove

1

tsp

lemon juice

1

tsp

honey
Instructions 
Pre-heat the oven to 400F and place the grill on the lower rack. Prepare a baking sheet with a layer of parchment paper.

Clean the carrots thoroughly with the skin on. Cut in half if, if they are big.

In a small bowl, mix all the seasonings ingredients with the olive oil, harissa paste, honey, and lemon juice. Toss the mixture with the carrots and Medjool dates on the baking sheet.

Roast for 15 minutes, remove the Medjool dates and set them aside. Turn the carrots and roast for another 10 minutes. Turn the carrots and roast for another 10 minutes, and remove from the oven.

While the carrots are roasting, put all the yogurt sauce ingredients in a bowl, and mix well. The yogurt should be thick.

Cut the Medjool dates into small pieces once cooled to the touch.

In a serving dish, spread the yogurt on the bottom of the plate, sprinkle half the Medjool dates, arrange the carrots on top, and sprinkle the remaining Medjool dates. Decorate with a few mint leaves. Enjoy!