Looking for easy-to-make snacks with few ingredients since we all have short food pantry lists? I have 4 great recipes for you made with Medjool dates: date paste, butter, bliss balls, and chocolaty bars.
How is everyone doing right now? I am pretty good but I miss interacting with fellow humans. I have definitely noticed that having a bit of sweet around the house is helping me stay mentally sane right now. How about you? I have been hunting down and trying out recipes focusing on easy to make snacks with little ingredients. Because we are all short on the pantry staples.
Well, I have you covered with not one, not two, not even three…but four few ingredient desserts recipes with dates, more specifically Medjool dates. So let's get cooking!
Disclaimer: Thank you to Natural Delights for this sponsored post opportunity. Note that all thoughts and opinions are my own. Lire l'article en français ici.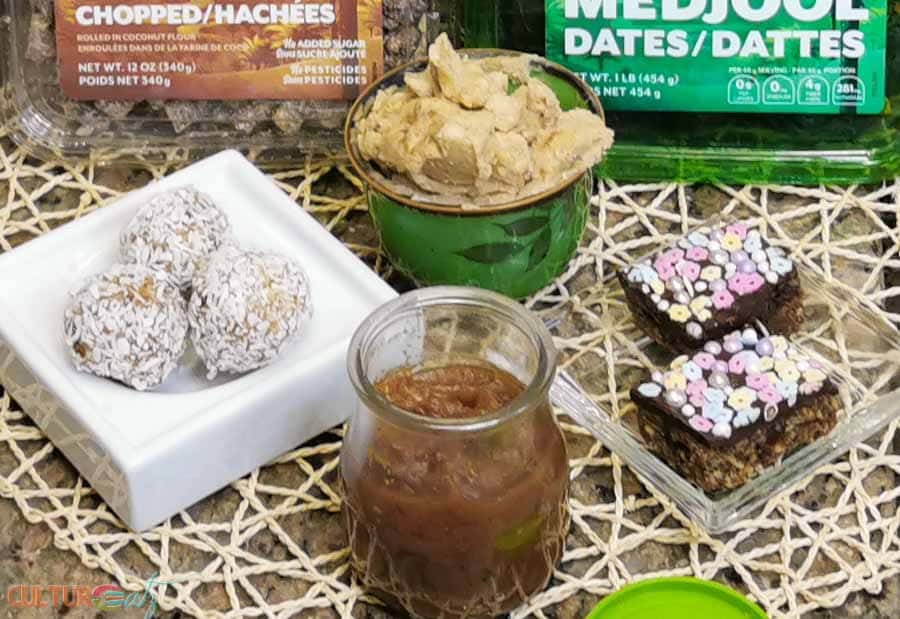 Why are dates good for you?
Medjool dates are loaded with soluble fibre. That is good news for those who are looking to lower their cholesterol levels. And they help to keep you regular if you suffer from constipation.
With strong levels of minerals, they will help bones stay healthy and help to prevent osteoporosis. These include potassium, selenium, magnesium, manganese, and copper.
The iron found in Medjool dates can help prevent anemia.
High in antioxidants and micronutrients, they can help your body fight off free radicals and can add suppleness to your skin.
As you can see, the health benefits of dates are huge. And they are perfect to combat certain issues we are all dealing with while self-isolating. Add Medjool dates to your list of special foods with benefits.
Finding happiness in hard times
Even with everything going on around the world, we still need to celebrate life, spring, and highlight special events. And living alone is not an excuse to get out of it.
It's the perfect time to look forward to new beginnings. There are still many ways to contribute to your community outside your 4 walls. Don't forget to send love by text, phone, or video chats to friends and family.
If you are like me, finding happiness is easy when you have a healthy sweet tooth. Without overindulging of course and making our treats as healthy as possible. But how can you achieve this?
Medjool dates are one of the best natural sweetener options. Yes, they are a healthy sugar substitute. Medjools are so versatile for baking during the holidays as well as healthy, post-holiday smoothies and snacks.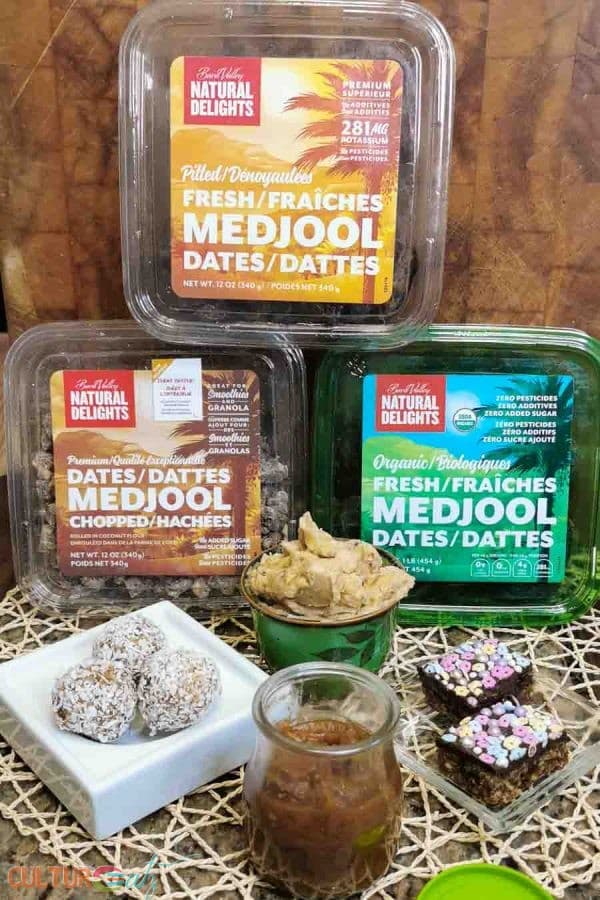 Not all dates are equal
Does your grocery store have so many date options you don't know what to pick? Well here is a little 411 for you. Dates are picked when dry and steamed before packaging. Natural Delights Medjool dates are picked when they are ripe, juicy, and have a creamy texture. Which one sounds better to you?
So look for Natural Delights Medjool Dates when grocery shopping (online or in-person). Here are a few reasons why:
They contain no sulfites or preservatives.
Natural Delights follows the most stringent growing practices producing the highest quality fruit.
While not all product is labeled organic, our farmers all follow organic practices.
They are available year-round in the produce section at your favorite grocery store.
In the province of Quebec, you can find them mostly at Metro and Sobeys.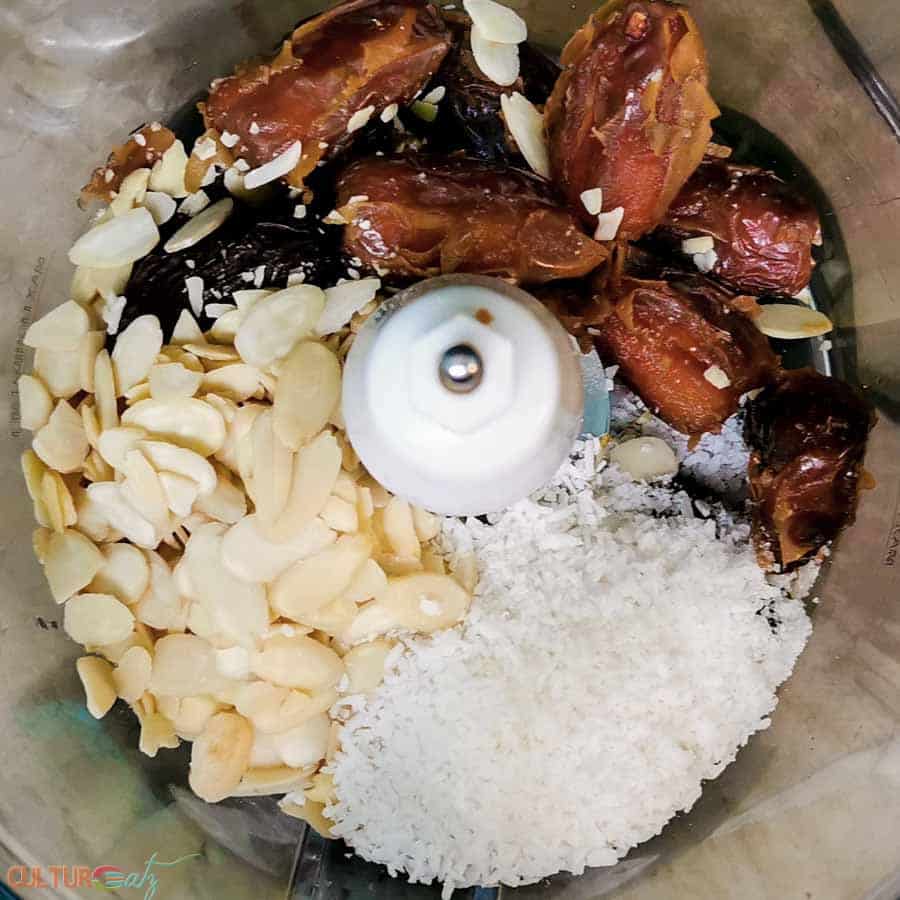 Easy to make snacks with little ingredients
Let's get to the recipes, shall we? I have four delicious recipes for you to try that use common on a food pantry list ingredients. You might have everything at home already.
The kitchen checklist of ingredients you need to make all 4 sweets in this collection of dessert recipes are:
pitted Medjool dates
butter (or vegan butter)
almonds, and nuts or trail mix
unsweetened shredded coconut
dark chocolate chips (or vegan chocolate)
cinnamon
salt
All recipes are gluten-free and egg-free. If you are vegan, dairy-free, or on a paleo diet, I have included two easy vegan-friendly alternatives: vegan butter and vegan chocolate.
To make all four recipes you will need 2 pounds (907gr) of Medjool Dates. And it just so happens that the biggest sized container of Natural Delights Medjool Dates is exactly 2 pounds.
Did I not tell you I was going to suggest easy dessert recipes with few ingredients? Not only that but, we have 2-ingredient desserts recipes, 3-ingredient recipes, and 4-ingredient recipes. Easy peasy!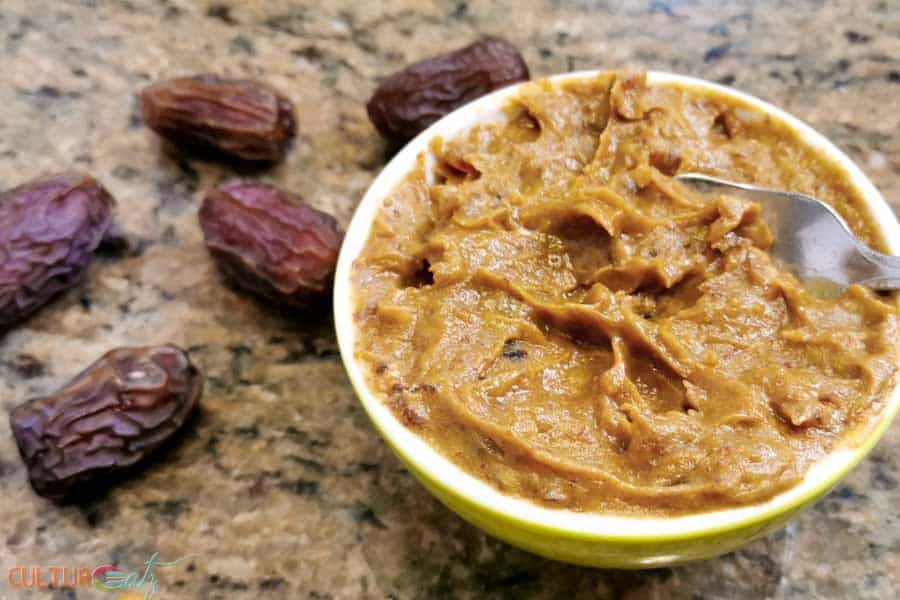 One last thing before the recipes. I have one excellent Medjool date tip to share: in a bowl, cover the Medjool dates with very hot water for 15 min, and drain. it will help to plump them up a bit and your food processor will appreciate it.
How to Make Date Paste (V GF EF DF Paleo)
Of all the dates Medjool recipes I chose, this was the easiest and the most rewarding. And that is because of its multi-purpose qualities. Who knew cooking with dates could be so easy.
This makes a perfect spread for you toast in the morning, as a dip with fruits, add a dollop to your yogurt. I even enjoyed it with a salty cracker.
You can even use it for the next recipe below…
[mpprecipe-recipe:546]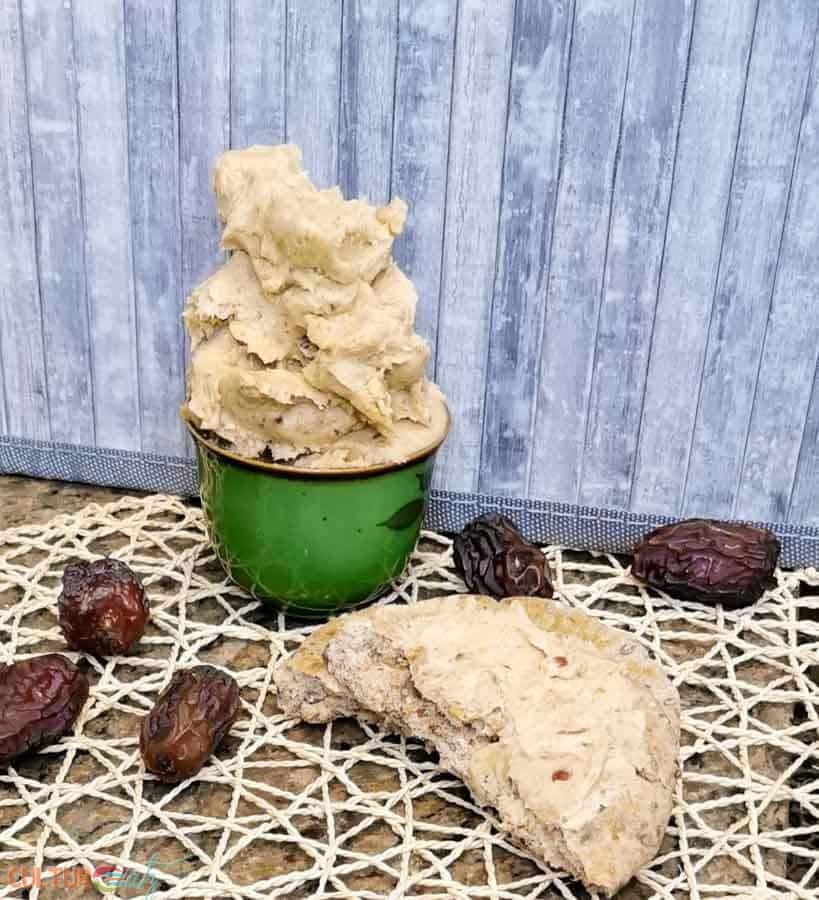 How to Make Date Butter (GF EF, V DF Paleo options)
You thought the date spread was amazing for breakfast, just wait until you slather a nice layer of the date butter on your bread.
So amazing. Make sure to use salted butter or add a very generous pinch to unsalted butter. It really makes a massive difference in the taste.
[mpprecipe-recipe:545]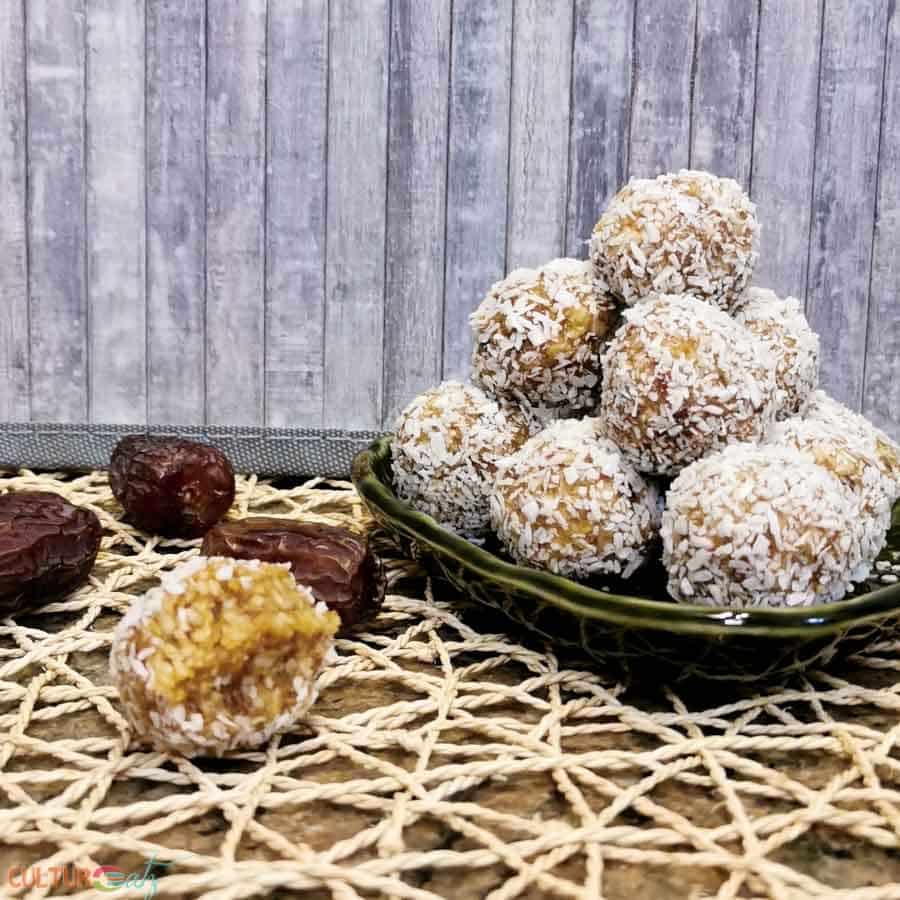 How to Make Caramel Coconut Bliss Balls (V GF EF DF Paleo)
If you are not finding bliss in being stuck at home, have a bliss ball instead.
Packed with dates and nuts, date balls recipes are the perfect solution to 3 pm cravings or a little sweet treat in front of the TV in the evening. Have one and you will realize quickly why they are also called energy balls.
Pssst, I have a secret to share. There is no caramel in these bliss balls. But Medjool dates have a definite caramel-like flavor profile. Add a healthy dose of salt and it will remind you of salted caramel.
It's one of my favorite desserts with dates recipe.
[mpprecipe-recipe:544]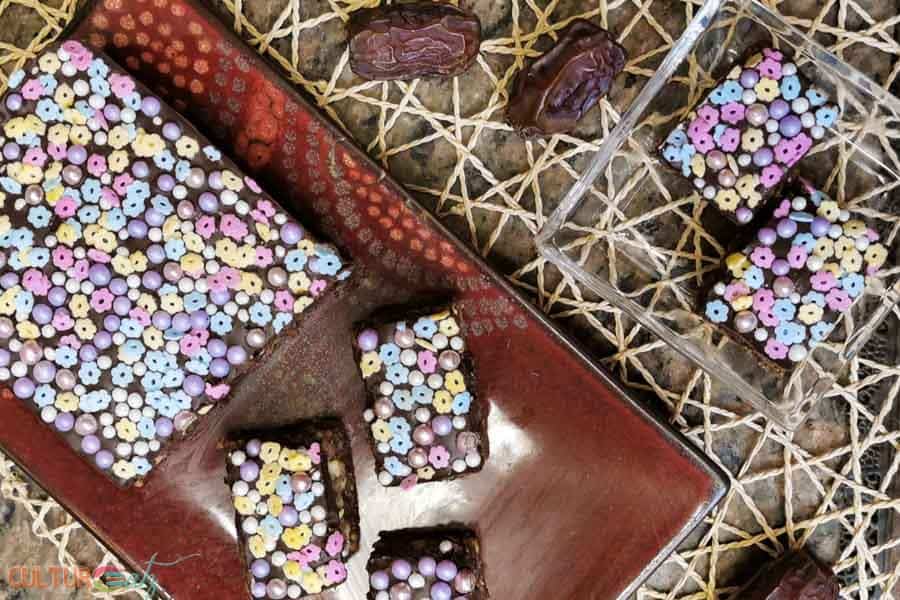 How to make Dark Chocolate and Date Nut Bars (GF EF, V DF Paleo options)
And now, last but not least, the pièce de resistance date nut bar. There are tons of dates bars recipes but this one is so simple and I love the chocolate on top. Perfect for a post-meal dessert.
Optional, if you happen to have or you can get colored sprinkles, these bars will make a simple yet elegant dessert.
[mpprecipe-recipe:543]
But wait, I have for you a…
BONUS 5th recipe
Besides learning to cook with what you have, the second biggest topic online is no-waste food. With certain hard to find kitchen staples, I think we are all getting a wake-up call about not wasting anything.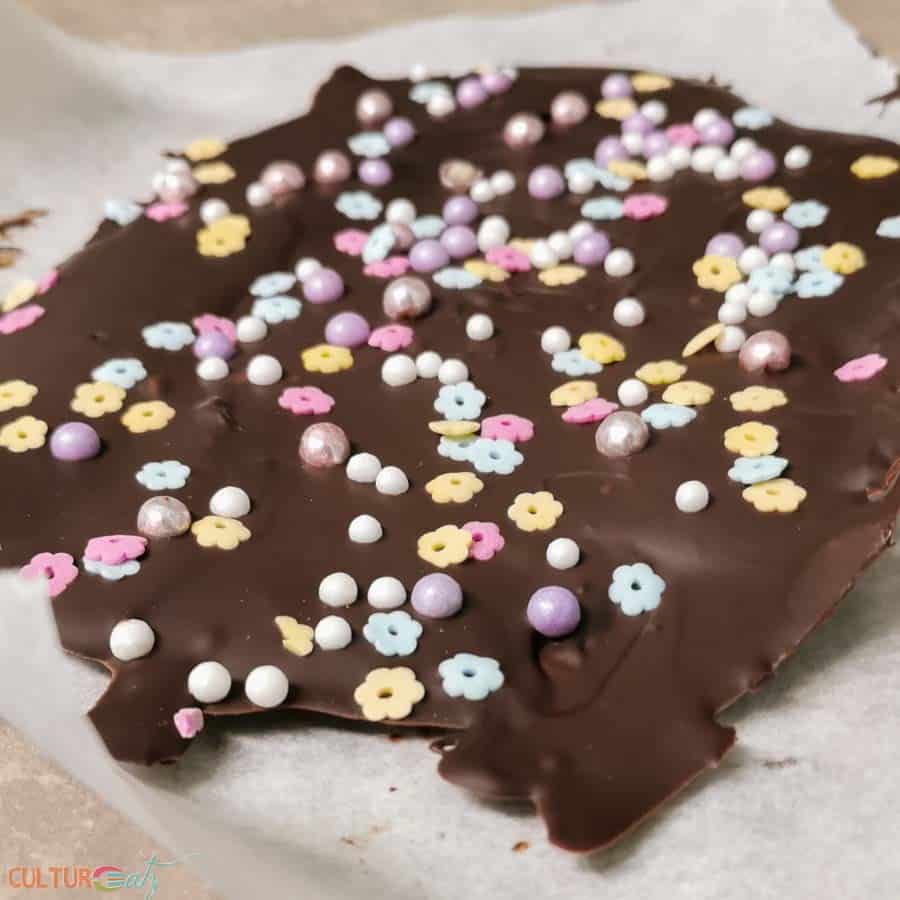 And that is exactly what we will do with the leftover chocolate chips from the bag you opened for the date and nut bar recipe, and any sprinkles you may have.
Put the remaining chocolate on a parchment paper and microwave for 20 seconds at a time, When everything is melted, spread the chocolate in an even layer, and add sprinkles on top. Place in the fridge to set for a bit.
Voilà, Chocolate Bark with Sprinkles
I hope you will enjoy making all these easy to make snacks with little ingredients.
And everyone please stay safe, stay home, and stay healthy.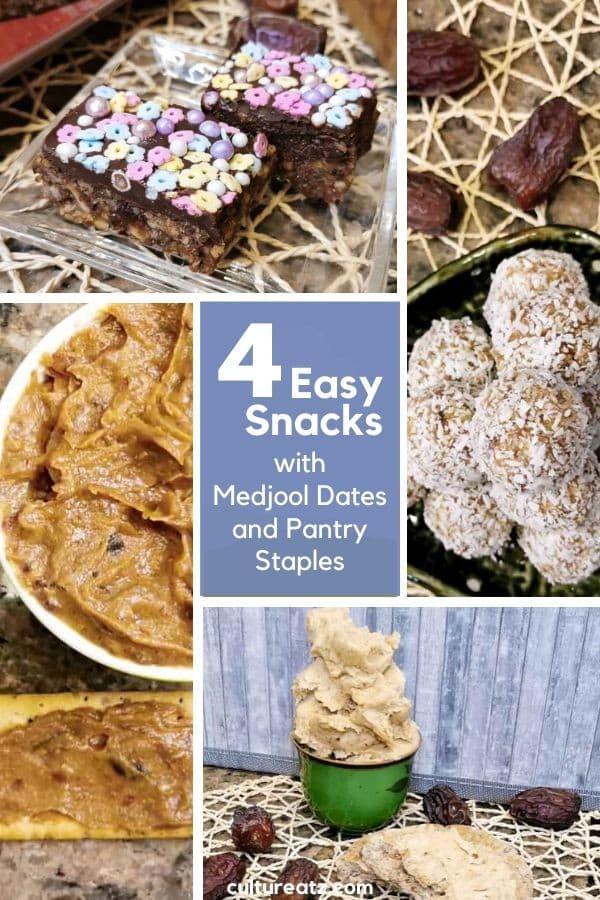 Looking for more date recipes? May we suggest…
Spicy Roasted Carrots Dates with Yogurt
Mashed Potato Candy
Qatari Rangina (Sweet Buttered Dates)
Mashed Potato Candy with Medjool Dates