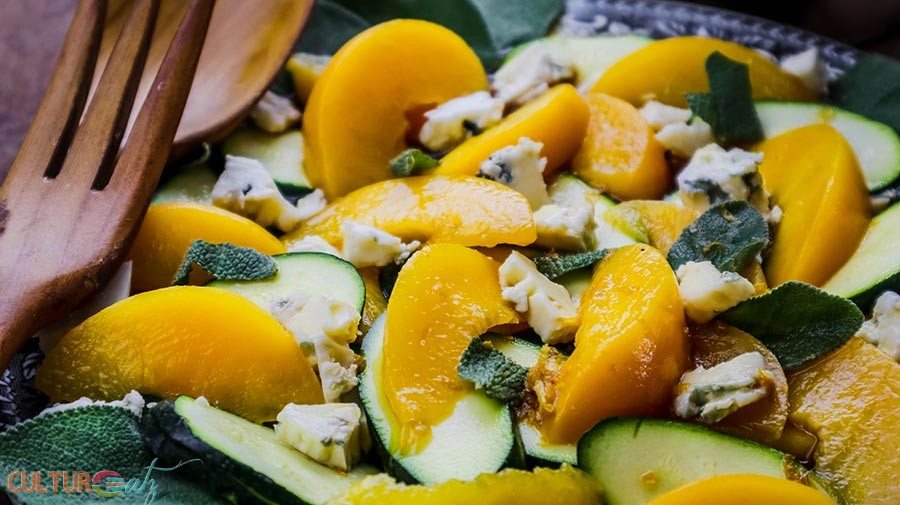 Do you love salads with fruits and unexpected twists? This Peach Zucchini Salad Sage Blue Cheese with a Citrus Espresso  Vinaigrette checks all those boxes and more. Did I put coffee in my dressing? Yes, and it is the bomb!
I am usually pretty terrible at making original and fun salads. Or lazy perhaps. But this time I really nailed it. You are probably thinking "what the heck is in here" as you read the title. Fruit? Blue cheese? Sage? And espresso? I know it sounds like a weird combo but this peach zucchini salad sage blue cheese with a citrus espresso vinaigrette totally works. I think this is my new favorite salad dressing too. Knock-your-sox-off vinaigrette.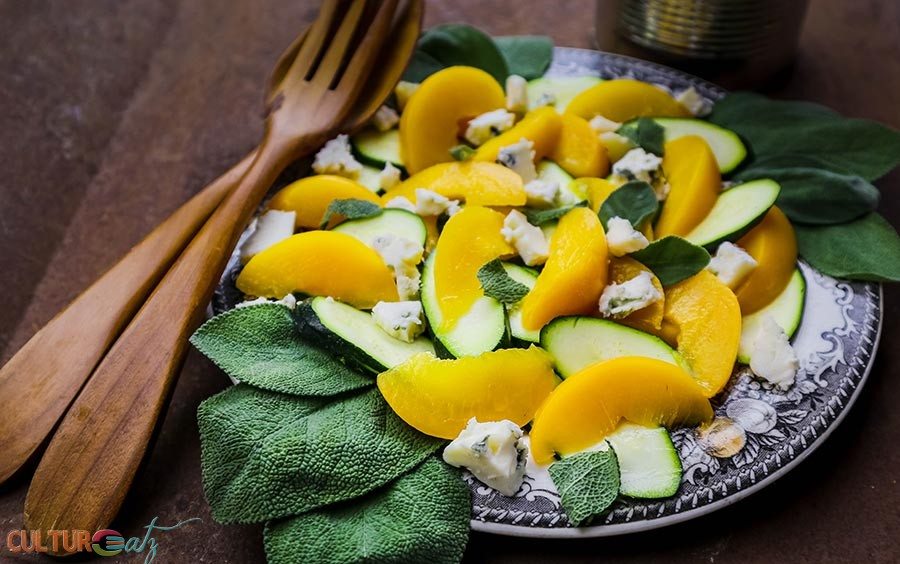 Yes You Can Canned
Nothing beats biting into a fresh, ripe and warm peach on a lovely summer day. They are in my top five favorite summer fruits. But the season here in Canada is pretty short and I have no intention of depriving myself of that pleasure during the rest of the year. I swear by the time end of spring comes I cannot eat one more apple or orange without screaming inside. It's February and I am already howling.
I used to suffer miserably until I rediscovered the canned fruit aisle in my grocery store. Now I can have my peaches again year round. But we think canned fruit is not as healthy as the real thing. Well, according to a study by the Linus Pauling Institute at Oregon State University, canned peaches are higher in antioxidants and Vitamin A and are nearly four times higher in Vitamin C and 10 times higher in folate than fresh peaches. California cling peaches are grown and canned on family farms which adhere to the highest agricultural and safety standards, ensuring the freshest peaches make it to the shelf.
If peaches are out of season for you as well, check out these other awesome peach recipes made from canned peaches: my Peach Rosette Tart, my Boozy Peaches and Cream Trifle and this Peach Walnut Coffee Cake. Disclosure: this post was sponsored by California cling peaches.
Did you get your FREE PRINTABLE yet?
Surprise! I have prepared a Cheat Sheet that includes 41 Cooking and Baking Ingredient Substitutions that are commonly found in a kitchen. Click here to get your FREE Ingredient Substitutions Cheat Sheet right now!

Hands Down Best Vinaigrette
The thing is with canned peaches you bend towards sweet recipes. But I wanted to try a savory inspired one instead and it totally worked in this very creative, if not confusing, peach zucchini salad sage blue cheese with a citrus espresso vinaigrette. Well confusing only when you look at the name of it. Flavor-wise it all works together beautifully. It's fruity and fresh, a touch of pungent with the blue cheese. I'll be honest the sage I got only because the store had no basil. Seriously? No basil? In small quantities, the sage worked very well.
And as crazy as it sounds, the espresso vinaigrette takes it to the next level. Wow, it was amazing. I think the quality of the coffee may be a big factor here so make sure you pick a very good espresso ground. I will totally use this dressing for other kinds of salads. Please give it a shot (of espresso ha ha), you will not regret it.
Yields 4 servings
Peach Zucchini Salad Sage Blue Cheese & a Citrus Espresso Vinaigrette
Do you love salads with fruits and unexpected twists? This Peach Zucchini Salad Sage Blue Cheese with a Citrus Espresso Vinaigrette checks all those boxes and more.
Ingredients
20 slices of canned peaches
2 small zucchinis
Crumbled blue cheese
Handful of sage leaves
2 ounces espresso
1 tablespoon white wine vinegar
1 teaspoon maple syrup
1/2 teaspoon grated orange zest
Squeeze of fresh orange juice
dash of salt
Instructions
Slice zucchinis thinly on a diagonal. Toss on a serving plate with the peaches.
Top with crumbled blue cheese and torn sage leaves.
In a small bowl, combine the remaining ingredients and whisk.
Pour the vinaigrette over the salad and serve.
7.8.1.2
492
https://cultureatz.com/peach-zucchini-salad-citrus-espresso-vinaigrette/
PIN IT FOR LATER! https://www.pinterest.ca/pin/266275396702999777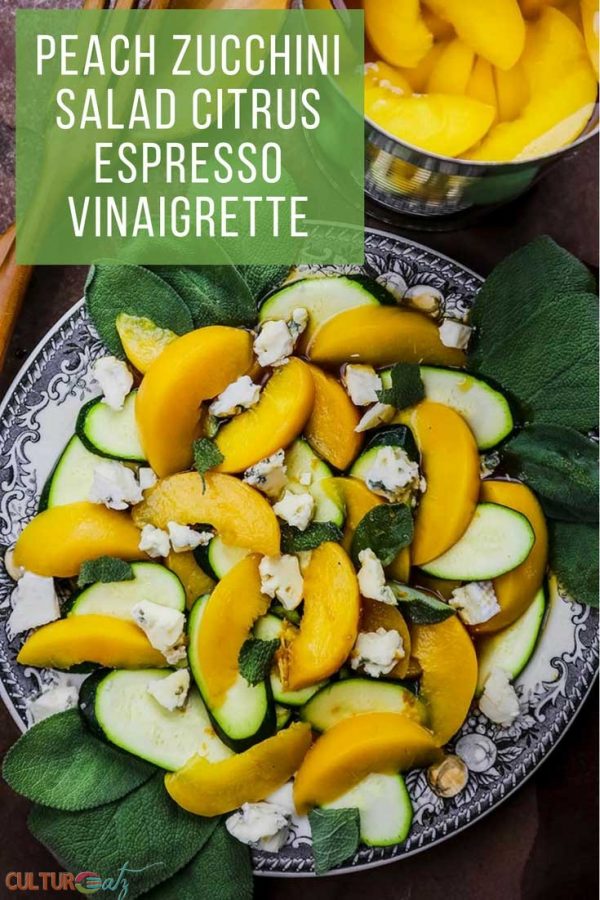 Did you make one of my recipes? I would love to see it. Take a photo and tag me on Instagram @cultureatz.
EDITOR'S NOTE: This post may contain affiliate links (disclosure policy). Please support CulturEatz by clicking on the links and purchasing through them so I can keep the kitchen well stocked. It does not alter the price you pay.