Beat the summer heat by staying cool with a bowl of refreshing savory Pear Gazpacho, inspired by the traditional Spanish cold soup. No stove required!
One of my favorite summer fruits is a perfectly ripe and juicy pear. Getting a small bucket of seasonal pears is a must. This way, I have plenty of pears to snack on and to prepare some of my best recipes with pears. Today I will show how to make an easy gazpacho recipe by blending pears with garlic, olive oil, salt, and vinegar. It's a twist on the famous Spanish cold soup recipe.
And if you prefer a dessert pear gazpacho soup recipe instead, I've got you covered too. Just read the article all the way to the end for the full instructions.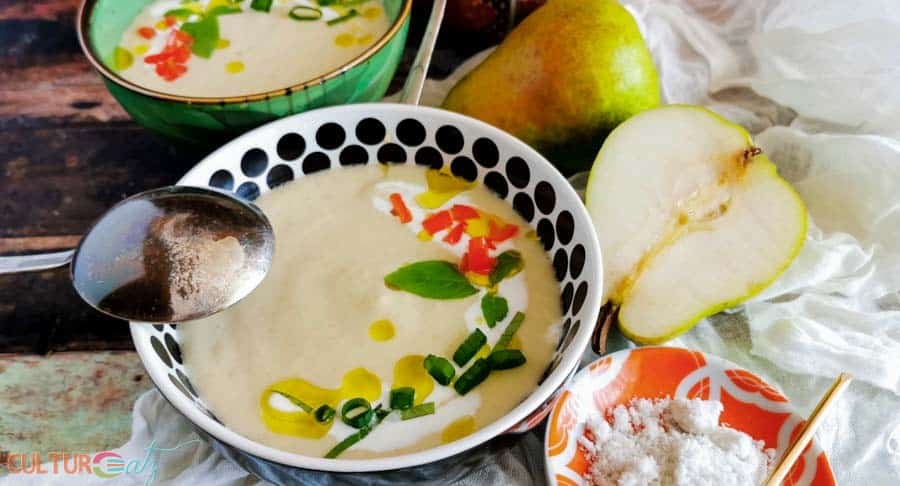 Disclaimer: Thank you to CalPear.com for this sponsored post opportunity. Note that all thoughts and opinions are my own. Lire l'article en français ici.
About California Bartlett Pears
I always long for midsummer, the time of year where pears are ready to be picked and savored. Alas, when one lives on the north side of the 45th parallel, a few more weeks of patience is required.
Thankfully, the farmers just south of this parallel enjoy an earlier crop season. California Bartlett Pears appear in stores and farmer's markets at the end of July and August.
Buying California Bartlett Pears is a sensible and sustainable choice. The pears are grown on 60 small multigenerational family farms. These pear orchard owners work together by innovating responsible farming techniques for natural pest control and fertilizer reduction.


How to tell if the pears are ripe?
Did you know that pears continue to ripen even after being picked from the tree? You can rest assured that if you buy green California Bartlett Pears, it's just a matter of days before they will be ready to eat at home.
Simply leave the greener Bartletts on the kitchen counter. Once they are mostly yellow, it's time to make your savory pear recipes, such as cold soup recipes or salads. Pears go well also with chicken, pork, shrimp, crab, and whitefish.
When your pears are a beautiful golden yellow colour, it's fully ripe, sweet, and juice. Poach them in red wine and make your dessert recipes for pear at this time.
And keep plenty of ripe California Bartlett Pears around to snack on. Did you know that pears are full of antioxidants, a good source of fibre, Vitamin C, potassium, and folic acid?
California Bartlett Pears make a perfect healthy summer snack. For information and recipes visit www.calpear.com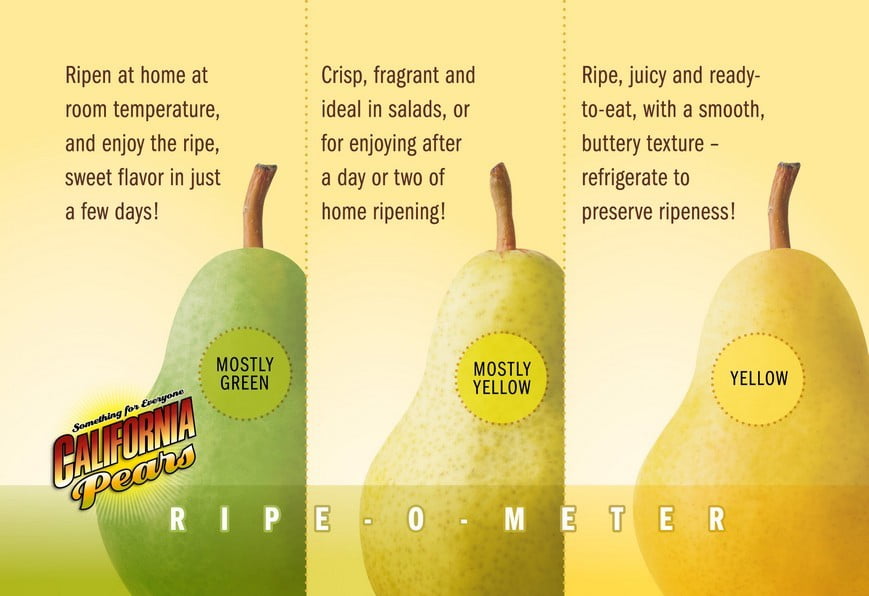 History of Gazpacho, the Spanish cold soup
So I have some really shocking news for you. The Spanish did not invent the gazpacho soup recipe. But it was developed in Spain. You see, the actual base of gazpacho is stale bread, garlic, olive oil, salt, and vinegar. And it just so happens that Roman soldiers were given those exact rations.
The soldiers pounded all these ingredients in a mortar with local vegetables. Now, these Roman boys and men invaded Andalucia in 206 BC, and they must have come across a lot of cucumbers and tomatoes. It was delicious and they shared the recipe with the locals.
And, with the passing of centuries, it became known as a Spanish gazpacho recipe. Today one can find a variety of gazpacho soup recipes made from various vegetables and a few fruits, like our pear one.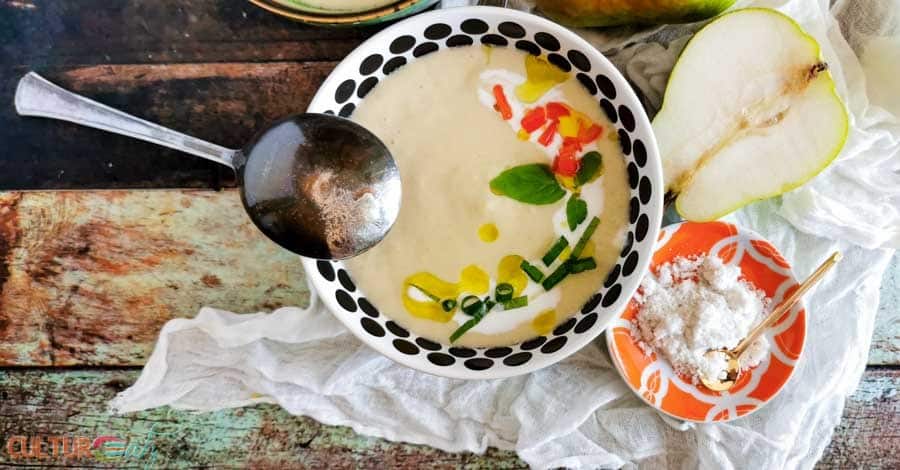 How to make Spanish cold soup, or gazpacho, with pears
Keep those tomatoes and cucumbers away, this is not going to be your traditional gazpacho recipe. But this is a true gazpacho since we are using the bread, garlic, olive oil, salt, and vinegar base.
Here are a few tips before diving into the recipe.
Choose firmer almost yellow Bartlett pears for this soup.
The peeling of the pear skin is optional. I didn't and none would be the wiser by looking at the photo.
The bread is used as a thickener, as are the almonds which also add a bit of protein.
The firmer the pears, the more extry liquid you will need when blending and once chilled.
Don't use plain water as the extra liquid. This will dilute the taste. See my note in the ingredients.
The texture should still be creamy, not soupy.
If you are looking for cold lunch ideas for work or cold dinner ideas that do not involve turning on a single large kitchen appliance (because it is so hot outside), this pear gazpacho is for you! It really tastes like pears but with a lovely tang from the lemon juice and vinegar. The garlic does not overpower the flavor. Everything is beautifully balanced.
Are you still looking for the dessert pear soup option? You will find it just below the recipe directions.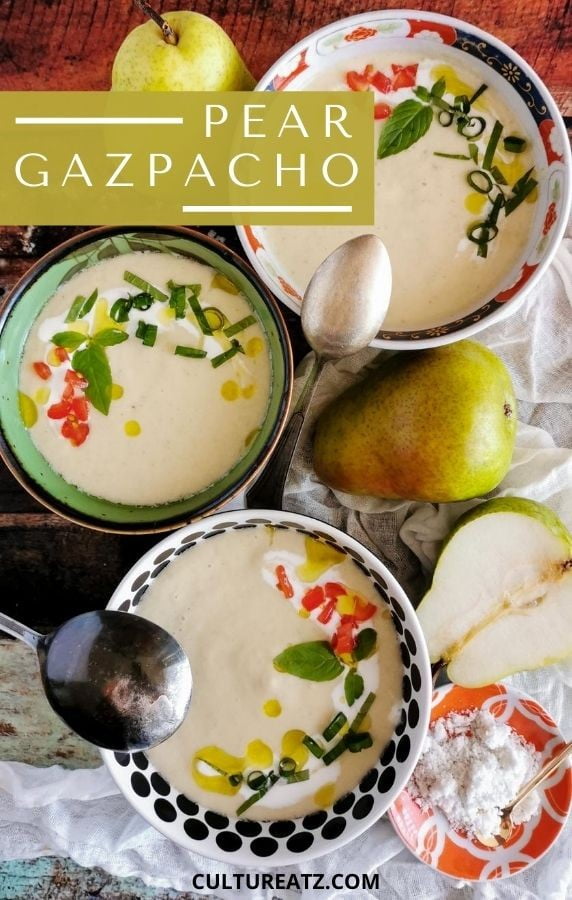 Refreshing Savory Pear Gazpacho
Beat the summer heat by staying cool with a bowl of refreshing savory Pear Gazpacho, inspired by the traditional Spanish cold soup.
Ingredients  
1/2

cup

fresh bread crumbs

crusts removed

1/2

cup

water

1

tablespoon

fresh lemon juice

2

cups

diced pears

3 to 4 California pears

1/3

cup

ground almonds

3

garlic cloves

crushed

1/2

teaspoon

salt

1/4

cup

extra virgin olive oil

1

tablespoon

white wine vinegar

1 to 2

cups

of extra liquid

light fruit juice or vegetable broth

Sour cream

olive oil, tomatoes, green onion and basil leaves for garnish
Instructions 
In a small bowl mix the water with the fresh bread, and leave to soak for 10 minutes.

Add the bread and water, diced California pears, lemon juice, ground almonds, garlic and salt to a blender. Puree until smooth, scraping down the sides. If the mixture is to thick, add 1/2 cup of extra liquid.

Add the oil and vinegar, and blend to a creamy texture. Mix in another 1/2 cup of extra liquid. Chill the gazpacho in the refrigerator for about 2 hours.

Once chilled, stir in 1/2 to 1 cup of extra liquid the pear gazpacho is too thick.

Divide into small bowls and garnish as desired.
How to Make Sweet Pear Gazpacho
Maybe the savory version of this soup is not really for you. You don't mind the idea of pear soup, but not with garlic? Well, I have the perfect sweet dessert Pear Gazpacho recipe just for you.
We just need to tweak a few items in the recipe below:
skip the garlic, salt, olive oil, and vinegar that are listed in the ingredients.
Do add a tablespoon of lemon juice because it prevents fruits from turning dark.
Add 1 tablespoon of honey, 1/4 cup cream, and a touch of cinnamon to the blender.
Use a diluted juice as your extra liquid.
And there you have it! Why not try both recipes so you can start with and end your meal with pear soup!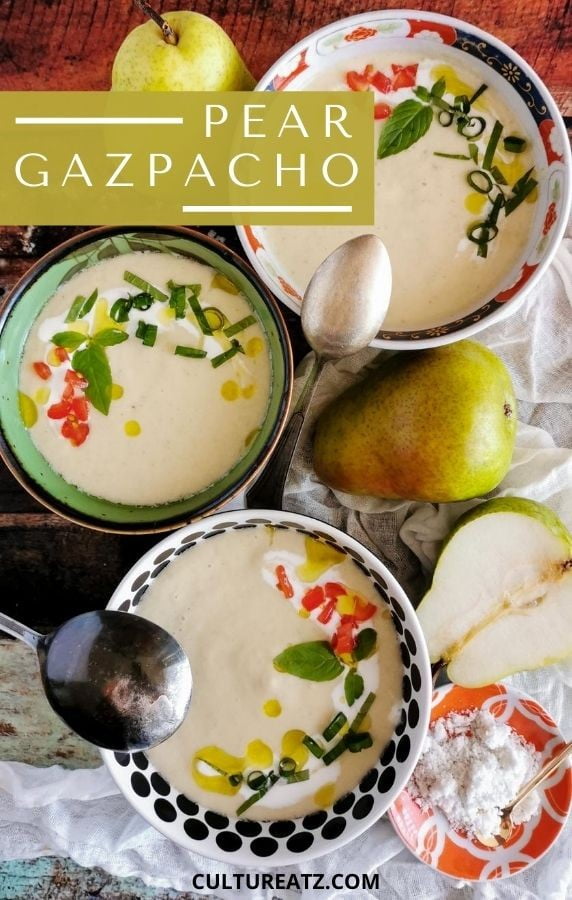 Looking for more pear recipes? Check my other recipes out: