Wow your family and guests with this marinated carrot zucchini ribbons and roasted pear salad recipe. Pear season is starting now so make the most of it!
I love pears so when the season arrives, I am always on the hunt for delicious and easy pear recipes. Now as much as I like fresh pear recipes and pear dessert recipes, they are also ideal for savory pear recipes. Cue this amazing marinated carrot zucchini ribbons and roasted pear salad.
Disclaimer: Thank you to California Bartlett Pears for this sponsored post opportunity. Note all thoughts and opinions are my own.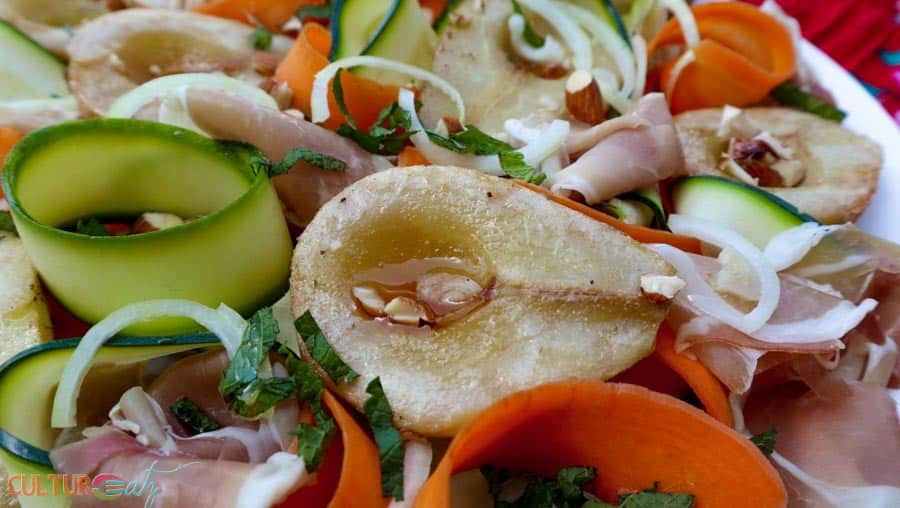 Marinated Carrot Zucchini Ribbons and Roasted Pear Salad
I made this recipe on the day I was attending a pot-luck. Two birds one stone, right? I have to tell you, everyone raved about the pear salad and asked for the recipe. I would put it up there with my top gourmet salad recipes, it's that good.
It seems like there is a lot going on in this salad but the flavors are all perfectly balanced. And it is beyond pleasing to the eye.
We all know how anything spiralized is in right now. I particularly enjoy a zucchini ribbon salad and a carrot salad recipe. The ribbons are so pretty and easy to make. My favorite tools are the Ultimate 7 blade Spiralizer or a Y vegetable peeler. These salads are healthy, quick to make, and perfect for hot summer and early fall evenings.
We then complement the veggies with healthy baked pears, parcels of delicious prosciutto, mint, chopped almonds and slivers of onion. To further cut down on the calories, there is practically no pear salad dressing needed. The pickled carrots and zucchini paired with a drizzle of olive oil are all you need.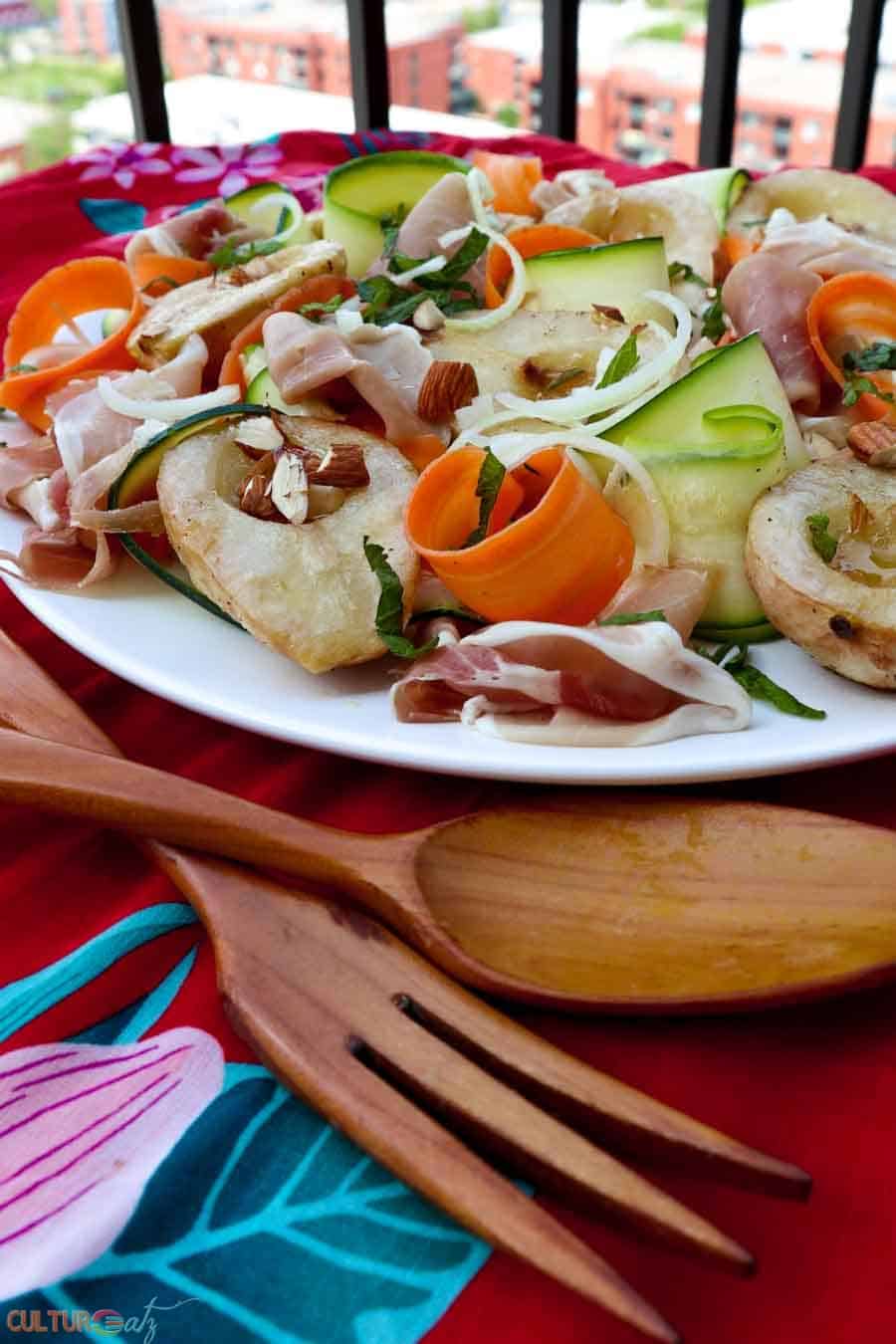 Sometimes you want ripe pear recipes, sometimes you don't
Pears season is starting right now. It goes from late summer to late fall. The season is determined by the many types of pears. Some of the first pears to arrive in the market are California Bartlett Pears. In fact, they are only available for several weeks in July and August.
So this is the perfect time of year to prepare fresh and healthy pear recipes that require a ripe pear. Some baked pear dessert absolutely requires a ripe fruit. Think of a pear cake recipe or a pear crumble recipe.
But sometimes, a firm pear is called for. An easy poached pears recipe needs a firmer fruit to hold. Same for some cooked pear recipes like a pear sauce or this very roast pear salad recipe.
I have a FREE PRINTABLE for you
Surprise! I have prepared a Cheat Sheet that includes 41 Cooking and Baking Ingredient Substitutions that are commonly found in a kitchen. Click here to get your FREE Ingredient Substitutions Cheat Sheet right now!

About California Bartlett Pears, and tips on how to ripen pears and how to store pears
Did you know that California Pears are high in natural antioxidants? The benefits of pears do not end there, they are also a good source of fiber, as well as potassium and folic acid, and a source of Vitamin C.
California pears are grown by a community of 60 small family farms. And they are pro sustainability which means they use natural pest control and keep fertilizer reduction in mind.
When picking a pear, make sure it has little blemishes and has some firmness. A mushy pear is not a good thing. So how do you know when are pears ripe? If the flesh that meets the stems has a little give, you are good to go.
If you need to ripen your pears a bit more, just leave them at room temperature and check for a lovely yellow skin tone. Once ripe, you can store the pears in the fridge for 3 to 5 days. For information and recipes visit www.calpear.com.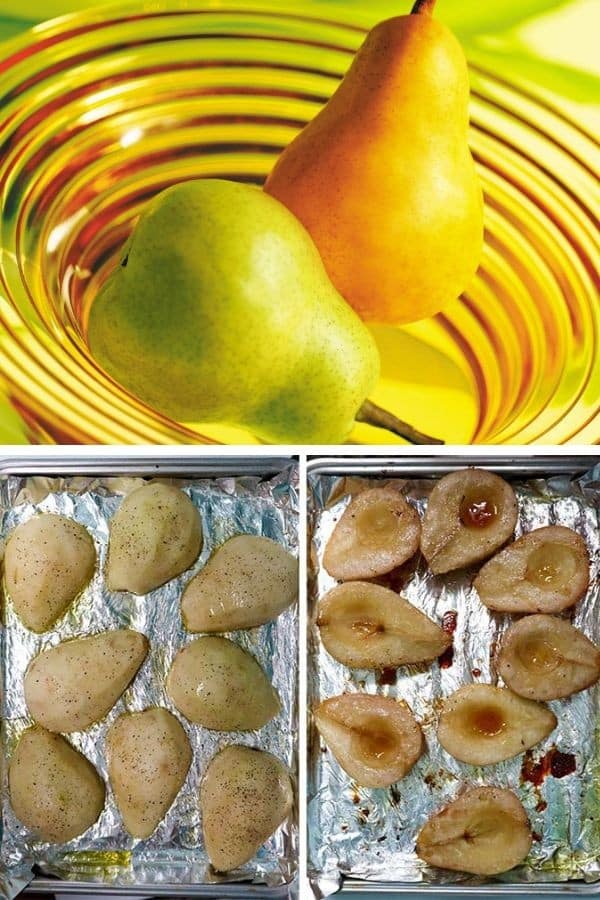 How to cook pears for a roasted pear salad
One of my favorite parts of summer produce is how some fruits work beautifully in a savory dish. It's fun to have new ideas of what to make with pears. We all have our favorite easy pear dessert recipe and we know how to poach pears, but how about cooking with pears?
This baked pear recipe will show you how easy it is to include roasted pears in salads or to serve next to grilled chicken, or a pork chop. Just peel, cut lengthwise, and core the pears. Lay them on a sheet, mix in a bit of olive oil, salt and pepper, and roast in the oven.
A quite firm pear is ideal here. The roasting process caramelizes the sugars, resulting in a sweet flavor, and the fruit will keep its shape. The final touch, flip the pears over towards the end and add a little honey. Who does not like a pear honey recipe?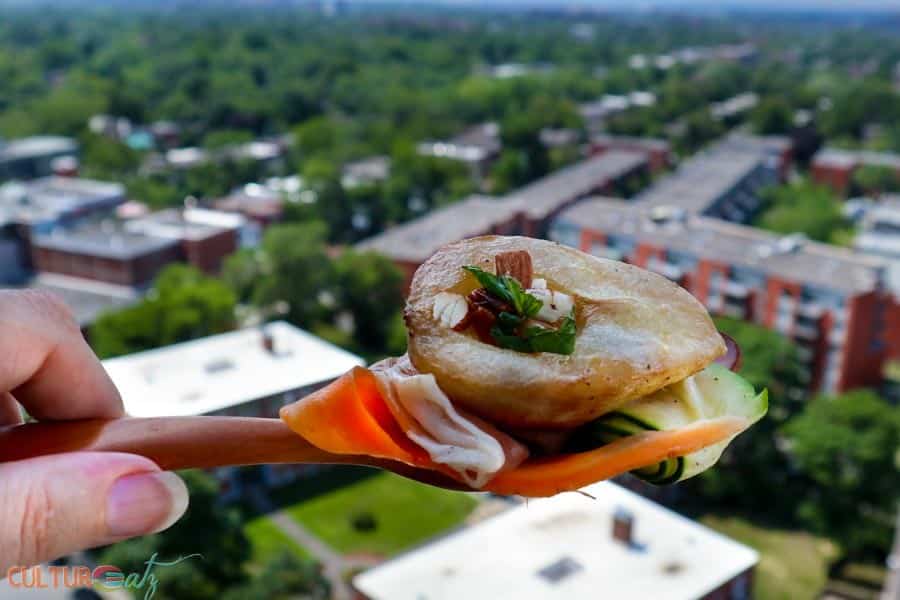 How to pickle carrots and zucchini
I am always on the lookout for ideas of what to do with zucchini and carrots. I prefer them raw and with the peel on. Do you peel zucchini? And one of my favorite ways when it comes to how to cut zucchini is ribbon style. And my best carrot recipes also include ribbons.
The combo of these ribboned veggies is perfect for a gorgeous gently tossed salad recipe. And to give them a little extra zing a quick pickle bath will do the trick. I was inspired by a quick pickled carrots recipe which simply involves tossing the ribbons in vinegar and letting it sit for 30 minutes.
This little trick of how to make pickled carrots or any veggie you like will bring a whole new dimension of flavor to your salads.
The tangy veggies mixed with sweet roasted pears are amazing. Add little fat parcels of salty cured meat to round out the flavors. No extra dressing, just a little olive oil, onion, mint, and almonds.
Now, this is truly salad heaven!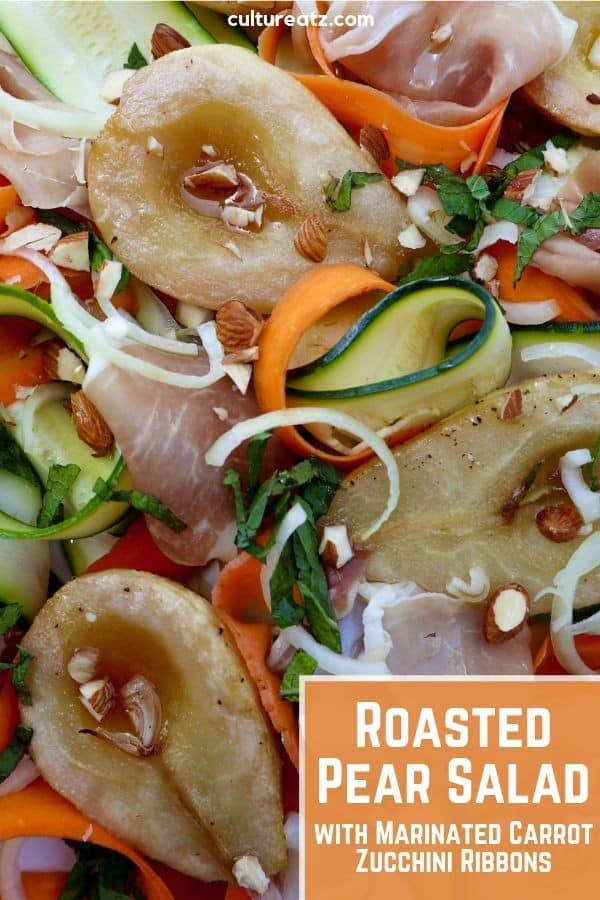 Marinated Carrot Zucchini Ribbons and Roasted Pear Salad
Wow your family and guests with this marinated carrot zucchini ribbons and roasted pear salad.
Ingredients  
4

firm California Bartlett pears

peeled, halved, cored

2

tablespoons

olive oil + a drizzle

Sea salt and freshly ground black pepper

1

tablespoon

honey

2

medium carrots

sliced into ribbons

1

medium zucchini

sliced into ribbons

1/4

cup

white wine vinegar

100

gr/3.5 ounces slices of prosciutto

2

tablespoons

onion

cut in thin slivers

2

tablespoons

chopped fresh mint

2

tablespoons

chopped almonds
Instructions 
Preheat the oven to 200C/390F. Place the pear cut side down on a roasting pan. Drizzle with the olive oil and season with salt and pepper. Bake for 30 minutes. Gently flip over each pear half and drizzle with the honey. Bake for another 15-20 minutes until golden and fork-tender.

Place the carrot and zucchini ribbons in a bowl, add the vinegar and toss. Set aside for 30 minutes, tossing once in a while.

Arrange the carrot ribbons, zucchini ribbons decoratively on a big plate. Stuff the prosciutto slice evenly throughout the salad. Top with onion slivers, almonds, and mint. Drizzle a bit of olive oil on top.
More fruit recipes from the Rosaceae family: