Shhh… Can you Keep a Secret? Today I am sharing with you my Peaches and Cream Trifle recipe. It is the ultimate quick in-a-pinch dessert recipe that your guest will clamor for.
I am almost ashamed to say that this recipe has been my go-to dessert for years when pressed for time, and yet I have never blogged about it before. Why have I not shared this divine Peaches and Cream Trifle recipe with you until today? I was afraid you would judge me because it is just so freaking easy and quick to make. But it is also one of my most consistently raved dessert. Every time I make this for guests I get rave reviews. Sometimes greatness comes from simplicity.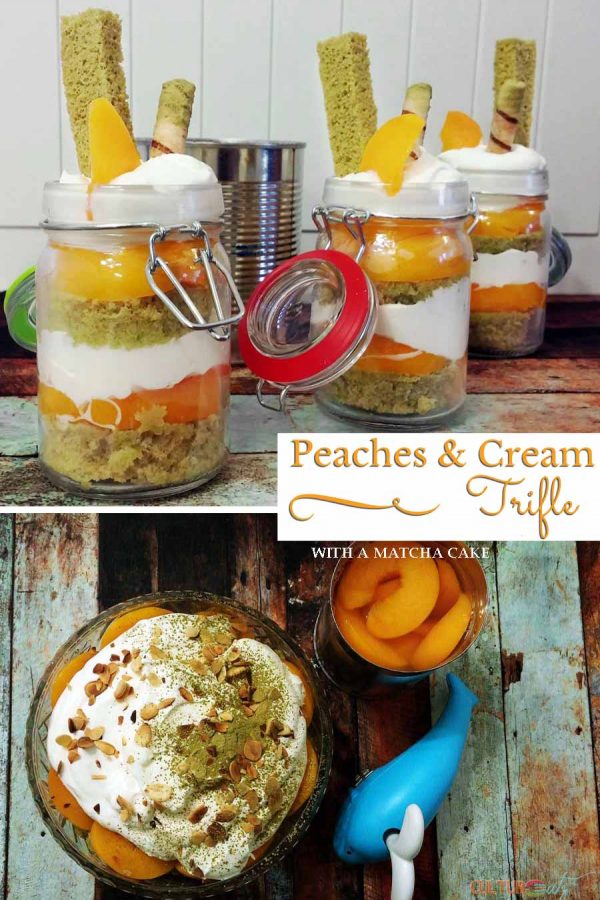 Ah peaches and cream! These three little words always make me feel guidy as I think of summer and happy times. Peaches are in the Top 3 of my favorite summertime fruits. But in the winter, forget getting nice fresh fruit.  That is when I reach for canned peaches. Did you know that most canned peaches are actually California cling peaches?
As with most frozen and canned produce, California cling peaches are picked and packed in their own juices within a 24 hour time frame. This ensures that the peaches keep their appearance, texture, flavour and nutritional content. In fact, studies show that the canning process of peaches has been proven to increase key nutrients including Vitamin A, Vitamin C and folate. Love getting better nutrition during these blah months. Disclosure: this post was sponsored by California cling peaches.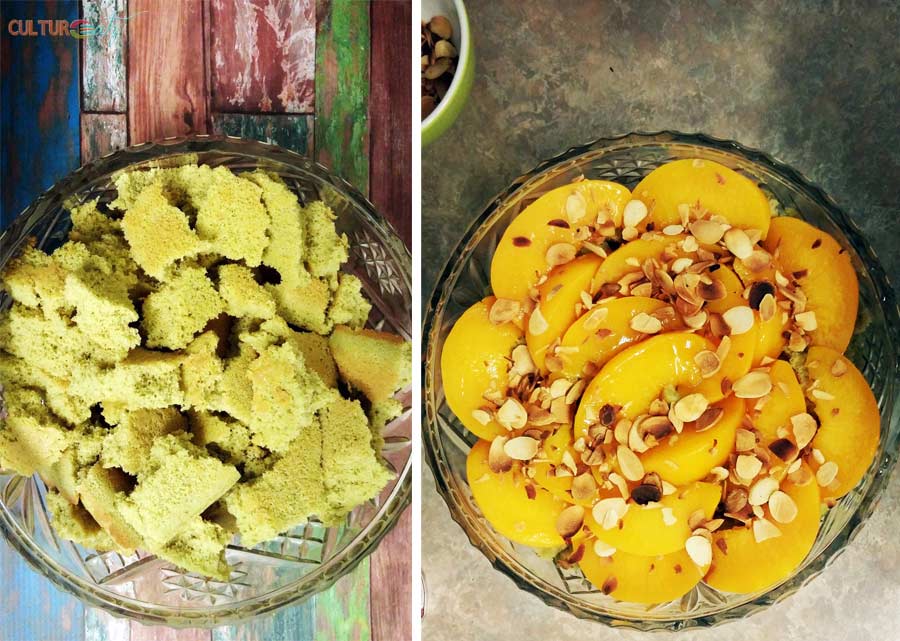 A Matcha Made in Heaven
I did put a fun twist on my Peaches and Cream Trifle this time by making my Swiss roll matcha Cake as the base. I am a big fan of matcha in baking. It gives a nice taste that pairs really well with peaches here and I just love the color combination. If your matcha is not the greenest feel free to add a bit of green food coloring.
Trifle tip: if guest are on their way and you can only do a quick trip to the grocery store, feel free to buy a pre-made cake. In all honestly, I have made this trifle with store bought angel food cake so many time and no one has been the wiser. Or you could make any sponge cake recipe you normally prepare.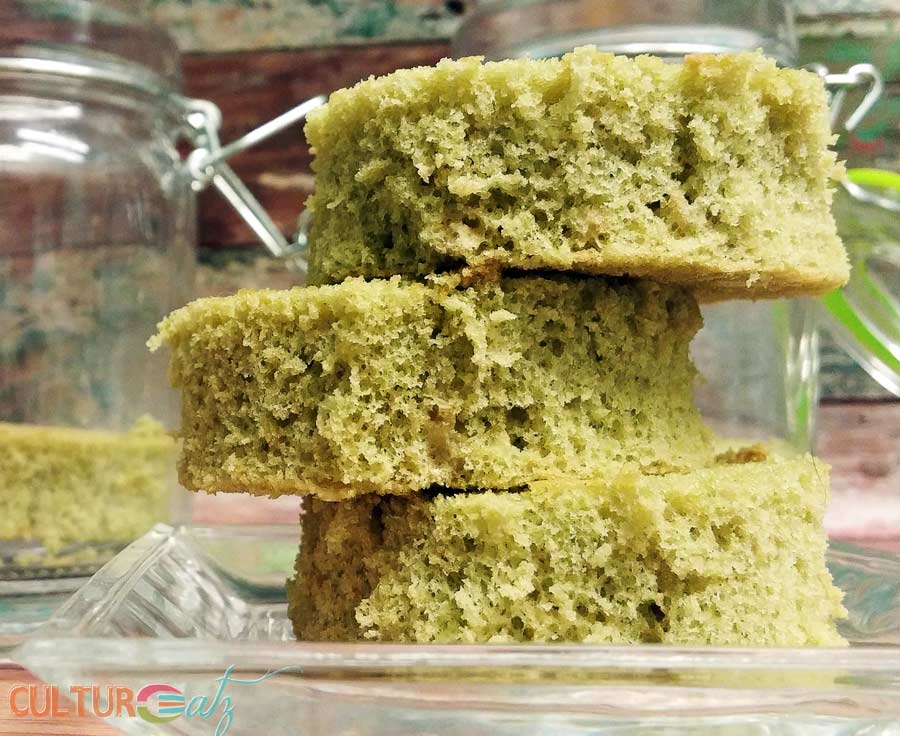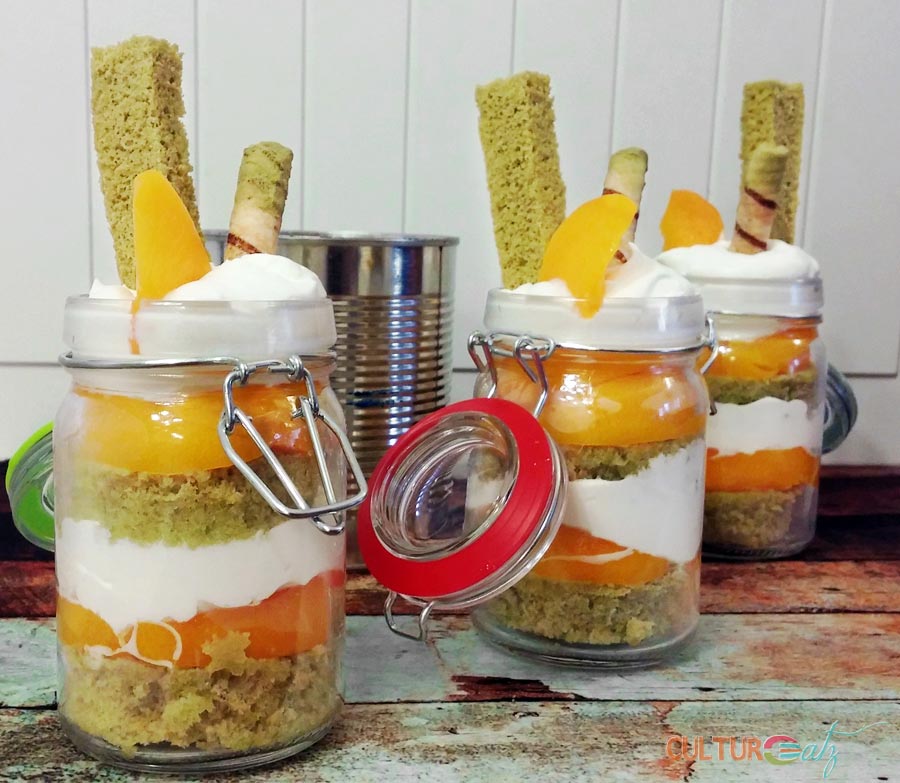 Not only am I sharing with you today my secret go-to easy trifle, I am even going to show you two ways to present it! The recipe card below gives you the traditional in-a-bowl presentation. And after the recipe I will show you how to make adorable individually prepared dessert jars!
Ok I have made you wait long enough, my secret is revealed, here is my Boozy Peaches and Cream Trifle recipe!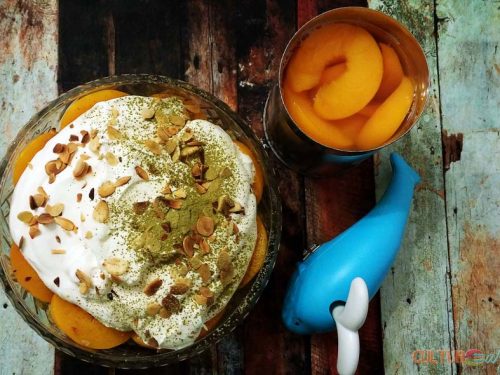 Boozy Peaches and Cream Trifle with Matcha Cake
Shhh... Can you Keep a Secret? Today I am sharing with you my Peaches and Cream Trifle recipe. It is the ultimate quick in-a-pinch dessert recipe that your guest will clamor for.
Ingredients  
Swiss Roll Matcha Cake or any sponge cake you have/buy

1/4 to 1/2

cup

of rum

or experiment with other alcohols

1-28

oz

can of sliced peaches in syrup

1

cup

35% cream

2

tablespoons

sugar

1 to 2

tablespoons

slivered almonds

toasted
Instructions 
Tear the cake into pieces and fill a trifle bowl about 2/3 up.

Add 1/4 to 1/2 cup of rum into a measuring cup, fill measuring cup with peach syrup to make a total of 1 cup of liquid. Pour over the cake evenly and push the cake down gently to absorb the liquid.

Add a nice full layer of drained peaches on top of the cake in a decorative pattern.

With a mixer, beat the cream until it just starts to thicken. Add the sugar and keep beating until you have almost stiff peaks.

Spread the whipped cream over the peaches and top with toasted slivered almonds.
Notes
Feel free to make any sponge cake recipe you like, or even buy one already made. You can experiment with various alcohols too: try Bourbon, Grand Marnier, Triple Sec or Peach Schnapps.

Perfect for dessert jars!
Dessert jars are just the cutest, right? It's a great way to serve your trifle individually in a unique way, plus you can close the lid to make the extra portions last longer over the next few days! great for portion control too!
For these jars it is important to have a Swiss roll or a thin sponge cake. Cut two jar sized circles of cake for every jar you are making. Add one circle at the bottom of the jar and pour over it about 1 tablespoon of soaking liquid. Next place two slices of peaches up against the wall of the jar and top with a good dollop of the whipped cream. Repeat again to make a full second layer as just described, and decorate as desired. So cute!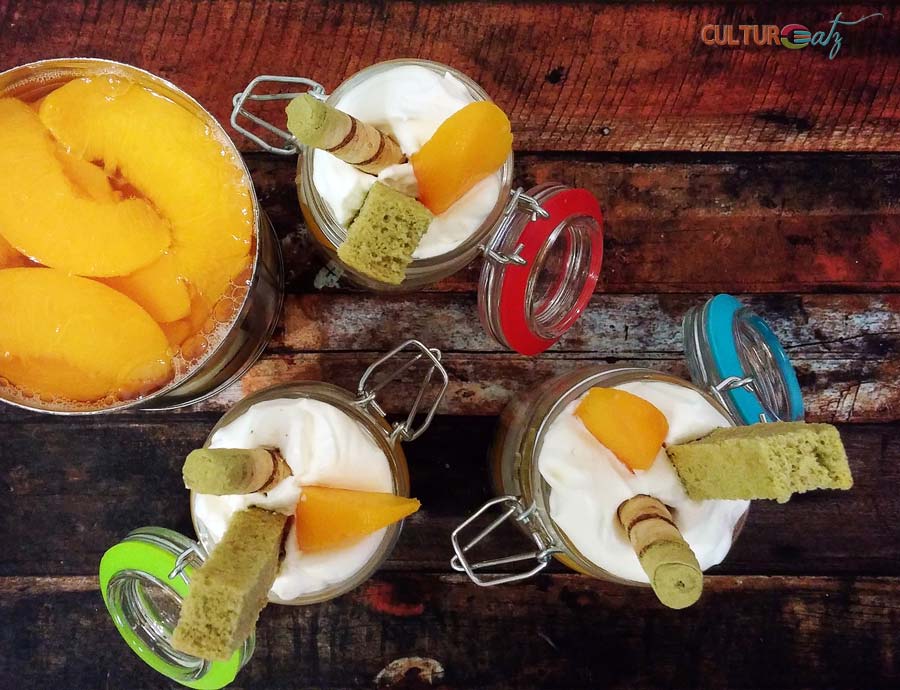 Hey did you know I am now on Youtube? Yep it is he CulturEatz YouTube channel, please SUBSCRIBE!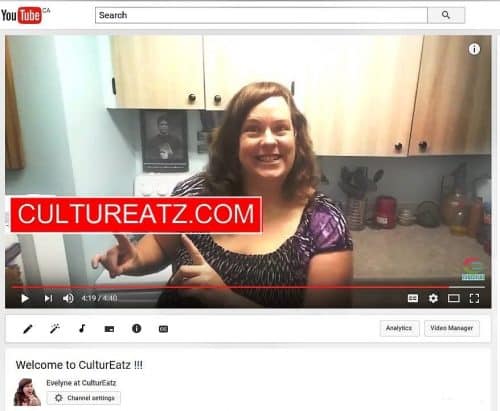 Check out one of my latest vlogs : see a bit of Montreal and the Robert Mapplethorpe exhibitions