This Peach Rosette Tart will leave everyone at the table begging for a second piece of the pie. Almost a shame to put a knife to this stunning edible work of art…but worth every bite!
Have you seen the rosette trend? Apples, pears, and now peaches. Thin fruit slices are lined up on a strip of puff pastry, then gently rolled up. The result of the is a stunning individual rosette. Make a few extra to fill a pie crust or tart and voilà, you will have a show-stopping dessert, like this Peach Rosette Tart.
I have been dying to try those apple rosettes for the longest time but, you know, life happens. Since I had a couple of cans of peaches at home to use I decided to look online if there was a peach version. YES, there are. I was inspired by these individual peach rosettes but turned it into a tart of roses.
Now almost all recipes I saw online use fresh peaches. The dark skin outlines the petals beautifully. But alas it is winter and if I happen to see a 'fresh' peach it would probably be hard, sour and terrible. Could I make this with canned peaches? I have had great success making stunning desserts with canned peaches, like my Boozy Peaches and Cream Trifle and this Peach Walnut Coffee Cake. The answer is absolutely and I kind of imitated the skin with a few caramelized spots.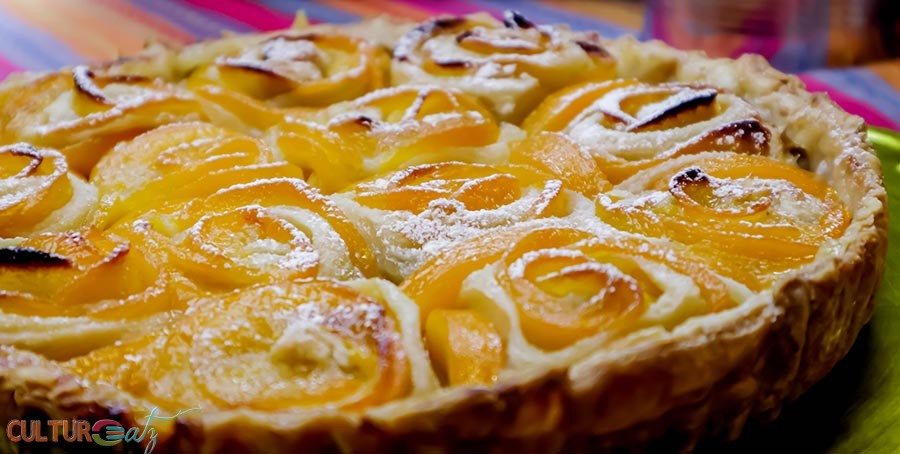 Did you get your FREE PRINTABLE yet?
Surprise! I have prepared a Cheat Sheet that includes 41 Cooking and Baking Ingredient Substitutions that are commonly found in a kitchen. Click here to get your FREE Ingredient Substitutions Cheat Sheet right now!

When in a Pinch Canned Fruit Can Save the Day
Did you know that most canned peaches are actually California cling peaches? As with most frozen and canned produce, California cling peaches are picked and packed in their own juices within a 24-hour time frame. This ensures that the peaches keep their appearance, texture, flavor and nutritional content. Even better, California canned cling peaches have no preservatives and are often packed in their own juice.
Speaking of peach juice, I  love using the leftover juice from canned peaches for smoothies. Great tip, right?
Disclosure: this post was sponsored by California cling peaches.
Check out this video to see how to prepare a peach rosette.
A Bouquet of Peach Rosette Tart
Here was my plan for the Peach Rosette Tart. I lined a quiche pan with a sheet of puff pastry. I then made several individual peach roses separately and placed them in the quiche pan. Don't pack it too much as puff pastry will, well, puff up. If you have bigger empty holes just place a few peaches slices in between the roses. Only thing I would do differently is pat dry all the peaches. When cooking it got a little too juicy.
Once cool add a dusting of powdered sugar. Wow, look at the result! This is such a sumptuous dessert to share with your guests or family. And in winter it is nice to have a little reminder of the summer bounty.
So what do you think of my baker's dozen peach rosettes? There are 13 roses if you counted, after all.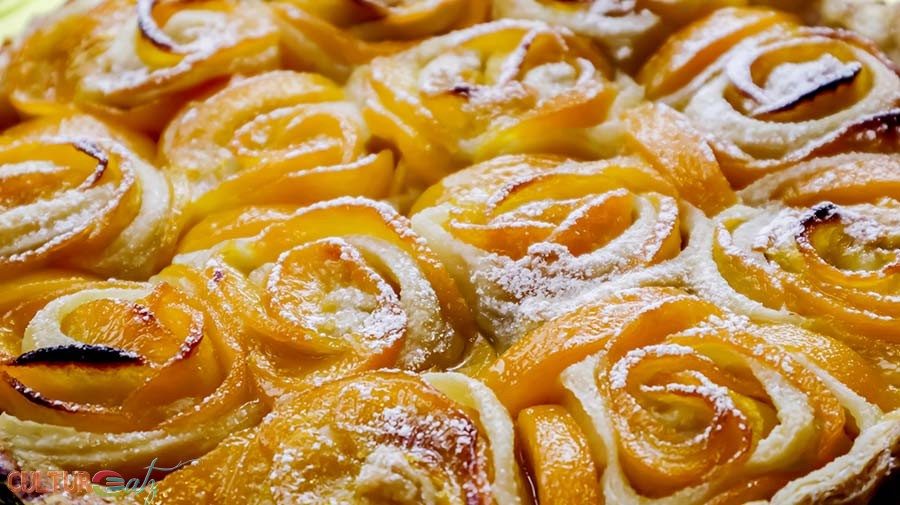 Peach Rosette Tart
This Peach Rosette Tart will leave everyone at the table begging for a second piece of the pie. Almost a shame to put a knife to this stunning edible work of art…but worth every bite!
Ingredients  
3

frozen puff pastry sheets

thawed

1

large can sliced peaches

1/4

cup

butter

melted

1

Egg

1

tablespoon

water

1/4

cup

sugar

Powdered sugar
Instructions 
Preheat the oven to 375°F.

Line a quiche pan with a rolled out sheet of pastry dough.

Cut canned peaches into thin slivers, about 3 to 4 slivers per slice. You will need about 7 slivers per rosette.

If not pre-rolled, roll out the pastry sheet to about 10" X 15" X 1/8". Cut the two pastry sheets into 2 inch strips on the long side, 7 strips per sheet. Score a line through the center.

One at a time, brush the strip with butter and overlap the peach slivers on the top half of the dough. Fold up the bottom portion of the dough. Gently and neatly roll the puff pastry up into a roll.

Place each rosette evenly spread apart into the quiche pan. You will need 12 to 14 rosettes. Fill any gaps with extra slices of peaches.

Mix together water and egg and brush each rose with egg wash. Sprinkle the sugar over the tart.

Bake for 1 hour - 1 hour 20 min, or until dough is completely cooked. If the rosette caramelize too much, loosely cover with aluminium foil.

Cool the tart and dust with powdered sugar just before serving.