Nothing says spring like a lovely asparagus quiche for breakfast, lunch or dinner. This one really cuts down on the calories too, but not the flavor, by omitting the crust. And it's gluten-free!
Serendipity: the occurrence and development of events by chance in a happy or beneficial way. That is pretty much how I feel today! A fab group of fellow Canadian food bloggers and I are sharing Spring recipes with you all today. And for some crazy reason, it is sunny and the temperature is going to climb to an unusual high of 23 C as well.  Pretty great timing and it just makes me want to spring into action and enjoy a slice of this delicious No Crust Asparagus Quiche!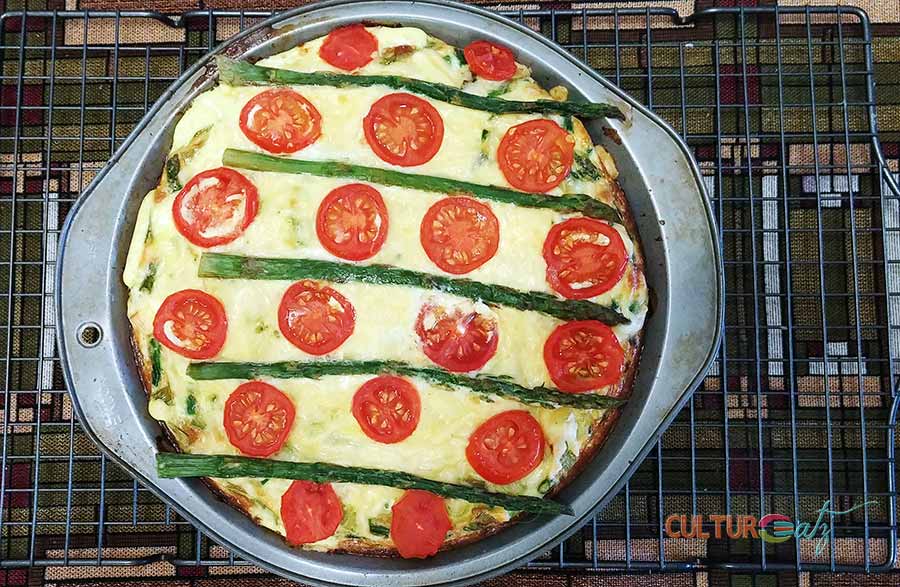 But this Monday morning was a bit of a rude awakening. I was convinced 8 am April 10th deadline was tomorrow, you know on Tuesday. I already made my asparagus quiche recipe the week prior for my mom's birthday. She just loves asparagus so it was perfect. The plan was to write my post tonight. My morning ritual is to play on my laptop about 30 min before I get up. That is when I saw the date —- Monday April 10th. SHITTTTTT! Oops!
You have never seen someone flesh out a basic postable blog post as fast as I did this morning! You could say I really sprung into action ha!
More egg recipes:

Join me with a few fellow Canadian Food bloggers as we celebrate spring. The theme was "make any dish, sweet or savory, inspired by spring"!
This Bring on Spring event is brought to us by Melanie of The Refreshanista thought the Canadian Food Creatives group #cdnfoodcreatives.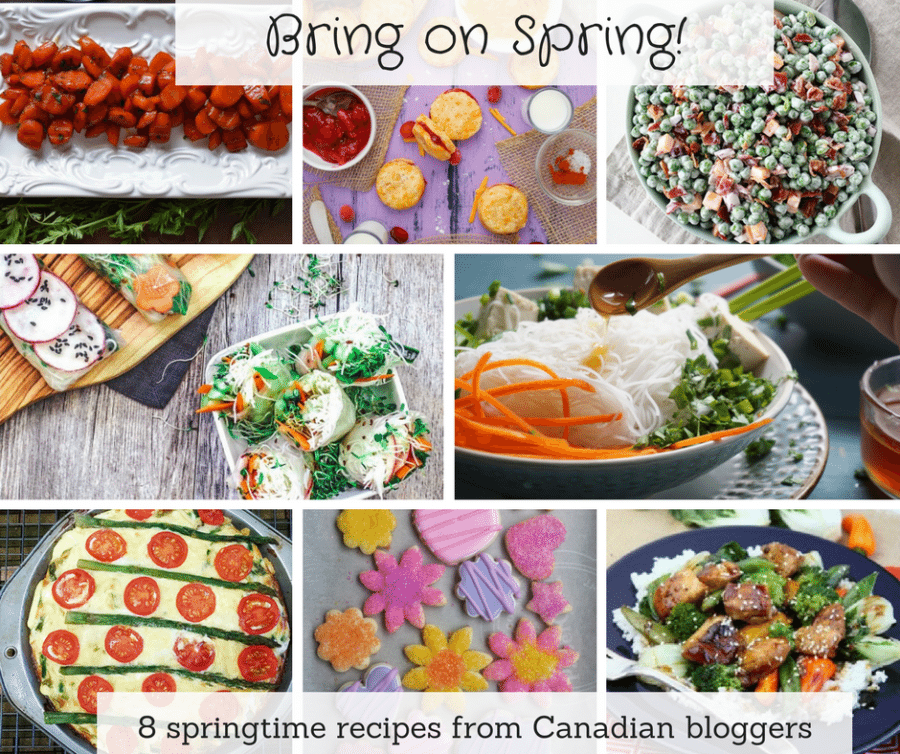 Bring on Spring!
Check out the other Bring on Spring posts below from my fellow members of the Canadian Food Creatives group.
So yeah the good weather…back to 9 C feeling 6 C tomorrow plus rain. Boo! Oh well, we need the rain to clean all the crap on the sidewalks from winter. Spring is rain. Spring is asparagus. I know when I see these beauties in the grocery store that life will get better.
And serving them up in a quiche brings a lot of spring to me step (yeah I am LOVING using spring as a pun non stop today) because it is such a lovely light dish that can be served for breakfast, lunch, and dinner. Actually, I served this as a first course for a fancier dinner.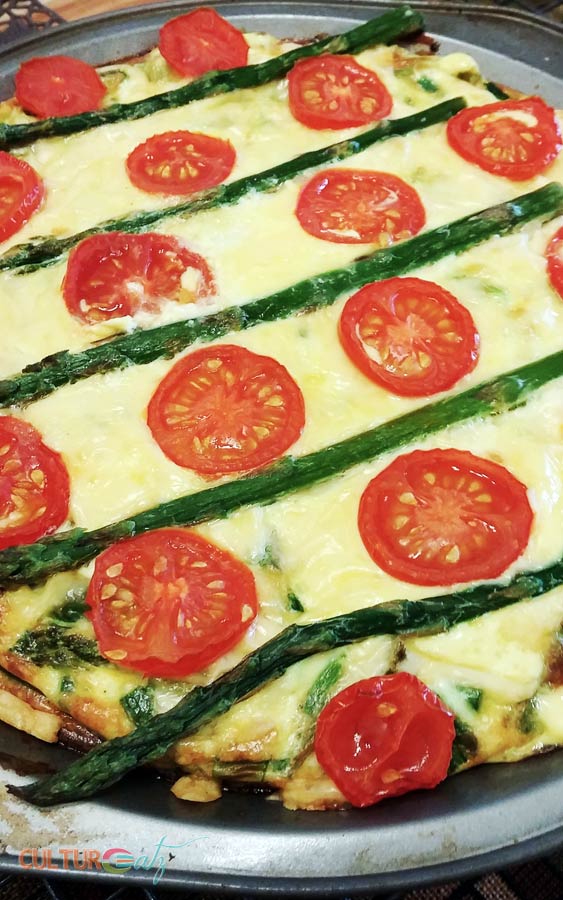 I fell in love and took inspiration for this recipe at Dashing Dish, I did not design the gorgeous pretty topping, it was all hers. But I did change quite a few things in the recipe, like using stronger cheeses because I prefer my quiches this way. Besides tasting absolutely delicious, this asparagus quiche is really easy to serve! I was afraid it might stick to the pie plate but with the help of a spatula, I got gorgeous slices out of it. And no crust = gluten-free.
Perfect for guest and great for any upcoming Easter menu!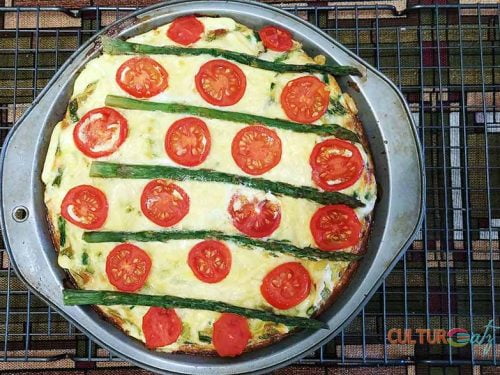 No Crust Asparagus Quiche
Nothing says spring like asparagus quiche. Quiches are so lovely for breakfast, lunch or dinner. This one really cuts down on the calories but not the flavor by omitting the crust.
Ingredients  
1

small bunch Asparagus

(about 2 cups diced)

1/2

cup

shallots

diced

7

whole Eggs

1

cup

milk

3/4

cup

Gruyère

1/2

tsp

Salt

1/4

tsp

Pepper

1/2

cup

Shredded Gouda

A few whole asparagus for topping

tomatoes for topping
Instructions 
Preheat oven to 375 degrees. Grease a 9 inch pie plate and set aside.

Sanp the tough ends off of the asparagus and rinse well. Chop the asparagus into 1 inch long pieces, place them in small bowl with 1/2 cup water and microwave for 2 minutes. Drain well and leave to cool. Sprinkle the asparagus evenly on the bottom of the pie plate.

Meanwhile, combine the shallots, eggs, milk, gruyère, salt and pepper in a medium bowl and mix well. Pour mixture into the pie plate.

Bake in the oven for 20 minutes. Remove from the oven and add gouda cheese, and a few asparagus and tomatoes. Place back in the oven and bake for another 20-25 minutes, or until filling is set. Leave to rest for at least 5 minutes and then cut into 8 slices.
Looking for more recipe roundups?
PIN IT FOR LATER! https://www.pinterest.ca/pin/266275396704314645