Turn a plain cheesecake into an epic symphony of sophistication with this No Bake Lilac Blueberry Cheesecake. Lilac? Oh yes! It is subtle, wonderful and makes the cake an eternal spring classic!
A decade, a freaking decade people! Double digits! I am honestly a bit at a loss for words. Suddenly my blog feels like a child. 10 years is a long time to nurture such a project. And, like a child, I have seen it grown, I have seen it crawl, take its first steps and later on some leaps. I have seen it sing, kick and scream, smile ear to ear, and shed tears. It has laughed a lot and loved. So much love. Love from me to you and enormous portions of love from you to me. Please help yourselves to a slice of my Lilac Blueberry Cheesecake and come celebrate my 10th blog anniversary with me!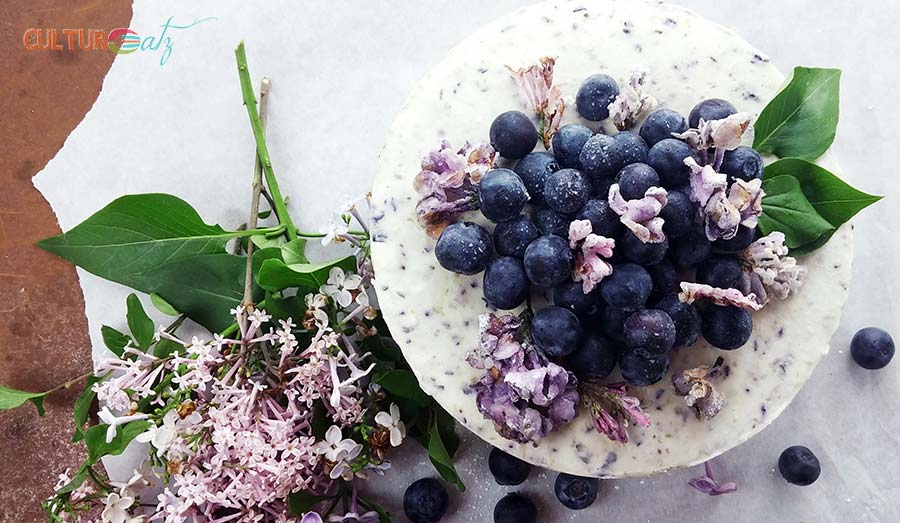 I simply could not have done it without you, you and you. I send you all a heartfelt thank you – my family, friends, coworkers, and my online friends/fellow blogger community. Of course I do this blog for myself first, it is a hobby passion I do outside of a full time job, but you are the oxygen that keeps it alive with your feedback and encouragements. I cannot express enough my gratitude for your visits to my site and every comment that you leave. Thank you!
A Year in Review
At the end of 2016 I felt like I was straying slowly from my goal. I was not making as many culturally challenging recipes or sourcing unusual ingredients. So with the new year, in January I committed to get back to my roots. Almost every recipe since 2017 has been focused on exploring various countries further and trying new things.
Here are some of my favorite and challenging recipes of the last year:
I cannot wait to see what the next year will bring, I already have quite a few fun ideas and collaboration projects in the works 🙂

New Adventures for CulturEatz
It's been slow going but I have a new project (did you notice it is up in my menu bar?) called Eat The World. I wrote down every country on the planet and I hope to prepare a recipe from each one. Right now it is a question of going through 10 years of posts to link up the countries I have already done. Check it out and follow along.
My big new accomplishment of this year: jumping into my new YouTube channel Evelyne @ CulturEatz. Video making is a whole new world of fun and challenges. There is so much to learn about this new medium and it opens up a whole new world of experimenting. I of course explore food with recipes and restaurant reviews on YouTube, but it has given me a new outlet to share my passion for travel as well. Please subscribe now and get to know me even better 🙂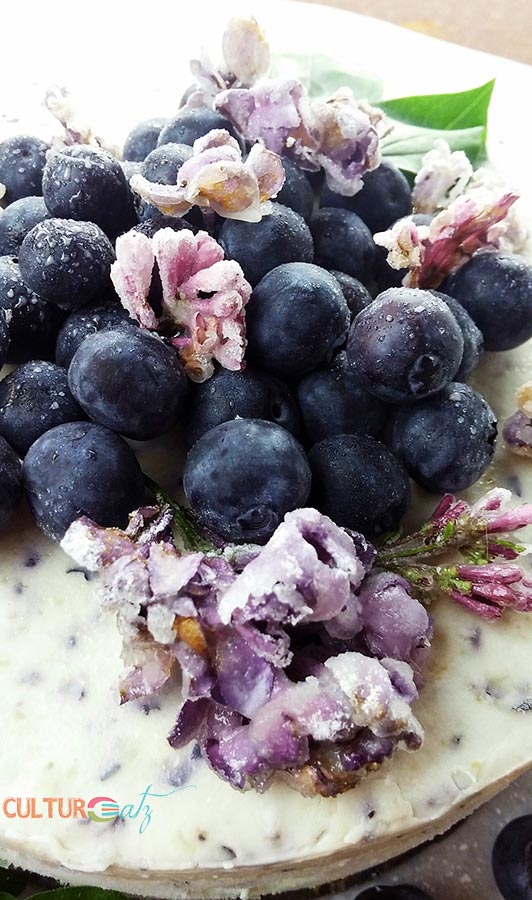 Evelyne's Unusuals: Lilac Vodka
It took me a while to settle on a recipe for this momentous occasion. How do you even pick a recipe for that? Something that says celebration, something sweet, something fun…and of course to make it really ME, there has got to be an UNUSUAL element to it.
The last two weeks of May are two of my favorites weeks of the year because lilacs are in bloom. I adore the smell of lilacs. I stop at every tree and sniff it like I am trying to get high! Could I turn this recipe into a Lilac Blueberry Cheesecake?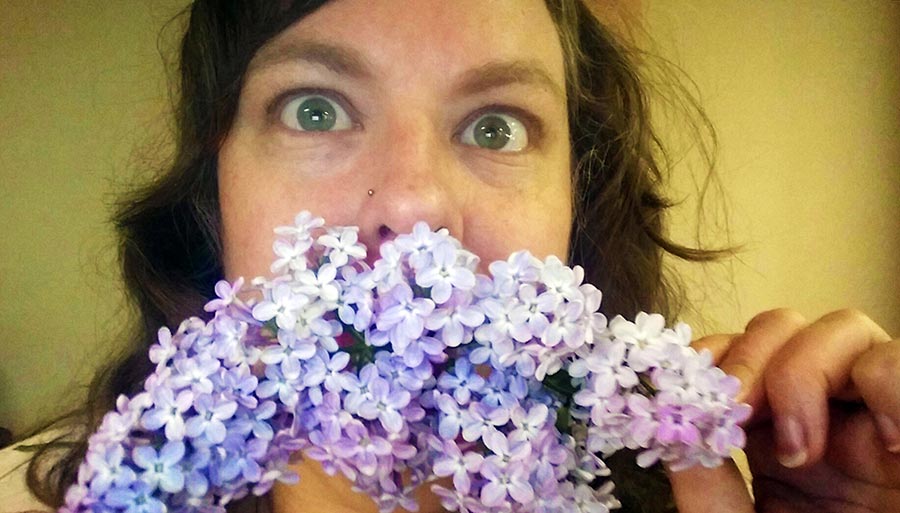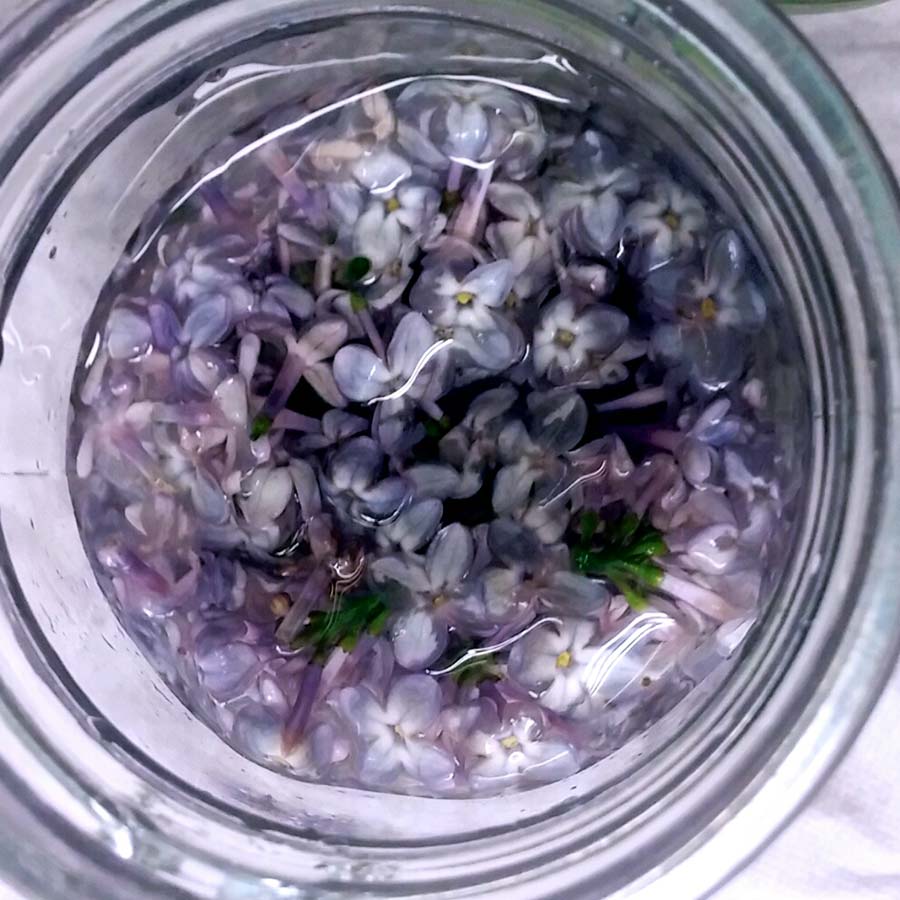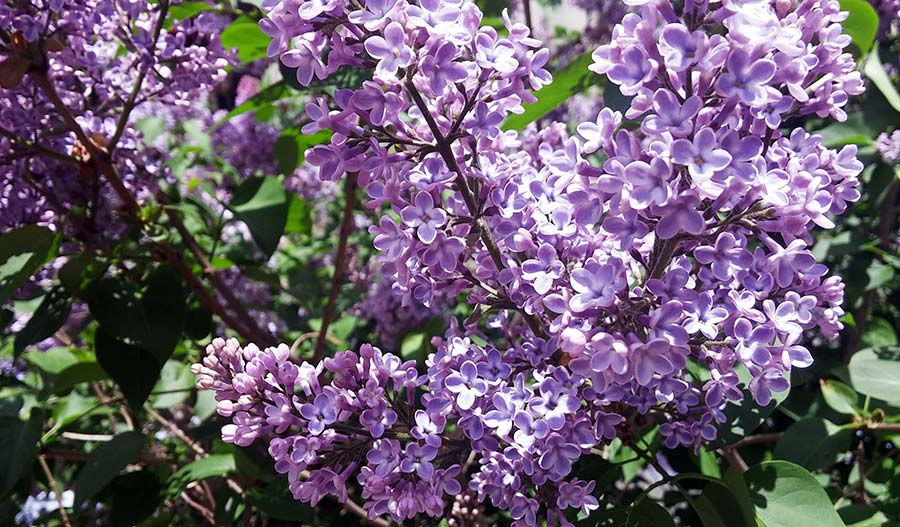 Since I am a big fan of tinctures (I wrote a post on how to make tinctures) I decided to see what would happen if I tossed a small bouquet of lilac flowers in vodka. Well a drop of this vodka on your tongue literally taste like a whiff of the flowers. Now I can have a lilac sniff anytime I want. My lilac extract was ready just in time for this 10th blogiversary post. Not only is this Lilac Blueberry Cheesecake sublime for a celebration, I also found a way to capture spring eternal as well.
Candied Lilac Flowers
I even went so far as to candy my own lilac flowers to give it that extra lilac taste and take my cake decoration vision to the next level. How pretty is that, right? They are very easy to make and it is in the recipe below. And yes, as long as your flowers are pesticide free, lilacs are edible. When candied they are actually a little addictive.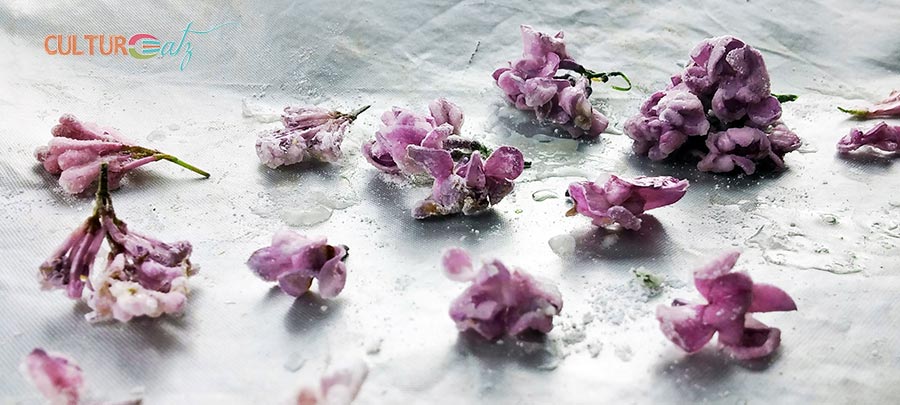 Building this Lilac Blueberry Cheesecake. Well of of the best part is that this cake is no bake! A great summer recipe. And there are 4 layers to it.
The first is a buttery crust made with crushed granola. Second, we place half the filling in the pan. Next a layer of blueberries is evenly spread out. And finally we pulse in some blueberries to the remaining filling, gently spooned in, to create a two tone cheesecake.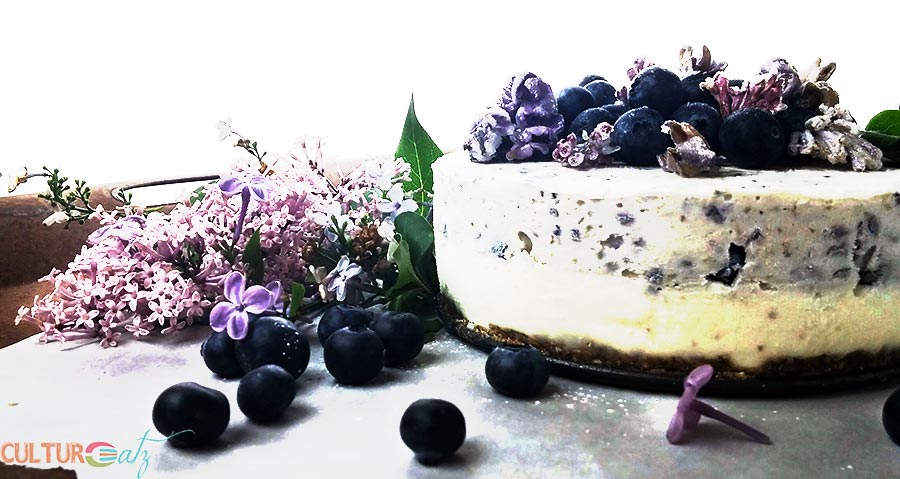 I cannot even tell you ho happy I am with the final result of this No Bake Lilac Blueberry Cheesecake. Even with three different form of lilac in the cake – extract, actual flowers, candied lilac -the amounts are subtle. The flavor is not overpowering at all, it is a perfect whisper.
A bite, full with a mix of the unctuous cheesecake filling and the blueberries, make this cheesecake utterly sophisticated and sinful.
No Bake Lilac Blueberry Cheesecake
Turn a plain cheesecake into an epic symphony of sophistication with this No Bake Lilac Blueberry Cheesecake. Lilac? Oh yes! It is subtle, wonderful and makes the cake an eternal spring classic!
Ingredients  
Lilac flowers

pesticide free

egg white

fine granular sugar

1/4

cup

melted butter

2

tablespoons

brown sugar

1

cup

crushed granola

1/4

teaspoon

salt

1

tablespoon

powdered gelatin

1/4

cup

boiling water

1/2

can condensed milk

1

tablespoon

lemon juice

4

oz

cream cheese

8

oz

ricotta cheese

1

tablespoon

lilac flowers

stems removed (optional)

2

tablespoons

lilac vodka

see notes

1

cup

blueberries + extra for decoration
Instructions 
Candied Lilacs: thin an egg white with a bit of water and beat well. Dip flowers in and shake excess off. Pour the sugar over the flowers with a spoon to cover completely. Leave to dry on a parchment paper for 12 to 24 hours.

Crust: add butter, brown sugar, granola and salt to a food processor. Pulse until combined. Pour into a 6 inch springform pan, press down evenly with a spoon and refrigerate.

Add gelatin to boiling water to soften and set aside.

In the a food processor, mix condensed milk and lemon juice and pulse until a bit thickened.

Add in the cream cheese, gelatin, lilac flowers and vodka, and the ricotta. Pulse until combined, about 1 minute.

Pour half of the filling evenly over the crust in the cake pan. Sprinkle 1/2 cup of blueberries over the filling. Set aside.

To the remaining filling add 1/2 cup of blueberries and pulse until blended.

Pour the filling gently over the blueberries and spread evenly on the top.

Refrigerate overnight and decorate with extra blueberries and candied lilacs if desired.
Notes
Lilac Vodka: in a small jar pack some lilac flowers and cover with vodka. Shake the jar once a day for 2 weeks. Strain out the flowers.